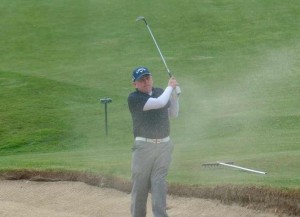 Britain's Mark Smith compiled the joint-lowest round of the day, a 79, on the excellent challenge that is the Aa Saint-Omer Golf Club course, to win the Handigolf French Open 2016 on Sunday (1st May).
It was a round of skill and patience as Smith tackled the difficult course and its sloping tests on the slick greens. The famous Aa Saint-Omer course was 'tough but fair' for the players.
After the event, a delighted Mark Smith said: "Playing in the last group with Mark [Helm] and Mathieu was a great experience; we are all of a similar mentality and never really get too excited or upset with our shots. Fortunately, I have played in the last group a few times so I know all you can do is take it one shot at a time and what will be, will be."
For more information on the winners, the full tournament report and quotes from the champion please click here.