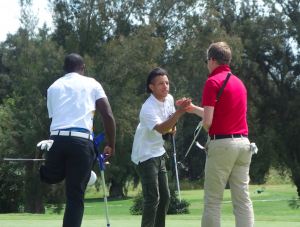 Leading Belgian player Adem Wahbi secured the EDGA Penina Open 2016 in dramatic style on the challenging Sir Henry Cotton Championship Course after rounds of 80 and 79 (April 16-17).
The scoreboard tells of a 3-shot win over EDGA No:1 Ranked Manuel De Los Santos but those at the event saw Adem prevail in an unusual closing round after a good start. Some ground gave way by a 5th hole water hazard and he took a tumble into the water to soak his trousers, but after this shock to the system, Wahbi would calm himself and play well.
Recovering also from a double-bogey at the 12th, he would overtake both De Los Santos and Mathieu Cauneau with two birdies and three pars in a brilliant last 5 holes to grab victory.
Read the full story written by Ben Evans of Cutting Edge Golf, which includes a literal visit to the water by clicking on this link.