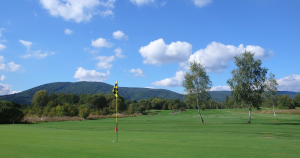 The European Individual Championship is headed to the Czech Republic for the first time, with the Barbora Golf Resort close to the town of Teplice chosen to host EDGAs premier event of 2016. The date will be from the 18th – 21st of June 2016.
EDGA President Tony Bennett, visited the area and course earlier in the year to meet with representatives of The Czech Golf Federation, Czech Disabled Golf Association and officials from the club, said, "the passion shown by Barbora Golf Resort to host the European Individual Championship is very clear, all at the club are committed to making this event a great experience for all the players".
For more on this story please click here.
A further announcement which will include, the entry criteria, how to enter, along with confirmation of the official hotel and other accommodation options will be made in January.