"When I was about six years old, I did a local test at school and my teachers told my parents that I had special needs. I have autism, reading difficulties, short-term memory, and I've got a speech problem, so I might get words muddled."
Warren Clark – tough love and second chances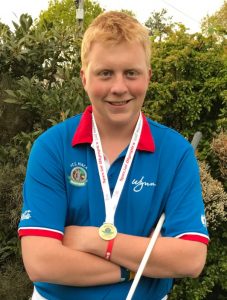 Warren Clark, is a young golfer who dedicates his time to coach and support juniors and remarkably through his charity Warren Clark Golfing Dreams, Warren has introduced more than 5000 people to golf. His charity is a not-for-profit community group that gives people with disabilities a chance to experience playing golf.
Warrens passion for golf began at the tender age of 11, and amazingly by March 2018 he had achieved some of his own golfing dreams when representing Team GB at the 2019 Special Olympic summer games in Abu Dhabi, (EnglandGolf Article), and becoming an ambassador for both the Arctic One Foundation which supports his cause, and for Golf Foundation and HSBC Golf Roots.
Warren's disability hasn't stopped him from pursuing his talent, and is now one a dozen volunteers in the UK dedicated to making golf a more inclusive sport for people with disabilities. Warren shares what golf has given him: "It's everything really, I just love it so much and I want to carry on doing it and help as many people as I can."
Warren's story is truly inspirational, proving that golf is a sport for everybody.
Q&A with Warren Clark
What did you do most of the time when you were not in school? Did you play any other sports?
I've always been a sporty person. When I was eight or nine, I was playing basketball, cricket, swimming or football. At the time, because of my disability, I was playing with my local football team and other special needs people. I was playing cricket and got selected out of the schools in Hampshire to be a part of the county team. It was mainly four or five sports I was playing, and as I could only pick one, golf was more my game really.
How did you get into golf then? Who gave you a club for the first time?
My stepdad was a golfer before I met him. The first time I was with him, he took me to the local driving range and I quite liked it. My parents got me started with a few lessons and it started from there. I was probably 10 or 11 years old when I started.
Can you remember what you first wanted to do for a living when you left school?
I wanted to be a golfer from the start. I went to college and played golf with people of my age, and they started to say that I was quite talented at the game, and that I should stick to it.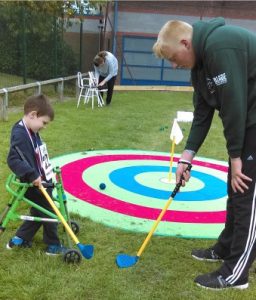 You mentioned earlier that you were down at the golf club today? So tell me what you do there?
I volunteer. I do some work in the professionals shop, such as re-gripping, shop work, and coaching. I might be doing custom fittings – It's a great experience.
What do you like most about volunteering?
I think it's good because if there is a problem with juniors, ladies or people with disabilities, whatever the problem, I can go and help. There is only six of us volunteers in the whole of the UK.

So you mentioned disabilities, what is your disability Warren?
I have autism, reading difficulties, short-term memory, and I've got a speech problem, so I might get words muddled.
When did you first become aware of being a little bit different?
When I was about six years old, I did a local test at school and my teachers told my parents that I had special needs. My concentration levels are very bad, so, when I'm out on the golf course, the first thing people say is, "really? You don't look like you have special needs." I guess it's hard for people to tell, but I've gotten used to it now.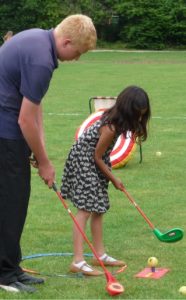 Did you have to make any adjustments in the way that you interacted with people?
Yes, but at the club, everyone is relaxed and friendly. I have special needs and people respect it.
So, you've got big plans for this year?
I'd like to play tournaments like the Euro Pro Tour, and if I can qualify, that would be my dream. Maybe, if I could do the PGA training course but at the moment, as a person with special needs, I'm currently three or four levels below the [academic] standard of a 17 year old.
I've started up my own golf charity called  Warren Clark Golfing Dreams. I'm one of the coaches on level three, my charity is based around getting people into the sport. I work with the Golf Foundation and HSBC Golf Roots where I am one of their ambassadors.
Getting back to golf, when you play, are there any specific moments on the golf course that are more difficult for you than perhaps other people?
I would say concentration.
What have you learnt about yourself through playing golf?
What I've learned is how friendly and open-hearted I've become. When I was younger, I was a quiet and lonely person, and now I've opened up. People from six years ago would now say, where I am is incredible.
Who are your heroes and role models that you've looked up to as you've progressed throughout the years as a golfer?
I like Tiger Woods, Tom Watson, Jack Nicklaus… I've got a couple of stories, like when Arnold Palmer at the last event he hosted, I got his autograph – He didn't give out many autographs, so now it's probably a good collector's item and good memories of what I've done, and it keeps me going.
Ernie Els who has an autistic son, opened up a charity called the Els for Autism based around his son. I was lucky enough to do their training and I've become the first UK autistic ambassador to teach golf using their methods. Being a part of such a big thing makes me proud of all the things I've done.
Do you have any goals or objectives you've got in golf that you're prepared to share?
I would like to do the PGA training course if I could, that's a long term goal, and if I got the chance to play with a few tour players to see how they play the game.
Any adjustments that you'd make to golf to make it more user friendly for people with disabilities?
If there could be more golf courses and more buggies for people with special needs who struggle to stand-up for four to five hours. I'd probably say making the game more disabled friendly, and if there is a way of getting involved to give everybody a chance.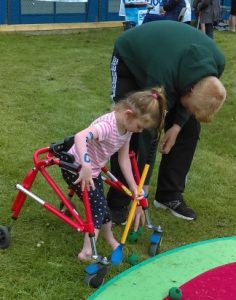 Can you talk a bit about Warren Clark Golfing Dreams?
We're on Twitter as @warrengolfdreams, and Facebook as Warren Clark Golfing Dreams. We are a not-for-profit community group so we don't charge organisers who give people a chance to play golf for free. About 5,000 people in 2017 had a go.
Tell us about the golf equipment that gives you the most joy?
I'd probably say my putter. I'm one of those people who struggle with their putter, but I'm very happy with my putting at the moment.
If you could magically be with someone who has a similar disability to you, what advice would you offer them if they wanted to start playing golf?
Just be yourself and you can come a long way in golf. Five years ago, not a lot of people knew me, and now, a lot of people with disabilities play golf. Be yourself, that's who you are and that's who you'll only ever be.

What does golf do for you?
It's everything really. I just love it so much and I want to carry on doing it and help as many people as I can. If you view  Warren Clark Golfing Dreams  or my Facebook and  Twitter, pages, you'll see how many people I've helped. I'm lucky to have my parents to help me and all my PGA pros and helpers who have helped with Warren Clark Golfing Dreams.
To summarise:
So Warren Clark is making his dreams come true. A personable young man who devotes many hours every week to volunteer and to share the benefits of golf with others who have until now not had the opportunity to try golf. He is growing through his contribution to society and to the sport. He recognises that he benefits greatly from his involvement in the sport – and the sport is better for his enthusiasm.
Video:
"When I first started playing I was called a lot of names" Warren Clark Golfing DreamsSouthampton golfer Warren Clark is making the game open to everyone ⛳️

Posted by BBC Radio Solent on Wednesday, 29 August 2018
Warren Clark can be contacted through his website at Warren Clark Golfing Dreams
NB: When using any EDGA media, please comply with our copyright conditions