In this interview with EDGAGOLF TV, golfer Sebas Lorente tells us how he transitioned to play golf again after his accident. One of the most popular players on the EDGA tour, Sebas reveals that his motivation was to play golf with his son and tells us that the community he had at the golf club where he was a member, really helped him to re-socialise. His advice for those who do not play is to give the game a try.
"Hi, my name is Sebas Lorente. I come from Spain. My golf club is beautiful Terramar in Sitges, Barcelona. My golf handicap is 22.8 and my impairment is that I am paraplegic."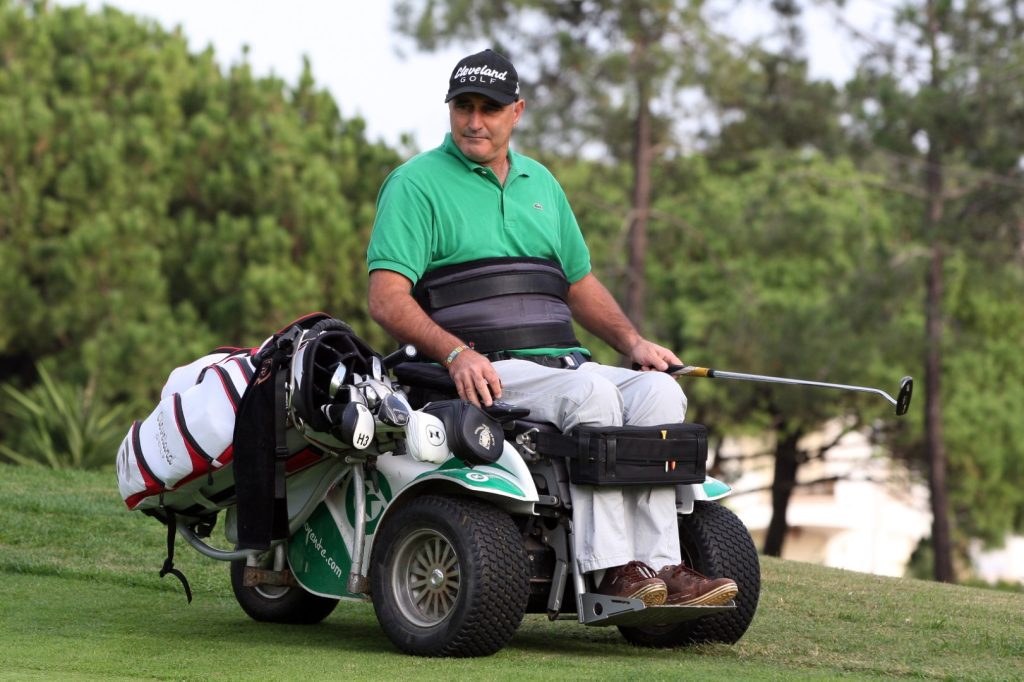 How did you start to play golf?
"Well, I started to play golf when I was seven in my home club and I had the accident when I was 20, and I restarted to play golf from a wheelchair 23 years later when I discovered the Paragolfer, I discovered this machine to play golf and I was pushing to do it because I wanted to play with my son. Then I looked all over the internet; I found this wheelchair, I got one and started to play golf again."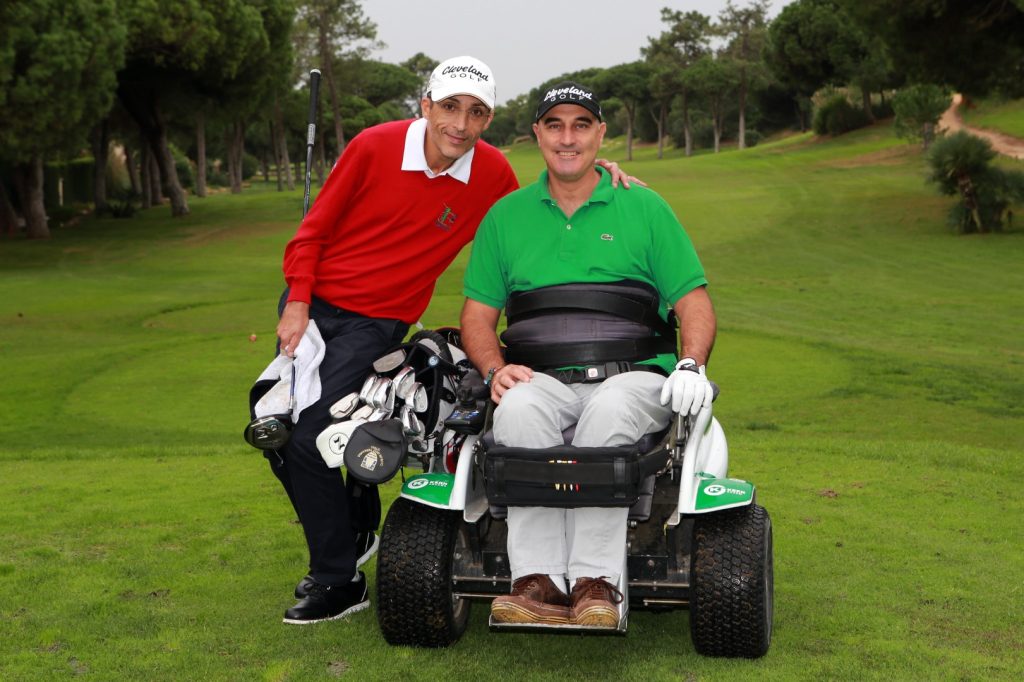 What does golf mean to you?
"I have been involved all my life with golf because I grew up in a golf club with all my friends. Our sport was the golf. When I had the accident I kept on as a member of my golf club even though I couldn't play of course. My friends were there, so my social life was in the golf club. When I restarted to play golf with the Paragolfer, it meant for me to be able to play again, the sport I love. I restarted to do the same things I did before my accident, playing with my friends, playing with my children and to spend a lot of time of my life doing something that I really love and this is playing golf."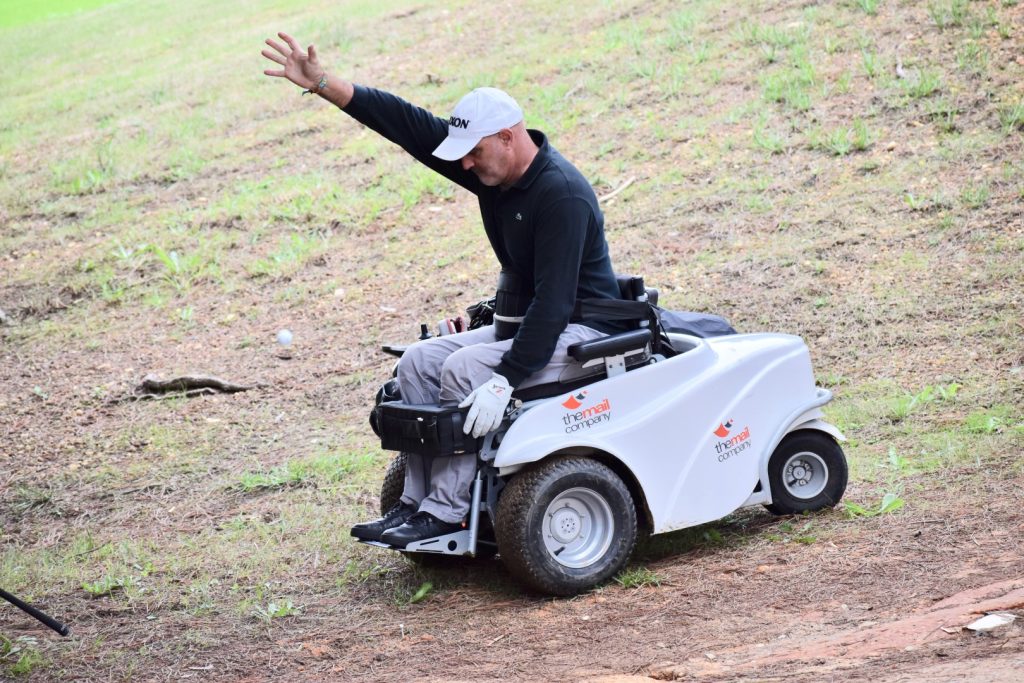 What has been your best moment in golf?
"No doubt, it was when I won the European Championship in wheelchair category in Zell-Am-See [golf course] in Austria, 2010. I remember perfectly that moment especially when the last putt on the last hole, it was a three metres putt perfectly. In fact I didn't know at that moment if I was the winner or not, but I expected to be because I played real good golf there and I put the putt in, I was concentrated only on that putt and I put the putt in and I felt really good and I saw my wife, this sign [thumps up]; I knew then that meant that I was the winner."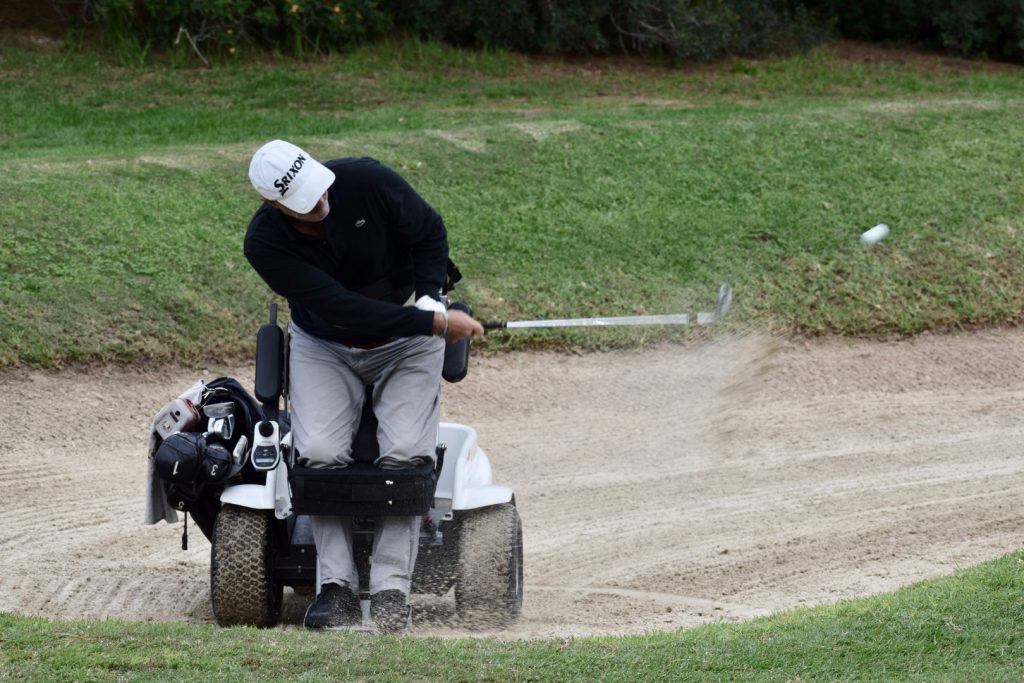 What are the hardest type of golf courses for you to play?
"For wheelchair players to play golf, it is very challenging when we have to play on hilly golf courses because any little balance that you get is very important for us because we have no balance, so we have to play like that [leans to the left], we have to play like that [leans to the right], it's very difficult for us. We really like to play on flat golf courses but also it's a challenge for us. The more difficult the golf course, the more challenging it is for us."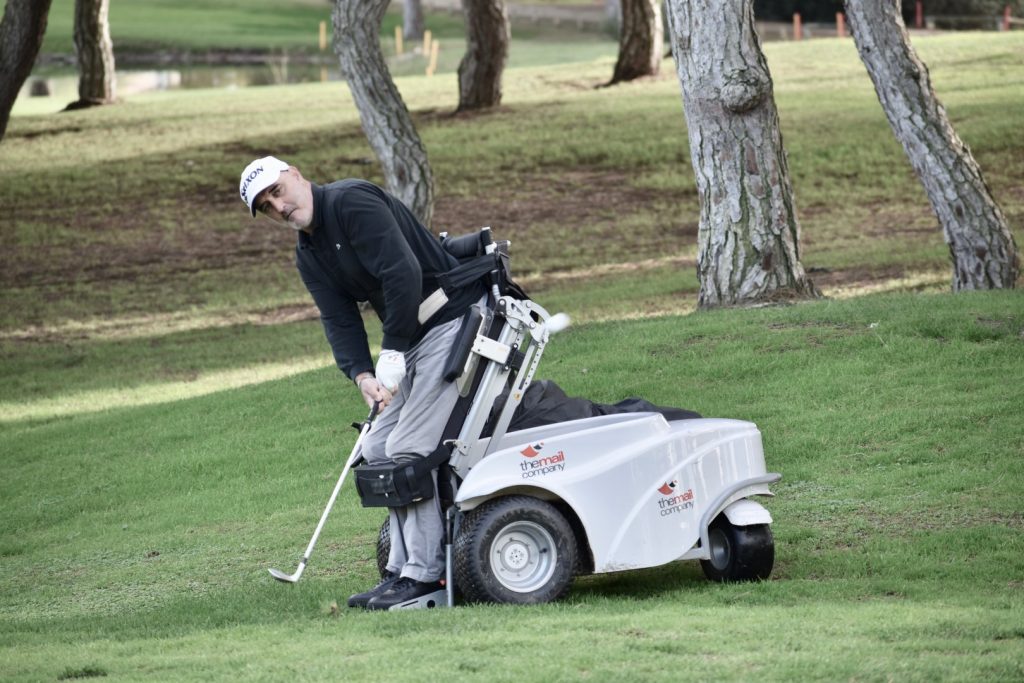 What do you like about the tournaments for golfers with disability?
"The thing I like in this kind of tournament is the atmosphere. I've played more than fifty national tournaments until last year. I really like and enjoy to meet my friends because all the players are my friends. From time to time you get a new player and in a few tournaments, a new friend. I'm really excited to wait for the next tournament because I wanted to meet my friends and to compete against them, to be with them and to share some days with them."
You play most of your golf with non-impaired players, how does that work?
"It works perfectly because golf is a sport that you have the option to equilibrate with your handicap, with your golf handicap. In the beginning when non-disabled players are playing with a disabled player they used to have a compassion, "poor guy, poor guy please, you can drop here, please, no I cannot drop here". "Why I can't drop here is because I'm disabled you cannot drop and so I don't have a free drop here; then after I always say the same, after they've been beaten two or three times; they don't say that anymore, "You cannot drop here." No compassion… [Laughter] but it's a perfect game to play with disabled and non-disabled players."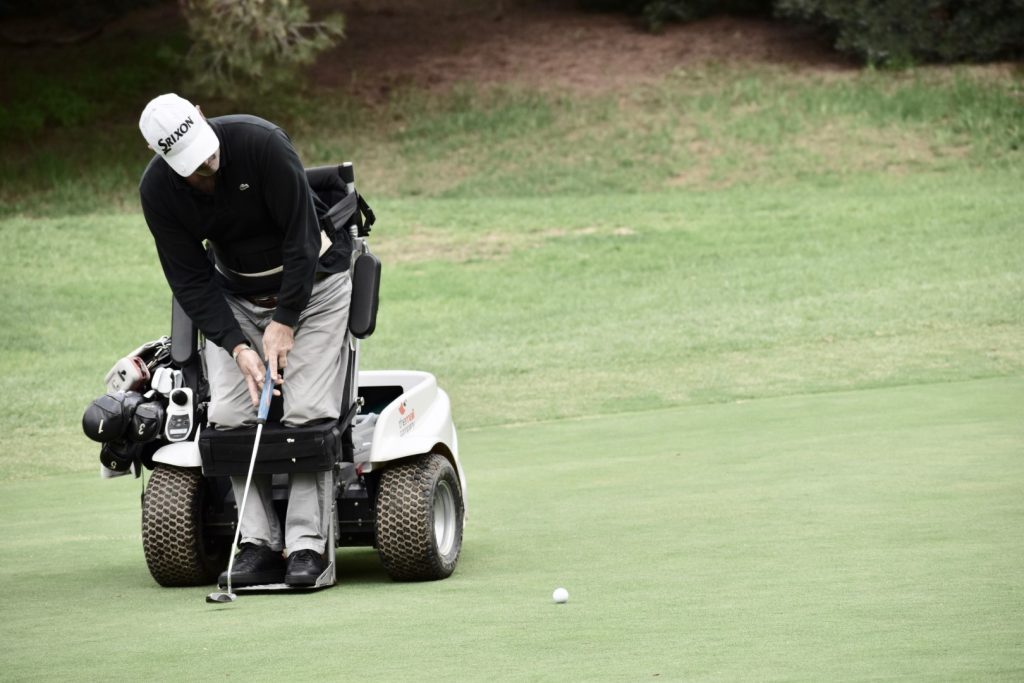 What is your favourite golf course?
"My home club of course because it seems to be the designed especially for wheelchair players because it's totally flat and Club de Golfe Terramar, I recommend everybody to go to Clube de Golfe  Terramar to play, because it's by the sea, it's beautiful. Probably the most challenging golf course that I have ever played it could be in Spain in PGA. I think it's ranked the number two tournament golf course."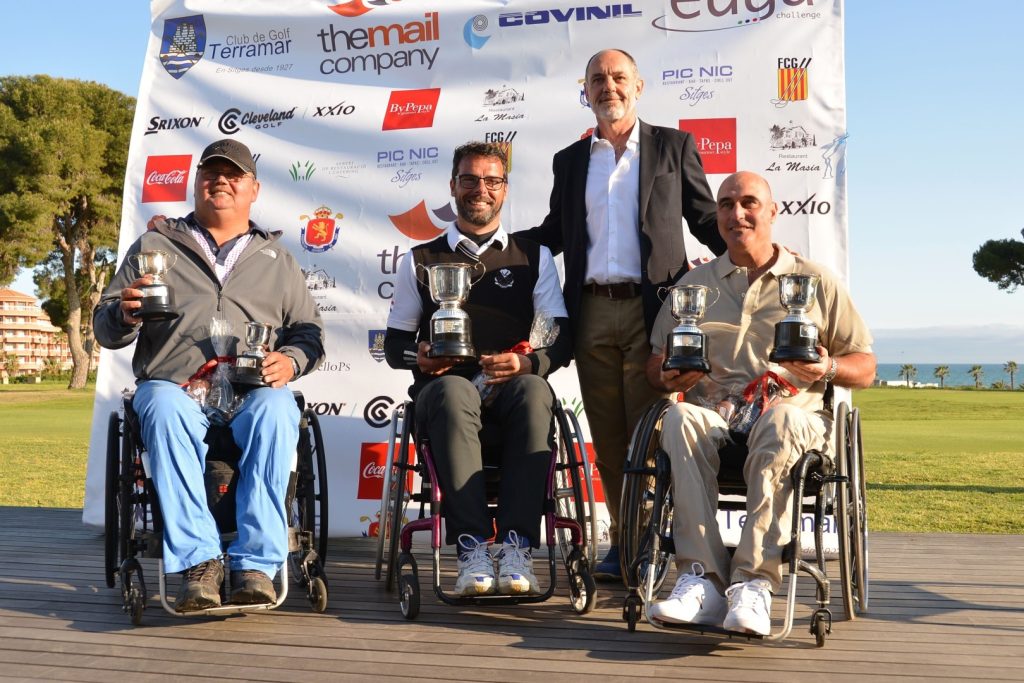 Do you have any advice for someone who wants to start playing golf?
"Of course, of course, the first thing you think is that to play golf means to spend not only one hour of sport, it means four, five, six hours with your friends, sharing your time, having fun, and doing, practicing sport, so I do recommend golf as the best option as a sport for paraplegic people."
Contact EDGA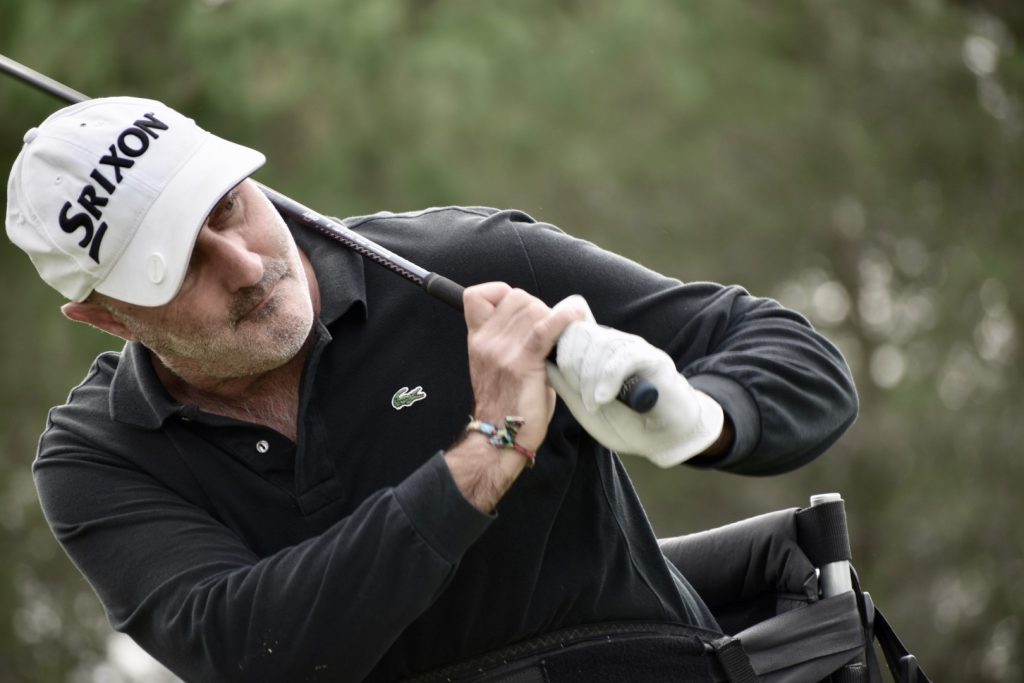 NB: When using any EDGA media, please comply with our copyright conditions