"There is no king of golf. Never has been, never will be. Golf is the most democratic game on Earth. It punishes and exalts us all with splendid equal opportunity."
José Bagnarelli – tough love and second changes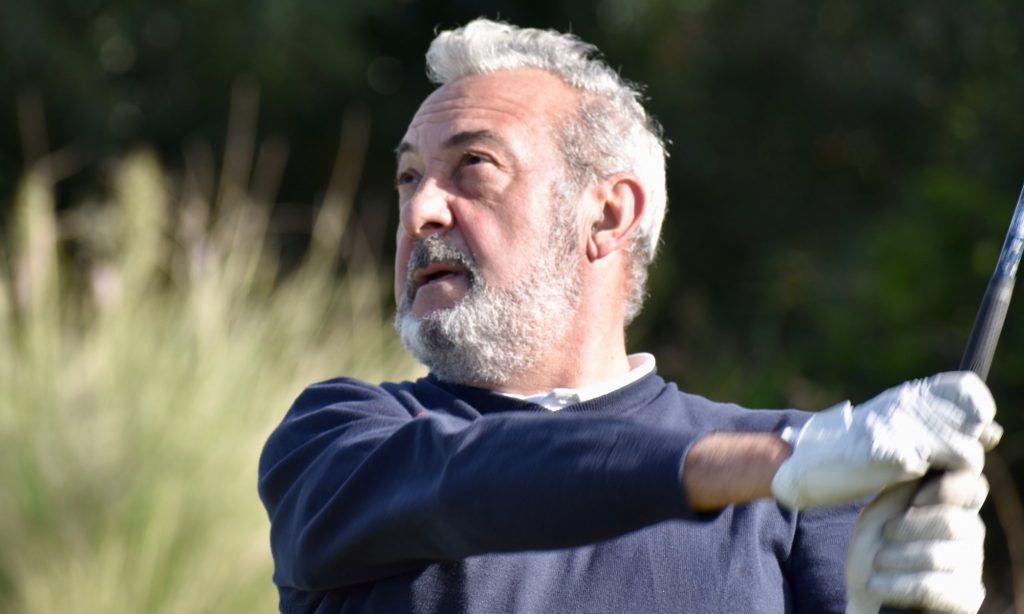 From his early career as a DJ in the late 70's with a pirate radio station, José has spent most of his working career within the radio and TV industry. In his early days, José worked with NRC, Radio Luna and Radio Montestella which was one of Milan's most popular radio stations.
For most of the 80's, Jose worked in the USA hosting and directing weekly music, sports and entertainment reports aired inside a popular music show called "Popcorn."
José now runs an award-winning audio production company based in Milan called Eccetera which specialises in voice-over recording and sound design for Radio and TV commercials. Clients include advertising agencies and production companies in Italy, France, the Netherlands, UK and USA. José also holds workshops and seminars on communication for the radio and effective use of audio.
Q&A with José Bagnarelli
I always thought that you were from Italy, but recently I realised that you had dual nationality. Can you tell me something about how that came about?
My dad was from Naples, my mum is from Paris. I presume they coped with the differences by living in the middle, as I grew up both in Nice and Milan. I then gained double nationality, two languages and French and Italian culture.
Did you spend much time playing sport when at school?
I have been playing sports since I was 6 years old. Gymnastics, then competitive swimming for 5 years. At 14 I entered in the Inter Milan youth team, until they found out (very quickly) I wasn't able to play football. I then played basketball, reaching quite a good level (Italian third division) playing as a playmaker and guard.
Can you remember what you first wanted to do for a living when leaving school?
I was a 16-year-old high school student when I started my radio DJ career in Milan's first pirate radio. After more than 40 years I'm still having fun with audio production and communication.
Tell me about your work in prime time radio and TV hosting?
Well, that was a lot of fun! As portrayed in the motion picture 'The boat that rocked,' in the late seventies pirate radios were a revolution all over Europe, compared to the boring national radios. My radio show was airing daily from 14:30 to 19:00, leading me to be quite successful among young listeners. This is the reason why the Italian TV network Canale-5 proposed a few years later that I host and direct weekly music, sports and entertainment reports from the USA, aired inside a popular music show called "Popcorn." I therefore lived the following 4 years between New York and Los Angeles interviewing stars like Frank Zappa, Mohammed Ali, Al Jarreau, Sylvester Stallone, Magic Johnson, Barry White and many more.
Then came a motorcycle accident and with the knock-on consequences. Can you talk me through what happened and how it affected your life?
It happened as I now understand happens very often with motorcycles accidents: the guy in the car ahead of me decided to make a U-turn in the very moment I was passing him. A crash was unavoidable as I didn't even have time to touch the brakes. The impact was tough: I lost some phalanx of the right hand, but most of all the plexus brachial, the main nerve of my right arm was severed in the crash with a complete paralysis as a consequence. Murphy's law: obviously I was totally right-handed. I still remember when I learned how to take a shower trying to fill my glass from a bottle of water with my left hand! Three microsurgeries later some of the severed nerves were restored, at least enough to grab a beer from the fridge. The glass half-full of what happened is that I learned to be a leftie and that I probably would never have done things I did afterwards, including golf.
You talk about a "Gimme 3 and 1/2!" attitude, please explain what this means to you.
If you're used to high-five with friends and then you lose 2 or 3 fingers, why should you stop greeting your buddies when you meet them afterwards? Actually, since the very first days after my accident, self-mockery helped me to go through the new course of my life. In a certain sense it is a sort of self-defence, it's like saying "you don't need to be embarrassed (or worse) since I'm the one who is making jokes on myself."
Had you played any golf before your accident?
No, I even lived next to a golf course for a few years, but at that time of my life it wasn't really my cup of tea.
Golf then came along to replace some other sports that were now no longer suitable for you.
Well, at first I obviously wanted to play sports I used to practice before my accident. However, I soon realised that swimming without a functioning arm would probably have been like having a stuck helm, spinning in the middle of the pool! I kept playing basketball for a while, with some other long-time friends of mine, but it frustrated my competitive expectations. In fact, my game was quite predictable as I was always dribbling only on the left side of the court and when on rebound I was feeling like I was Qbert, the funny jumping video game character of the eighties.
What was it about golf that made you think that this might just be the game for you?
Let's say golf bumped into me.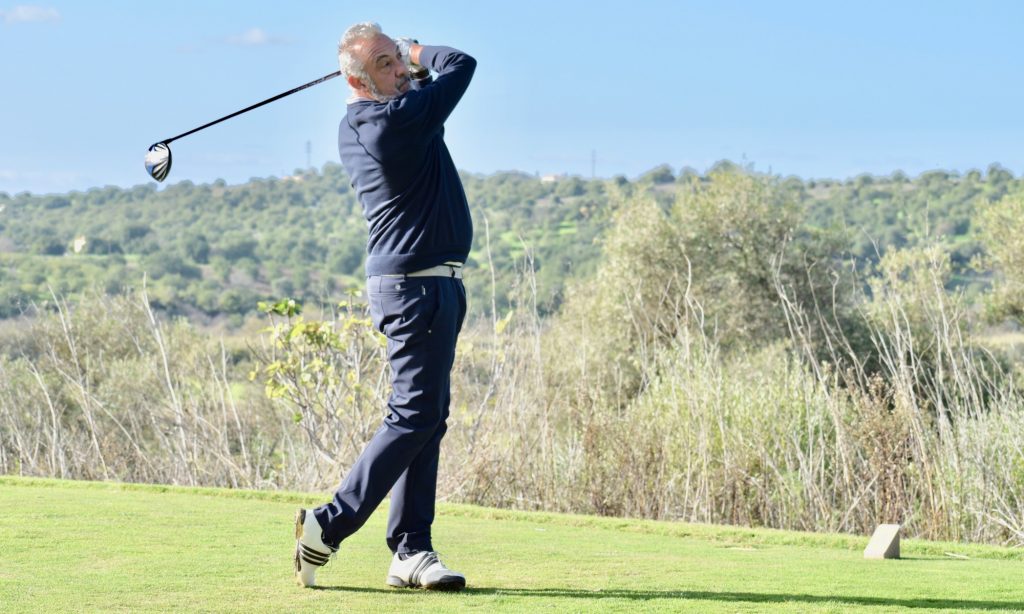 Who or what got you started to play?
During a vacation in Southern France with my wife Sabina I stopped in a golf hotel to spend the night. I wanted to drink a beer and I went to the clubhouse nearby. An older English man, probably in his eighties, was sitting at a table next to mine, smiling at me. I wasn't sure that telling him I didn't know anything about golf was a good way to break the ice, but it was indeed! The old man bewitched me in just a few minutes revealing the essence of golf: "The only sport where a rookie can beat the world champion by just playing at his best!". With or without disability, I added to myself. I was excited, and two days later I was taking my first golf lesson.
Have you had any coach to help you reach your potential?
Not when I started. That was ten years ago, and I didn't know about the existence of disabled golf associations and their coaching programmes towards handigolfers. At that time the pro at the driving range was showing me Tiger Woods videos instead, asking to superimpose my swing to his! Quite difficult for an almost one armed player, isn't it? Luckily enough a few years later I had the chance to enter Handigolf France and meet the French Federation Golf (FFG) coach Frederic Cupillard who works, like other coaches around Europe, on specific training for handigolfers according to their disabilities.
Are there any specific moments on the course that are particularly difficult?
Not really, besides the lack of circulation on my wounded arm which gets very sensitive when it's cold outside. The solution to this problem is easy anyway, as I just have to wear an arm warmer like anybody else would. Probably a bad angle to reach the green is more annoying to me.
What have your learned about yourself by playing golf?
To cope with my imperfections. Any wrong shot (unfortunately there are still more than a few on each round I play) teaches me something for the next one. As Nelson Mandela said once: "I don't lose, I either win or learn."
What does golf mean to you?
Let me answer with another quote. This one is from Arnold Palmer and fits perfectly all golfers, including disabled: "There is no king of golf. Never has been, never will be. Golf is the most democratic game on Earth. It punishes and exalts us all with splendid equal opportunity."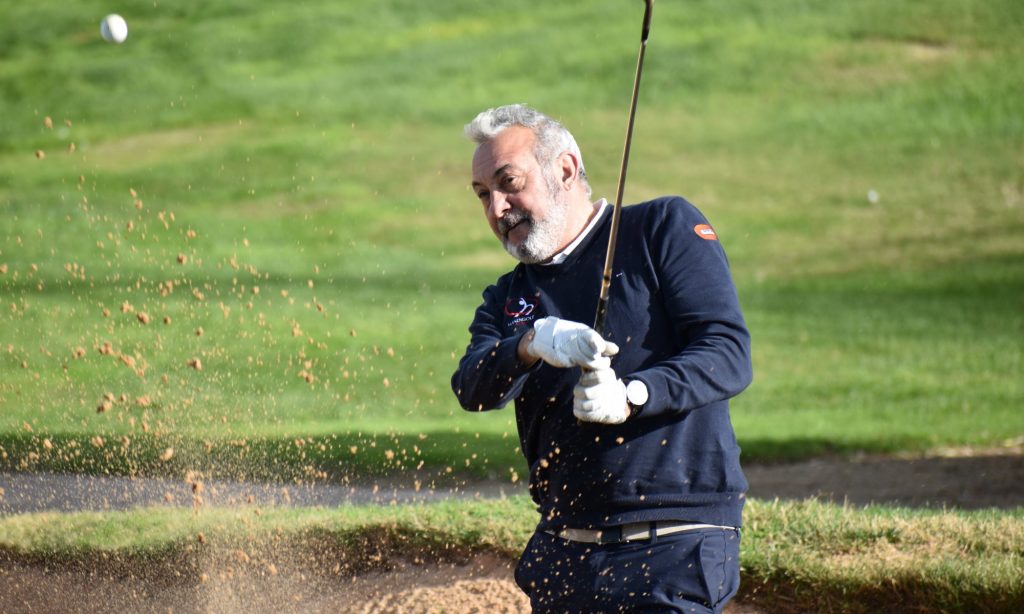 What heroes or role models have you looked to as you progress through your career as a golfer?
I found them on my first EDGA Open appearances, two or three years ago. Their names are Charles-Henri Quelin, Juan Postigo Arce, Cedric Lescut, Manuel Del Los Santos, Adem Whabi, Joakim Bjorkman, George Groves and there are many more. Having the chance to see high-level disabled golfers like them has been an incredible source of motivation for my career as a golfer. All of them play superb golf which is above all the result of their hard work and determination regardless of their disability, in most cases much worse than mine.
Of all the things that you learned from playing golf what would be two or three takeaways that you think others might be able to learn from?
Find a goal and work hard for it, but don't put too much pressure on yourself. Leave your comfort zones, but never forget to have fun in everything you do. At the end it's all a matter of balance and levity.
Are there any goals or objectives that you have in golf that you would be prepared to share?
As my playing handicap is high compared to the "scratch guys" I'm focused on lowering it during the next European Opens, in order to climb the WAGR Nett Ranking (WR4GD). I'm also very excited about the venue of the next European Individual Disabled Championship in June. Hope I'll be at my best at that time!
Are there any adjustments that would make golf more user friendly for golfers with disability and why?
I would only restore the anchoring putting stroke rule, banned in 2016. This rule doesn't affect my golf at all, but I think it would be fair for those golfers whose disability requires long putters.
Competition and philosophy: EDGA and its golf highlanders?
There are golfers who go beyond competition and become heroes. I'm not talking about Tiger, Rory, Justin, Lee, Sergio, Erik or Padraig. I'm talking about Jean-Marie, Sebas, Terry, Christophe, Jurgen, Ze Pedro, Christian, Ivgi, Jens, Roberto and many others who play in a Paragolfer. These brave athletes playing golf on an adapted wheelchair are amazing and lead any other golfer to understand what dedication to sport and competition means. Furthermore, they show many others that nothing can stop one's will.
What "Good first take!" means to you?
This is my contribution to a book published a few years ago where I was asked to write my early epitaph along with other personalities. I thought of this phrase as a synthetic combination of my work (I am now a director in my audio production company) and my fulfilled life.
Some general questions:
Is there anything about you that might surprise us? (For example, you play electric guitar in a heavy rock band)?
I have two lovely and funny dogs: Rosina and Pinella.
Which piece of your golf equipment gives you the most joy?
Driver on Mondays and Thursdays, 5 Iron the first weekend in Spring and putter in months with an "R", like for the oysters.
If you could play a four-ball with anyone, dead or alive who would be your three playing companions and why?
1. My Dad, who never played golf in his life but would have loved it.
2. My beloved wife Sabina, who wanted to play golf with me until we got married.
3. Iggy Pop, who is a fine golfer, but just to hear him singing 'Louie Louie' on the course.
If you could magically be with someone who has a similar disability as you, what advice would you want to offer?
I would pour a "finger" of scotch in a glass and make a toast to him as he's still alive.
Contact José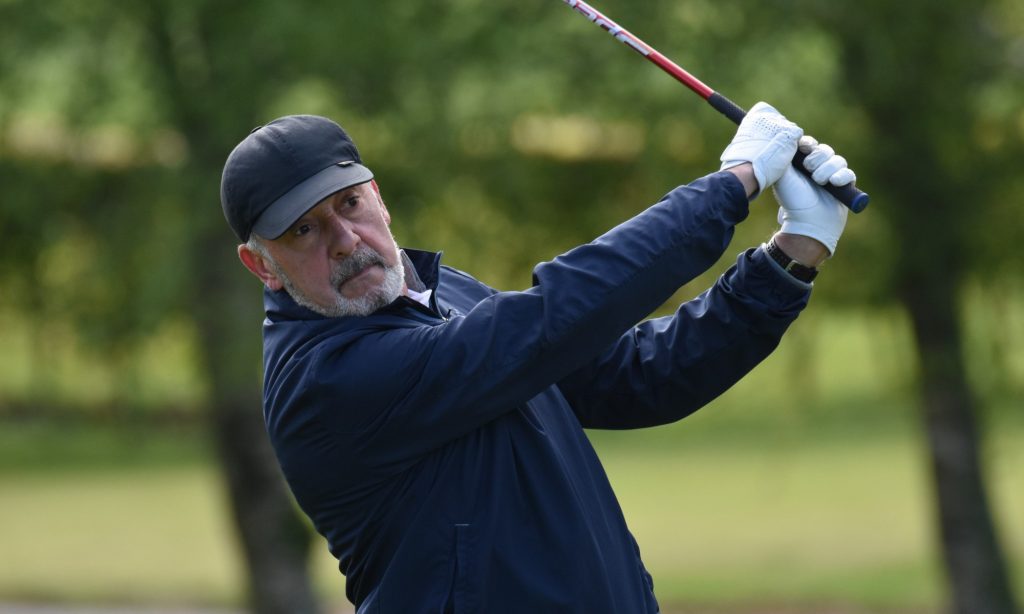 Email: jose@eccetera.it
NB: When using any EDGA media, please comply with our copyright conditions