Audio: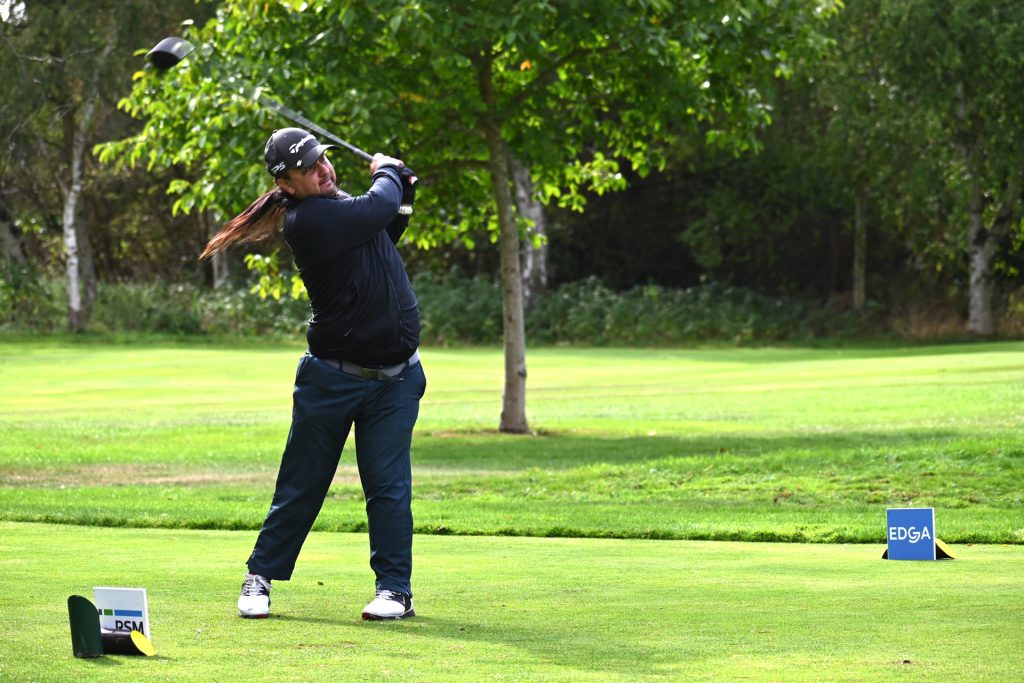 Imagine never having tried golf and then just 18 months later playing in the final of a European matchplay tournament, teeing off with highly experienced players in front of an assembled crowd, filmed by professional cameramen for the golfing media. Miroslav Halmo faced this pressure situation just recently in the RSM European Play-off Series in England. He said later it was like something in a dream, but in his exalted state he still talked as much about helping other people with disability to enjoy golf as he did his own game. Just 18 months in, golf has arrived in his life, and he's hooked. 
Miroslav Halmo was born with a missing lower right leg in 1977 (a rare condition Hemimelia, or tibial deficiency). He grew up near Topolcany, about an hour from Bratislava, the capital city of Slovakia. Today he lives in the city of Nitra. He was a happy and very active boy, wanting to play the same games as his younger brother and the other kids, and with his parents, father (also Miroslav) who worked in trade fairs and exhibitions, and mother Eva, an architect. Orthopedic technicians would fashion improvised prosthetic legs to help him as he played.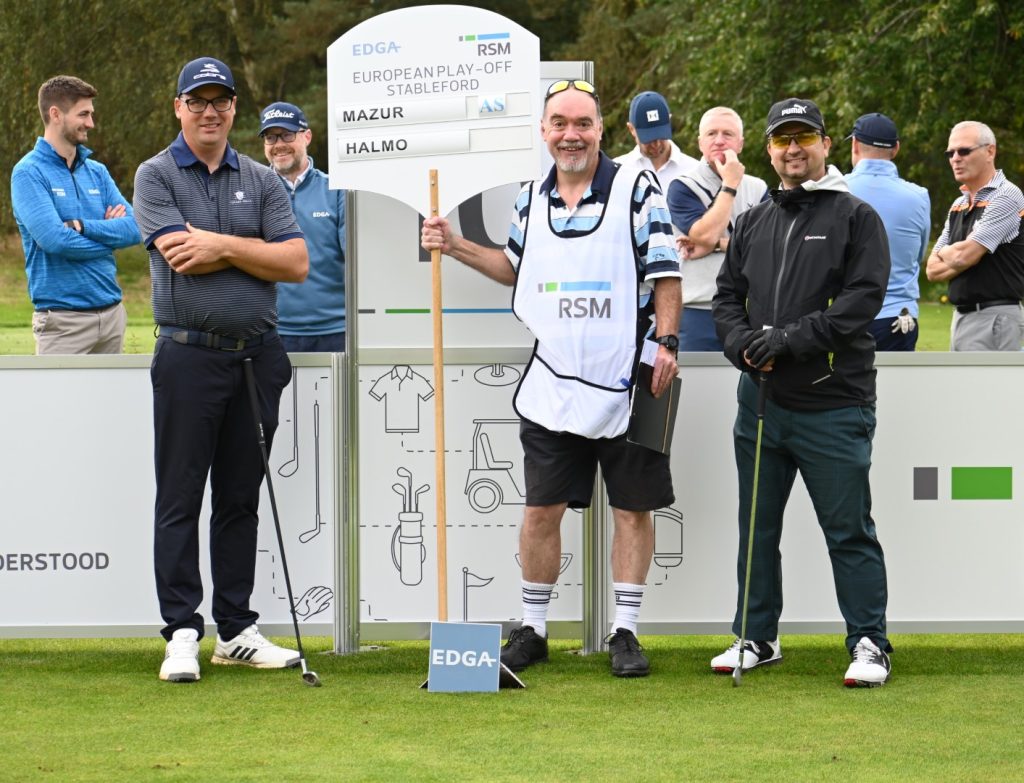 Today, Miroslav laughs when he tells you this, because in the frenetic nature of children's games, the new leg was in constant need of repair and further adaptation for the growing boy.
Coming from a supportive family, he would do well at school in his studies. But because of his disability, Miroslav found that he would start to learn a sport, then be really enjoying it, before reaching a stage where his missing leg hampered progress. It soon seemed that sport, and the sociability of sport, was quickly passing him by.
He said: "I tried many sports. I was born with a disability and so with every sport it came to a point when I was not able to compete. So from the beginning it was really big enthusiasm and then it came to the point where you couldn't take it further in your development because you are disabled."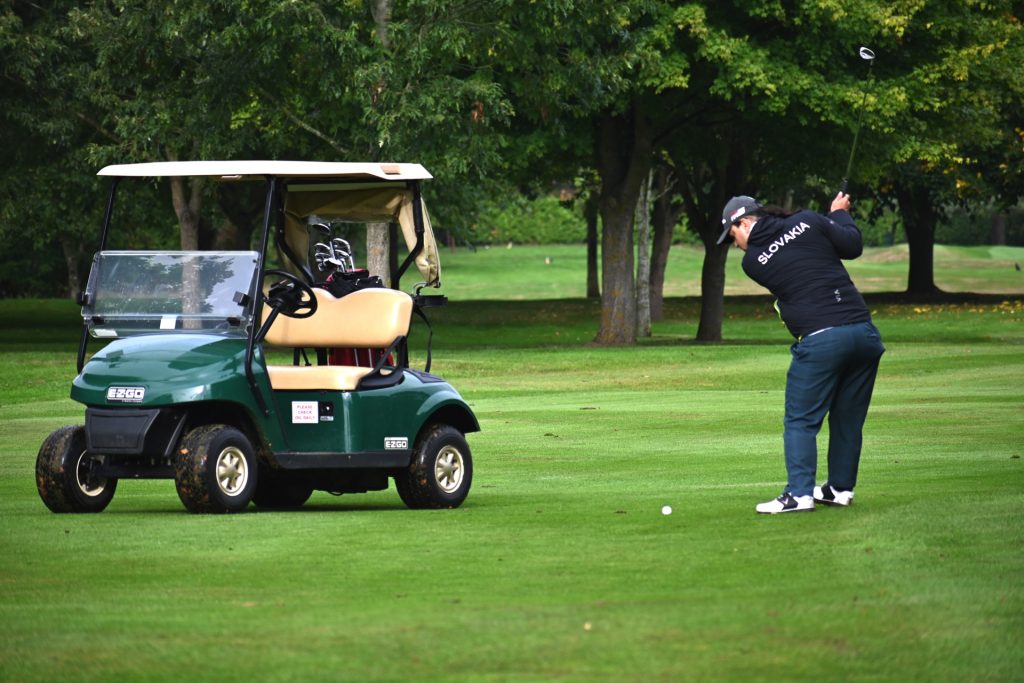 Many years later, in 2019 when he was 42, after a chance contact with golf via a company social evening at a golf venue in the region, he finally found a sport in which he could improve continuously, to challenge himself and explore his potential, while making a group of new friends. And it seems one of golf's most recent converts is now loving every minute of this new journey.  
It wasn't at all easy at first, and Miroslav can clearly remember the shame he felt when visiting one club to practise and the people on the terrace burst out laughing at his efforts. This if anything only deepened his resolve to find his own game and stick with it.
Talking with Miroslav Halmo in October, 2021, it has been a whirlwind few months for him. We are at Stratford-on-Avon Golf Club. He presents himself as a modest man, he reminds us he has only really started playing golf, and is very much learning the game, he is at the beginning.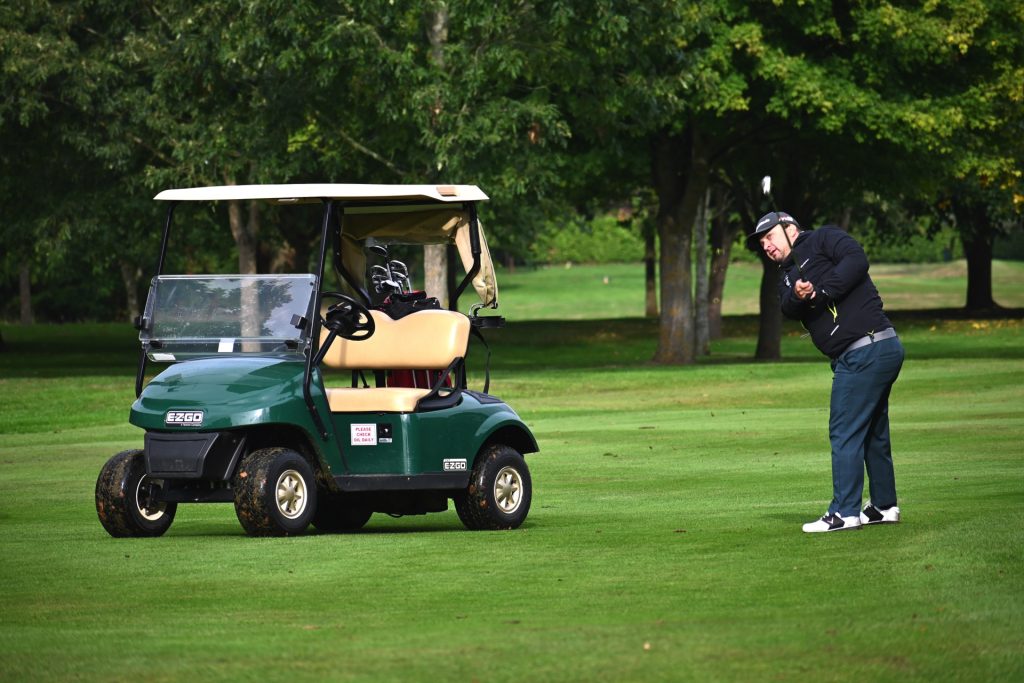 He looks around himself in the clubhouse at Stratford in wonder, at the polished old wood panelling with all the names of past winners at this club that is more than 100 years old, which is nestled in the leafy and of course historic Warwickshire town. For most visitors here the drama is about Shakespeare, but this week there is more talk about Samuel Ryder, godfather of the Ryder Cup, who was a member of this club and Captain in 1929 and 1930.
Miroslav was here to play in the RSM European Play-off Series Finals. One of 16 players who had qualified by right through the World Ranking for Disabled Golfers (WR4GD). Eight of the players qualified through the Net ranking and eight via the Stableford (Miroslav achieved this with a 31 handicap). They were to play for two separate trophies in their groups of eight, matchplay knockout. Though Miroslav says he feels he was fortunate to qualify, and is a little uncomfortable around the other seasoned players, he recognises he wouldn't be here without all the hard work he has put in. He has worked very, very hard on his game.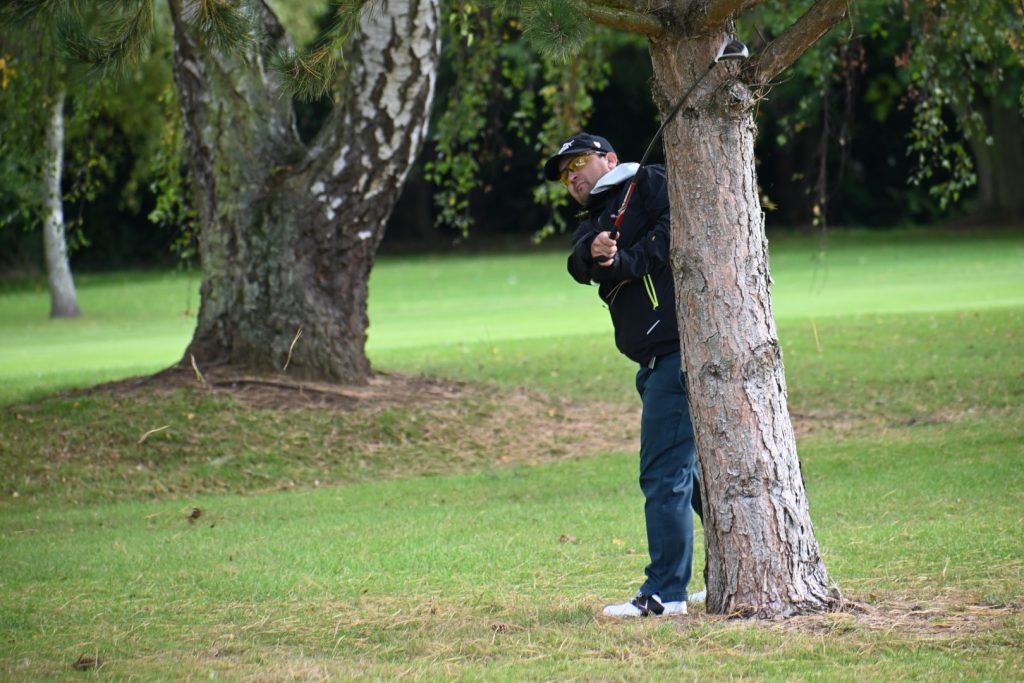 He talks to us on the Tuesday, after winning his quarter-final match to make the semi-finals. At this time we were only joking about winning, lifting the trophy. To be honest, just getting through the first round was fairly monumental, recalls Miroslav, calling it "four and a half hours of real pressure."
"It was really the toughest match I ever had. For me, this is the first big tournament I'm playing, and it was really tough, until the last minute, the last hole, it was really close all the time… so winning on the last hole was really amazing."
Miroslav loves the competition, he wants to win, but he stresses to me that he also loved the camaraderie of being part of the 16-person field. Seven nations were represented at Stratford and one could see Miroslav joining in the chat, sitting with the other players, and swapping experiences over a beer after their matches.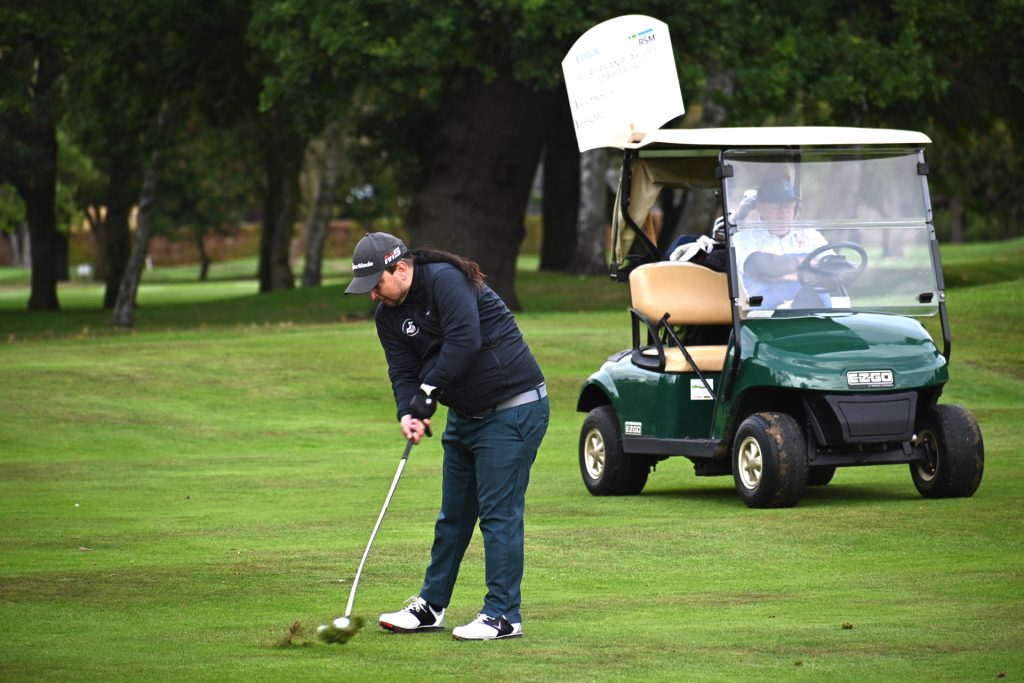 "The friendship around golf, around EDGA events like this is fantastic," Miroslav explained. He was also at pains to thank the supporters of the series, the team of people at RSM, and also the staff at Stratford-on-Avon Golf Club who created a week he said he would remember all his life.
Golf is new to Miroslav and it nearly passed him by altogether.
"It's pretty new in Slovakia. We have a few courses which are very old but we only have 28 golf courses in Slovakia. So first I went to the States in 1996 and I saw my first golfers there. I had a little try and that was my first contact with golf. But when I was home I realised there was no place to play and for the next 20 years I didn't think about it."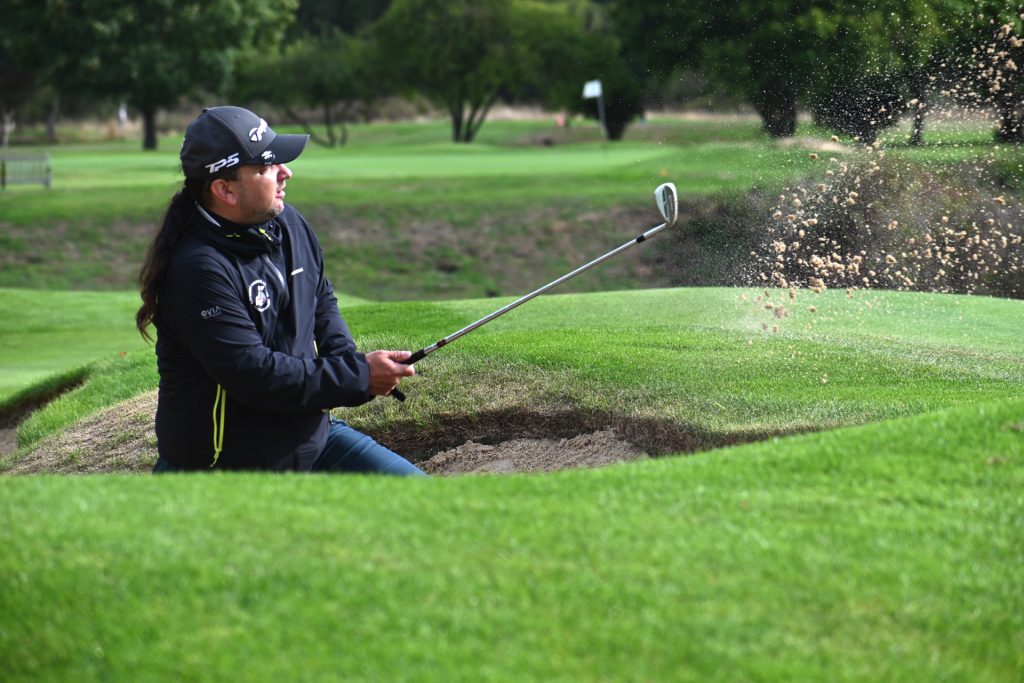 After college, Miroslav was an English teacher for a time before a stint as a project manager for the YMCA. He then worked in a bank, before becoming a line manager for an international firm making parts in the automotive industry. 
"Then we had this company evening at quite a new course and that was the first time I came into contact with golf again. This was two or three years ago and I realised this should not be a problem to play golf with my disability."
He added: "At that time I was searching for a sport that I could do when I was getting older, and though I didn't like walking a lot because of my leg, the challenge provided by golf means I don't worry too much about walking and I can walk for a couple of miles and I have no problem with that. So golf interested me and it was good for my health and I liked the competition. So I really love this new sport."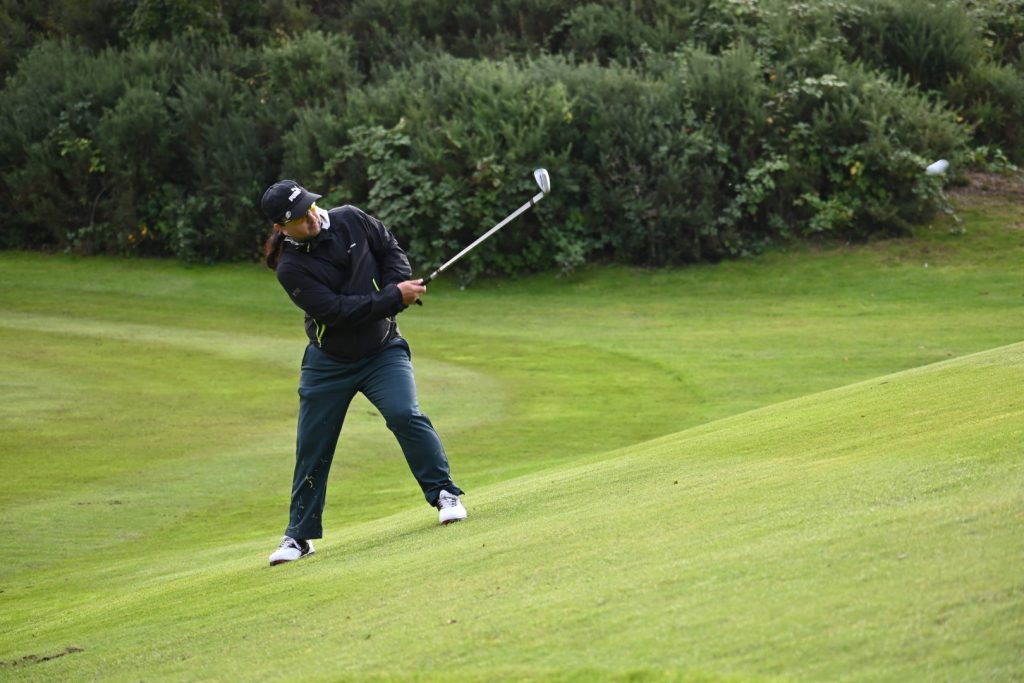 For him, like with so many who love the game, there isn't just one factor that sets the game apart, more it is the experience as a whole.
"I have been on many golf courses so far and I really enjoy the nature, I really enjoy golf courses, they're beautiful and you have to enjoy this. And at the same time there is this challenge; it doesn't matter how old you are, how many years you have played, you can still all play together. People from different backgrounds, different ages, different experience, you can still play together and this for me is amazing."
Remarkably, just 48 hours after this chat a very proud Miroslav Halmo was holding the winner's trophy for the Stableford by the 18th green at Stratford-on-Avon. There couldn't have been a more deserving winner, while all present enjoyed his company over the three days. EDGA players tend to socialise well and support one another and emails and phone contacts were exchanged by the group, a new group of friends.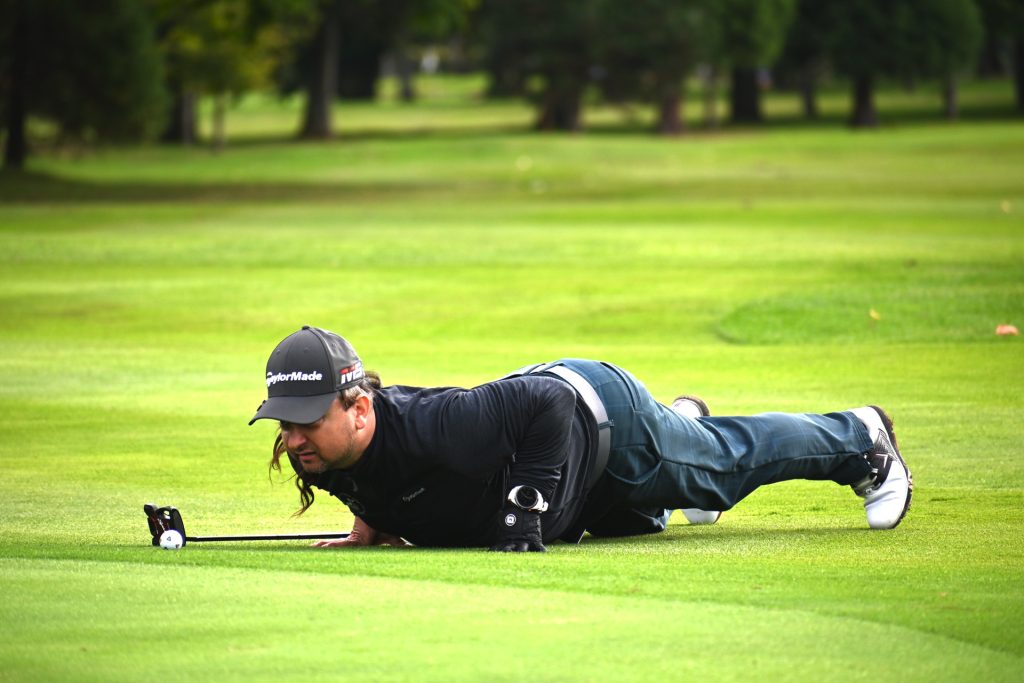 Miroslav said: "The whole tournament was wonderful – the course and the whole organisation was perfect, and the atmosphere was really very friendly and motivating. I met many interesting people there and made many friendships with not only the players, but also the RSM and EDGA people and the local golf club members."
Miroslav's improvement comes down to hard work and enthusiasm. His home club is called Golf Club Meander, an attractive nine-hole course 10km from his home. He tries to practise seven times a week in summer and if lucky with time he will putt for 45 minutes, chip and pitch for 45 minutes and hit the longer clubs for 45 minutes, before playing nine holes alone to 'play-in' his practice work. He started without a coach, instead an avid reader of the game and viewer of instructional videos online. The first two golf books he owned, 'Golf For Dummies' by Gary McCord, and 'Play Better Golf' by Colin Howe, have been a goldmine for him.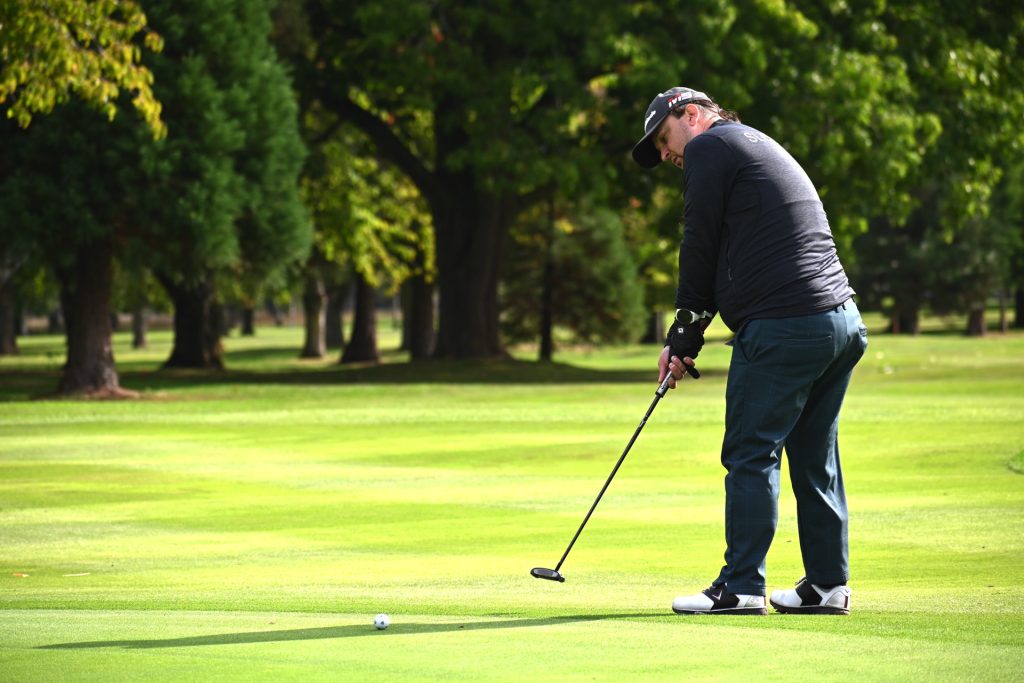 After the arrival of Covid-19 he stepped up his golf to the next level, entering some EDGA tournaments for the first time when possible (he won his first!) and starting under the tutelage of Slovak professional coach Anika Bolcikova. Interestingly, before working with Anika, the advice to him was don't try to fade or draw the ball, don't use a driver, it was all "too early" for him. Fortunately he ignored the advice, learned these moves and the World Ranking points he gained in his early tournaments resulted in him qualifying for the RSM Play-off Series finals.
He is so enthusiastic about golf that he wants to help others find the game, now playing his part in Slovakia's Golf Association for Disabled Golfers (SKGAH).
"So, basically our 'Golf Association for Disabled Golfers' started in 2015 but really started growing this year. In June we went to our first tournament, we were four players, and in the second tournament, also in the Czech Republic, we had seven players. So we are already seven players with disability enjoying golf. I am sure there are many more such players in Slovakia but we don't know about them, yet we are trying to search for them across these 28 golf courses."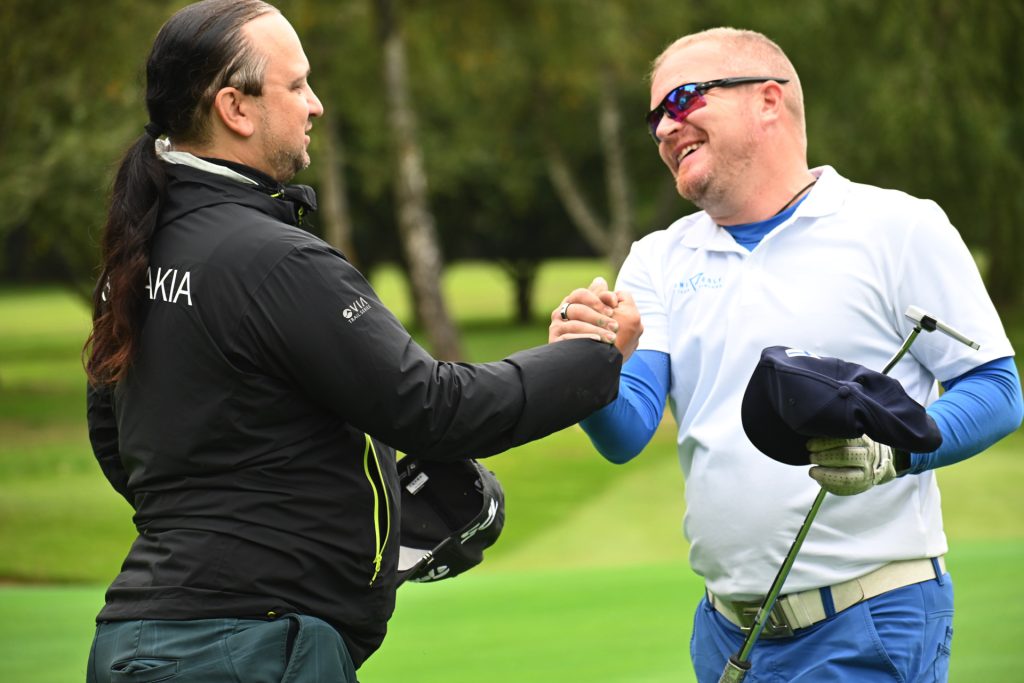 Miroslav enjoys watching golf and is naturally drawn to studying the very best professional tour golfers. 
"They did something that made them successful, so I'm on the way, I'm still at the beginning, so every time I meet someone who is better than me it motivates me a lot. We have the professional players also in Slovakia, we have the Olympic silver medallist Rory Sabbatini who plays for Slovakia. I have had the chance to meet him a couple of times and that was a great motivation for me, something that helped me to think about golf from a different perspective."
Ask about Miroslav's next aim and he offers a highly positive ambition, one that will resonate with a number of other EDGA players.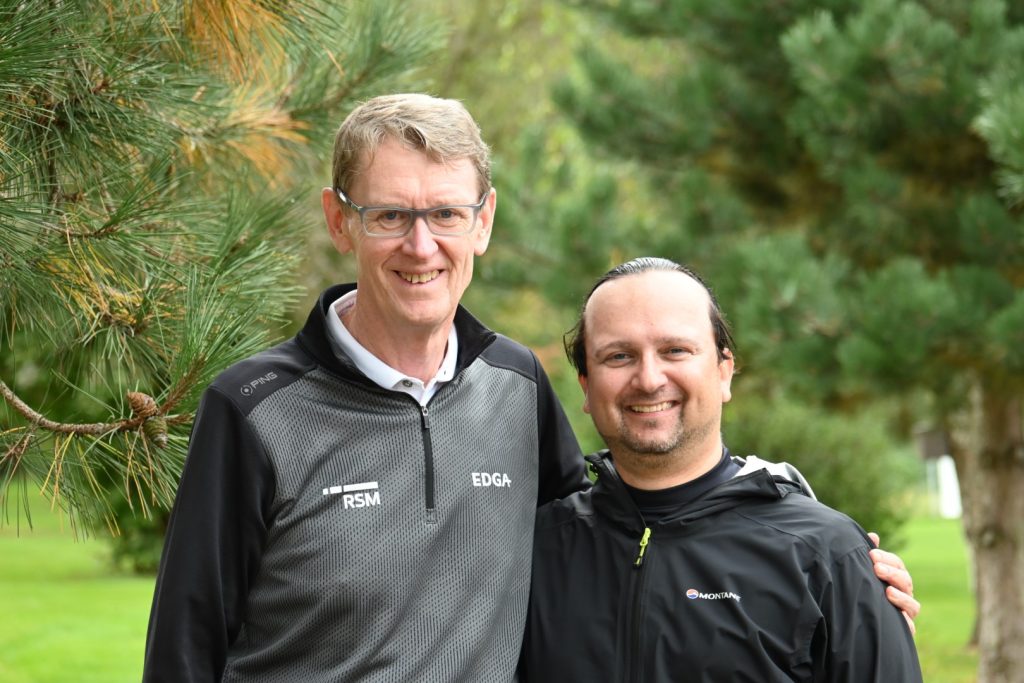 "I don't think about the future in different handicaps, I think where I'd like to be in five or six years, and my dream is to play in the Paralympics. I was so sad that there is no golf in Paris for 2024 but I hope there is a chance that it will be in Atlanta in 2028. So that's really my dream about where I want to be."
Miroslav was keen to thank all the people back home in Slovakia for their support.
He added: "I would also like to thank Tony Bennett, [EDGA President]; when I played I never realised there was a contest like this one, and I was surprised to get an email from him which said I was one of the eight players who were invited, and I read it like 20 times. I could not understand it, it was a big shock for me and I was so happy just to be here with all the great players, it's amazing.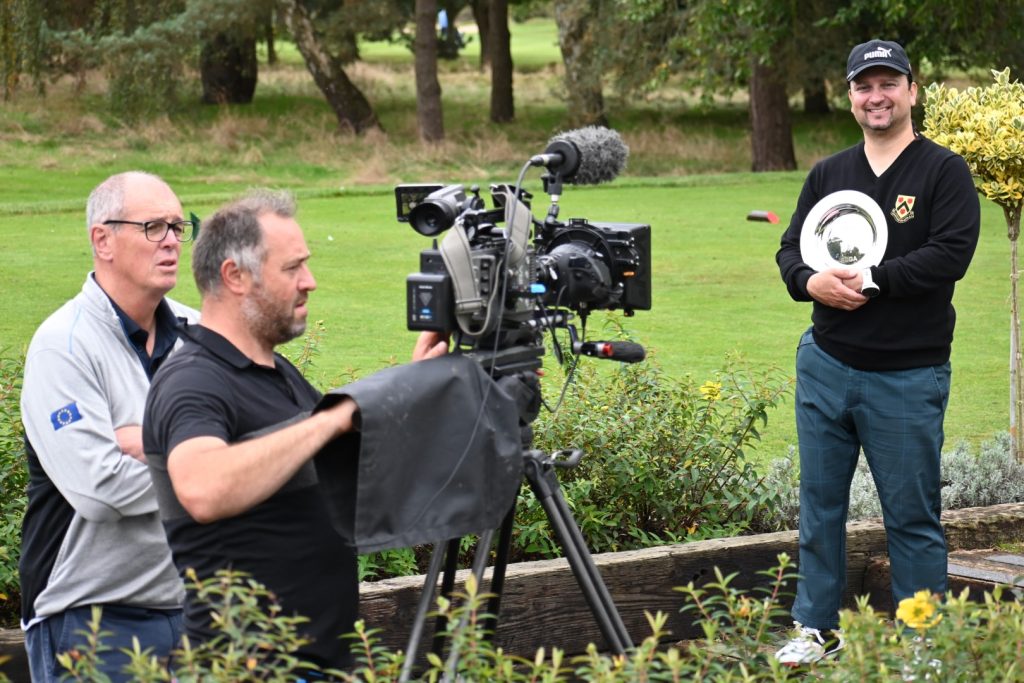 "And back home I would like to thank our President of our Association, Peter Lences, and I thank the President of our golf club, Anton Zelenaj, where I can train every day, and my trainer Anika: these are the people who really made it possible to be here… From a golfing perspective this has changed my life."
Miroslav mentions again the rapidity of his golfing journey and reveals that this week was the first time he had experienced matchplay; he had to learn the format quickly and learn what a "gimme" is. In the hallway of the clubhouse at Stratford there is an oil painting of Samuel Ryder. Ryder might be wryly amused that the Slovak man staring at his portrait was a little unsure of matchplay when he arrived, but he would nevertheless recognise a committed and determined student facing him and in terms of his spirit for the game and his courage to break into golf and reach his potential, there would be no doubt at all.  
Contact EDGA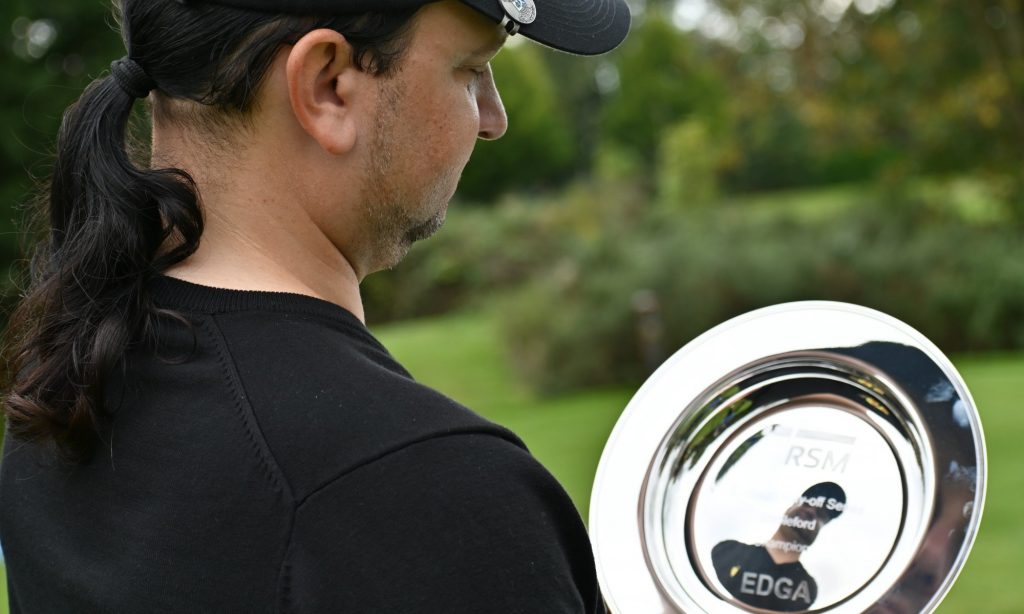 NB: When using any EDGA media, please comply with our copyright conditions