Audio: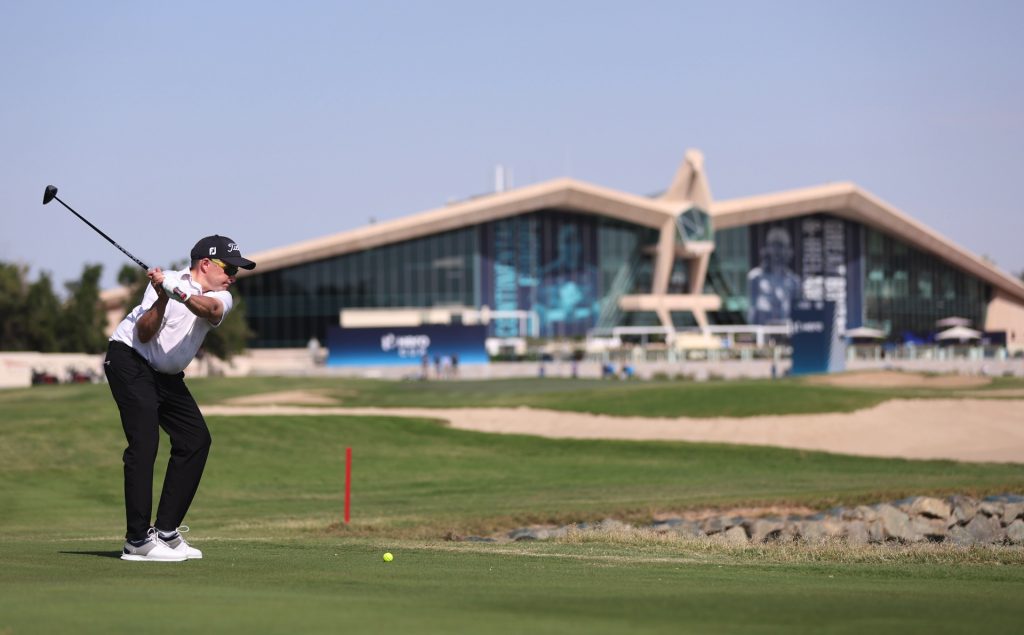 Kurtis Barkley says: "We're all humans, we miss; that's the nature of golf, get good misses." 
Few people will have a clearer focus on the ups and downs of golf, and the ups and downs of life, than Kurtis.
The Canadian was one of eight golfers with disability who qualified to play in two EDGA tournaments staged by the European Tour, on the same courses and on the same days as the European Tour stars. Kurtis teed it up in first the EDGA Hero Open at Fairmont St Andrews, Scotland, in early August, 2021, and then at the EDGA Cazoo Classic at London Golf Club the week after.
The top four players over both events would qualify for the season's climax, the EDGA Dubai Finale, in November. The stakes were high.
Kurtis, a golfer who was born with scoliosis (curvature of the spine), was interviewed on the practice ground at London Golf Club by Sky Sports presenter and former European Tour winner Robert Lee. People saw this on social media and loved their chat – some contacted Kurtis to thank him for showing how someone with scoliosis can do great things.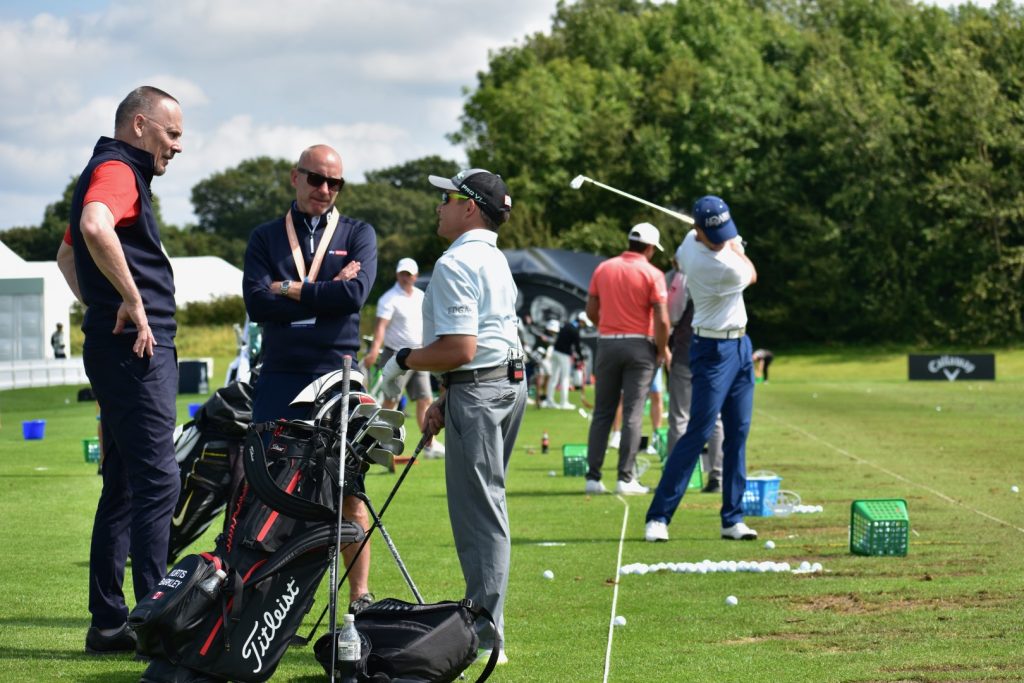 Now Kurtis will tell you he is a very tough competitor, but this golfing focus can hide a warmer heart. He talks about his "tunnel vision" on the golf course, that though he hears what is said around him on the tee, he doesn't really 'hear it'. For him it is all about "getting the job done". Off the course, he'll greet you with a twinkly-eyed smile, and talking with him you understand how hearing positive messages from strangers had hit home with him, showing him how his presence in these big international events was being appreciated by others. 
Kurtis said: "Even in the last couple of days I have got some messages online from people who I have never had contact with before and they said their daughter has scoliosis and that your story is an inspiration, and it's awesome to see what people can do when you put a mindset to something.
"To get messages like that… you don't think you have as much impact on someone until you're shown how much impact you have, and it's just great to see all that coming, and I'm just doing my thing, and I'm sure I'm helping other people, showing it doesn't matter what [disability] you have, you can still go out, have fun, enjoy it."
You could see that Robert Lee enjoyed the quality of strike Kurtis put on the ball during their interview. His spine curves three ways, but he has created his swing to repeatedly hit the ball well with great consistency off a 1.3 handicap that taller, stronger golfers would dream of attaining.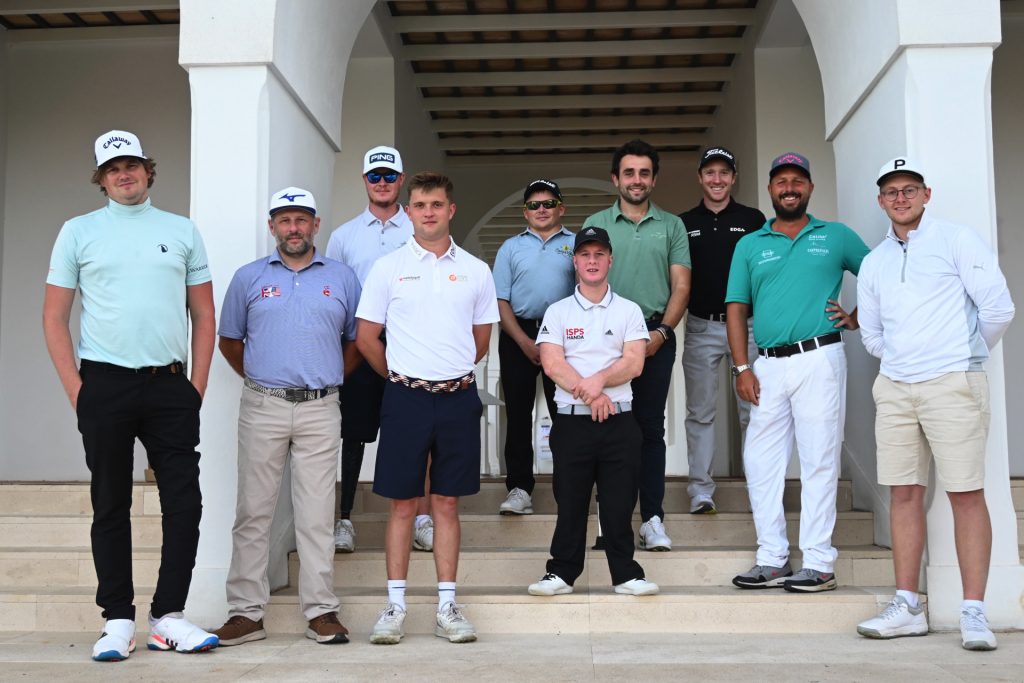 For Kurtis, it's the putting that can sometimes be his demon as he can't quite find a long-term comfortable stroke that works for the way his spine works. His shoulders can't tilt and lead the stroke like a Tour player's can; he has an extra bone in his neck that inhibits mobility. Kurtis is 'all arms' as he calls it. He was annoyed with himself because he had taken 78 putts in two rounds in Scotland and talking of this turned his twinkly eyes into an altogether sharper focus. From joking a few moments earlier, suddenly you see the 'game face' that gets him round the course so well.
Kurtis explains: "I say you always have three personalities. The personality when you're by yourself, the personality when with your family and friends and my personality when I'm on the golf course. So when I'm home with friends and family I'm a goofball, I have a demeanour, I joke around, have fun, and when I'm with my family they know who I am. And when I'm on the golf course, I'm straight faced."
Kurtis clearly takes the game so seriously because he actually loves the challenge.
"Because it means everything. From going to the course, it feels, it's who I am. So I go to the course, nobody makes fun of me there. I feel like I'm everyone else. So when I'm on the course, it's my confidence. The way I walk, the way I talk, it's who I am."
That confidence you see on the fairways blends into his manner away from the course as a highly regarded amateur golfer in Ottawa, Canada. Golf, and being so active (he enjoys fishing and hunting at home) is great for his condition but also presents problems when he travels and plays a lot of golf.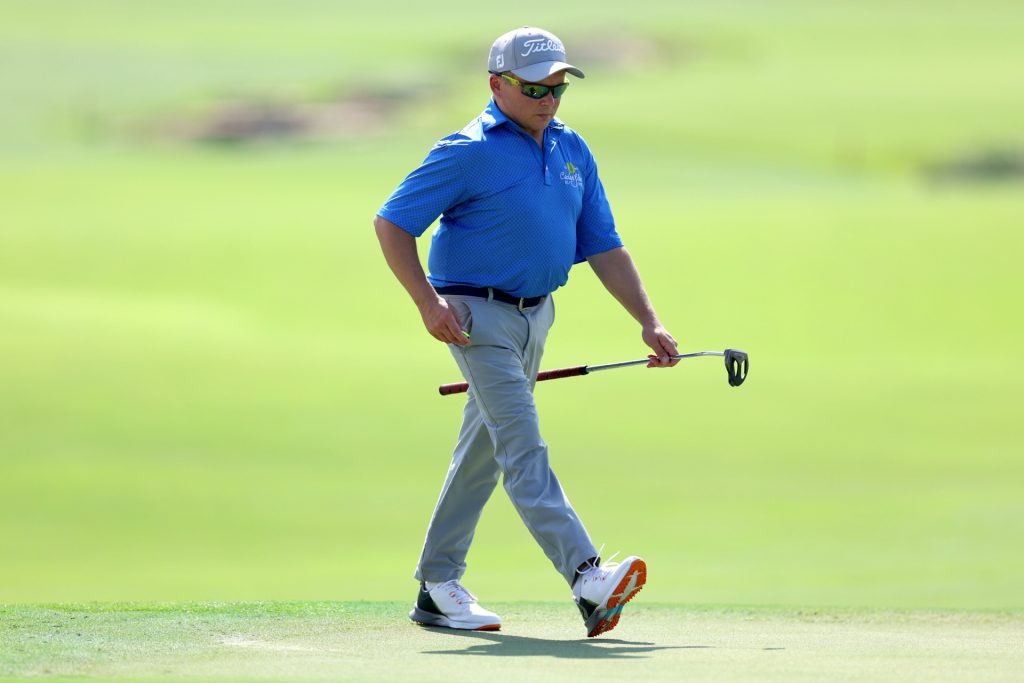 "I was born with scoliosis, which is a deformity of the spine. In my case, mine curves three different ways. And the greatest curve is around 50 degrees. So it has an impact on everything. My ribs overlap my hips and it affects my organs, like my heart, my lungs, my flexibility. I have an extra bone in my neck as well that stops me from turning. There's lots of hidden stuff. If you were to stretch me out, I should be about seven to eight inches taller than I actually am. It's all hidden, but it's definitely an everyday chronic pain and it's not improving."
Kurtis adds: "One of the main things I struggle with is sleep. It's very hard for me to sleep and get comfortable. My flexibility is, practically, very limited. I've got to lift weights to keep my body physically strong, but my back can only hold so much. So I keep my arms, my legs as best as I can get them because there are muscles in my back that don't even work. And there are some muscles in my back that are overworking, compensating for the muscles that aren't. So there's a lot of pain, a lot of knots and stuff that I've got to try to stretch out so that I am able to turn and hit a ball."
Given this physical impairment as a child, the bullies were not far away at school.
"Definitely. Growing up with a disability is quite hard. If you get a blue car, everybody judges you because it's not red. It's the same with anything else. I was criticised for my height since day one, and my neck because my neck's shorter. The way I looked at it is you have always got to see who it's coming from. Obviously they have their own issues so it's easier for them to poke and chew at someone else. It just makes it easier for them."
Being able to rationalise this as first a child and then as a young man takes a smart mind, and today, what would those bullies think of a 1.3 handicap? Kurtis also has a supportive and loving family, and of course golf came into his life and in many ways he never looked back.
"Well, we grew up south of Ottawa. We were out in the country. We had an old driving range that I used to hit balls, hundreds of balls. I started when I was three years old, hitting around the house, breaking a few windows. I ended up going to the course when I was about seven years old and I have been addicted to the game ever since.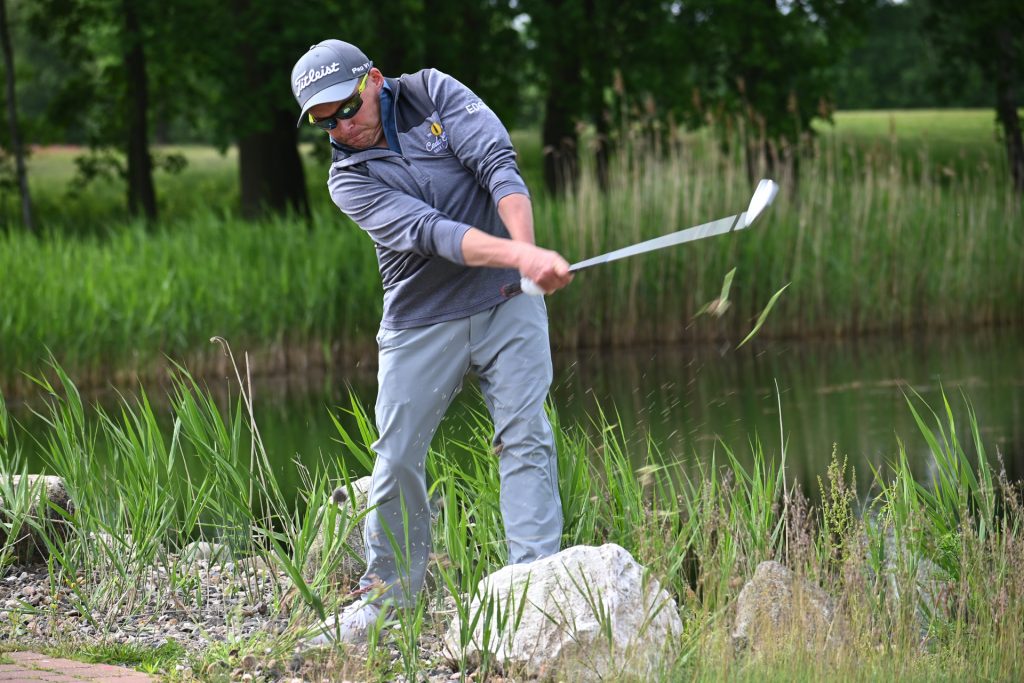 "Growing up I knew I was going to have difficulty with physical sports and my parents knew that at a young age, having something to do with my spine that one bad hit or one bad move on the sports field and I'm in a wheelchair or worse, so my Dad was a golf teacher and he got me out hitting balls at a young age. I could play lots of sports, hand-eye coordination was very good but I just couldn't do running sports. I didn't have the lung capacity, so I couldn't run, couldn't swim, so I stuck with golf.
 "I started when I was seven and I started getting into competition at eight. I played hundreds of tournaments growing up. I believe I was 11 years old with an 11 index [handicap]. We actually journeyed down to Australia when I was younger and that's when tournament golf kicked in."
Kurtis, in his teens, became a very good player and as a young man would start to travel to find players who could give him a good challenge, working his way up the amateur ranks in the Ottawa region.
 "So I started playing against really good guys and it took a few years, and one day I stood next to one guy and we were looking at the leaderboard and he goes, 'Who is this Kurtis Barkley?' I was in second or third and I was literally standing right next to him and it was one of the best feelings in the world."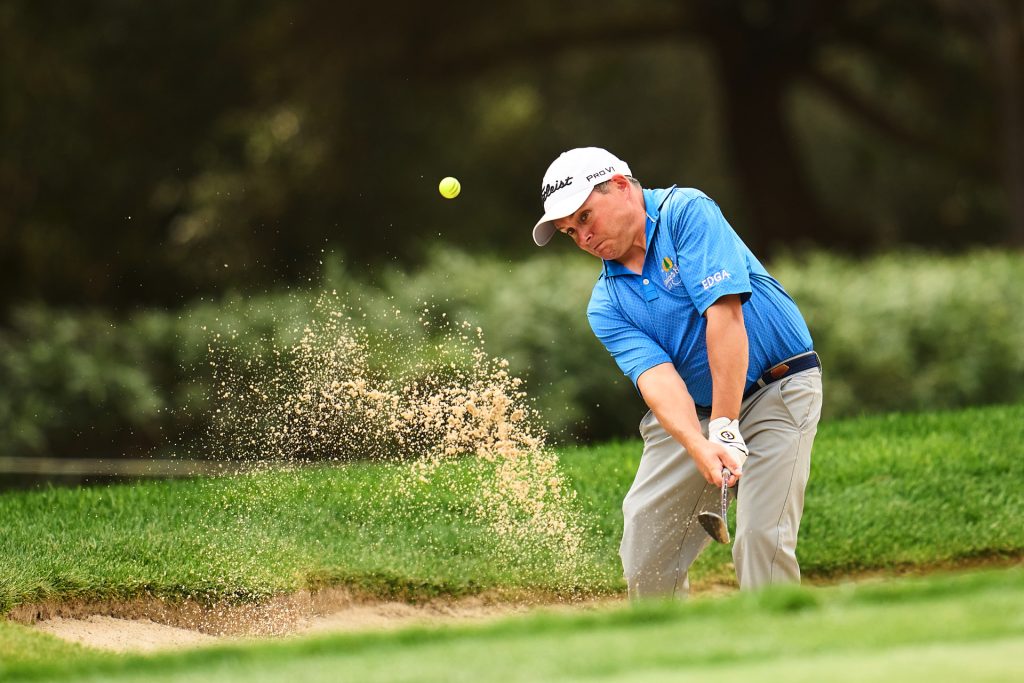 Kurtis's talent, hard work and patience all paid off when he became the number one ranked amateur player in the Ottawa Valley (1.6 million people live there) for the 2016 season, a feat he repeated in 2018. He didn't know quite where to go from there but then he came across the international EDGA tournaments and the then brand new World Ranking for Golfers with Disability (WR4GD). He describes this discovery as perfect timing. More hard work has led to his "dreams coming true" and travelling the world to play in big events. Kurtis played in the Australia All Abilities Championship (AAAC) in 2019 and was runner-up after a play-off, watched by crowds who had just seen Tour players Matt Jones and Louis Oosthuizen finish in the main tournament. Today he is a top-20 player in the WR4GD.
Kurtis has his own mini fan club with his friends and family back home, and he chuckles that some friends presume he'll now single-handedly have golf accepted into The Paralympics to win a medal for Canada and he has to say 'ease up a bit guys, it's a team effort here!' However, as a proud Canadian, with the part that nation has played in The Olympics, he does like the idea of taking part one day. 
"That would be just mind-blowing. I would never have thought of that in a million years growing up. It would be just another dream come true."
Kurtis would encourage anyone with a disability to try golf because it suits so many people at different times in their lives.
"Well, golf is great because it welcomes you every day with open arms and it doesn't matter how you do it because everybody has their own swing. I have my own swing and you work on it your own way. You can get advice from professional coaches here and there, but make it your own and you play the course, not the people. And it doesn't matter what you have. We're all capable and have ability to play golf."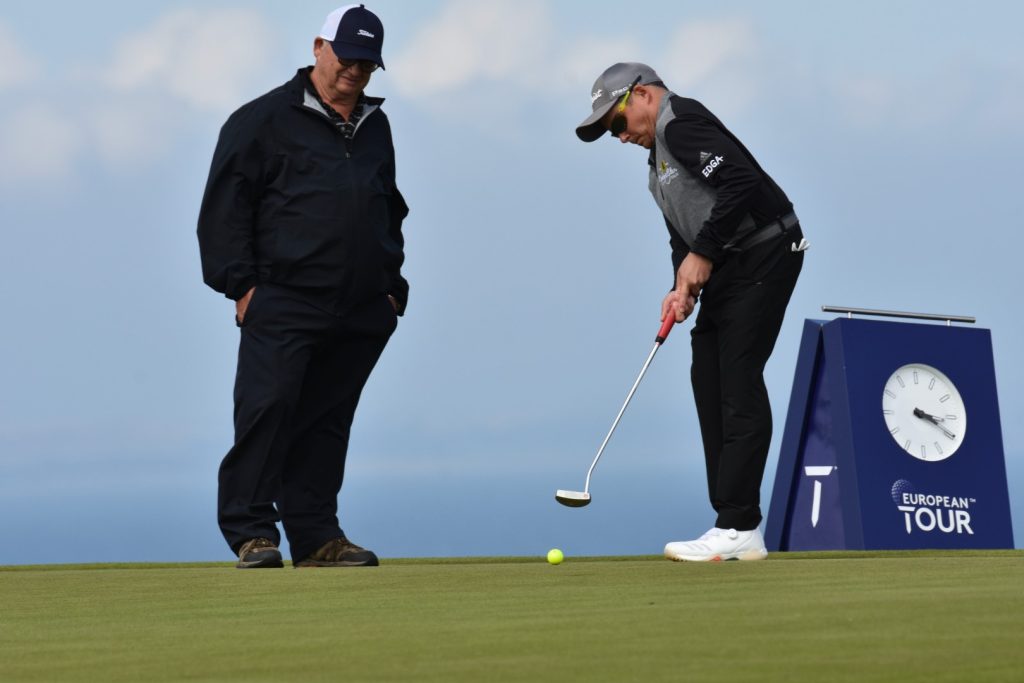 Kurtis described the experience of playing in St Andrews and at the London Golf Club as "amazing". He and his father, who was his first coach and is still his coach and mentor, were both highly popular figures at the tournaments, their Ottawa brogue a welcome addition to the accents heard from all over the world, such is the size and scope of modern European Tour events. 
"It feels great to be back out and representing my country in a tour setting like this, it's unbelievable," Kurtis said.
Kurtis was exasperated about his putting the day before the first round of the EDGA Cazoo Classic, at the London Golf Club. Those 78 putts in Scotland were fresh in the memory and the greens at the London GC are notoriously challenging with tough slopes and rapid descents. The two men, son and father, were working together to find a good stroke. Kurtis used to 'anchor' the putter to his belly until that was outlawed a while back to the frustration of many. But he was hopeful he would find the key in time before the tournament.
Joking in the clubhouse revolved around putting left-handed, or with eyes firmly shut for feel, both of which he'd tried. Kurtis even recalls winning a competition once putting left-handed with a $2 putter, his friends staggered when he was four-under at the turn (ninth hole).
This talk brought inevitable laughter but when it came to the weekend when a place in the EDGA Dubai Finale was up for grabs, Kurtis eased back on the twinkly smile. He found that tunnel vision, that 'straight faced' quality and two very solid rounds of 79 with some (crucially) better putting brought him the third place out of eight he needed to ensure a qualifying place for Dubai. He had made it through.
Like all golfers, Kurtis was still missing, but they were good misses.  
Contact EDGA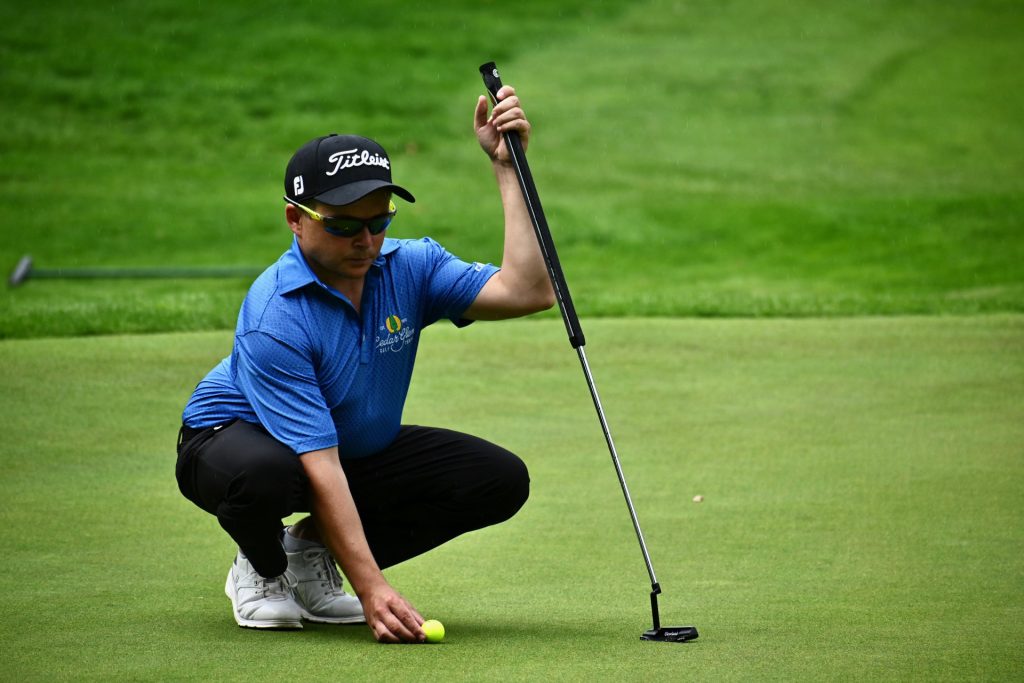 NB: When using any EDGA media, please comply with our copyright conditions