Audio: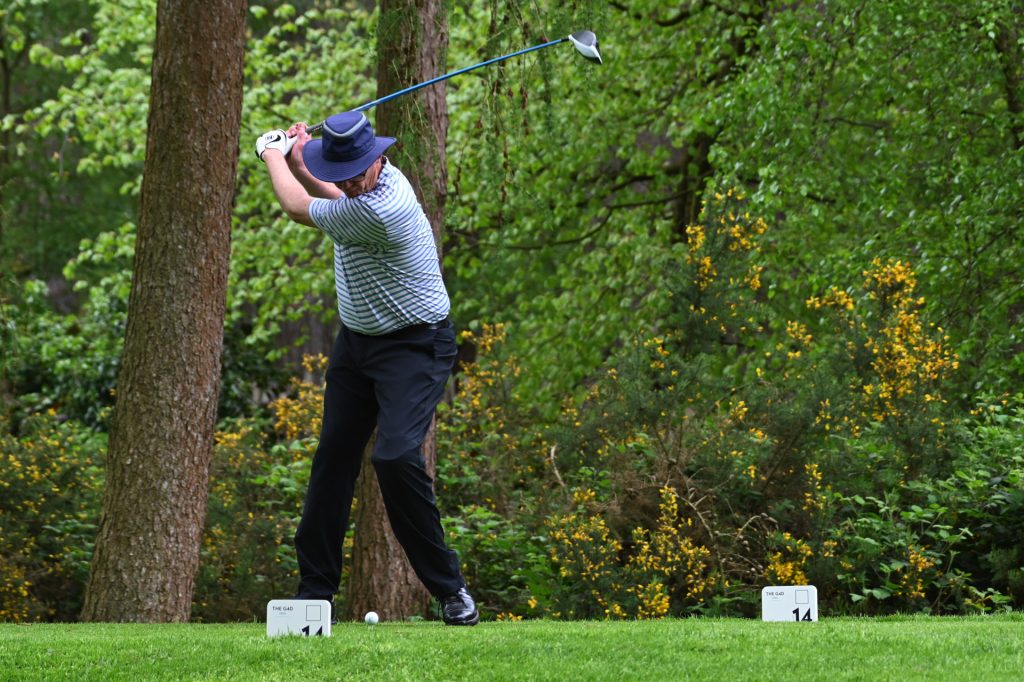 In his interview Duncan Hamilton-Martin talks about 'bottling the spirit' of someone he was close to and how powerful this would be. Spend half-an-hour in his company and you too enjoy the benefit of that feeling of spirit of which he refers, encouraging you to "just get on with it" and embrace life. Duncan has embraced golf too. He certainly recognises that golf – like life – isn't always fair but it is there to be experienced, enjoyed and to make lasting friends.
Duncan Hamilton-Martin hails from North Devon in England's south-west, one of the country's most peaceful and beautiful areas, blessed also with a few challenging links courses which are quite spectacular to behold.
He was a bit different as a child because he lost the lower half of his left leg when he was just two years old. Speak today to this retired company director, a relaxed, generously minded and confident man, and you wonder how he coped with that traumatic setback; a loving family is the first answer, but also the good fortune of being in a supportive school and then the chancing upon one of England's best links golf courses aged 10, all must have played their part. Golf, rather than goalkeeping on the football field, his first young passion, would become his sporting destiny.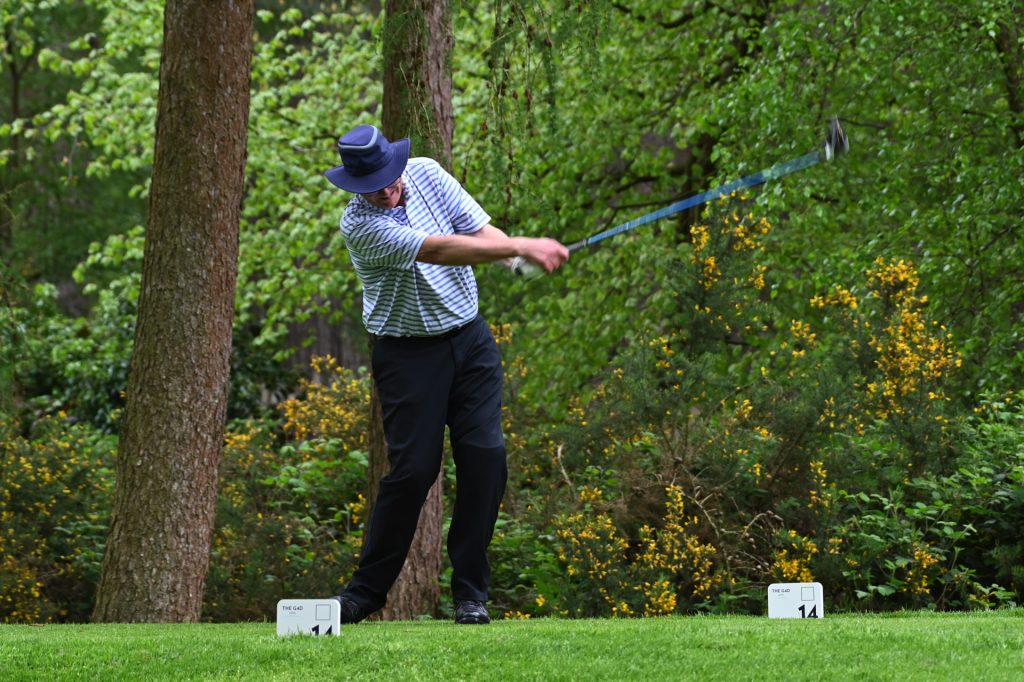 "I used to buy my bus fare, go down to Saunton Golf Club where the professional there was a man called Jimmy McGee. That's how it started and I was very lucky because I'd arranged to play with somebody and they didn't turn-up. I saw this lady there and asked what I was going to do. She said, 'Well, my son's on the practice ground. You could have a game with him.' He is a chap called Michael Jewell who has recently retired from being the President of Devon (county golf association). He was 12 and I was 10-and–a-half. Michael was a bit older than me and he was always better. He won the Devon Open and all sorts of things, but I always had him to aim at as a player, which was fantastic."
For the two young players, the battles were highly competitive but played in a great spirit from the start. A true friendship was born alongside a love of the game. 
"Well, we used to have regular games and I can remember clearly we had one game and I think I was 107 and Michael was 106 for 18 holes, but you'd never thought that you were hacking it around, you would just play it. Then we got better and better and better. I loved the game. It was fabulous."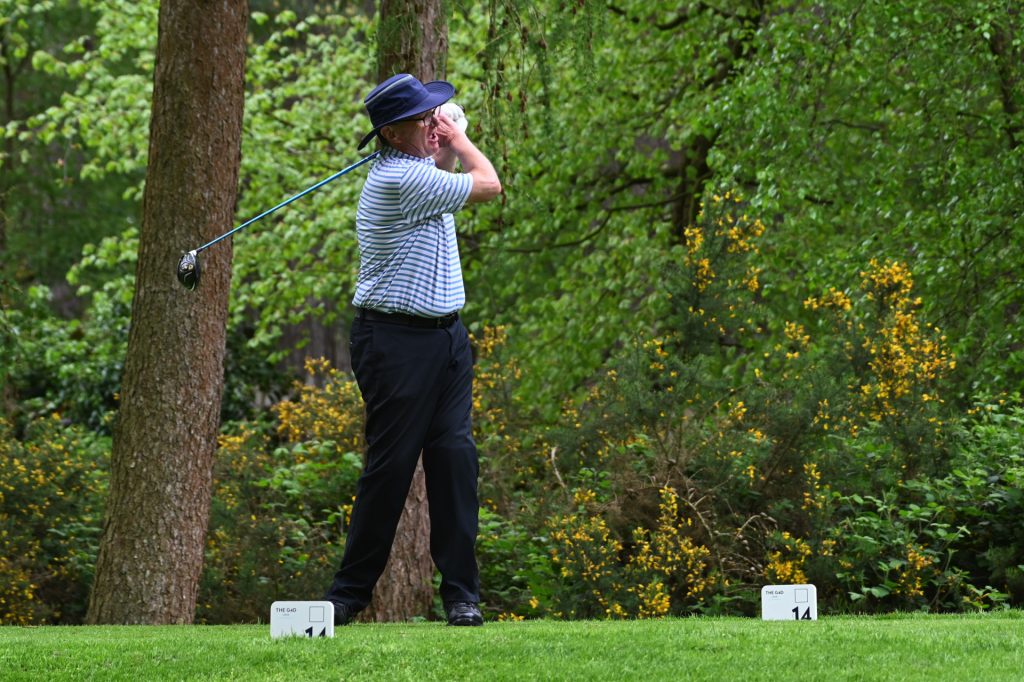 The two men still play whenever they can, and are proud to have won together the famed Bideford Bay Foursomes, one of the largest such events in Europe. Cheered on by his friend, Duncan kept improving as a player. He was playing off a two-handicap when he was 18 and would play county golf for Devon, Middlesex and, today, Surrey. Duncan has gone on to win plenty of tournaments including 18 events for golfers with disability, including the British Disabled Open in 2009 and 2011. On the amateur scene, highlights include a best-of-day 69 at Worplesdon in the Surrey County Championship in 1988; he has played in the British Amateur Championship, won the Devon Gold Medal (1979), and a year earlier won the iconic Kashmir Cup at Royal North Devon.  
But in the early days, golf couldn't be simpler.
"Oh, very straightforward. Saturday morning, either get a lift or pay 50 pence, get on the 308 bus, go to Saunton, stay there all day, and then my friend's father would drive us home in the evening. Just on the golf course all day really."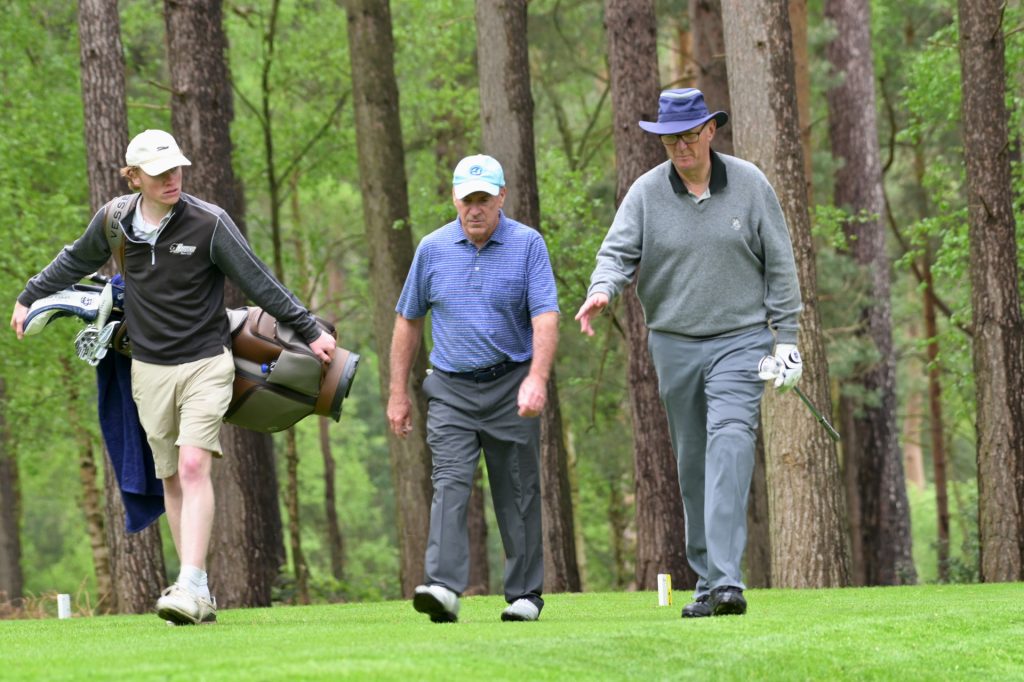 Duncan became part of the fabric of the club, serving in the pro shop and even helping prepare the then new West Course: Saunton was creating what he believes to be the best 36-hole links layout in England.
"The East Course is the course I grew up on. Then some years ago they started the West Course, which is more out in the Dunes. I actually helped to pick stones off the fairways and so forth, but it's an absolutely wonderful 36-hole layout. They played all sorts of tournaments there and it's just magic, absolute bliss."
Duncan doesn't consider himself a disabled golfer because he was so young when the accident happened.    
"I've played able-bodied golf all my life, but one thing that is different about me is that I was incredibly lucky because I lost my leg at age two. I had an argument with a train and not many two year-olds survive that, and I had internal injuries and lost my leg, but I've only ever known having one leg. It's always been part of me. It must be much harder for others, people in the army, who get to 20 years old and they're full of life and they're strong and suddenly they lose a leg. That must be mentally incredibly difficult.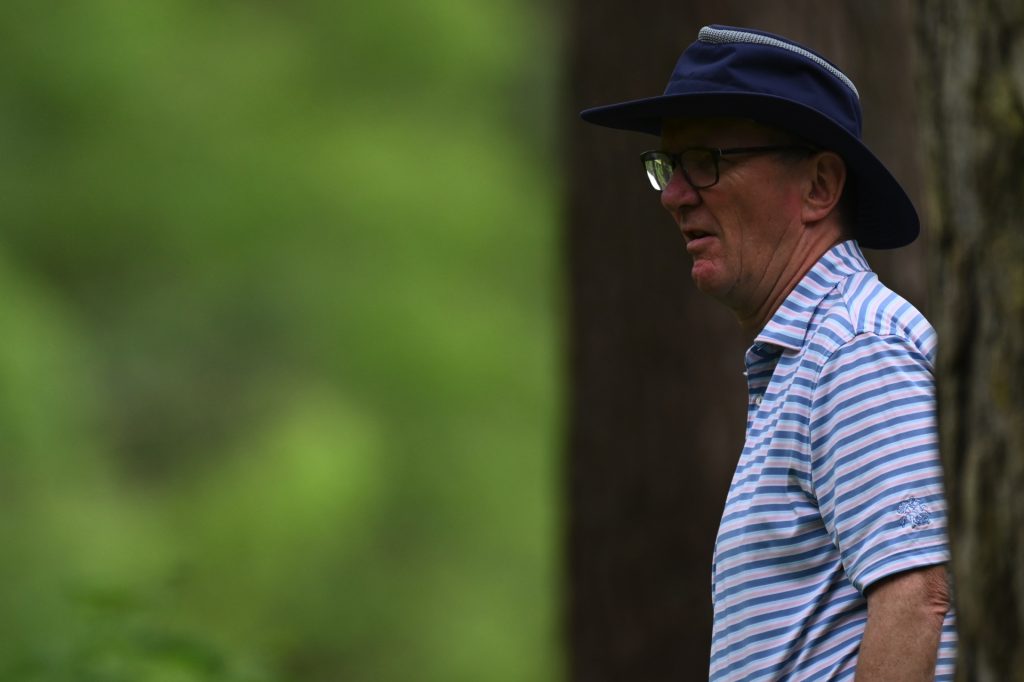 "For me, I never knew anything else. I'm very lucky as my parents didn't treat me as special. One of my earliest memories is we had an obstacle race at school and my Dad taught at that school. He started me about 50 yards up the 100 yard course and there was a bench that you had to walk along the back of as an obstacle. So it was a very narrow piece of wood and I fell off it, and fell off it, and fell off it. Obviously I came last, but as I finished the race, everybody there was cheering. You just get on with it. It's no big deal, and I have been incredibly lucky."
Climbing out of a train window when it's moving and losing a leg is not something any two-year-old can recover from without love, support and positivity. It's clear where Duncan, his two brothers and his late sister, all got this support from, and how his father Jerv and mother Nonie may have shaped his "get on with it" attitude throughout his life.
"Well, he was in the Air Force. He was overseas flying Dakotas [an RAF transport plane]. He was in 194 Squadron, amazing pilot. And then when he left the RAF, he came back and he worked for the Air Ministry for a bit and then became a teacher. I mean, he knew the capital city of any country in the world, the extent of his knowledge was just mind-boggling. A very quiet man, but very, very funny. Comments would come out and he would just let them float over an audience. A very, very amusing man and just wonderful. Wonderful.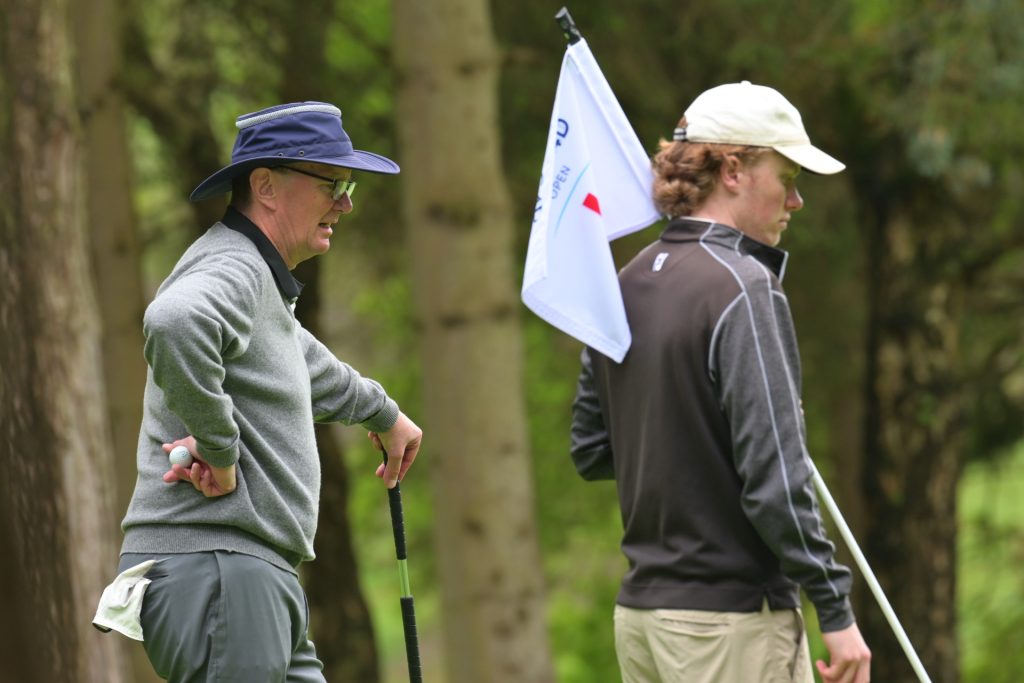 "He used to walk around with me on the golf course. Actually, I don't think he ever played golf, but we were playing up in Longcliffe, up in Nottingham, and I had my old Granny's driver and he said, 'Let's have a go.' And I swear, this is the first golf shot he's ever hit in his life. It was 200 yards with about five yards of fade in the middle of the fairway. He goes, 'That's enough.' Very skilled sportsman. He died at 73, so was one of the reasons I decided to retire last year. But an amazing man and my mother was just incredible as well. If you could have bottled the essence of my mother, you could power Birmingham for a week. I mean, she could have five conversations at the same time with different people. Unbelievable. Wonderful woman."
Duncan never considered trying to turn professional himself, he recognised the top tour players are in a league of their own. He studied Chemistry at the University of Liverpool and loved playing university golf there. He had started studying Maths, including Pure Maths and one day in a lecture he was really struggling to understand some difficult theory on wave movement. A fellow student then told him he was in the wrong lecture altogether, he was in Oceanography, much to everyone's amusement, but there was actually something that fascinated him about this subject and he chose to study his honours degree in Chemical Oceanography.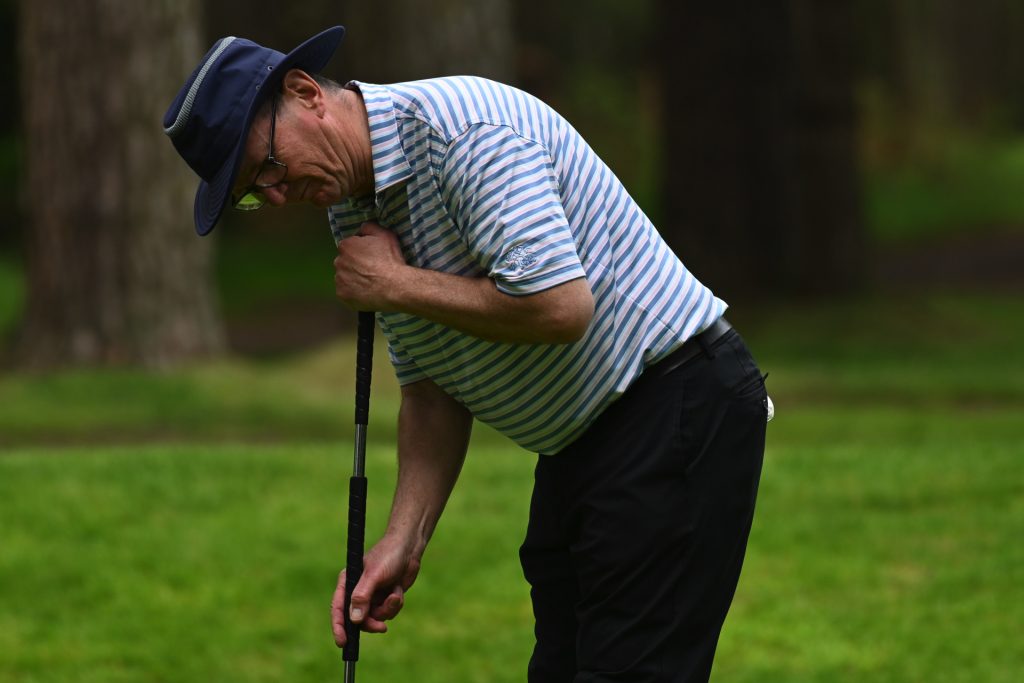 Duncan's career would be in finance, running his own company with three partners for 40 years. When he started working in London he joined Sudbury Golf Club, before a little later joining St George's Hill, his uncle telling him it was "the best club, with the nicest members". The recommendation proved correct and he has remained there since the middle 1980s, living today in nearby Esher.
For Duncan, golf clearly has been a genuine pleasure, shared with friends. None more so than in an underrated format of which he is particularly fond, foursomes.
"I absolutely adore it. I can't express how much I love foursomes and I just joined the Senior Golfers Society and they play all foursomes. You learn so much more about yourself playing it, because if you hit a bad drive in a medal, you can recover it yourself, but if you hit it in the long grass, it's your partner who's got to play it. A very good friend of mine at my local club, we played in a thing called the McDonnell Bowl. The first time we played, he said, 'I don't like 30 yard wedge shots. Anything 90 yards and up.' So that changes your club selection. You don't want to leave him fiddly chips. I love foursomes. In all the county golf I played, it was foursomes in the morning, singles in the afternoon."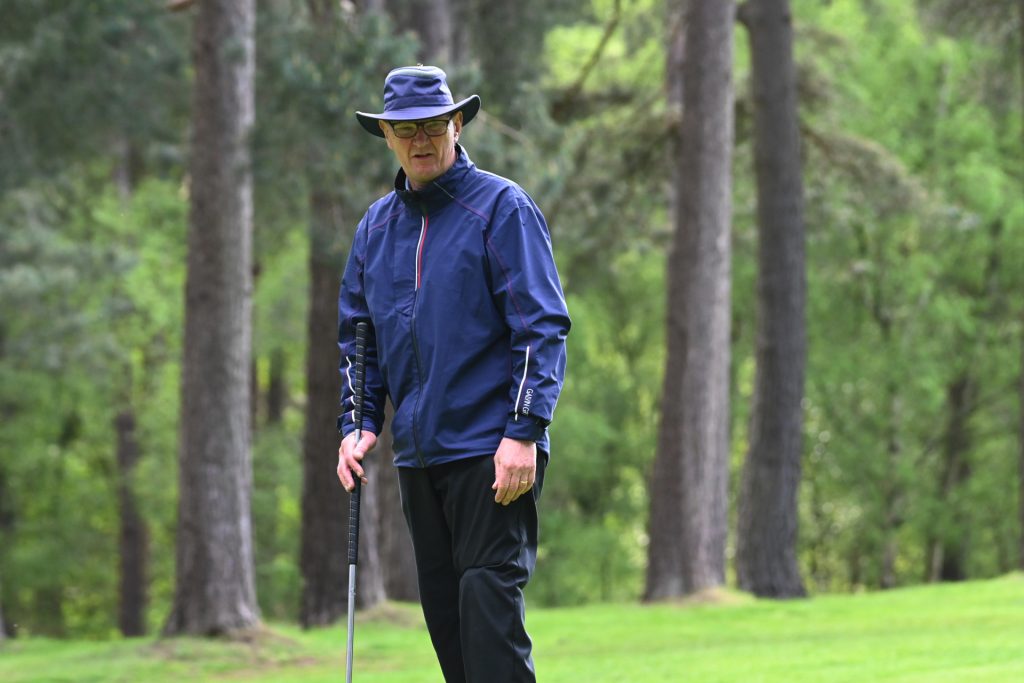 He now warms to a theme which most golfers understand: "Life isn't fair. Golf isn't always fair. You can hit the best drive you've ever hit and it can be in a horrible divot that somebody hasn't put back. You have got to just get on with it. It's so like life, really, golf. Sometimes you do a good score when you're not playing well, sometimes you hit the ball brilliantly and you score terribly. It's just the experience.
"I've been lucky enough to play probably with 90% of the best disabled golfers in the world, which is why I've never thought myself disabled. It's just that I've lost my leg, well, get on with it. People say, 'How can you say that?' It's always been like that. You don't make excuses for anything. I've had the occasional round where the leg was sore and I haven't been able to play, but they are, well three or four times in my life. I look after my leg and I try and keep fit and I have a gym at home now and I do weights three times a week to try and keep my strength up. Obviously, as you get older, you tend to lose a bit of distance and I'm very into trying to keep fit and longevity.
"I'm so lucky I can walk 36 holes on a golf course. So I've been very lucky with my leg. But the main thing is the luck of losing my leg early means it's the only thing I've ever known."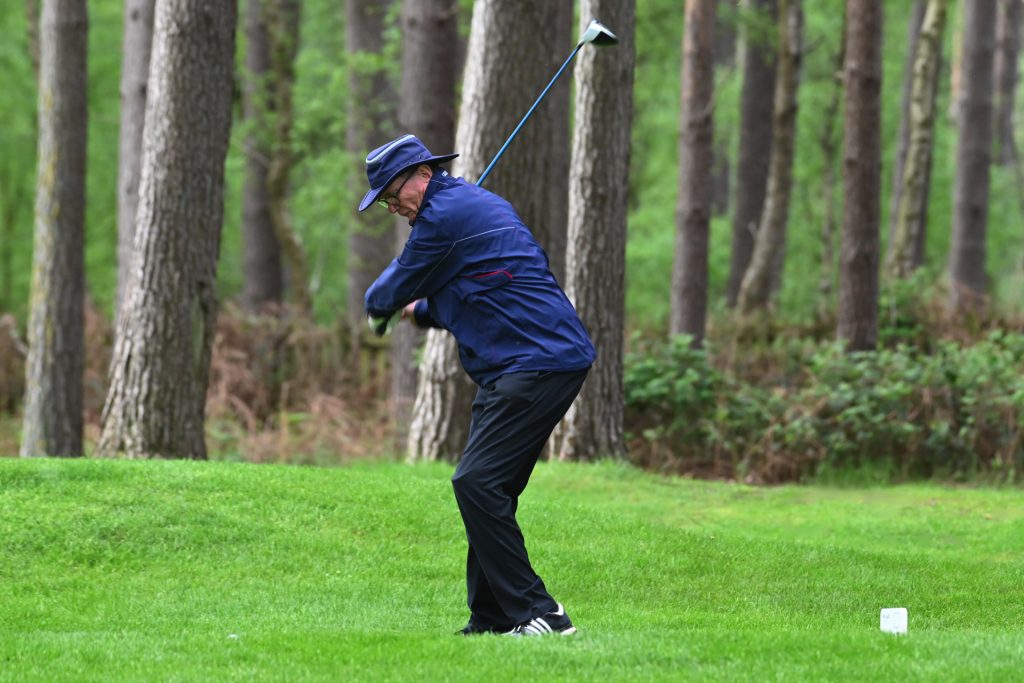 Duncan says he loves a physical challenge, and where it takes him mentally.
"I've been very lucky. Roehampton have been unbelievable [the Douglas Bader Rehabilitation Unit at Queen Mary's Hospital, London]. My sister Wendy fought MS for 30 years and died at the age of 52. I raised £15,000 by rowing a million metres on a rowing machine in 2012, 621 miles. I do love a physical challenge. I've climbed Mount Snowdon, I've climbed Scafell Pike. I've done the RideLondon, the 100 miles around London on a bike."
The million miles was made up of 100 sessions of 10,000 metres on the rowing machine in a local gym. He raised funds for an MS charity in memory of his sister, Wendy.
From this epic challenge in rowing, he now reveals to us a golfing dream which may be unique if he manages it.
"I'll share something with you, which I haven't said to many people, my goal is to be the first disabled person to beat my age in a top competition. I don't think that will have happened before. But I'm 1.6 handicap now on the new system. I want to play for as long as I can."
A love of exercise, a love of golf, and life. Is the courage to keep working and progressing the answer?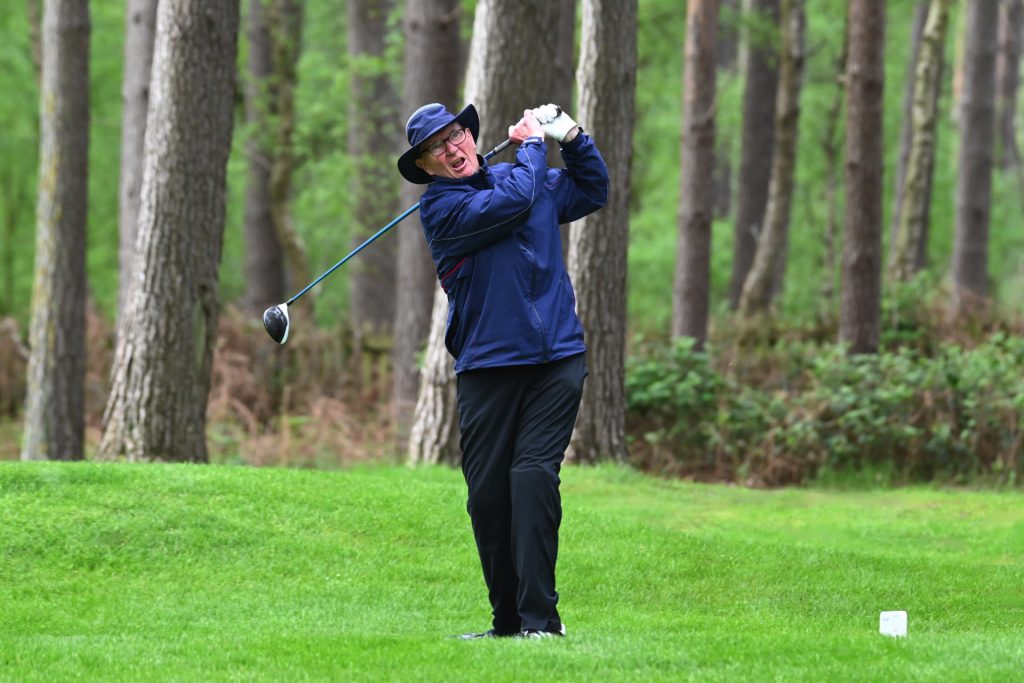 "Absolutely. What's the alternative? There isn't one. I've won I think 18 disabled gross events in my life. I have been so lucky and I keep saying that, but it's true. I look at other people with what they have to put up with and it's so, so much harder than what I have to put up with.
"I have a friend, Alistair Berry, when I played with him, he was playing off one. No hands. And I honestly believe that when I tell people that story, they might play off 15 and they can't contemplate how somebody with no hands can play off one handicap. I can appreciate that, but I've seen it. I was playing somewhere and somebody came up and said, 'Oh, the person you're playing with lost his leg.' I said, 'Yeah.' He said, 'You know him quite well? How did he lose his leg?' I said, 'No idea.' They go, 'Why not?' 'Never came up. It's not relevant to this.' However he lost his leg, it doesn't really matter. He plays brilliant golf or whatever. People don't understand that because a lot of people, that would be the first thing that they would ask."
Duncan talks of his 'good fortune' that he lost his leg when so young, but what advice would he give to a parent going through this with their own child?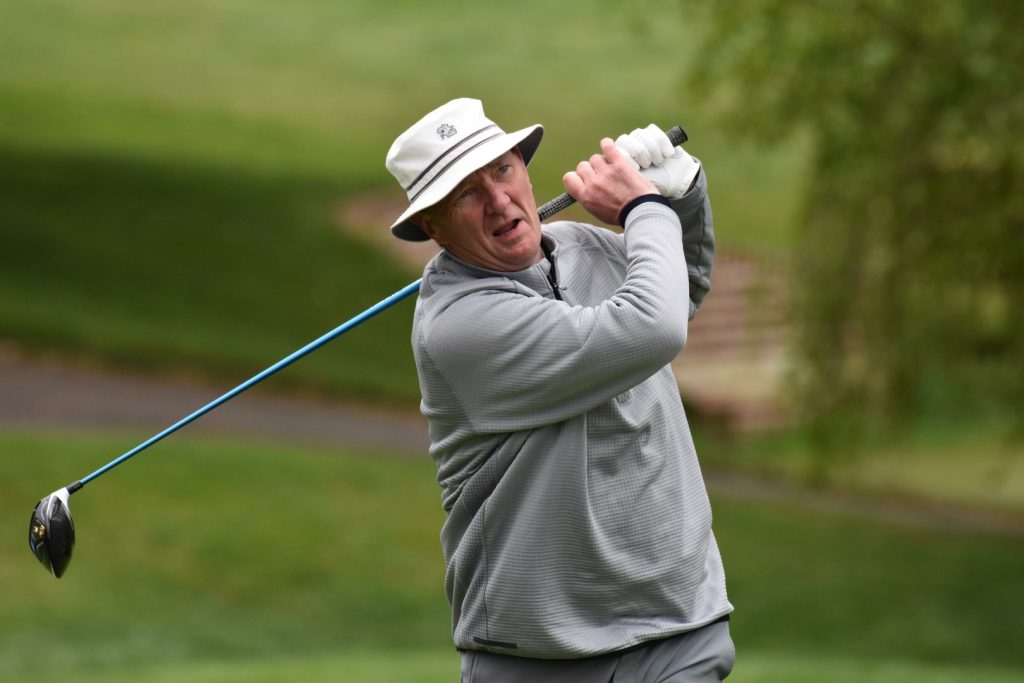 "Well, all I can say is from my own experience, just treat them like a person. Just treat them like a child. Don't go too much over the top from the normal. Obviously all your children are special, but I was lucky because my parents just treated me like a normal child. My parents would take me down to Exeter Limb Fitting Centre, I'd have a fitting, and as you're growing up, obviously your legs grow longer so you need new legs frequently.
"Just encourage them to do everything. Whether it's golf or whatever, we were always a sporty family. Both my brothers were very good at rowing and cricket and so forth. I just played along. I could play cricket. I played football. Just treat them like a normal child is all I would say."
He accepts that there is a strong desire to protect youngsters in this situation, to 'wrap them up in cotton wool' is a natural reaction.
"Well, I can understand that, my parents obviously lived during the war and my father was very involved in it, flying Dakotas and training young pilots. I got his, 'just get on with it' attitude straight from him. Yes. That's all I would say. Just treat them like a normal child."
And we ask, what would Duncan like to see happen over the next 10 years for golfers with disability? His reply is concise and positive with a good laugh in addition.
"More tournaments in England. Just carry on."
Just carry on. "Just get on with it". Duncan Hamilton-Martin is the embodiment of living life to the full. Whether shooting a 69 at Worplesdon, or 107 as a kid at Saunton Golf Club, he has loved, and still loves the game: "It's fabulous."
Contact EDGA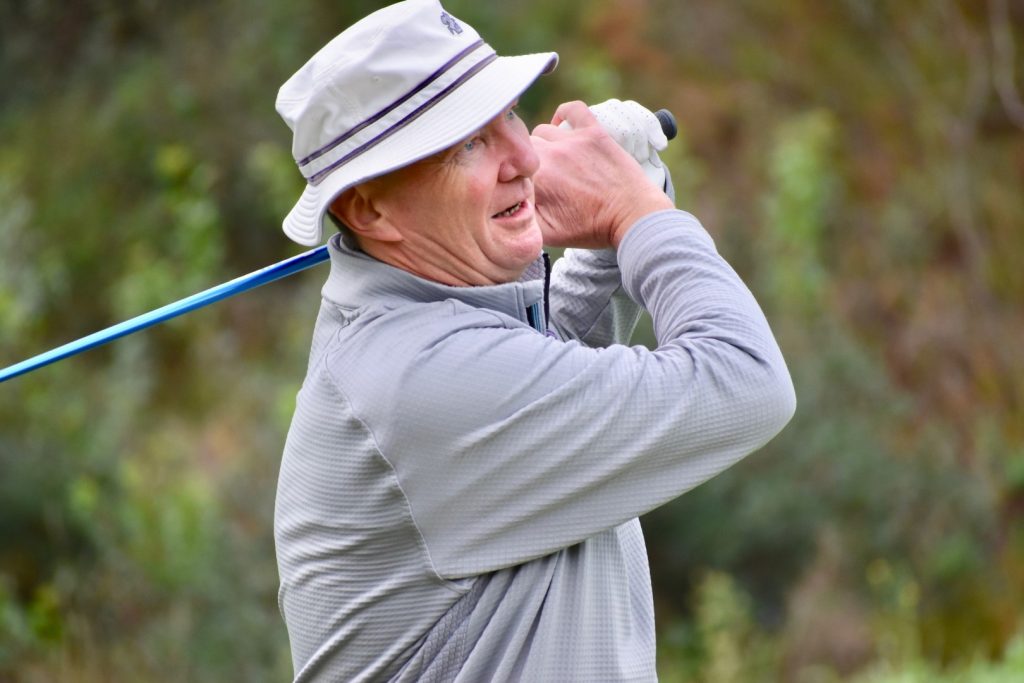 NB: When using any EDGA media, please comply with our copyright conditions