Audio: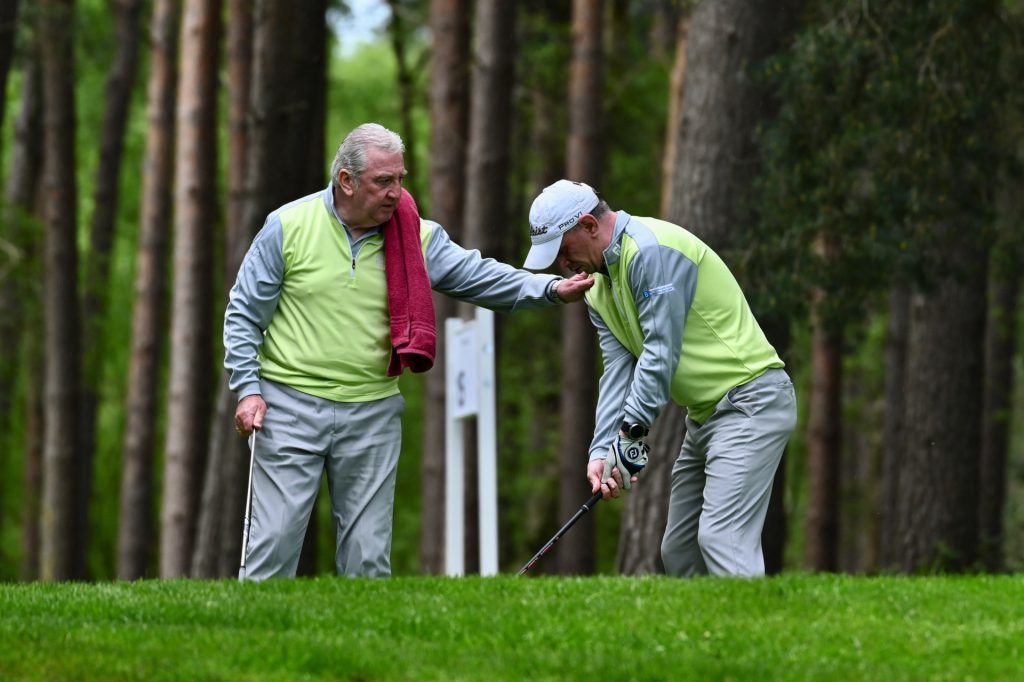 Barry McCluskey talks to us from his garage-turned gym at the family home; he is surrounded by Celtic Football Club memorabilia. At one point in our conversation he says, with some feeling: "Your eyes are precious."
The memorabilia is about his father George, a well-known player in Scotland in the 1970s. In the year 2000, son Barry, aged then just 18, lost the sight in his left eye, which dashed his own footballing dreams. In 2017, unexpectedly, Barry then lost the sight in his right eye through the same condition, Keratoconus.
Today, registered blind, he has to cope with all the barriers, uncertainty and isolation this entails. The family love of golf helped him through the first blow as a young man. That he is still thriving as a golfer today with his sight loss, and that he has actually improved as a golfer, shows a little about what the sport can offer, but demonstrates even more the fortitude, patience and courage of Barry McCluskey.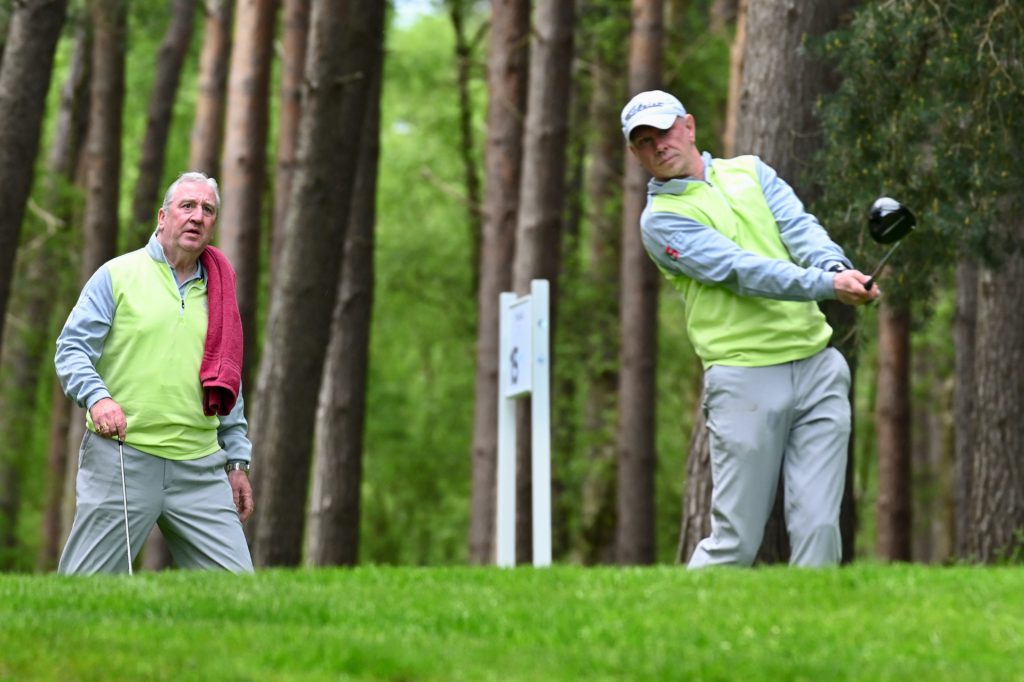 It was the impaired vision in the left eye that meant Barry could no longer dream of following his father George into professional football. The Celtic mementoes behind him are cherished because Dad played 145 times as a forward for Celtic over nearly a decade from the 1970s, scoring 54 goals in front of some of the world's most passionate fans, including scoring the winner in extra time in the 1980 Scottish Cup Final, against Celtic's arch Glasgow rivals Rangers, no less. George also played 73 times south of the border for Leeds United, and for other noteworthy Scottish clubs.
A couple of professional clubs were interested in young Barry too, but when studying for a health and fitness qualification at college, he started to struggle to see the blackboard at the front of the class.
He wasn't too worried at first. He said: "I thought I was just going for an eye test and the optician says, 'Oh, no. There's more here. You need to go straight to the hospital.' And before I knew it, I've got doctors all around me, looking at my eyes. At first, they thought I had a detached retina but they discovered that it was Keratoconus and it was at a very advanced stage; they hadn't caught it early enough."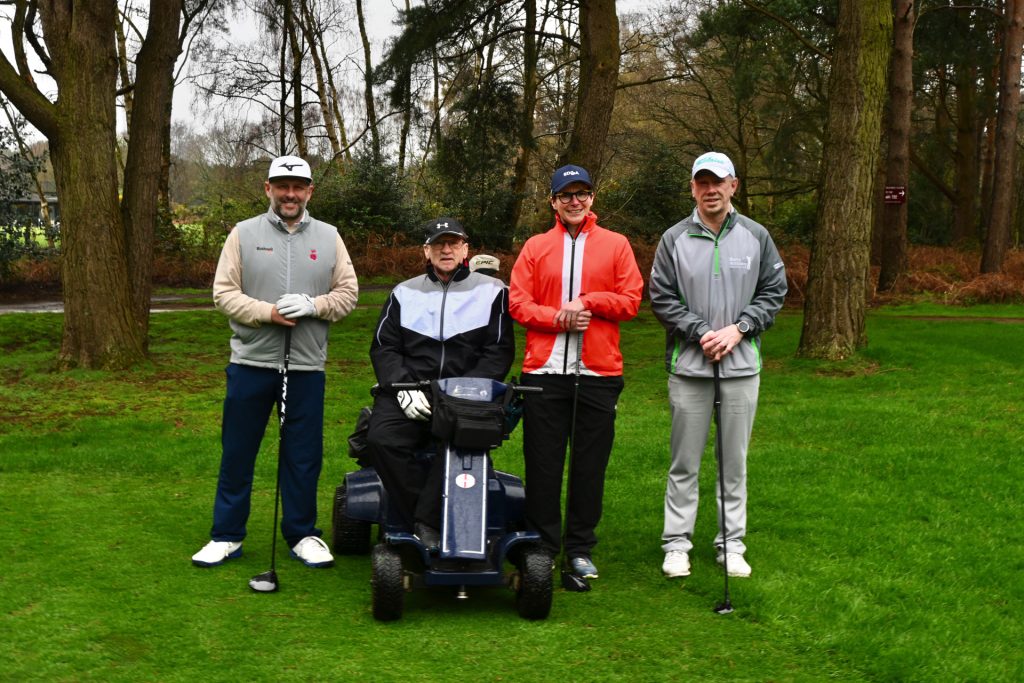 Barry needed a cornea graft but vision in the eye would be very blurred. Keratoconus is a disorder of the eye that causes progressive thinning of the cornea, which can result in blurred or double vision, nearsightedness, irregular astigmatism, and light sensitivity. With the diagnosis Barry's world "crashed" around him: his progress at college halted, his football ambitions destroyed.
"I was scared. I was terrified, to be honest," said Barry. "I was only just turned 18 and you think you've got your full life ahead of you and you're making plans with your career and other stuff and all of a sudden, your health takes priority over everything else and you get frightened. And there's no doubt about it, I was terrified."
Staff at the Central College of Commerce where he was studying for an HNC (a UK higher education certificate) were very understanding, giving him a year off from his studies and allowing him to complete the qualification in three years rather than two, which Barry did.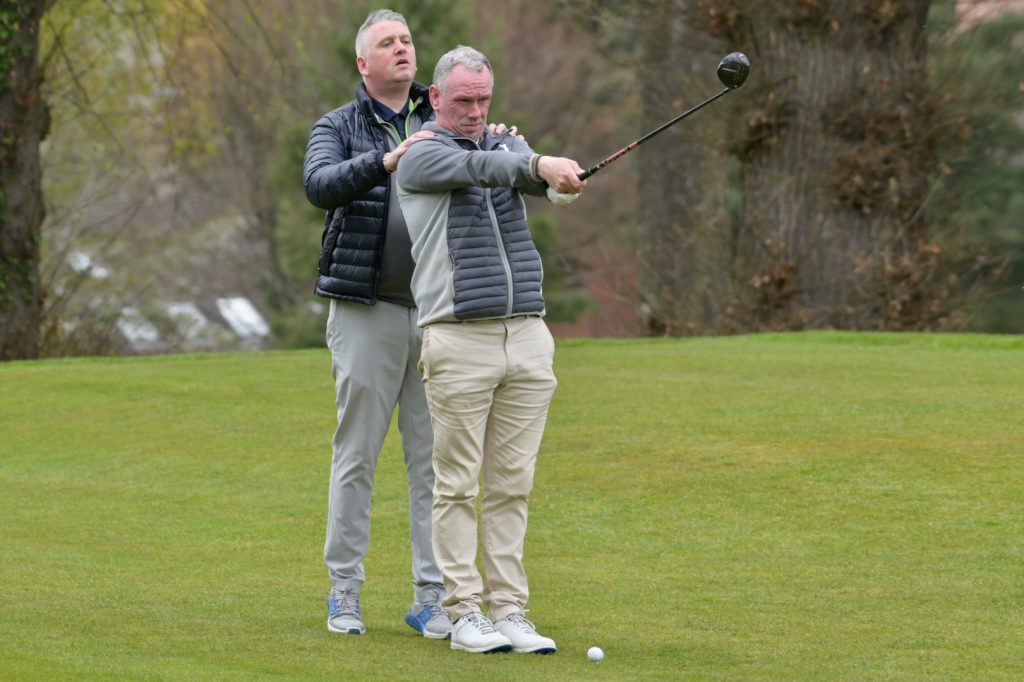 Whilst not heading into the health and fitness industry, aspects of his learning and certainly his life experiences helped when he took a job with South Lanarkshire Council, in children's play and youth work (supporting and encouraging youngsters with behavioural issues) and then with Glasgow City Council, first helping to head-up a busy children's centre in the city, and then on to youth support work in schools for disadvantaged young people across Glasgow.
Barry may well have been doing the same role today but one day in October 2017 he woke up and things weren't right with his eyes, he could hardly see at all. He went straight to the hospital and they discovered that he had developed the Keratoconus in his right eye. He now faced a dramatic sight loss in both his eyes. It was a devastating blow.
"It gave me a major fright, because I had actually thought my bad eye had gone [again]. I thought it was my graft that had gone. When they told me it was my right eye, I was terrified because your eyes are precious, your eyes really are precious."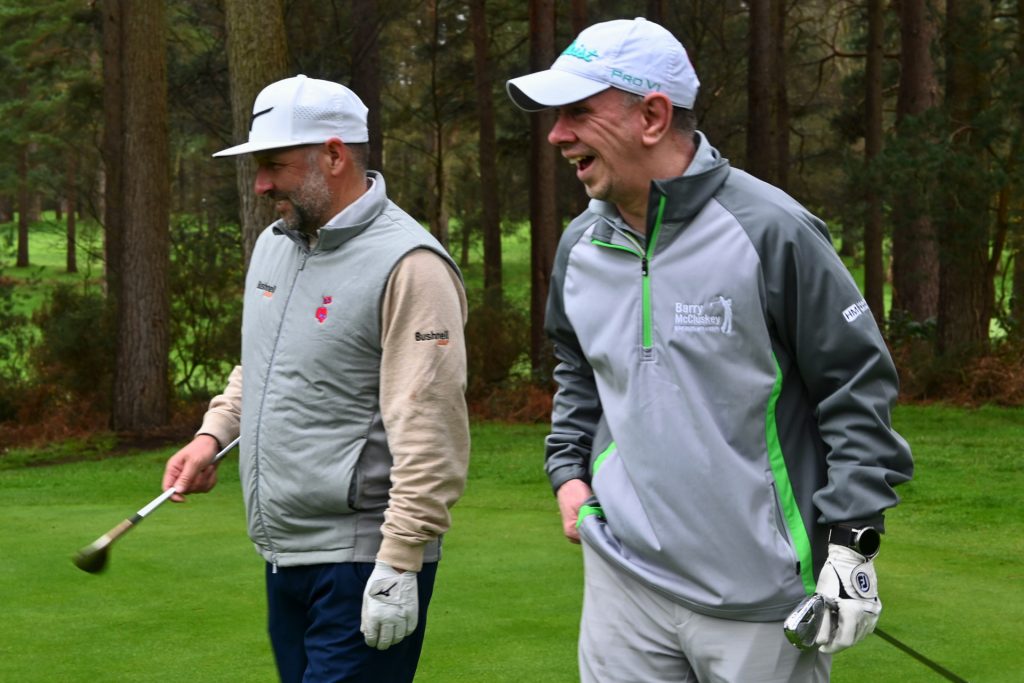 Barry could no longer see well enough to control a class of kids safely and so he now works behind a desk for Glasgow City Council. His job restrictions are only part of the story. He describes his loss of sight as being 'stuck'. The additional loss of sight in his right eye has been life changing, perhaps most clearly felt with a loss of true independence, relying, fortunately, on some great close friends and family to get around and keep safe.
"But I mean, I'm stuck. Especially in the winter months, I can very rarely leave the house without somebody with me. From being an independent guy, to having to rely on someone to get you about, it's a massive change," Barry explains.
So today in his gym at home, Barry can still see the splashes of green that denote the hoops and colour of Celtic's playing jerseys and banners, but the detail cannot be seen, nor even can be seen the faces of his loved ones in his family who come and chat with him.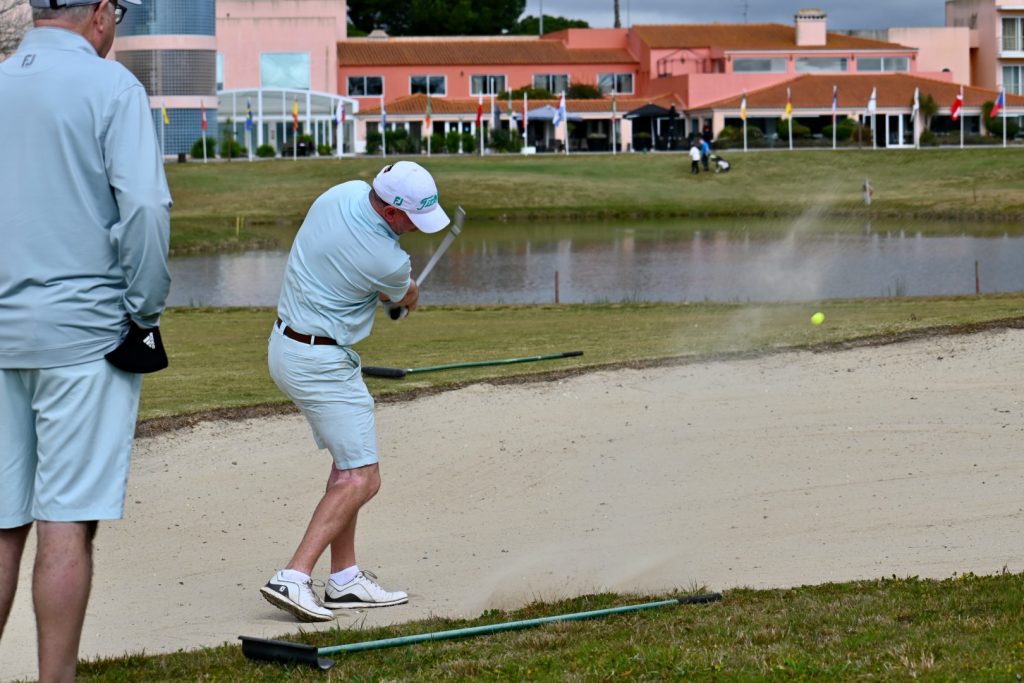 "I can see colours, so if I was sitting, looking at you and you were five feet away from me, I would be able to see that you were there but I would not be able to make out any of your facial features, or tell you what you look like, or your eye colour or your hair colour. I can see shadows and I can see colours, but that's about it.
"But I would not know who it was. If it was my mother who was sitting five feet away from me, I still wouldn't be able to tell you it was her. Unless she opened her mouth and spoke, then I would be able to tell by her voice."
As Barry says, our sight, though most of us take it for granted, is precious. With golf, there are similar difficulties, in terms of detail, but to an extent golf's colours do save the day.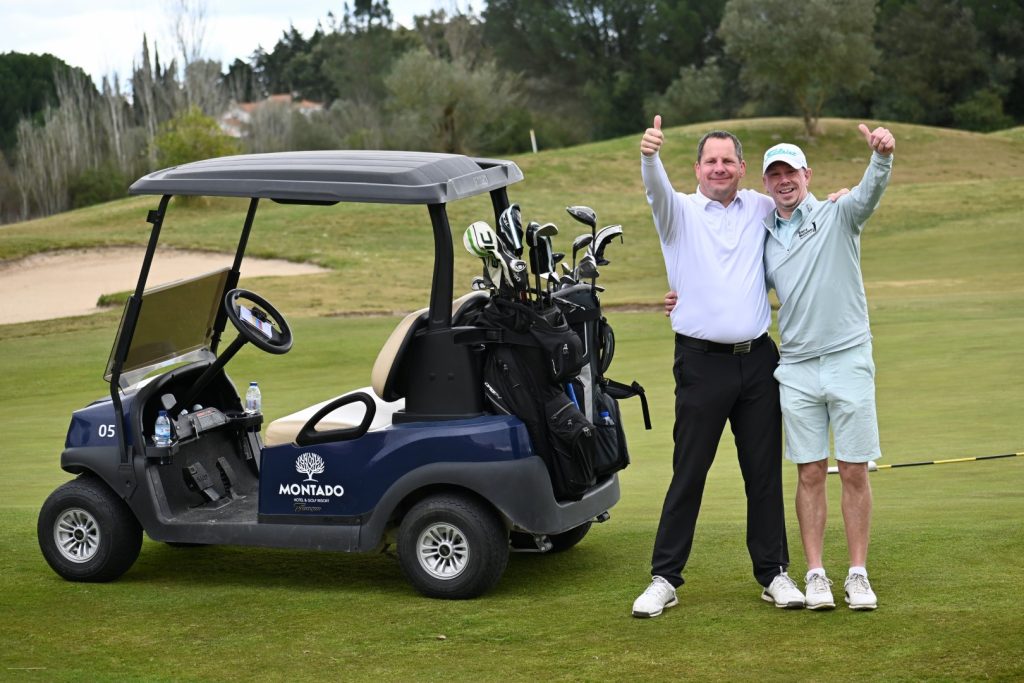 "Yes, so it would be very blurry. I would see the white against the green, but I would not be able to tell how far away the ball was from me," explains Barry, who now plays with a guide. "I wouldn't be able to tell you where I could ground the club that would be close to it, without hitting it first."
Barry is therefore no longer an independent golfer, but he is still a golfer, loving the game with a close bunch of friends and relishing the more competitive side of the game as a real focus in his life today, something to work towards and look forward too. Amazingly too, he will tell you he is an improving golfer.
To cope with his loss of sight, it appears the twin outlets that have helped him most have been the golf and his regime of physical fitness (which in turn helps his golf), another trait he shares with Dad George, who is the striker coach for Celtic's reserve team today and still trains every day.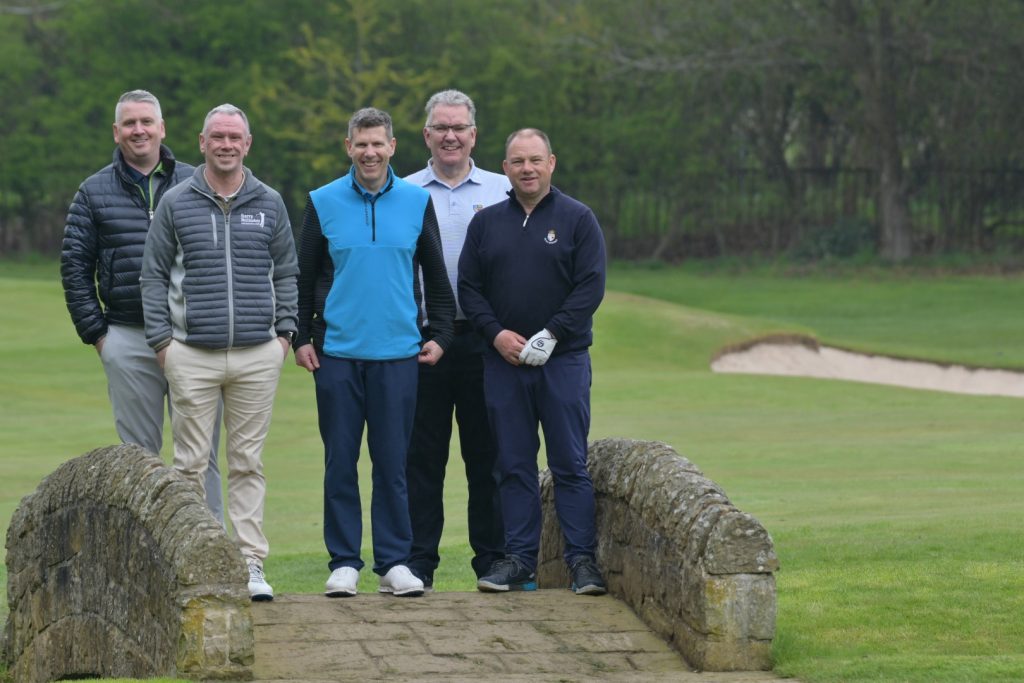 As is the case with many footballers George would train hard in the morning when a player and then sometimes head off in the afternoon with friends to a local golf course, of which they are blessed with a great many in their area of Scotland. As soon as he was old enough Barry would join him whenever he could.
"From around about the age of 13, 14 years of age, my Dad would take me to the golf course on a regular basis and I just picked up the love of golf. I've always played golf, club golf. I played medals on a Saturday and stuff like that but I never thought that I would play the competitive golf that I'm playing at the minute, for the International Blind Golf Association (IBGA) and with EDGA coming on board now. I'm so looking forward to picking up some of the tournaments that EDGA have as well."
Even when he'd lost his sight in his left eye Barry could still enjoy golf, as his right eye would help him right through the address, the swing and then seeing the start of the flight. This may have changed for him since 2017 but amazingly, he has been getting better, for a few reasons he believes.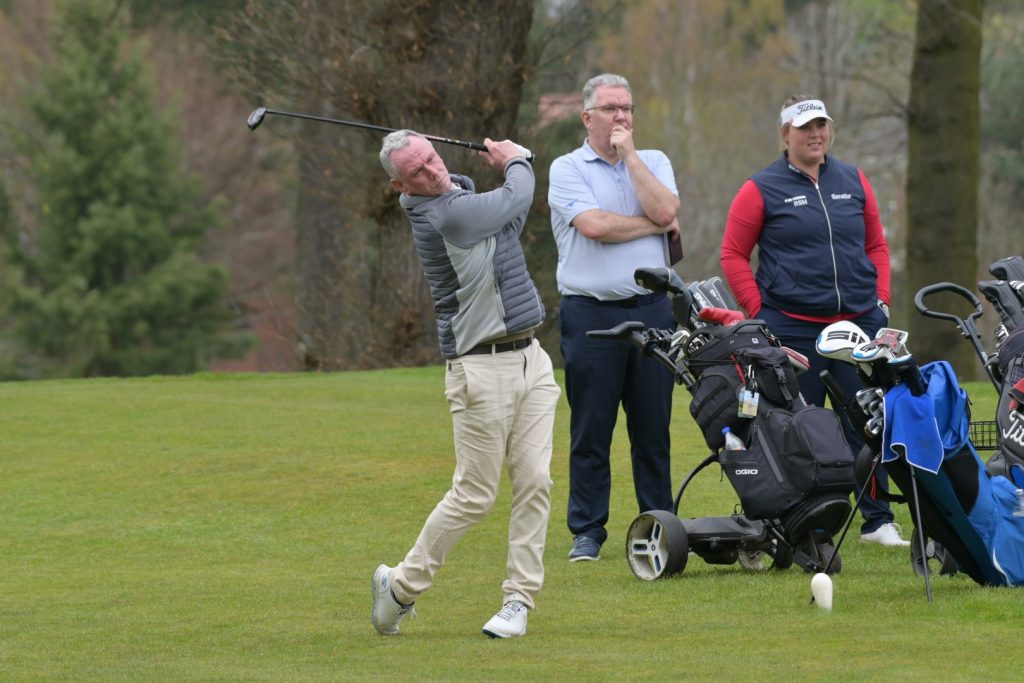 "It's actually pretty funny, because my golf handicap has got better since I've lost my sight. It's unbelievable to be honest. I was playing off 18, when I had sight. I now play off 14, but I have been as low as 11.
"I put it down to playing in tournaments. I'm playing more competitively. Whereas before, I would go down and play with my Dad, or my mates. It would just be a round of golf. It wouldn't be anything too competitive. I think I get that competitive streak from my Dad and now that I know that I'm going to be playing in tournaments, I practise a lot more. I pay attention to my game and I do a lot of things. I have a PGA coach now, Stuart Robertson, who coaches the golf mindset. I've been working with him for the last year and he's been helping me with the mental side of the game. So, all these wee things where I've been practising harder and taking it a wee bit more seriously; I think that's what has had the biggest effect on my handicap."
Another reason for Barry's focus is that now he has to have a guide with him on the course, a friend or his father; his regular guide is family friend Jerry Green, and Barry is loathed to have Jerry wasting his time if he plays poorly. He must play well for the guide.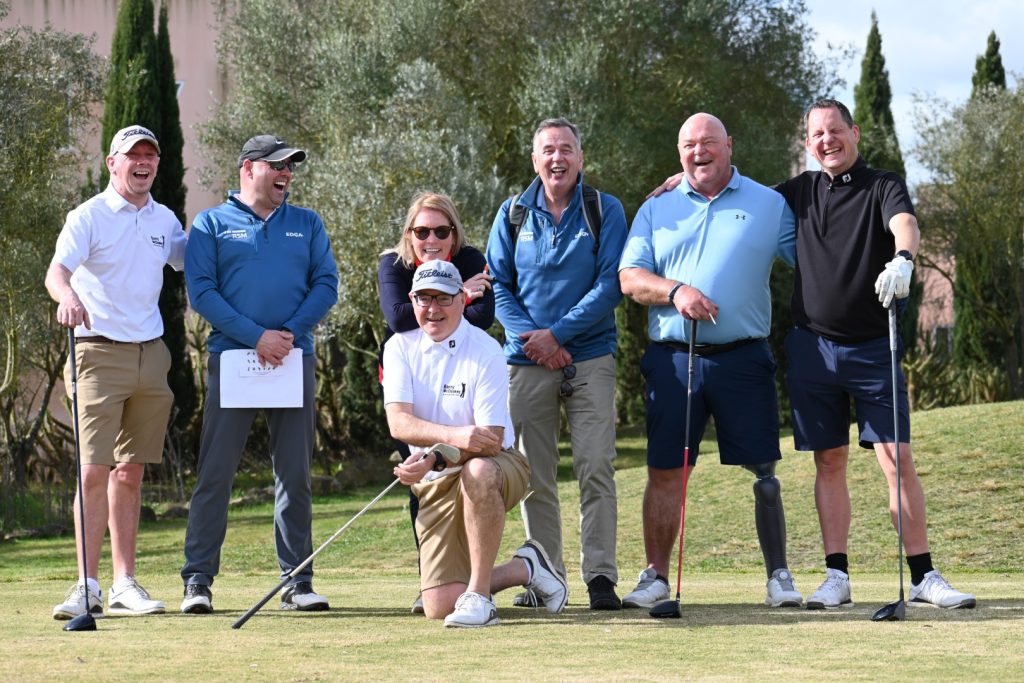 "I probably do things a wee bit differently from other blind golfers, because I will carry my clubs and get my Dad to drop me off at the driving range. It probably isn't the best way to do it but I'll go and hit balls, even though I can't see them. The way I look at it is, it's keeping my swing going and keeping me moving with my swing and stuff like that. Even though I don't see where the ball goes. I'm starting to look at ways that I can practise more, or practise better now, because I've been looking into using an iPad and a launch monitor to hit some balls and I can check the iPad and see how I'm hitting it."
New technology is also a valued friend for Barry out on the course.
"When I'm there I have to rely on my talking rangefinder watch, where I press a button and it tells me how far it is to the hole and stuff like that. So, there's a bit of preparation that I have to go into, because I have to make sure that's charged and then I'll say to my friends, 'Right, it's 150 yards to the green. Is there anything in front of it?' And they'll say, there are trees on the right, or there's water on the left, or the pin is at the back of the green, so give it a wee bit more… All this information that I have to be given, because obviously, I can't see it."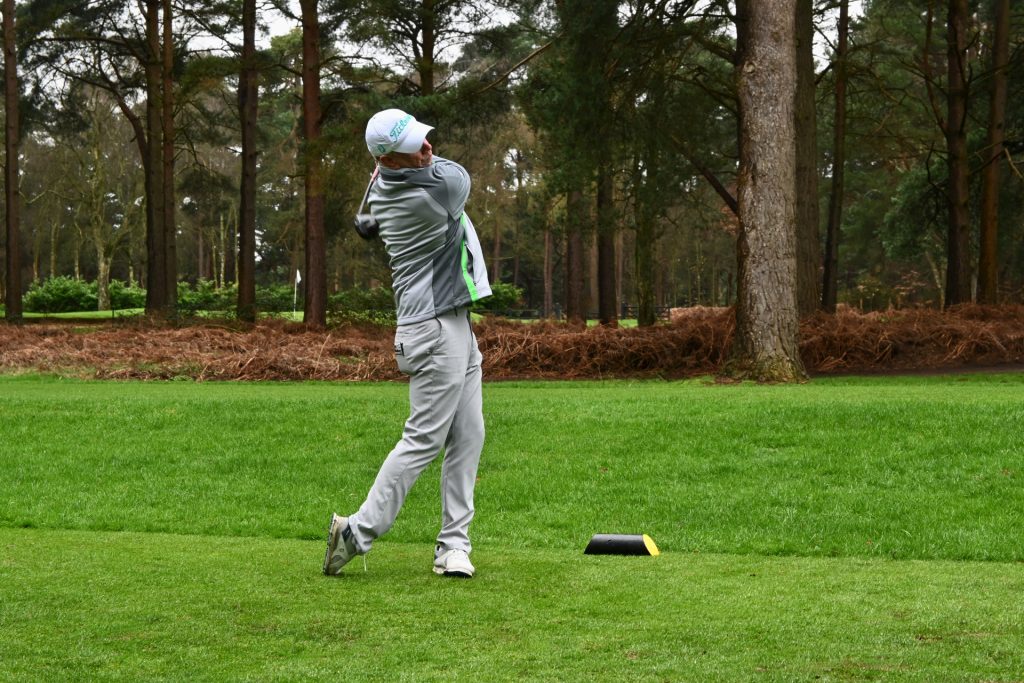 Not surprisingly, Barry talks about the importance of feel through impact with the ball.
"My feel is normally pretty accurate. As soon as I strike it, my guide will start talking me through the shot. So, he'll start saying, 'That's on line. It's drawing. Yep, it's on the green.' Or he'll say, 'Oh-oh. That's going a wee bit right. Oh, we're ok. It's in the rough but we're ok.' He'll give me that information. But nine times out of 10, as soon as I strike the ball, I'll know if I've connected properly. I can tell with the feel, right away."
Barry says that as is the case with most visually impaired people, it's the short pitches and chip shots around the green where he can really struggle. "The wee, 40 yards, 50 yards, up and downs, and stuff like that. I'm getting better at them but that's kind of where I struggle the most, with the wee touchy-feely shots."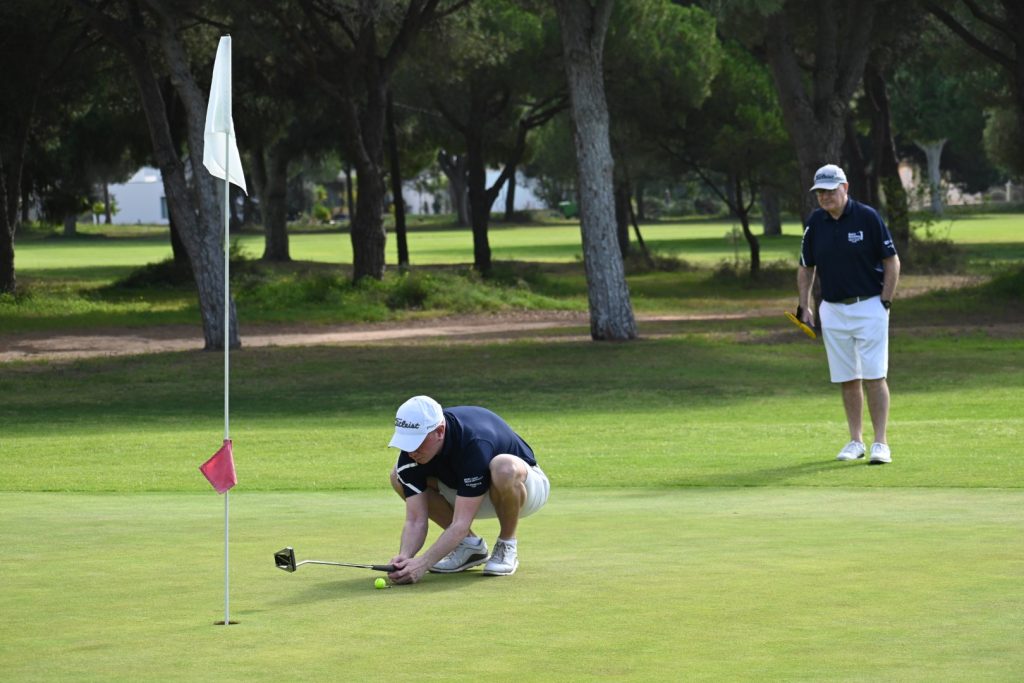 Barry enjoys talking about the feel and awareness in his game and he next takes us through the challenge of putting on the greens.
"My guide will take me to my ball. So, I'll go down and mark my ball. My guide will stand at the marker and I will walk to the flag and then I pace it out. So, say it's 10 paces away, I have developed over the last year how hard to hit the ball by the amount of paces it is away from the hole. And what will happen then is, while I'm pacing it out, my guide, say it is Jerry, will get the read on it. Then he'll set me up and then the very last thing he'll say is, 'Right, it's 10 paces but this one's slightly downhill so you'll only want to hit it, eight.' Or, 'It's uphill, so you want to hit it 12.' That's just a method that we've developed with working together, that works for us. I know how hard I need to hit the ball once Jerry has told me whether it's uphill, whether it's flat, whether it's downhill or whatever. And my putting's actually improved, to be honest."
Barry says that from walking on the green and the feeling under his feet he has an awareness of the green's undulations and even the slight borrows towards the hole.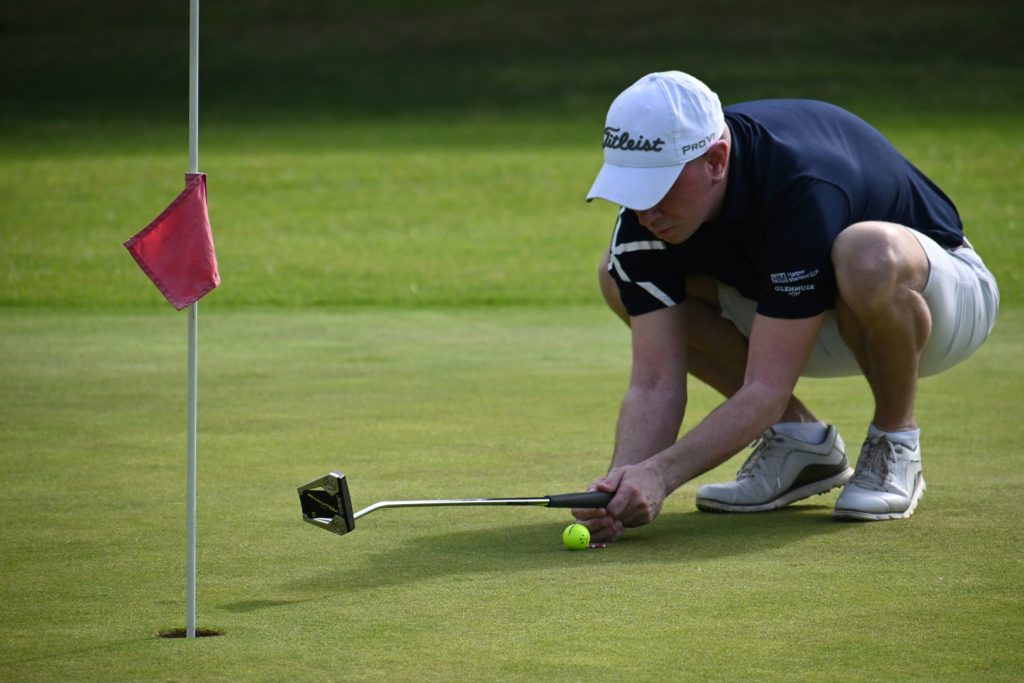 He tells us he has a different appreciation of golf today. Barry is delighted that the sport has become more diverse, with more women joining the game and more juniors. The prices of second hand equipment and more competitive pricing for players means it is better for all, "rags to riches" can play.
Barry does believe that golfers with a disability who are improving and winning tournaments deserve more recognition for their often monumental efforts.
"I think, if people came along and watched visually impaired people playing golf at one of the big tournaments, they would be very surprised at how good the standard is, for people who have disabilities."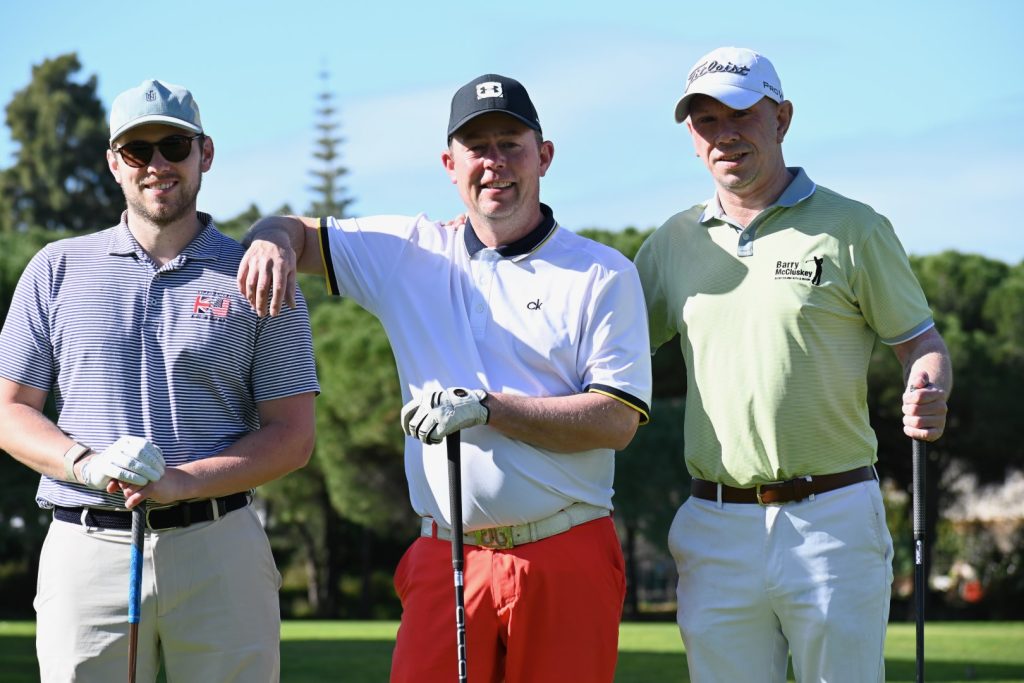 The advice he gives to others who live with a disability, a condition or injury, is heartfelt, and has great weight because Barry is a living embodiment of this advice.
"Probably the best advice I would give to anyone who was losing their sight is, this doesn't mean that your life stops. Continue with what you want to do. Continue with your goals. Continue with your ambitions. Just because you have a disability, doesn't mean you can't do it. And follow your goals. Follow your dreams. Make sure that whatever you've got your mind set on, what you want to do with your life, follow that. Just because you've got a disability, doesn't mean that you can't do that. That would be the advice that I would give to everyone."
Life gets in the way of things and Barry McCluskey didn't get to add to George's football memorabilia at their home. But Barry has been given a chance through golf to reach another side of his potential on the sports field after all. Despite being registered blind he is improving, he is baring his competitive teeth and it may not be too long now before he is adding some crystal or silver to the family cabinet. Such a trophy will be much deserved for being so hard-won.  
Contact EDGA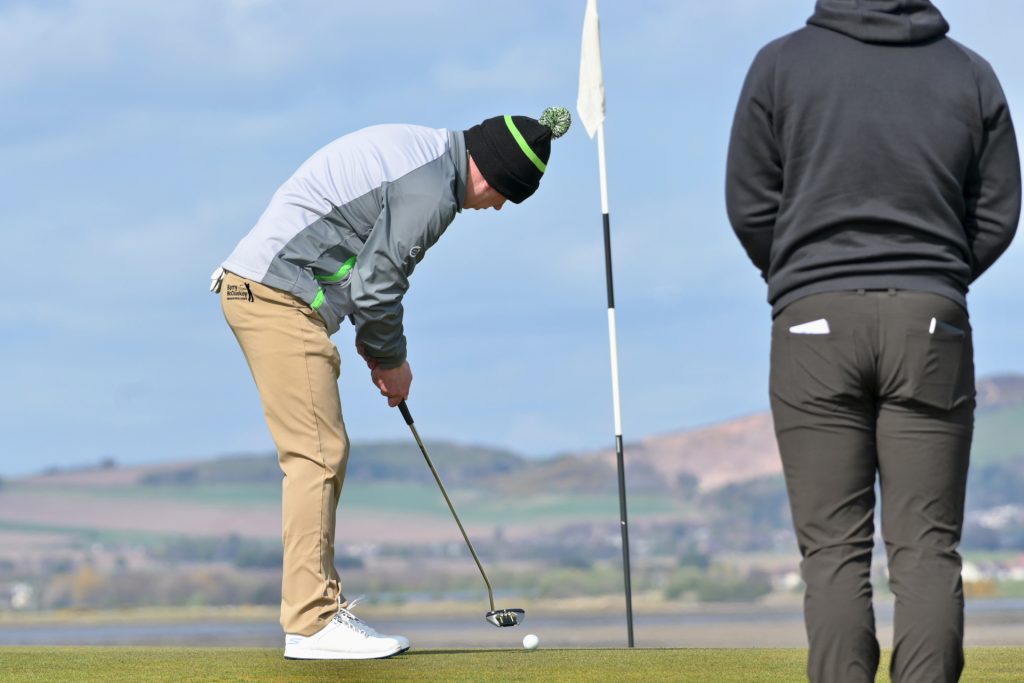 NB: When using any EDGA media, please comply with our copyright conditions