Audio:
A golf scorecard is only ever about the numbers. It would be great if sometimes we could write down a few words on the card to describe the indomitable spirit of a golfer, the joy they bring to the game – written in indelible ink so that the rest of us can occasionally open up the card and take another look.
One such person who deserves this ink is Argentinian golfer Mariano Tubio, who comes from a town called Ranelagh, to the south-east of Buenos Aires. Mariano may not be Ranelagh's most famous son, but a great many people admire and love him for good reason, and not just for his ready smile and sense of humour.  
For he has shown those who know him that you can recover from a devastating blow in life, to thrive again; inspiration we all seek at times to try to live life well. Mariano was born in 1979 into a good home with caring parents (his father Horacio worked at a car exhaust pipe factory, and his mother Anita was his biggest supporter). As a young man he starred on the football field and the golf course, only to be involved at the age of 29 in a car crash that nearly killed him, leaving him paralysed from the chest down and using a wheelchair for the rest of his life.
Mariano not only survived, but he approaches life with the same passion, energy and infectious laugh as before the accident; he will tell you more so in fact. Mariano embraces life completely and he is also back on the golf course, starring once again. For all that to happen you must have a strong mind and soul?
Mariano says: "I always say that I have a backpack, a heavy one, but the difference between me and another guy is that mine is one you can see. Because we all have different problems. If you can take advantage and learn from those problems, you can use the disability to teach you to enjoy other parts of your life."
Mariano will tell you that just as in golf, in life when you have played one hole you can't change that number, you have to accept it, but you can make a birdie on the next hole, or the next perhaps, and thus live your life to the full and thrive once again. He is right perhaps, and the game of golf mirrors 'real life' so closely at times.  
Mariano says: "Golf is, for me, it's life, it's everything. I can share its riches with friends. It makes me feel alive, it makes me play a sport, it's everything. I can't have 10 days without playing golf, I don't know how to describe it. My family knows that. I have a two year old son and I can't wait to take him to the golf course. I know he's going to hate golf, but I have to try!"
Mariano Tubio's good fortune in finding golf is in part due to geography, and his father, and a little perhaps due to the town's father figure, the great golfer Roberto de Vicenzo. Mr Tubio would go to the club socially, not to play, but to meet friends and watch de Vicenzo practising. Before long Mariano was doing the same and playing with his father too.
"Yes, I was born and lived all my life until I was 25 years old, one block from the club. So when I was nine I asked my Dad, 'Why do we never go into this club? Let's go.'" That's how it all started.
Roberto de Vicenzo was a much-loved figure. When the boy Mariano met him he was enjoying a peaceful retirement, and it was for others to talk about him winning more than 220 tournaments internationally, including seven on the U.S. PGA Tour and of course victory in The Open Championship at Royal Liverpool in 1967 (beating Jack Nicklaus by two shots). He is remembered for signing his scorecard at The Masters in 1968 incorrectly, which denied him a place in a play-off and a possible 'green jacket'. 
Roberto lived on in Ranelagh until he was 94, and he died on June 1, 2017. Says Mariano, "He was a neighbour of mine, yes, I knew him very well. For us he was 'The Old Man', a very good person, very, very nice."
Mariano tells us that he studied Roberto's practise as a boy and would later play some 18 hole rounds with the great man, as well as plenty of informal three to nine hole games. "He taught us a lot," says Mariano. "How to be competitive, to play better, and also how to be kind."
Argentina has produced many leading golfers on the world stage, with a number of young professionals learning their craft at Ranelagh Golf Club as friends of Mariano. Thoughts of becoming a professional were never for him, even though he was playing off a one handicap by the age of 27. Encouraged by their father, Mariano and his three brothers, Nicolas, Juan and Marcos played a full range of sports. He loved rugby and football (a national obsession: Mariano was a skilful midfielder) while his brothers played field hockey to a high standard, Juan playing in Italy, and Marcos in Spain.
College and career beckoned and Mariano studied to become an electronic engineer. He worked hard to combine his lectures at college, his first paid job outside of school (repairing computers), along with his growing passion for playing golf. He started to enter serious tournaments as a rising player in the region and proudly played for his club for 11 years. A very good striker of the ball tee to green he would sometimes struggle with the putter, as he did on a day when he nevertheless carded his best score, a 6 under-par 67 at his home course at Ranelagh.
By his late twenties, life was very satisfying for Mariano. He had launched his own business, a web hosting company called MESI, and was playing some great golf at the weekend. But then the blow-up on the scorecard came in 2008 when he was 29.
He and his friends were off for a snowboarding trip. A car crash en route would leave him with severe damage to his spinal cord, and he couldn't feel anything from below his chest. His right shoulder was badly broken, as was his left hand. He would have to use a wheelchair, and golf was a million miles away. At first.
"It was crazy because right after the car stopped rolling, I touched my legs and said, 'I can't feel my legs, please don't touch me, wait, because I can't feel my legs.' I didn't know what was going on. I felt that we could wait 48 hours, go to my house and everything would be ok. I didn't know what a spinal cord injury was. I didn't know that I would stay in a wheelchair forever. Really, it was mysterious for me, I didn't know anything about it, nothing."
Mariano also had complications including blood in his lungs, and his life was at risk for six days in the hospital, before he was moved to Buenos Aires.
"I was two months in the hospital and when I asked what I was doing there, they told me, 'You are learning how to live alone.' So I said, 'ok, I will learn how to live alone in my house.' My brother helped me here as I started my life with the wheelchair, and without knowing anything about it, I started to investigate to see how to live with that chair and it wasn't that serious. Life can be exactly the same even with the wheelchair, and I can say that my happiest years have been in a wheelchair, so I'm happy with this."
From the start, Mariano's spirit and will to pull through heartened his close family who gave him wonderful help in his rehabilitation; his mother and father were there for him at all times. Mariano's view of the future differed from those of the doctors and psychiatrists who wanted their patient to accept he was in a wheelchair; they were happy for him to take "some days, months, years, some decades" for this to happen.
"They are still waiting for me to realise that I'm in a wheelchair, and I think I never will," says Mariano with a smile. "I am one of the happiest guys I know in the world. I have a lovely wife Mariana and a son, Felipe; I play golf, I have friends, lots of friends. I can't complain, life is very generous to me. I think it's my way to see life, my way to see the things that happen."
Only a couple of years after the accident, Mariano was also very proud to complete a degree in business administration. Part of a remarkable acceptance of new challenges, but his great challenge as a boy of course was golf. It was a little while before the daydream of playing again started to gain momentum, and the real inspiration came eight years ago, when Mariano was on holiday in Scotland and he visited St Andrews with a cousin and aunt. A thoughtful few minutes looking across the Old Course made up his mind for the future.
"I decided then to start playing golf from my wheelchair. I bought wide wheels to go on my wheelchair to avoid damage to the course, and I asked a caddy to take me, not my golf bag, to help me, and I started to play nine holes from my wheelchair, and I really enjoyed it."
He describes the changing of his wheels as a 'pit stop'. If it was, it was certainly a deciding one on the journey of his life. Soon after, he had a trial with a 'paragolfer', and that magical experience of hitting a good shot, that had been completely lost, was rediscovered.
"When I started and I hit my first ball, the thing that shocked me most was the fact of being able, once again, to share with my friends a sequel at that moment, on the golf course, to be able to hit the ball, and then walking all together, that was priceless for me. Today as I tell you, it moves me, because you can't compare that feeling, it has no price. So I played very badly, but I decided to buy it, to buy the paragolfer and now I can enjoy golf. I go alone, and play golf. With my paragolfer it's total independence. I can travel around the world, I have no problem, and I am very happy with it."
In Mariano's swing he hits with his right hand and arm from the paragolfer but his left hand plays a key supportive role at crucial times in both the backswing and downswing. His progress has been highly encouraging, using all his previous golfing skills and experience in a new swing that has seen him get down to a 15 handicap. 
"I'm improving a lot. I never thought I would play today with a 15 handicap, I never thought I would play under 25, because with my injury in the shoulder and all that, I can hit it 160 yards, not more. That's what limits me to play better, I think, when I play shorter courses I can play better."
Completely absorbed in the sport again with his friends, Mariano plays in every tournament at his club (he has been a member for 30 years and has also been a dynamic presence on the club's council for the last three years) and he will travel nationally to play whenever his diary allows. He never looks for any assistance on the course, wherever his ball finishes.
"If I can't play because I have a tree or a bunker where my paragolfer doesn't fit, I have a left-handed club, I never use any advantage, no, never. I play every stroke. I always give priority to take care of the course. I have to be very cautious about that because I wouldn't like anyone to damage the greens at my club, so I am very responsible with that. I like to play as many different courses as I can but never more than 6,500 yards. That's a lot for me, very difficult."
As one of very few players nationally with a paragolfer, Mariano says there was some resistance from clubs in the early days, not through a lack of goodwill but concerns about how to host the golfer and his paragolfer. His persistence and his travelling to other clubs has blazed a trail for other golfers with disability in the future.
"Now they all know me and I think they really like me to be there," says Mariano. "So I think today is very different, seven or eight years ago it was very strange. I had to ask for permission; lots of things, it was very different. Now it's almost normal and they always say it's a pleasure to receive me, and when they notice me they come and say hello and congratulate me, so I feel really, really good."
He is in no doubt that golf is hugely beneficial to his physical and mental health. He says: "Yes, of course. Every sport is good for people with disability. Golf integrates me, I need to stand-up, it helps me with that. It helps me move, keeps me fit, psychologically it's great for me, people make me feel like I am a superhero. Even though I really think I'm just living a normal life."
Mariano adds: "It's very difficult for many people without a disability to start playing golf in Argentina, so it's even more difficult to encourage people with a disability. But it's a sport that you can play with anyone. You can compete with them, you can play a round, let's say with Tiger Woods, and compete against him because it's a sport that doesn't discriminate and has the handicap system. It's a sport that integrates lots of things, friendship, and you can enjoy the courses, and the views. I will try to encourage people with a disability to start playing golf in Argentina because I need them to feel what I'm feeling. All the people who start to play with me, playing golf, they want to keep playing because once you experience this sport you really want it in your life."
Mariano is talking to us with a picture of his family behind him. We ask what advice he would give to families who experience similar trauma to that which he and his family went through. He said advice is difficult because everyone is different, but he does like an example of life's 'scorecard' for an approach to all our lives. "The hole that you pass, you can't change that number; if you make a double bogey, you cannot change it. Just make a birdie on the next hole and live your life like that. If you can't change your condition, there's nothing you can do about that. But look forward and make the best you can with the things you still have. For me it's lost movement and for other people they might lose their legs, or one arm less or something like that, but if you can't change it, the only thing you can do is do the best with the things you have. Golf, and life, it's just like this."
At Augusta in 1968, Roberto de Vicenzo actually wrote incorrectly on his scorecard to miss the chance to win The Masters; it's one of sport's famous calamities, but nothing compared with the number Mariano had to write on his own personal scorecard when the car crashed. To share his view that we can all carry on, that birdies are still out there on the remaining holes, takes a really strong mindset. You need to believe in yourself and open your mind to find the joy in life. For Mariano Tubio, this is very much par for the course for him today. That was why he had a big smile at the start of our interview and the same smile at its end.
Contact EDGA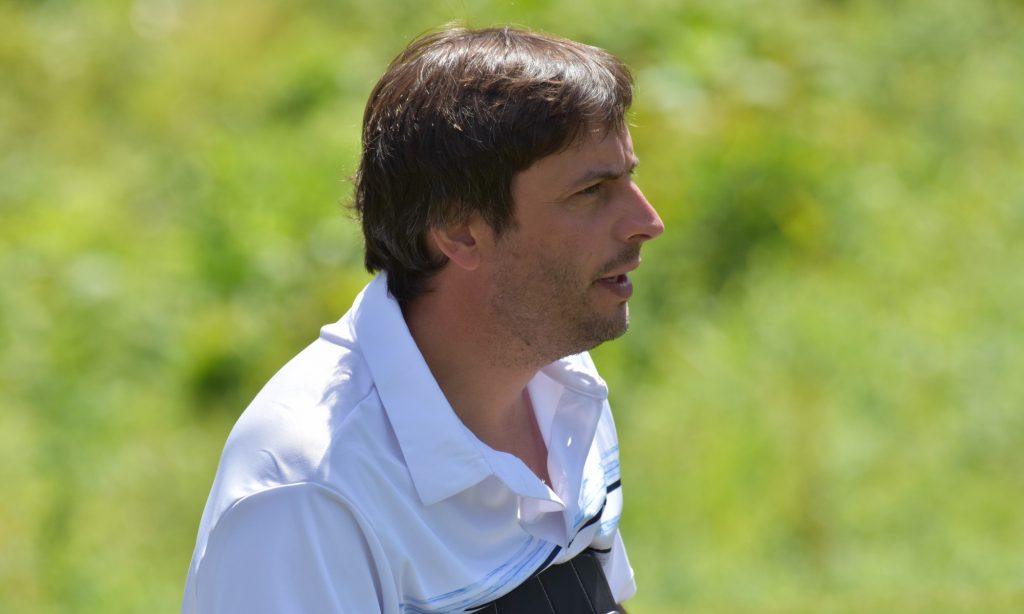 NB: When using any EDGA media, please comply with our copyright conditions