Audio: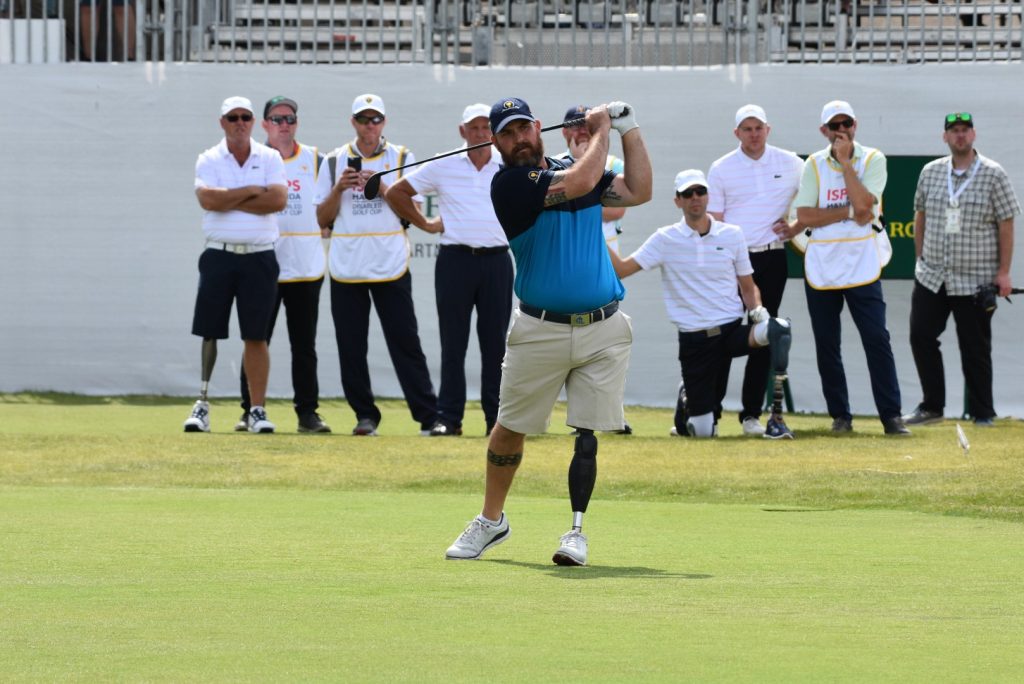 Chad Pfeifer adjusted one word in his thinking from the phrase, 'How can I'… to, 'When can I?' That single change made a lot of difference in his life and set him on a path to inspiring hundreds if not thousands of others to look at life that little bit differently.
As Chad grew up he developed sharp hand-eye co-ordination and a rich competitive spirit. He was too busy playing his "true passion" of baseball as a lad to ever think about golf. The nearest he got was retrieving his Grandpa's practice golf balls in a field to earn small change, and he laughs that he wasn't actually allowed to touch the old man's clubs. Chad didn't care. He grew up in the farming town of Caldwell just outside Boise, Idaho, USA, where it seemed the whole community, including his brother and three sisters, were turning up to the 'diamond' to watch the baseball players. Chad was one of the very good ones and aged 18 he was definite college league material.
Only a few years later Chad stopped playing baseball. He would have to employ his physical and mental attributes to learn a new sport and he quickly became a very competitive golfer indeed. In just three years from hitting his first concentrated golf shots, Chad was scoring a 65 under pressure to win a national tournament as a scratch golfer. When you consider he made this rapid progress after losing his left leg, you start to realise just how driven and focused Chad can be.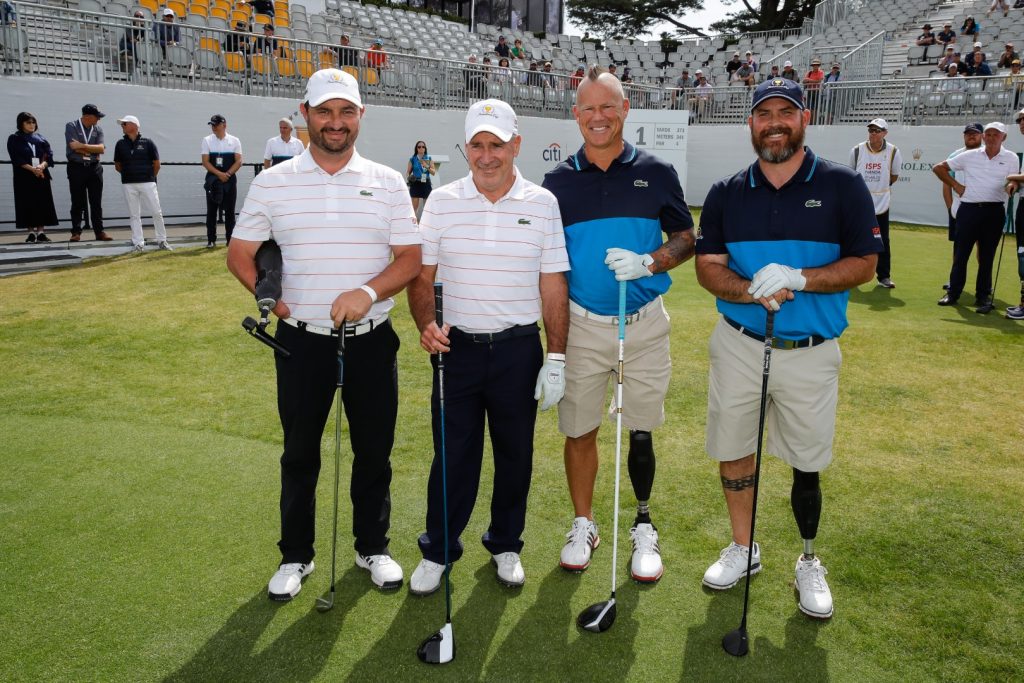 When Chad tells his story today, this quiet but very personable man doesn't waver when he recalls the time in his life when he literally had to climb a wall to get back from the brink. And while many good golfers will remember Chad's scarily competitive powers on the golf course only too well, his thoughtful views on the redemptive power of sport can act as a balm to anyone who listens.
Back in the year 2001 Chad, who describes his younger self then as a "stubborn, young, and dumb kid", was planning to keep the baseball dream alive by signing up to a degree in sports medicine at Northwest Nazarene University in Idaho.
He said: "I grew up in a family with a long military history. Both my grandfathers, my aunts, uncles and cousins, all served in some branch of the military, whether it was Army, Marines, Air Force [his father was in the Air Force]. But with that, I actually didn't have a whole lot of thought of going into the military. Then September 11th, 2001, happened. I think it affected people around the entire world and, as an American, it really affected me. I wanted to do something to give back to my country."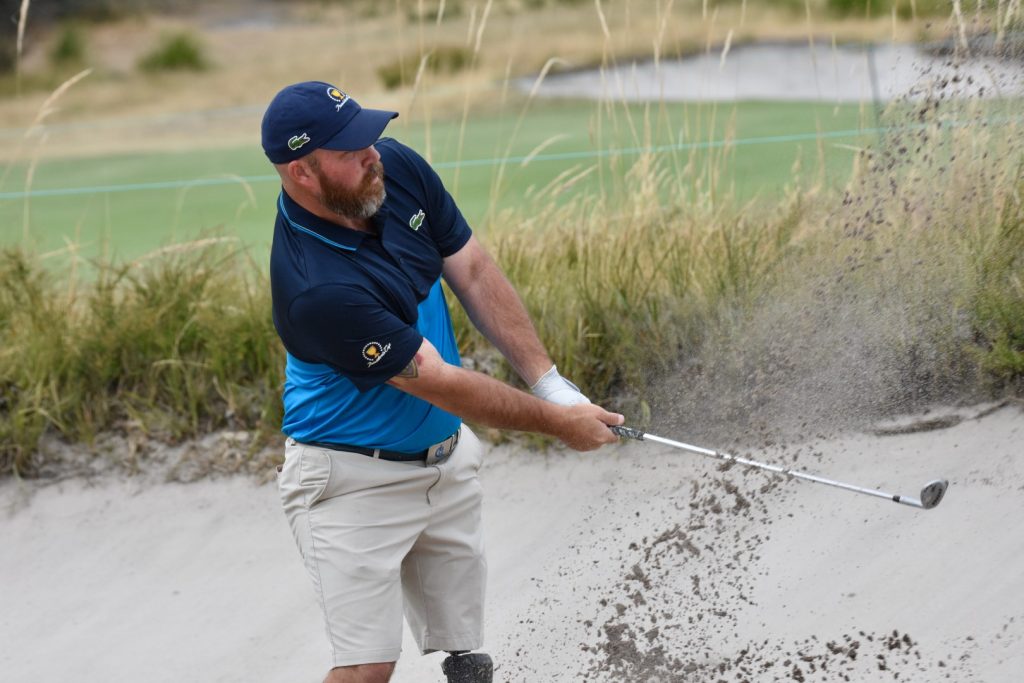 Chad's father Chris encouraged him to finish his studies and to keep up with the baseball, but the terrorist attack had left its mark and in 2005 Chad was signing his Army papers. After training in 2006, he was off to fight in Iraq, aged 25.
By April 2007, Chad was embedded in a unit of soldiers he trusted with his life, a close-knit band of brothers who were regularly conducting driven armed patrols in the territories; many were routine "presence patrols" in relatively stable areas of population. One day this pattern changed.
Chad explained: "So that day, in particular, everybody was nervous because it was a new area. We knew from the information that it was a hostile area."
Four trucks each carrying five soldiers were deployed and on arrival encountered gunfire from adjacent buildings. Chad was on the top of his truck, returning fire with his 50 calibre machine gun from the gun hatch, to where he saw the muzzle flashes, all to cover his colleagues – being the 'dismounts' from the truck – as they sought out the enemy on foot. The danger and immense tension lasted 90 minutes before the unit was called away. Then, a reconnaissance to seek out insurgents planting a possible 'IED' (improvised explosive device) on the road ahead took up more exhausting hours and at 1.30am the unit was finally recalled as they had another mission later that same morning.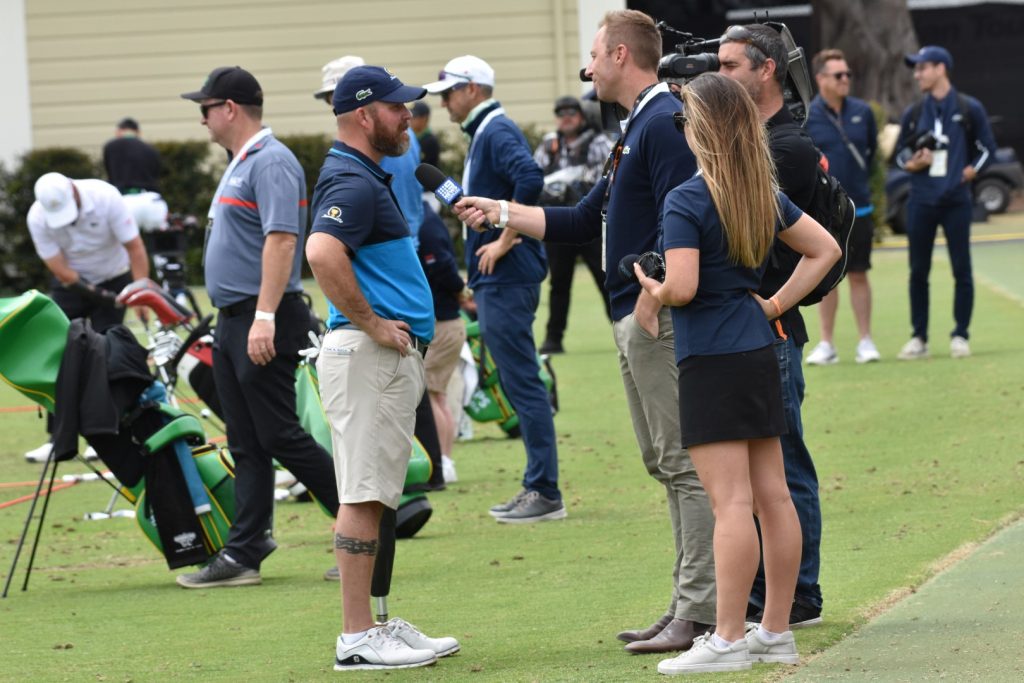 Because of night-vision difficulties in the gear of the driver, and Chad feeling the least fatigued, he jumped down to drive them back the five or six miles to the camp.
Around half a mile later the truck ran over an IED.
"I was knocked unconscious, for a minute or maybe even less. I remember waking up and the guys in the back of the truck were asking if everybody was ok. I just remember it was like the tingling sensation that my legs were asleep and it was both of them. But I wasn't in pain, I wasn't in shock yet, it was just kind of a tingling sensation. I remember saying I couldn't really feel my feet.
"They came around to the driver side door, opened it up. A medic who was in the truck behind us came up… I remember hearing him say over the radio, 'his leg's gone'.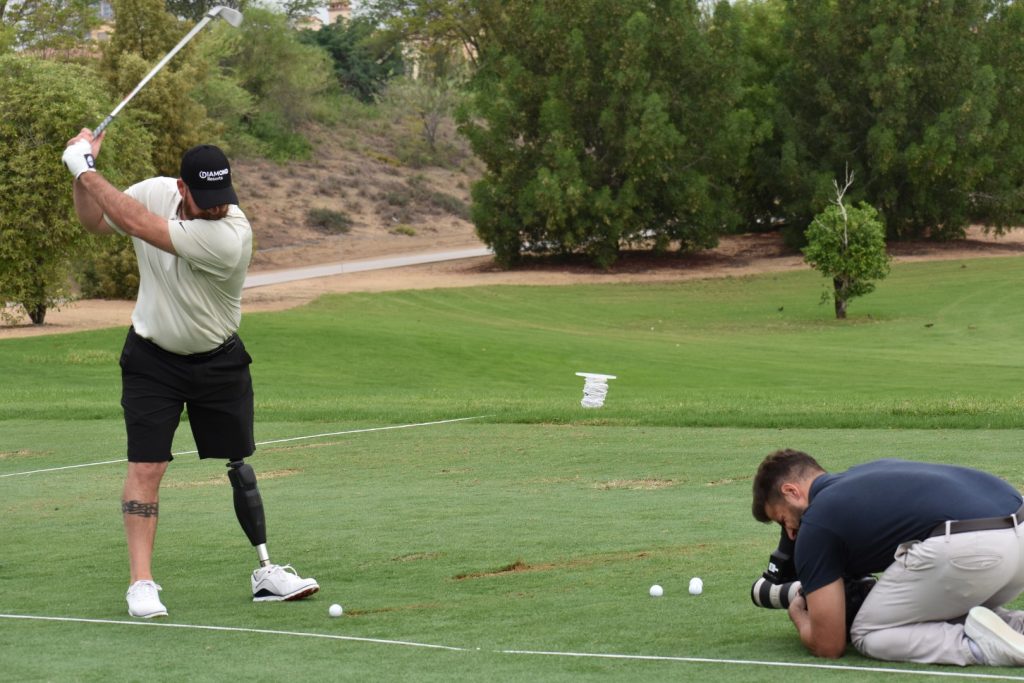 "They pulled me out of the truck, got me on the stretcher. I remember our medic sticking me with an IV, putting a tourniquet on my leg…" Chad remembers hearing the helicopter and being carried towards it by his colleagues.
Morphine and other drugs for the pain, as Chad was first taken to the 'Green Zone' in Baghdad, then flown to Landstuhl, Germany, on to a military hospital in Washington DC, before eventually reaching Brooke Army Medical Center (BAMC), where after the necessary surgical work on his leg was completed he would start his rehabilitation.
"I remember the reaction I had was what just happened? Then, how am I going to live my life missing a leg? Me, being an athlete growing up, I was very mobile. I ran around with cousins and family during pick-up basketball games and softball. So I was very nervous and anxious and just didn't really know how I was going to live life."
Fortunately, for Chad, he couldn't have been in better hands with the expertise available at the centre.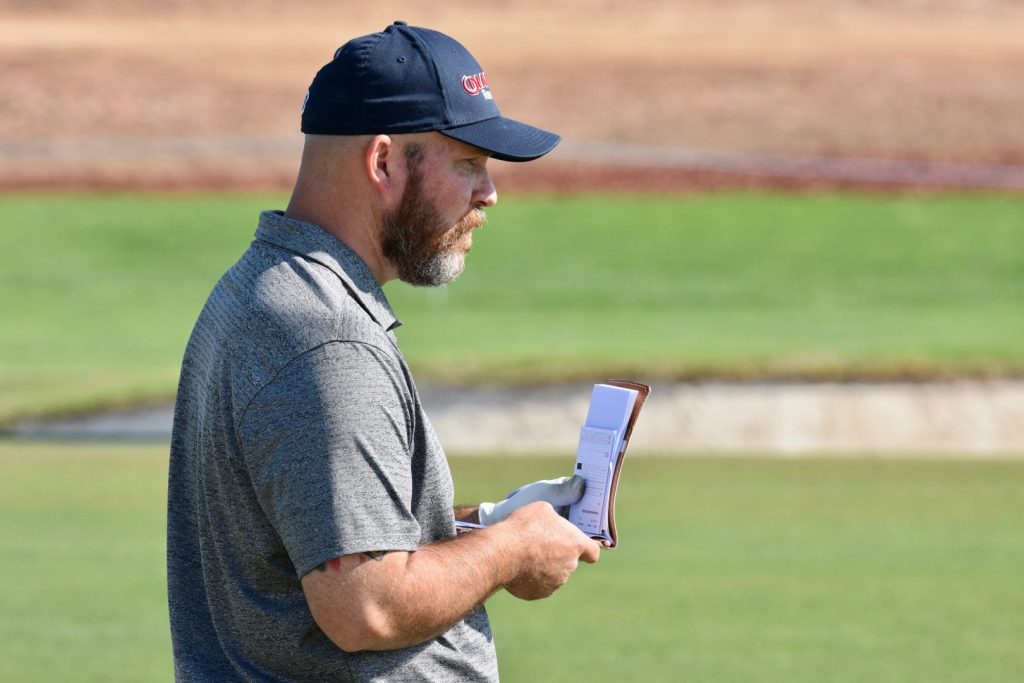 "From the very first minute I got there, it was all positive support. I didn't have anybody saying you're never going to walk, or anything like that, it was all positive. As soon as you got there, they would take you down to guys that were further along in the process and I was able to see guys missing two legs or two legs and an arm. Some similar to me, they were just missing one leg. That was very uplifting for me. They had a great facility there at BAMC and they have a rock-climbing wall. I remember that one of the first things I saw was a guy missing his leg and he was half-way up the rock wall. I thought 'Holy cow, that's awesome'. This guy was very similar to what I was going to have to go through. Then there were guys running around the track with prosthetics and I was seeing all the different but very workable prosthetics that guys were doing awesome things with.
"So from the minute I got there, it was no longer ok, can I do this? It was when can I do this? How soon can I get the prosthetic? I was very encouraged and was looking forward to the new challenge."
Of course Chad, being the intense competitor he is, could not resist taking on the rock-climbing wall himself as soon as possible. After a great deal of work on his upper body strength, and then immense effort climbing the wall, he joined the other veterans at the top. It was a defining moment in his rehab, an early victory, and the 'tough-as-teak' upper body strength he gained would only help him in his new passion, following more encouragement.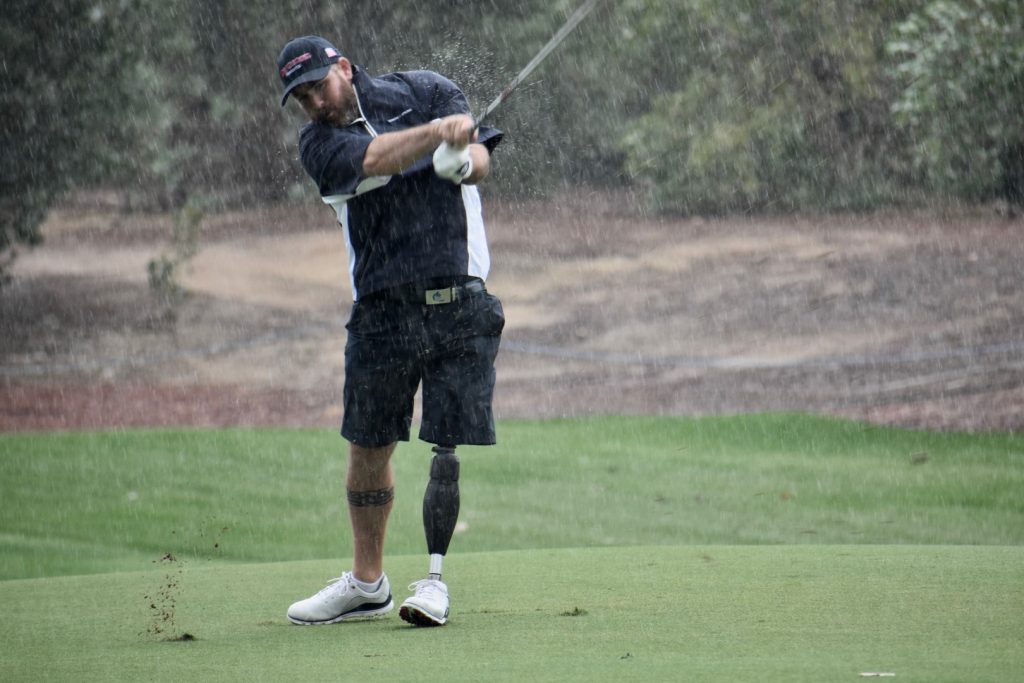 "When I was going through my physical therapy, I was introduced to the game of golf by another wounded veteran who was missing both of his legs. I was fairly new in the process of having lost my leg and actually didn't have a new leg yet. But he said, 'Once you get the leg on, let's go out and do something.' At first I was hesitant. I wasn't really a big fan of golf. Quite honestly, I thought it was for older people. All growing up that wasn't our family, that wasn't me.
"But the day came around and I reluctantly agreed and we went out and I actually hit a couple off the sweet spot and absolutely fell in love with it. So that's all I wanted to do from then on was go to therapy in the morning and then afternoons I would just go to the golf course."
Playing golf also really helped Chad get used to his new prosthetic, he was getting in and out of bunkers and up and down hills, swinging from different sloping lies. He has no doubt now that it was also great mental therapy.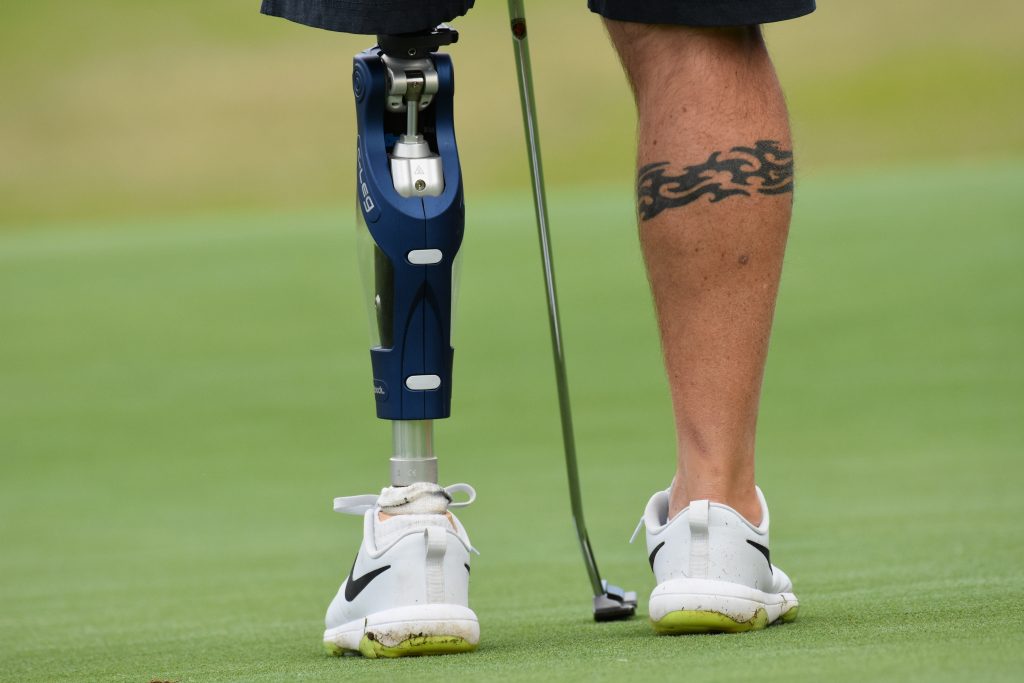 "That was huge for me because there were plenty of times when I was very depressed. You get back into that negative thinking and you're unsure of what's going to happen tomorrow, am I going to be around? There are definitely thoughts of suicide going through this whole process, and having really rough days where you don't want to do anything. So therapeutically and mentally, golf was just a fantastic escape because it took your mind off all that stuff. You're just out there hitting balls."
On less positive days for Chad in those early times, missing his army buddies and the camaraderie of the unit, he would sometimes "hit the bottle". "I'd try to drink away my sorrows and my anger, and you see a lot of guys that do that, especially veterans. I don't know why but alcohol and liquor seem to be an escape for these guys, which is unfortunate."
"Most of the time it was golf for me though, just looking forward to the next day. I was like ok, I'm going to go to therapy in the morning and then afterwards grab a bite to eat. But then go to the course and just chip and putt or hit golf balls. That was always something for me to look forward to. When do I get out on the course next?"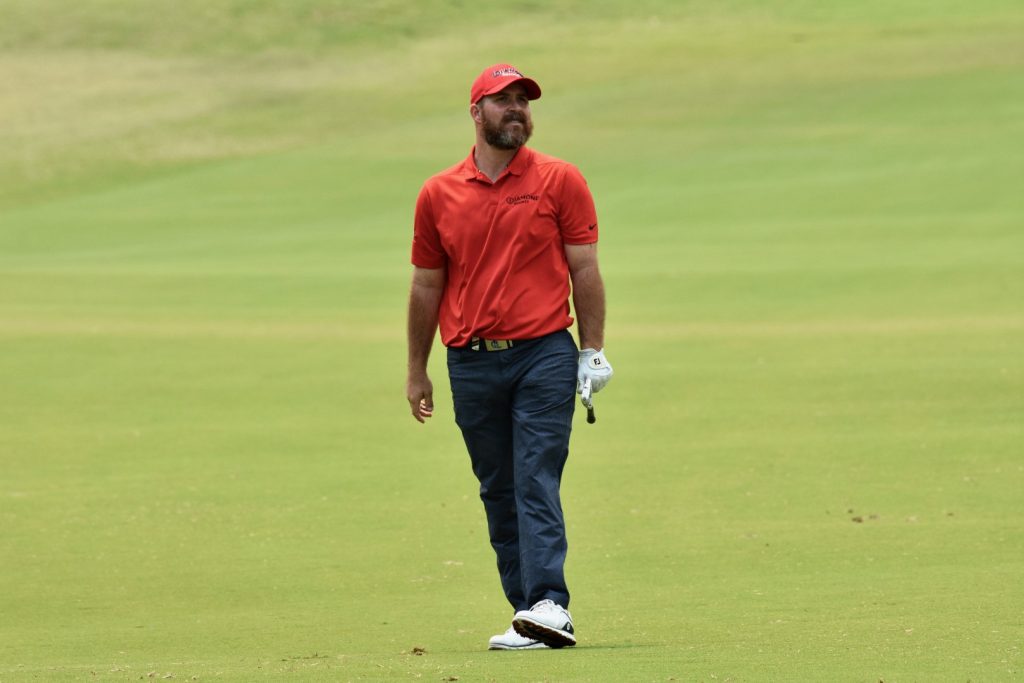 Chad was largely self-taught in these early years. He naturally went with his baseball-style swing of the club from his youth, promoting a huge slice. As a right-hander he did't trust his prosthetic at first (his left, leading leg) and would hit too much from the back foot. But he remained patient, he read instruction articles, and watched the top golfers on TV, how they swung and shaped the ball. The hard work paid off, the baseball swing emerged into a controlled fade he could rely on while he learned to finesse other shots including a nice draw.  
With his main rehab done, Chad was medically retired from the army, he moved back to Idaho and took a job at Falcon Crest Golf Club, washing the carts, the trade-off being that he'd have access to the practice facilities. The staff and owner (who had lost his own son in Iraq) were really supportive of Chad. "I absolutely loved working at the golf course, getting to know people, and loved talking with the golf professionals there at the course."
He started seeing a girl called Summer who he knew from his junior high school days, and before long they married and moved to Arizona, an added benefit being that he could enlist in the Golf Academy of America, learning all the technical aspects of the game. He arrived with a 9-10 handicap, 14 months later this was 2/3, and a year or so later he was scratch.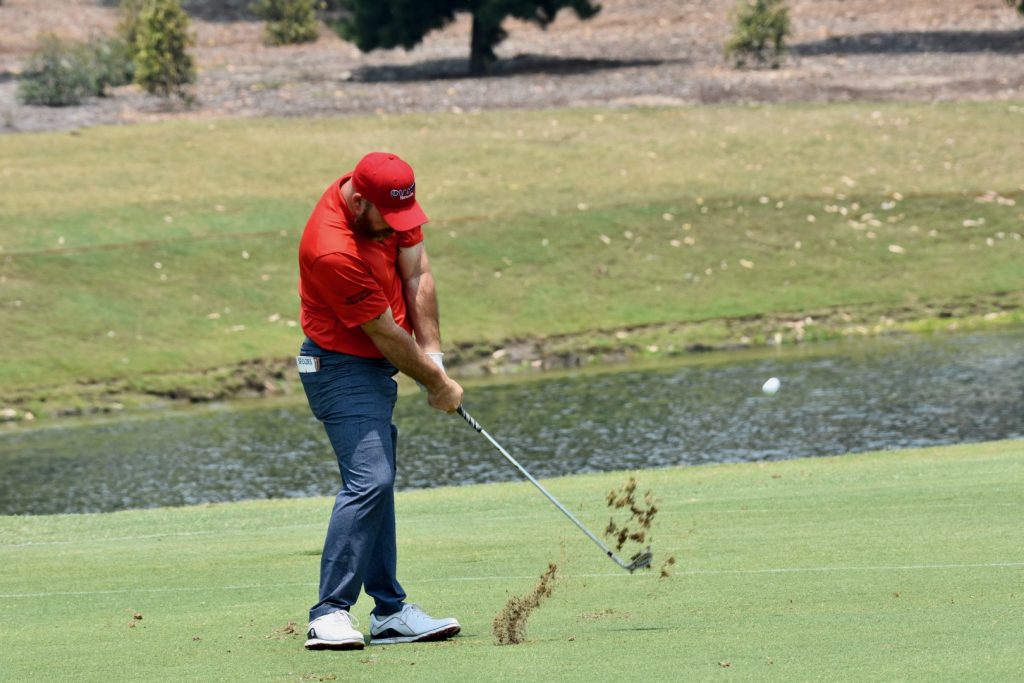 He began competing in the National Amputee Golf Association (NAGA) championship. He finished 12th overall in the first year (third place in the above-knee division) and loved the competitive feel of the event. Improving and getting closer each year he would finally lift the trophy in 2011 at Rio Verde Country Club, Arizona, thanks to under-par rounds of 71, and 65, which Chad would rate as a huge achievement. In the same year he won the Bush Institute's Warrior Open (tournament for wounded veterans), and would go on to win both events three times.
With this competition, there came the camaraderie of playing with golfers who had also been through life changing injuries; now Chad was finding a new band of friends he could trust and support. "They welcomed me in. We are all bonded with the fact that we are missing a limb but everybody's individual story is completely different.
"That was really great for me to get to know these guys and hear their stories and watch really good golfers despite missing limbs. So that was huge for me."
This companionship perhaps started the shift in Chad's thinking. The serial winner gradually became the serial encourager of other golfers, a quality Chad is known for to this day.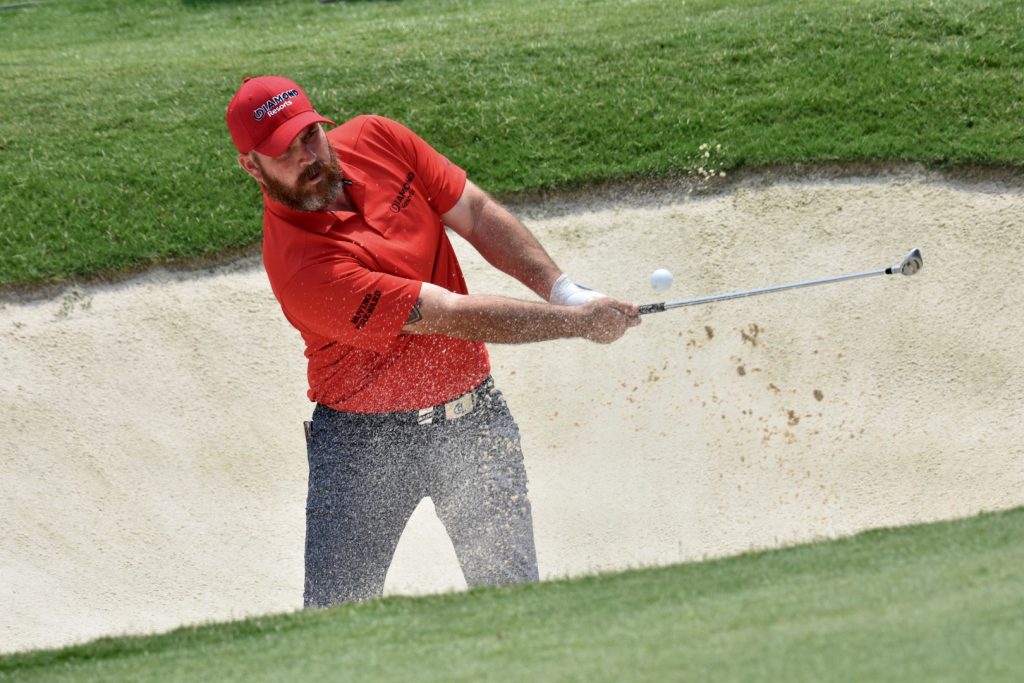 Chad says: "It hasn't really stopped, to be honest with you. The following couple of years I had quite a few amputee golfers come up to me saying, 'Hey, this is really cool what you're doing. You've inspired me to start in golf,' or others, to work harder on their game. It was very touching for me. I'm just playing an individual sport for my own reasons, but then I saw the bigger impact, that what I was doing was impacting on other people's lives.
"After a couple of years, that became a bigger goal to me than winning tournaments. To touch the lives of other people and help inspire other wounded veterans or new amputees or people with a disability. That's one of the great things about golf, it doesn't matter if you're injured. It's a game that everybody can enjoy because of the handicap system, you can all have a good match with no matter who you play with. So that was huge for me, just trying to get more people into the game of golf."
Chad speaks well about how competitive golf for players with a disability at the highest level is helping to grow awareness of what is possible for all golfers with impairment, even brand new players. He mentions the European Tour's welcoming of EDGA players to take part in tournaments alongside world famous names in events in Scotland and Dubai. Golf Australia has done the same and Chad was talking to us after being introduced to the crowd at the Presidents Cup between the USA and the International Team, while the week before he was competing in the AAAC Championship as part of the Australian Open. He believes similar opportunities will happen soon in the US and says the recently introduced World Ranking for Golfers with Disability (WR4GD) is a major driver to increase awareness (Chad is currently ranked number eight).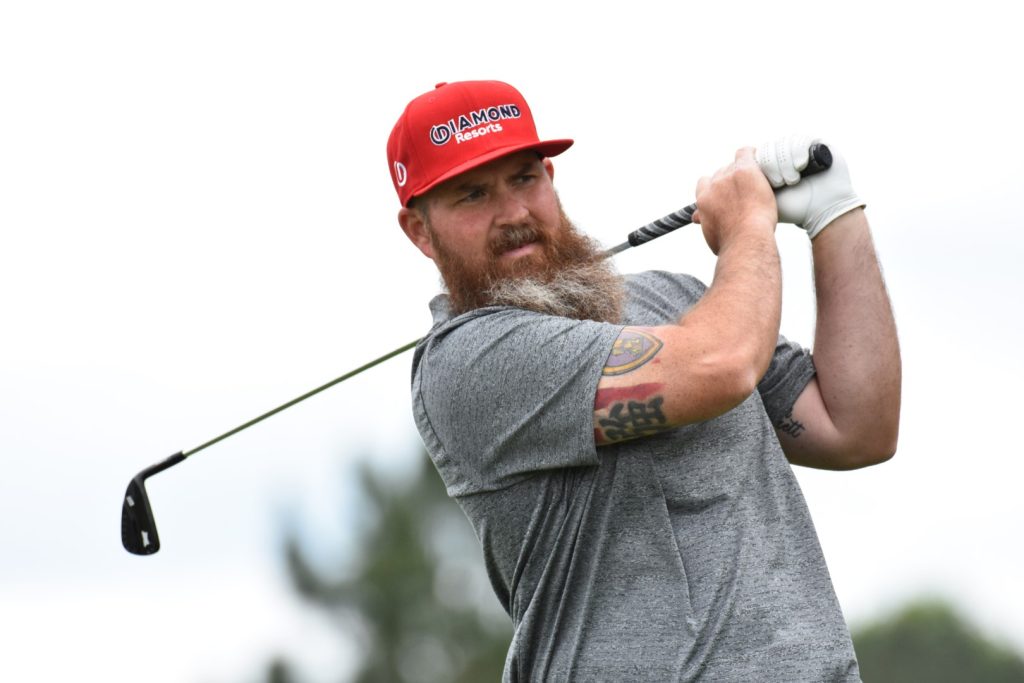 "This all gives us a platform to say hey, check out these tournaments… Whether they want to play for World Ranking points or not, you meet great people. It's just huge for the game of golf and for disabled golf.
"I see nothing but great things in the future."
For other people who may find themselves in a similar situation as he did after his military incident, Chad's advice is heartfelt and is based around the redemptive power of sport.
"The possibilities of personal endurance and the overcoming of obstacles are endless. It's really amazing what the human body can do and what the human mind is capable of. Whether it is fishing, hunting, it really doesn't matter. If you find a passion in life, pursue it. I would highly recommend golf just because you can enjoy it until the day you die. You can be two or 102, you can always enjoy golf. So just push yourself to the limits, set those goals, have dreams. It's pretty cool what people can do, especially when they set goals; it's amazing what you can accomplish."
Great advice from a man who found himself injured and vulnerable and looking up at a rock-climbing wall in rehab, waiting for a prosthetic leg to arrive. Instead of saying 'How', he said 'When' and set himself the goal to climb it. Though his goals are different now, Chad is still climbing.
 Contact EDGA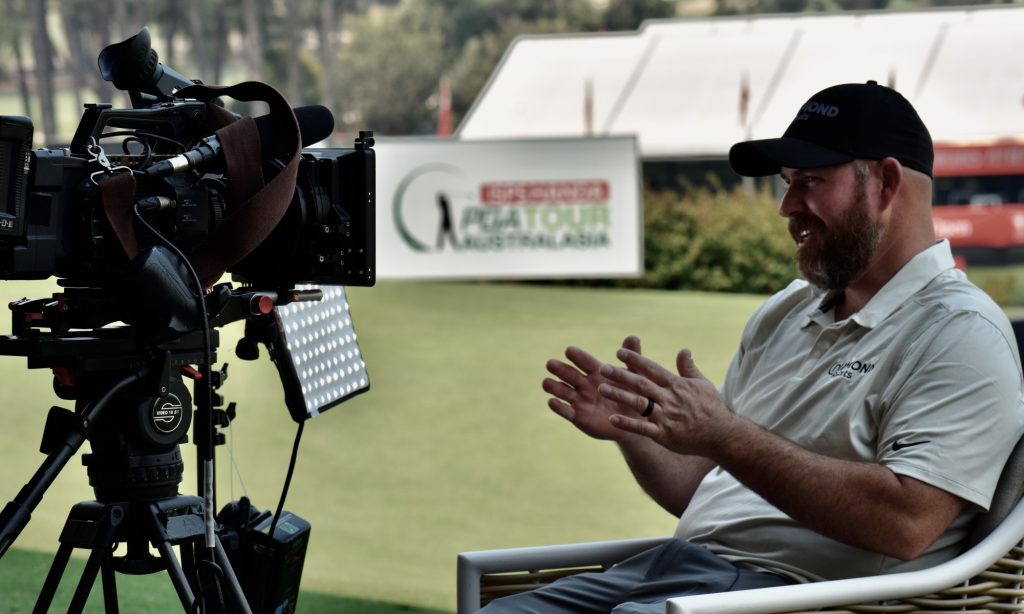 NB: When using any EDGA media, please comply with our copyright conditions