Audio:
It's Friday, December the 6th, 2019. The place: Sydney, Australia, and Cameron Pollard is standing amid hundreds of people. Cameron stands tall, ready for what the next few hours will bring. He looks confident, and he should be, at just 20 years of age he has earned his place and is about to experience performing on the biggest stage.
With his trusty driver in hand, Cameron focuses his mind as best he can. "Don't get ahead of myself. Stay in the present. Remember what my coach said." All these reminders scroll through his mind, just like the continuous ticker-tape on a TV sportscast, one which is going just a little bit too quickly to be useful.   
At Cameron's side is his Dad. Scott, a keen golfer himself, is Cameron's caddy for the week. The next three days promise so much, and yet the potential for a crisis is ever-present. Scott and Cameron's Mum Kate will help him through ups and downs during the round. The roller-coaster of emotions will play out both on and off the course.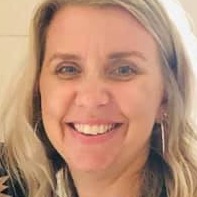 The gallery seemingly gets bigger every minute. It's just after lunch on the second day of the Australian Open. It's a Friday and so the long weekend has already started for many in the crowd. They are here to see some golf and to watch the top players in action. Kate is milling amongst the crowd that eagerly anticipates the starter's call to the tee. For Cameron, this is the moment that his Mum and all his team have been preparing for. Cameron is doing what he loves, and yet for Kate, she senses that at any moment she could be jolted into the present. She is prepared, she has to be. Cameron has a diagnosis of autism, and routine is critical, but frankly, this day is anything but routine.
Rewind a couple of days, and it is the first official practice day at the Australian Open. Just 40 or so of the leading professionals are involved in the pro-am, meaning that the remaining 80 or more players must settle for the practice facilities. Space is at a premium, especially here at the Australian Club. The course, inaugurated in 1882, has a traditional feel. The driving range, squeezed between the third and seventh fairways, is more than adequate usually, but demand today far outstrips its capacity. Cameron makes his way to the range and soon is way out of his comfort zone.
Kate watches intently looking for any early warning signs, "We got down to the driving range, and it was full. It was so busy, and so he had to wait for a spot. The players were all closely packed together, and Cameron became quite agitated. There were people in front of him, people behind him. The noise, the sensations, there was bushfire smoke. It was hot. His favourite drink wasn't down there. Someone behind him started hitting an impact bag, and so the noise soon distracted him. Aeroplanes were going overhead."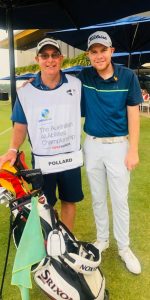 Overload, a term often used in exercise science, is typically thought of when a muscle is pushed to and just beyond its capacity, to stimulate growth or development. Overload, when applied to the brain's capacity to deal with both external and internal stimulus, can facilitate growth or cause a breakdown. We have all been there, too much to do-not enough time; too many smartphone notifications, too many pressing problems, one compounding the next. Take this feeling, and we can glimpse into how Cameron was feeling. In an ever-faster world, psychologists, meditation teachers and Zen Buddhists offer advice on how to come back from the brink of overload. It is a real phenomenon, and for Cameron and his team, something they have to be aware of every day. Kate says, "There's a lot of sensory input that he's trying to manage. I was watching Cam and could see that he was becoming more and more agitated. He started chewing on his hands, on the collar of his shirt. He's looking around and becoming distressed. So, we ended up removing him from the driving range because it all became too much. We had some downtime, cooled down, and we ended up leaving the course early."  
A passing look at Cameron and you can be forgiven for thinking that he is just like any other 20 year-old, and yet he carries with him several conditions that are invisible to the casual bystander. How could they know that he has a condition called Ehlers-Danlos? Kate says, "It's a connective tissue disorder. He's had both of his knees reconstructed because his joints are prone for dislocation, so he's hyper-mobile. He has had a lot of physical problems. Cam also has a condition called Hirschsprung's Disease, which is a genetic condition that affects the bowels. When he was young, the doctors removed his bowel and made what's called a Cecostomy Chait Button." Add this catalogue of conditions to Cameron's Autism and the Pollard family have a lot to deal with.
Kate is from Coffs Harbour, a small regional town some 450 kilometres from Sydney on the North coast, "I was a young mum, I was 18. We were low on funds, and suddenly we had this child that had all of these conditions that were unknown to us at the time." Cameron cried a lot, and according to Kate, was a colicky baby. The age-old advice to soothe such babies is to ensure that they have lots of skin-to-skin contact and are wrapped in a blanket. Unbeknown to Kate, Cameron was living with autism. "Now, in hindsight, we know he doesn't like to be touched, and so it was probably the autism that was causing him to be so distressed at that time."
Eventually, Cameron was medevaced to Sydney, where he underwent multiple surgeries at the children's hospital. At this stage, the doctors were trying to work out what was affecting Cameron. First, they found the bowel condition, but as time went on, they started to construct a full picture of what Cameron was dealing with. "He was three or four when he was diagnosed with Autism. He wasn't walking, wasn't meeting his milestones, but at that time, I didn't have anything to compare him to. Cam didn't walk or talk for some time, so it was tough as a young mum, especially when medical professionals didn't treat us like a parent of a mature age."
Kate was maturing with every passing day. One blow after another was forging her character, "Probably because Cam was our first…we didn't know any different. It was just a case of ok, well this is what we have to do. If they said your Cam had to have surgery or therapy, then ok. There were moments where we were thinking, oh my God, why is this happening to us? I guess we chose to accept it. If that's who Cam is, then just move forward and face each challenge as it comes."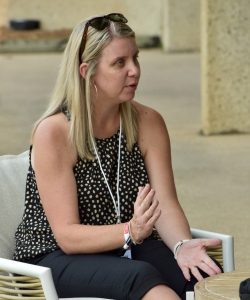 Golf has been a blessing for the Pollard family. Husband Scott has always been a golfer and would take Cameron to the golf course even as a toddler. "Scott would give me a bit of a break on a Saturday when he went off to play golf. He'd take Cameron with him and put him in the pocket of his bag when he was tiny, or even in the basket of a golf cart. My mum bought him a little plastic set of golf clubs one Christmas, and from there on he had a natural swing." Hundreds of players develop their swing by watching others, through a kind of osmosis. The unconscious assimilation of movement sequences penetrates the observer. It becomes a map from which their own pattern of kinetics starts to develop. Fortunately, Cameron had an excellent model to learn from. Scott, a scratch player, was unintentionally passing years of good practice on to the impressionable Cameron.
Golf is a game that fits Cameron's nature, Kate says that "Cam's quite obsessive, he likes repetitive movements, and, whilst you play with other people, it's quite an individualised sport. It's right up his alley. Probably by the time he was 10 or 11 he really started to get into it." Even the regular stops and starts that Cameron had to endure didn't dampen his enthusiasm for the game. He was even swinging a club when his legs were in plaster casts following an operation to lengthen his calf muscles. "Because of his hyper-mobility in his calves, he used to tiptoe walk, and so his calves shrunk, and he couldn't put his feet flat. That's what his routine was, and that's what he wanted to be doing."
 Dr Bob Rotella, one of the most prominent psychologists in sport, says that having a solid routine is a fundamental part of successful athletic performance. We see it in almost every sport; the number of ball bounces a tennis player makes before serving, the gentle backwards and forwards rocking of an Olympic jumper, and of course the number of waggles or looks at the hole a golfer makes before committing to the shot. Occasionally the routine is broken and even top professionals such as PGA Tour player Kevin Na, cannot pull the trigger to take the club away. The mental activity that is taking place inside their mind just to move the club, can be debilitating and yet from the outside everything seems normal. Internal tension rises and when left unchecked can result in an explosion.
Golf history is littered with the stories of players whose frustration came out to play. Major champions are not immune to eruptions of frustration. John Daly has had many such occasions, so too has Sergio Garcia, so how does the Pollard family help Cameron to deal with the ever-present threat? "I risk manage most situations before we go somewhere. It's essential to proactively put in strategies and to also have reactive strategies at the ready. I carry a bottle of valium in my handbag just in case, and a 'find a word' book is a nice distraction for him. I'm always thinking, ok, where could we go to if there is a problem? Who's around? In big events like this, I even have to think where the media are? We don't want to cause a scene, and we don't want him to feel embarrassed just because he's lost control."
Golf is a sanctuary for Cameron because it gives him something to think about that is mostly routine. "It's given him an avenue, an outlet. Doing activities outdoors is great for his mind, he's connecting with people that don't necessarily have a disability. I don't have to worry because I know where he is and what he's doing. I know the people that he's around and he's safe."
Kate has learned as she has gone on and has grown into the role that she now plays. The role of a devoted mother is not only for Cameron but for her younger son Blake, who is also on the Autistic spectrum and for her daughter Ella who is neuro-typical. "We have very patient children. In our home, we have visual aids and routines posted around the house. Ella is nearly 17, and she said to me the other day, 'Oh, do we have to have all these things on the walls? It looks like a group home.' But she's very fortunate, she has a good friend who also has a brother on the spectrum. So, I guess they can chat about things that their brothers do. It's a nice outlet for them."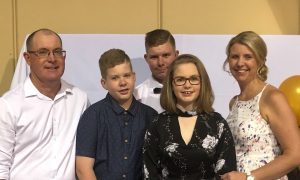 Blake has his own struggles to deal with and proves the old maxim of 'when you have met one person with autism, you have met one person with autism'. "Cam and Blake are at totally different ends of the spectrum. Where Cam is outgoing and quite vibrant, Blake is withdrawn and very quiet. He likes technology, and his obsession is certainly not golf. Blake would prefer to be fishing and mud-crabbing. Cameron's very sensory and wants input all the time, whereas Blake's an avoider. Cameron likes to turn all the lights off and shut all the doors in the house. Blake likes them all open and all the lights on. Cameron's got a weighted blanket which gives him great relief with anxiety. He comes home, he goes to his bedroom, puts the weighted blanket on, and he's calm for the next 30 minutes. Blake, couldn't stand to have that weighted blanket on and wants the least amount of clothes on. So, completely different ends of the spectrum. For anyone that thinks they should be the same, well they're not."
So the constant challenges are not easy, but Kate deals with everything that life throws her way. The ongoing cost of care is not insignificant, but individualised funding from the Australian National Disability Insurance Scheme has been a help. Every parent wants the best for their children and to have at least some support assistance is great relief. As the parent of a child who clearly has the talent, and more importantly, the love for golf, she has found a community in both Special Olympics and Golf Australia. Kate can see a difference in Cameron when playing in All Abilities golf, "I've seen a change in his behaviour. He ups the ante slightly with the way he presents himself and how he interacts with others. At Special Olympics events he's got great mates that are very similar to him. It's a slightly different feel, different vibe. I would say that as parents in Special Olympics, everyone knows exactly what you're going through with someone that doesn't present a physical disability that people can see. We feel very comfortable, because if he has a tantrum or loses it, people go, yeah, whatever. I think Cam feels comfortable with people within Special Olympics, he is just more relaxed because everyone understands. He might flap a little bit, or become overstimulated, and has some little rituals that he might do that he doesn't necessarily do in All Abilities golf. Sometimes when we come home from an All Abilities event, he might let it all out at night-time because he feels safe around us at home or in a motel."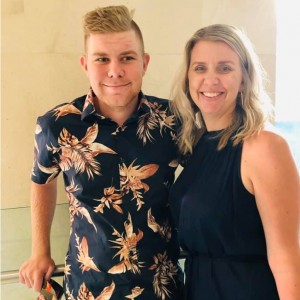 The last 20 years have been a steep learning curve for Kate and all her family. From that 18-year-old new mother to the experienced, competent carer she has become has been a journey of discovery. Is motherhood like she might have expected when going into the delivery room? Probably not. But her words of advice are a powerful message to anyone who faces a similar journey. "The outcome will be your choice. You choose your destiny. And for us, it was ok, this wasn't what we expected but just roll with the punches. Take each day as it comes. Draw upon the support systems that you have. We've got a great family, we've got great friends. When people offer support, take it. Like I said, you can choose to be a victim, say, oh poor me, woe me, what do I do? Or you can choose to move forward and create a fantastic life for your child and yourselves. We wouldn't have these opportunities if he wasn't for who he is. So, yeah, I just say, take it and run with it."
So back to the first tee that Friday, December the 6th, "On the tee from Coffs Harbour, Cameron Pollard." Let the adventure begin.
Contact EDGA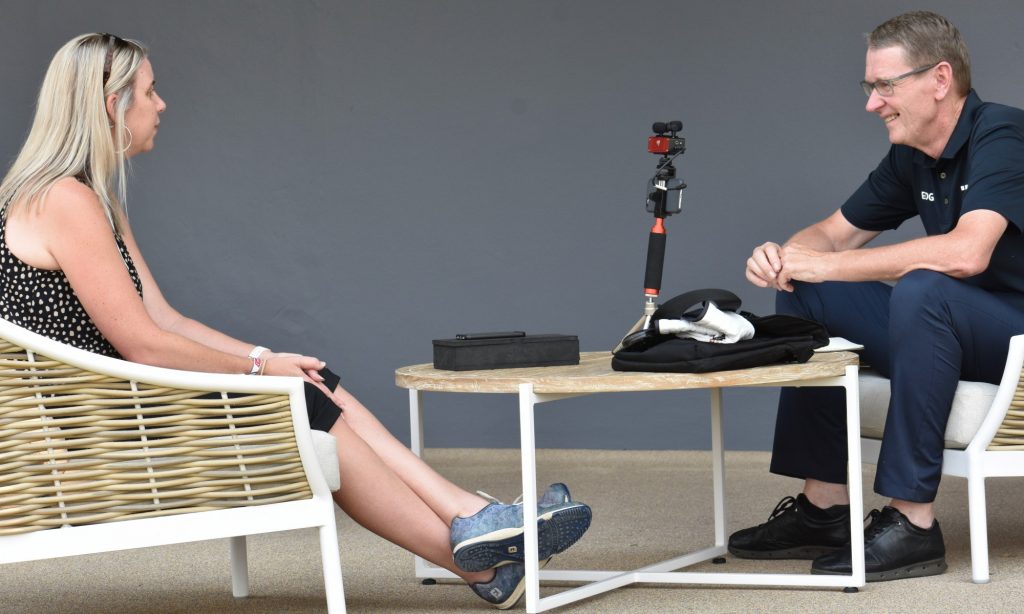 NB: When using any EDGA media, please comply with our copyright conditions