Audio: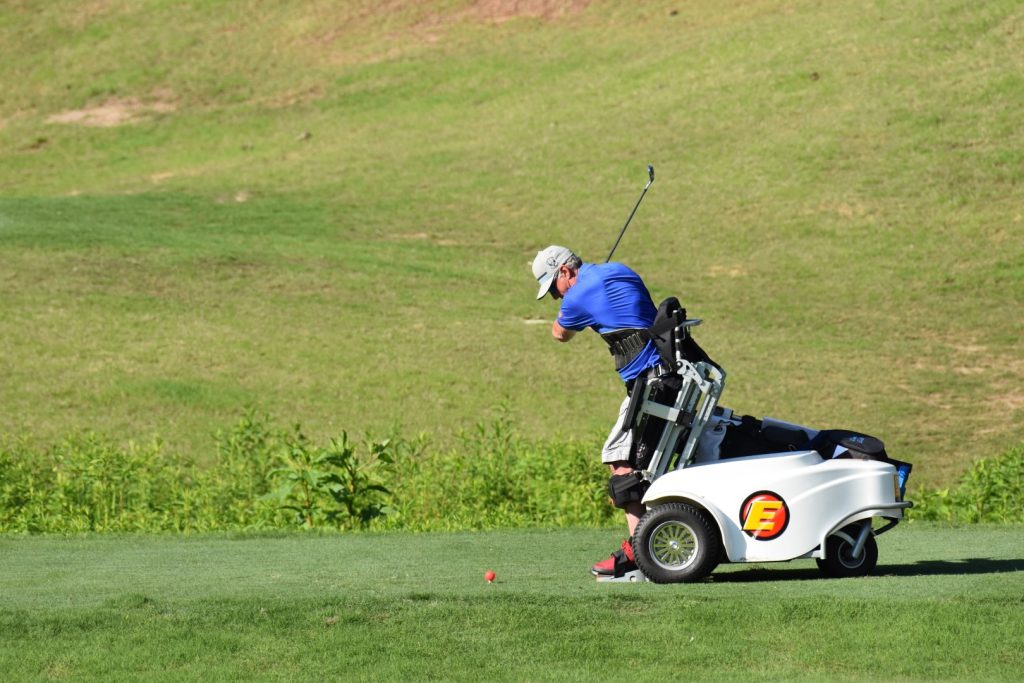 Bill and Susan were just 17 years of age when they tied the knot and became Mr and Mrs Duchi. Bill's grandfather had immigrated from Italy to Weed, California, in the early 1900's while Susan moved to Weed in 1958 when her father took the position of Principal of the local high school.
Given that young husband Bill worked in the pro shop at Del Paso Heights Country Club in Sacramento, while attending California State University, it is hardly surprising that their son Dennis would start to play at just five years of age. "Dad gave me a 9 iron, cut it down, put some electrical tape over the end. I would take a plastic ball, and I'd hit it around my yard. That's when I started learning the golf swing, just watching Dad. At about the age of eight or nine, I got my first junior clubs, but by then we had moved back up to California where the rest of my family were."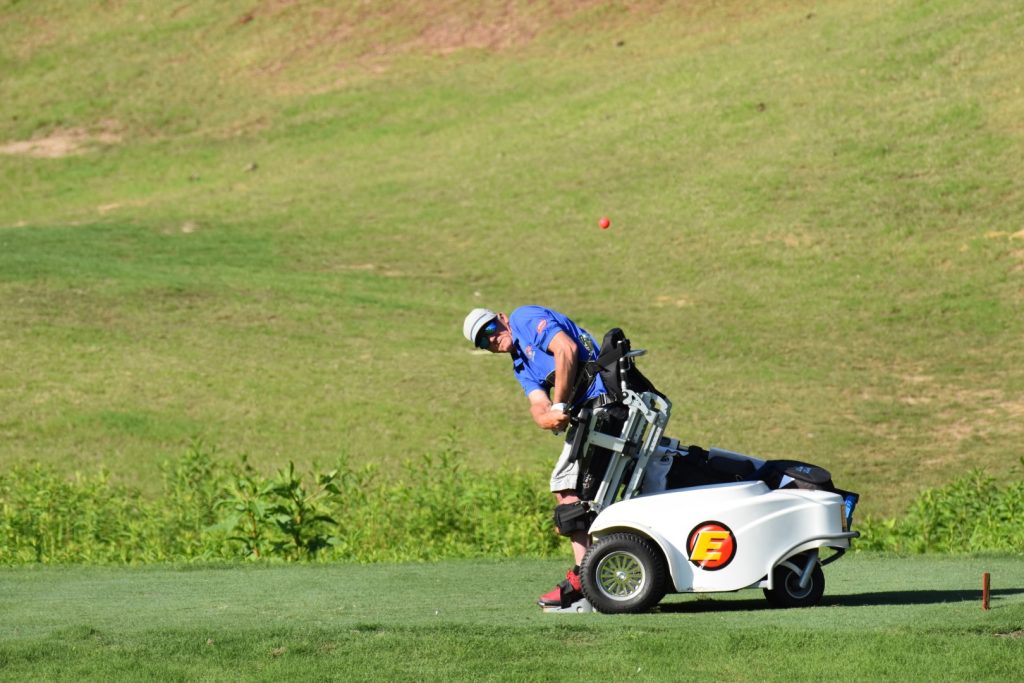 Dennis continued to improve, in part due to his enthusiasm for the game, "I was glad to be at the golf course. Sometimes I would play 54 holes in a day. I never had any lessons, but I enjoyed golf." It wasn't just golf that Dennis practised, while at school he thrived in athletics and registered a career-best jump of 14 feet in the pole vault. The physical and gymnastics practice necessary to train the body for both spacial awareness and overall body co-ordination were perfect for Dennis, and it helped him develop his golf game. Knowing where the pole is in relation to the body is rather like knowing where the golf club is. Dennis got himself down to a four handicap and could always hit the ball a long way, "I was easily driving over 300 yards all the time, and I could get on all the par fives in two."
On the 31st of January 2004 Dennis's world was turned upside down, as he once again had his feet above his head, this time on a ski slope, and this time unintentionally. Andrew, Dennis's son, was getting involved in a junior ski team, and they needed the parents to volunteer. Without hesitation Dennis put his hand up, as he had previously been an avid skier and so getting back on skis would be easy. Ironically, as a youngster Dennis would throw himself into the extreme part of the sport, jump off cliffs and do all kinds of crazy stuff, and yet it was a small jump here that would prove pivotal. "The jump threw me the wrong way, flipped me out, like a carpet being jerked out from beneath my feet. I just went upside down and pretty much landed on my head and snapped it in the middle."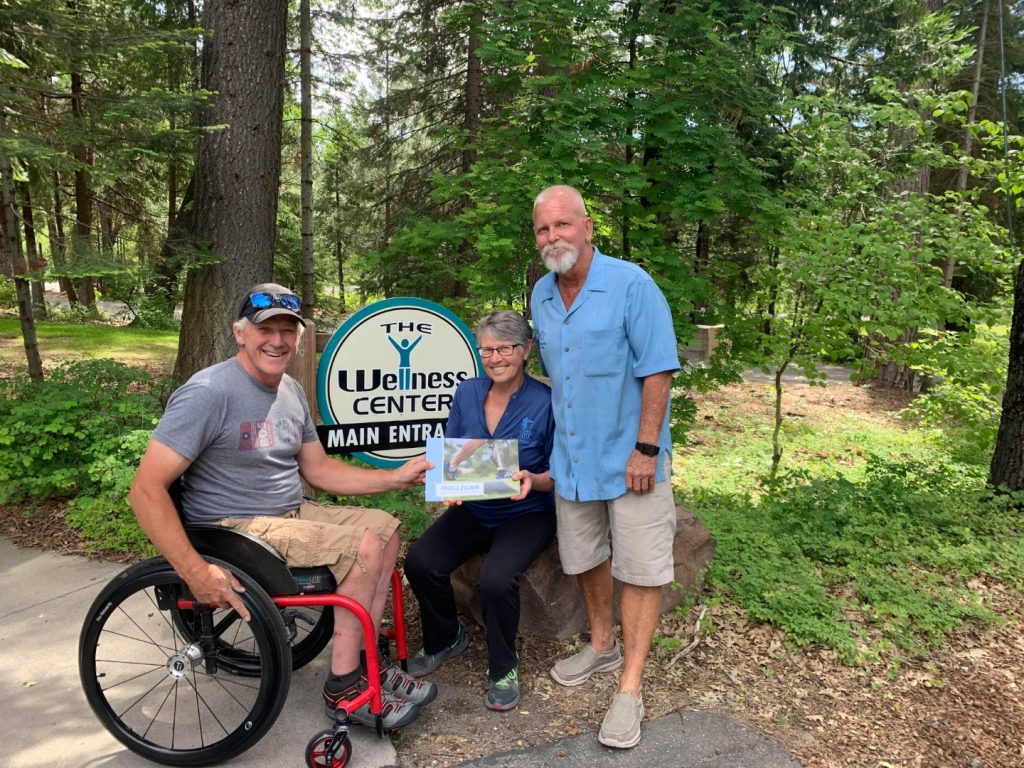 The accident didn't sever his spinal cord but ruptured the T12 vertebrae and crushed his spine. He was now in real danger and was put in a brace and brought down the mountain. The medics told Dennis that he had said, "Take my skies off," to which they replied, "they are already off."At that moment he realised that he was in trouble but did not know what challenges the next weeks, months and years would bring. "I'd always been pretty resilient. I always bounced back from most accidents and figured, I'll just put everything into it, and I'll get better. I did everything I could, for as long as I could."
Dennis has a can-do attitude, and so the frustration he felt with the painstakingly slow progress would wear on him. "I started looking into different treatments, and things such as STEM cell replacement it wasn't ethical, but geez, I just wanted to get out my wheelchair." Frequently it is the families of trauma patients, the people closest to them, that have severe emotional strain and stress placed on them. His marriage would be a casualty along with, for a time, his relationship with his son. "You don't realise where you're going until you hit the bottom, and you come back out." Dennis made the decision to go to China for the treatment, and after a year of waiting he finally had the his first STEM cell therapy which made a huge difference, "I started really getting back into my physical therapy work, and I tried to get my body stronger. I think it was 18 months after my first treatment, that I went back for the second, which made some difference but not as much as the first."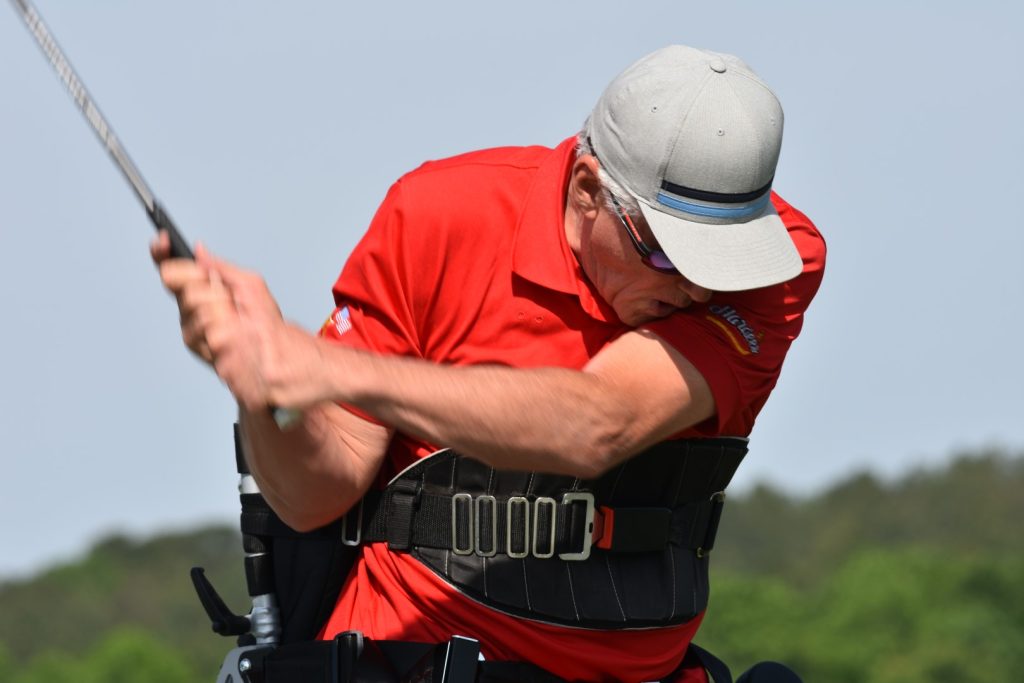 Throughout the rehabilitation, Dennis tried to stay active, after all, it was in his nature. A fractured hip while at Disney World required surgery and resulted in one leg being shorter than the other; which didn't exactly help, but that was just another bump on the road. By now he had found a powered chair that had Segway technology. The chair allowed him to be active around the house and go upstairs, but it didn't let him get out and about outside, to be social and get back into sport.
When the power chair broke down and the manufacturer had stopped production Dennis started looking for a replacement. After some research he found the Stand Up and Play Foundation and Anthony Netto. It was here that he found the ParaGolfer chair and it looked amazing. Dennis bought himself a ticket to San Diego and was soon the proud owner of a ParaGolfer. "Anthony asked me how long had it been since I swung a golf club. It was almost ten and a half years at that point. He then showed me what I needed to do and how to operate it. I don't think I'd be where I'm at right now if it hadn't been for him because he gave me the tools and guidance."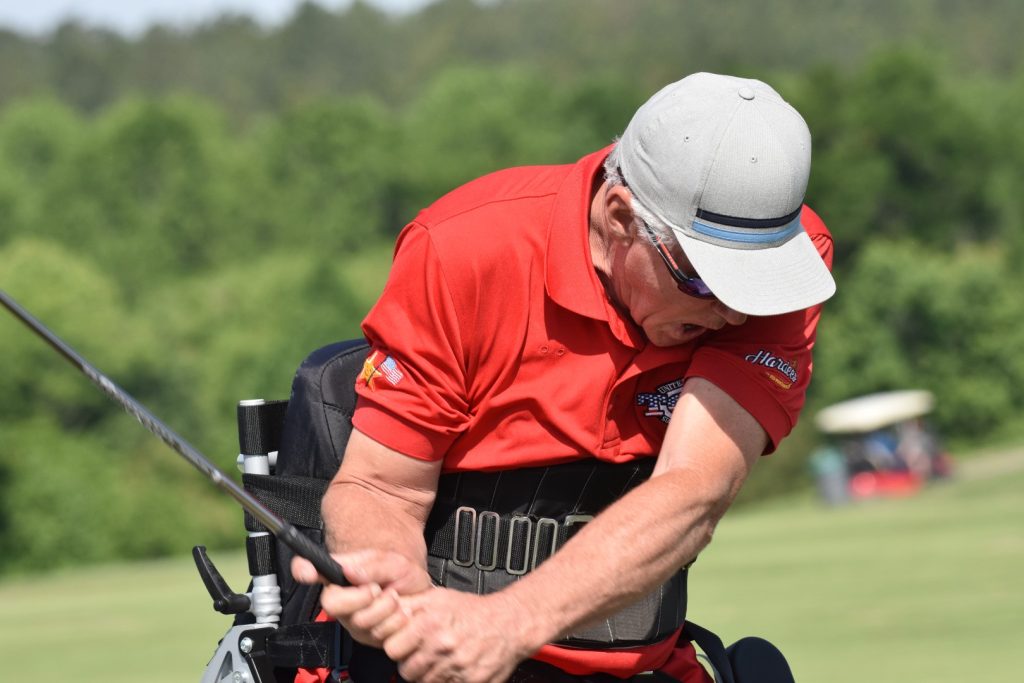 Dennis had to learn the game again. Swinging the club from a ParaGolfer is not the same as swinging with both feet on the ground. Yes, his understanding of the game was useful, but he had to learn a new movement to get the ball to go up in the air and in the direction he wanted. Dennis had to get used to the different distances that he could hit the ball but even so, he is still one of the longest players from a wheelchair. "Right now I'm a 24 handicap, but I feel that I can get into the teens. On my home course, I play the longer tees when I'm playing with other people. Then when I go to these [disability] tournaments, it's like, wow, I can hit some of these par fives in three and the par fours in two."
So often golfers equate success with a low handicap, status within the club, a title or their name being on the board, but that is not the true spirit of the game. Golf allows people to gain their enjoyment by being in the fresh air, with one's friends, challenging themselves, physically, mentally, emotionally or technically. For some, it is a way to get fit, to relax, for others a pastime or a way to channel their competitive instincts. Whatever the reason, it is personal, and for Dennis, it was something altogether more fundamental.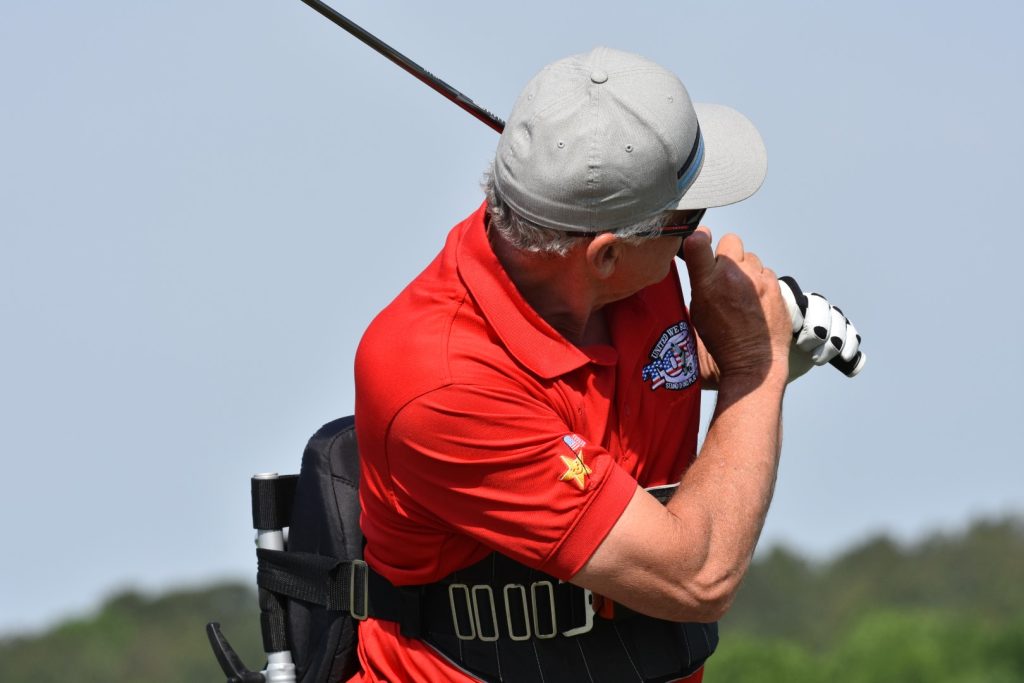 "Of course I was very satisfied with the low handicap, but after having the injury and being separated from the game for ten and a half years, the game that I loved got me out. Having to relearn everything has made me have a new appreciation for the game." Dennis had been through divorce but relearning his sport would have a wonderful family benefit now. "Golf put my son's and my relationship back together. I could tell after everything that we'd gone through, he was proud of me again, because of the fact that I never gave up on my injury and I persisted forward and to where I am now today. That's why the game is more enjoyable for me today, I've got a whole new family, and I'm making friends around the world. I am happier today with the 24 than I was with the four handicap."
The family that Dennis mentions are his fellow golfers with disability that he meets from time to time at events around the country. He is involved in the Para Long Drive events which are held annually, and he makes an effort to get to as many tournaments as possible. His first event for golfers with a disability was at Pumpkin Ridge in Portland, Oregon, the course where a certain Tiger Woods won the US Amateur. It was here that he met people from around the world. As for many other people it was something of a blur, "You see all these other people and realise you're not so different than the other guy right next to you. You've got one guy, maybe in a chair, the other person missing a couple of legs or an arm or whatever it may be. We all share different challenges, but when we come to the golf course, we're all the same. I get such energy out of going to those things that it's such a positive effect and it just makes me want to go back for more."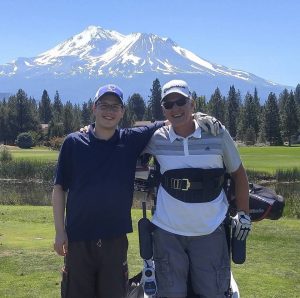 Dennis was 40 years old when he acquired his disability. One more or one less degree of rotation and who knows? Perhaps on another day, the injury would not have been so severe, or maybe it could have been fatal. Either way, it is what it is, and Dennis had to deal with the outcome, "I had my life habits. I had things, I didn't have the vision of what if I'm ever in a wheelchair. So that was almost like a death blow. Yes. You're sitting there and figuring out how do I re-insert myself into this world to get satisfaction from life. So having gotten introduced back into golf, it's like a second lease on life. We appreciate more of those things that most regular folks just take for granted."
It is said that we humans are social creatures, that we need the help and support, the camaraderie of others, especially in times of our greatest need. Dennis credits his friend Bill Moreno who got him to go out duck hunting again as being one of the most critical steps in his recovery. The trip to Tule Lake in the Klamath National Wildlife Refuge was life changing, "He was very persistent, and he didn't let my disability get in the way, he was always trying. He said, 'Hey, come on, you can do it. Come on out. I've seen other people do it. You can do it'. He was probably the most instrumental person, the catalyst that got me where I am today. I've also had a very, very supportive family. My mother and father, they've been there every step of the way."
Dennis has an infectious attitude. To paraphrase Dr Norman Vincent Peale, it is his enthusiasm that makes the difference. People around him cannot help but pick up his positive vibes, "I enjoy being outside and going out with people. I enjoy the competition. It's a second lease on life. I never dreamed I would be where I'm at today after my injury. I just feel incredibly blessed, I'm living a charmed life." 
Contact EDGA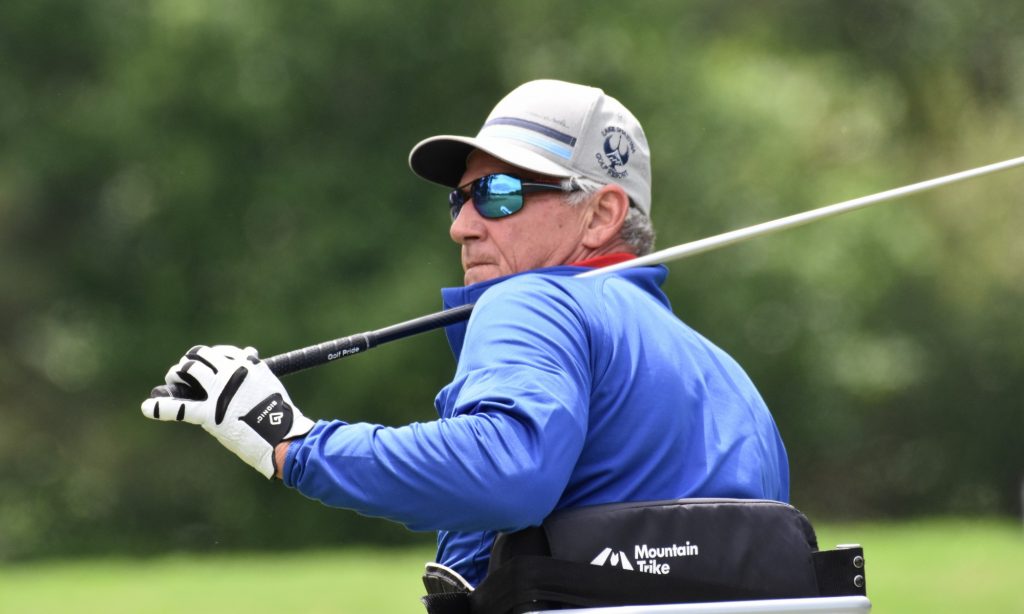 NB: When using any EDGA media, please comply with our copyright conditions