Audio: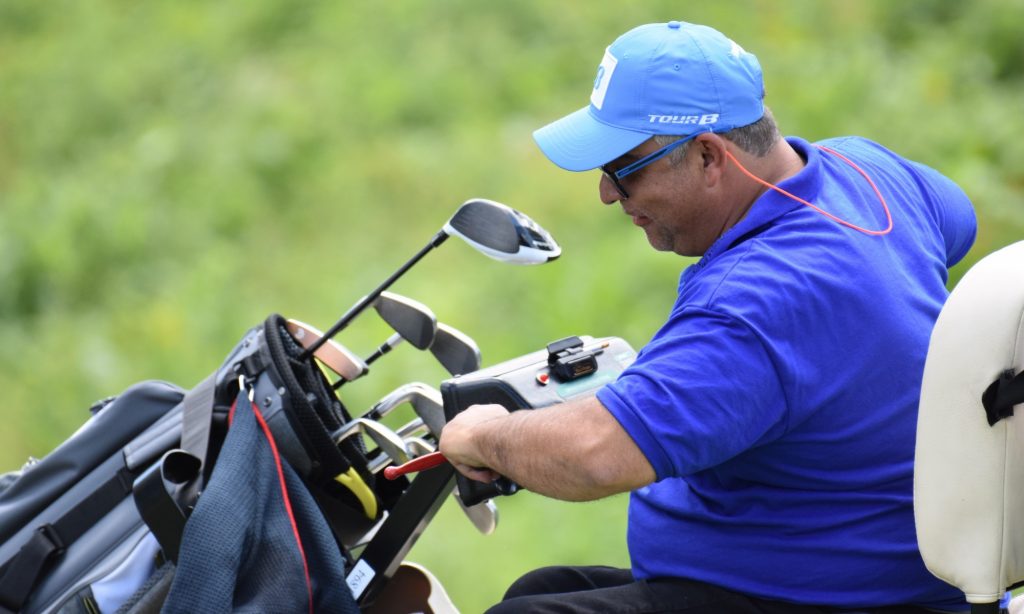 The first words that Mauricio Gutierez-Pena uttered were "buena bola." Good shot is the literal translation. Ironically it was a different kind of shot, a much more dramatic shot, that changed the direction of Mauricio's life.   
Of course, for someone who grew up on the golf course in Mexico, "buena bola" is not something out of the ordinary to hear. Mauricio had started to play golf at four years of age in a golfing family where mother, father and son would frequently play a few holes. It was not a surprise that young Mauricio found himself in love with the game. Why wouldn't he?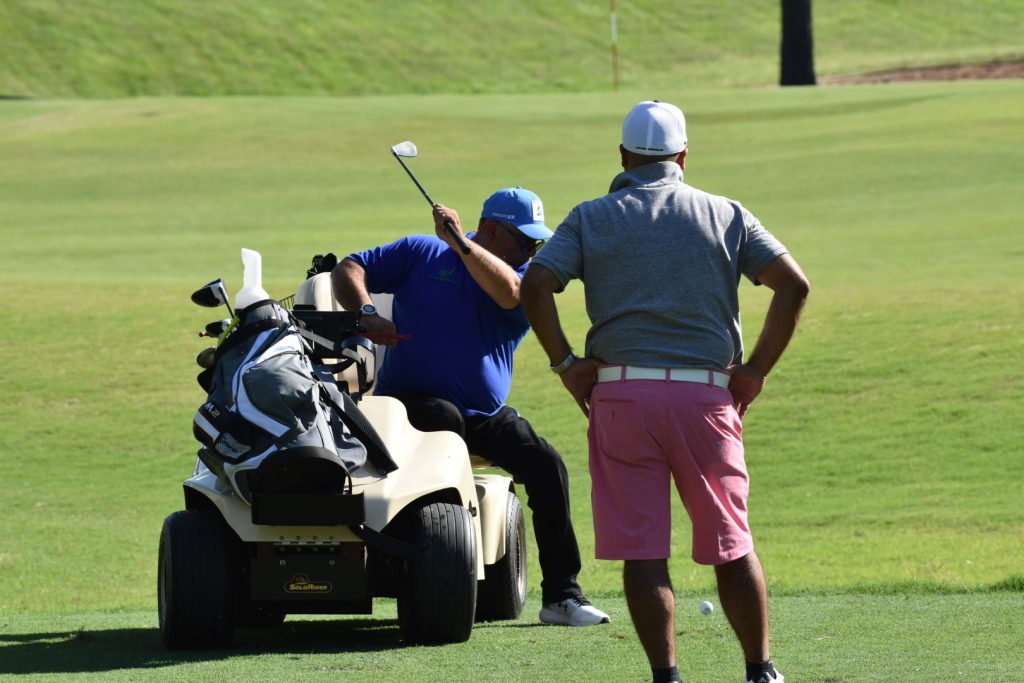 If Mauricio had any lofty ambitions for a future in golf, then he kept them to himself. He turned his back on other sports, including the national sport of Mexico [football]. Mexico City had hosted the 1970 World Cup of Football and Mauricio would have witnessed first-hand the passion of the home fans as they roared on their team to a quarter-final against the powerful but unpredictable Italian team. Even against this backdrop, Golf had stolen the heart and mind of young Mauricio.
Mauricio and his parents Othon and Stella, were preparing to move into a new development of houses in an area of Puebla, and while his mother and father were at the family business, Mauricio was taking delivery of furniture and household items at their new home. This was another step up the social ladder, and understandably the move was much anticipated, but excitement soon turned into terror when a group of thieves set about the house.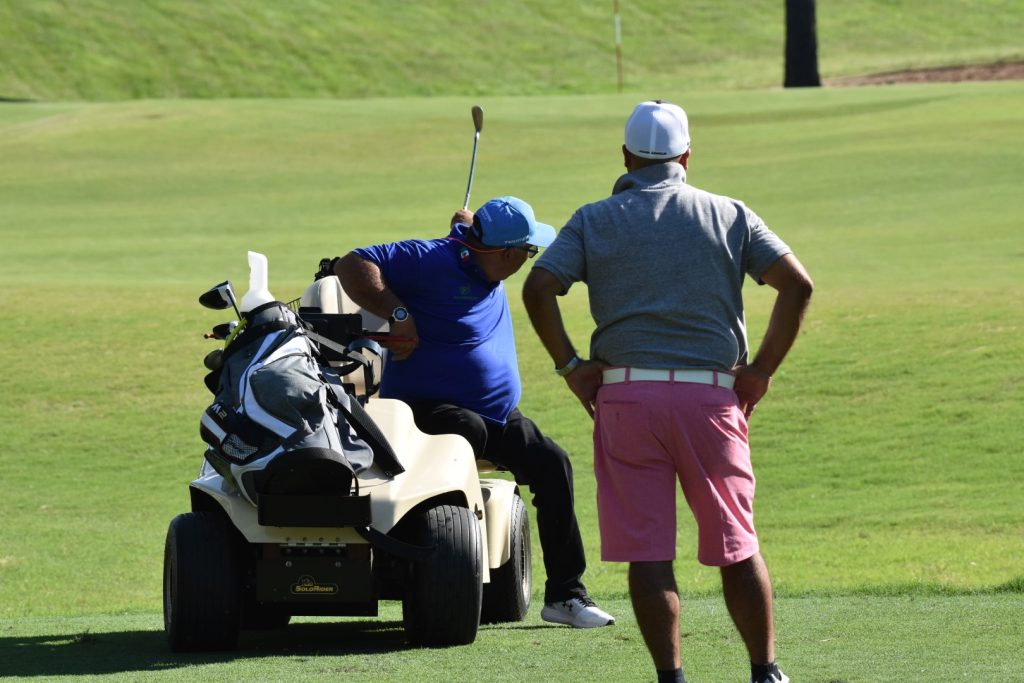 "Take what you want and leave" implored Mauricio to the burglars, with a calmness that contradicted his growing fear. Mauricio was not one to panic, knowing that keeping his emotions under control was likely to lower the stress of all concerned. Trying to take the heat out of such situations is one strategy, but violent confrontation is never predictable. One bandit seized Mauricio, tied his hands behind his back and told him to lie face down on the floor. Even then, Mauricio felt that everything would turn out ok and that they would indeed take what they wanted and leave.   
The situation took a turn for the worse when the thieves freaked out when hearing Mauricio's parents entering the house. Othon was confronting one of the bandits and called out to his son, "Mauricio – Mauricio." There was a shot and the now quickly escalating scale of danger was reaching new heights. Not knowing what happened, Mauricio shouted out, "get away from my dad." As adrenaline rushes through the body, decision-making becomes more complex, and at that moment, the bandit reacted by yelling 'shut up' to Mauricio before shooting him in the back. The gunshot rang out as the bullet left it's chamber and entered Mauricio's back, damaging his kidney, stomach, liver and the 4th and 5th vertebrae.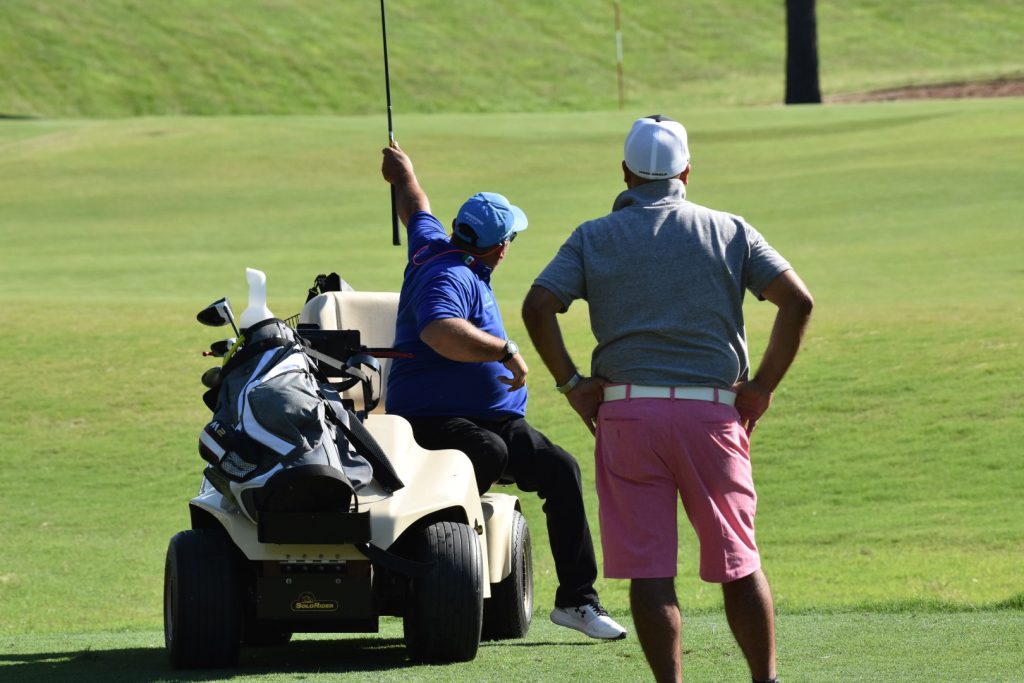 Eventually, the burglars left and finally there was quiet. Now it was time to deal with the aftermath. Mauricio was taken to the hospital, where he was operated on by an orthopaedic surgeon. "He made some bad decisions," says Mauricio, "he probably made the situation worse… for five or six months, I couldn't feel anything in my legs," and it was only when a neuro-surgeon made the correct procedure that he got some feeling back.
Mauricio became a paraplegic, and ten years of daily rehabilitation, exercises and electrical stimulation followed. What was going through his mind during this period is anyone's guess, but when recollecting the shooting Mauricio is lucid when saying, "everything happens for a reason. If they had not shot me, then perhaps they would have raped the women, or someone else would have had a tragedy. If it happens to me, then I will take responsibility, and I have the guts to get on with it."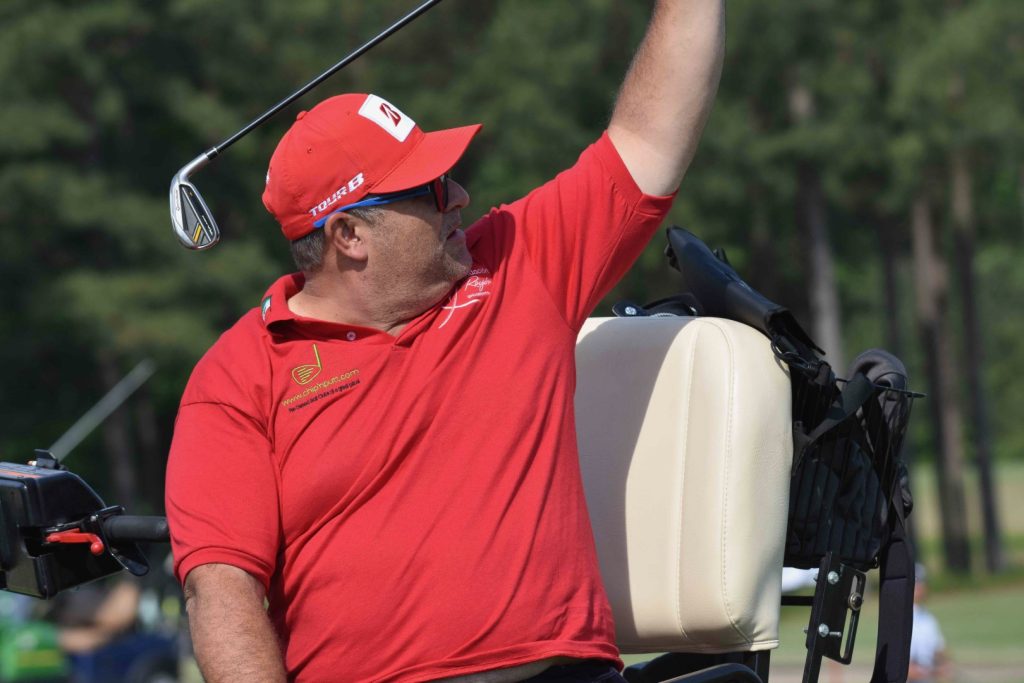 Everyone deals with setbacks, tragedy, loss or misfortune differently and the way we all cope is as unique as our fingerprints. These coping strategies reveal a lot about one's character and uncover the real person. Perhaps Mauricio's outlook is part of his nature after all his father survived an aeroplane crash with multiple breaks in his legs, or maybe it is was due to his upbringing, in any case, he is made of strong stuff. 
Even though Mauricio exhibited colossal determination and a strong will, going near to a golf course was too much for him. The memories of those far off days of his youth, strolling on the course with mother and father stirred great emotion, and the thought of never being able to play again was simply too much to contemplate. That is until one day Mauricio saw the irrepressible John Daly on TV. Winner of two of golf's major championships, Daly was warming up before going out to compete in a professional tournament. He was simply swinging a club with just his left arm and hitting shot after shot down the fairway. A spark that until then had been missing ignited the curiosity that courses through Mauricio's veins, "perhaps" he thought, "just perhaps I can do the same."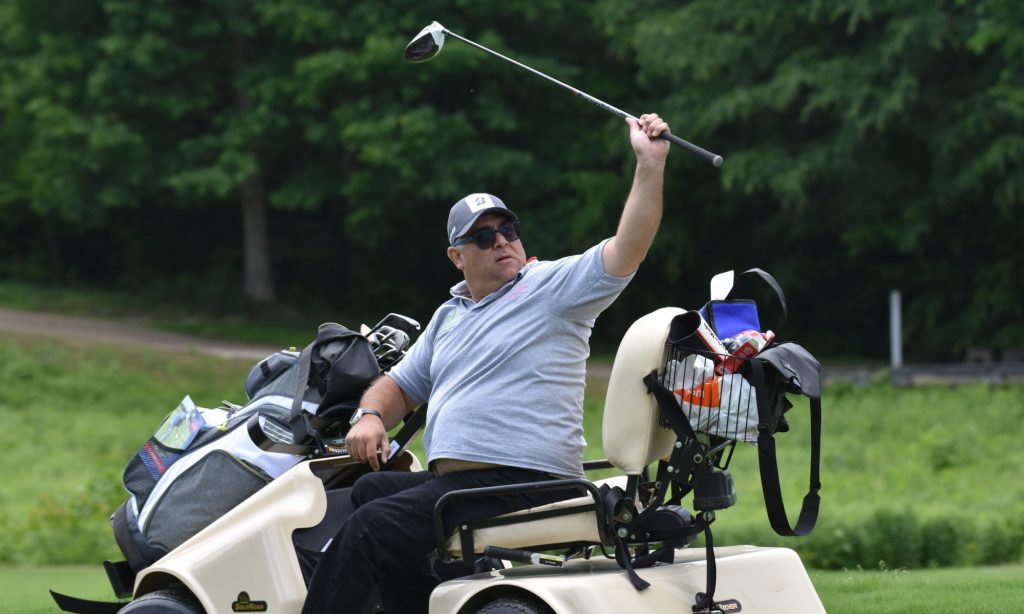 Mauricio had found a cause, which soon turned into a quest to do as John had. His father found him an old Harley Davidson three-wheel buggy on which Mauricio could sit and practice. One shot after another, ten balls turned in to one hundred and every day he would develop his own unique swing. No one could really help Mauricio with technique, but even so, he found his way to be able to hold the club in his left hand, hold his cart with the other to gain stability and found a way to position his body to make a swing that would allow him to hit the ball.
Self-organised learning theory is a growing area of research, and golf has a way of asking all its participants the most awkward of questions. Can you think clearly under pressure? Can you create more speed in the swing while keeping an accurate delivery of the club? Can you balance power and fine motor control? These are just three of several hundred questions that the game poses. Essentially the game of golf was asking, or even challenging Mauricio with engaging, and provocative questions, from which he would have to find his own way of finding the answers as there were no guides available to him. Find the answers he has, and Mauricio has become a competitor in the game that he loves.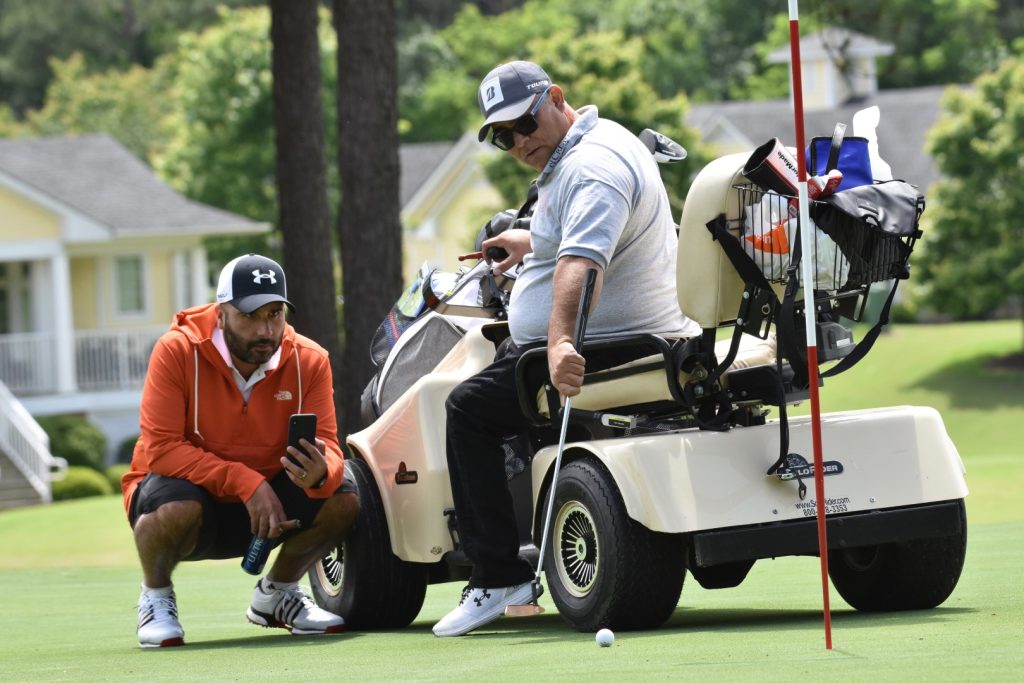 Golf means everything to Mauricio, "I play for fun, for enjoyment, for relaxation. At the golf course, I am just another player, they don't see me as disabled, I am not the weird guy. My partners try to beat me, they see me as a rival, and they have no mercy because I am in a chair. I like that because it makes me feel alive". Mauricio rarely looks back. Life is lived in the now with a promise of the future, and he says that "everything happens for a reason." Mauricio believes this from his very core and says, "you always have to see the positive. If you get an injury or something bad happens, then you have to find the bright side. You don't have to stay thinking in the past but take advantage of where you are today. The only way is forward."
 Mauricio's Videos
Contact EDGA
NB: When using any EDGA media, please comply with our copyright conditions