"That was the best way forward for me to survive,  I had a 50% – 50% chance of surviving if they did the treatment programme, but if I kept my leg it was sure that I was going to die. I just took it on the chin and dealt with it day by day."
Shane Luke – tough love and second chances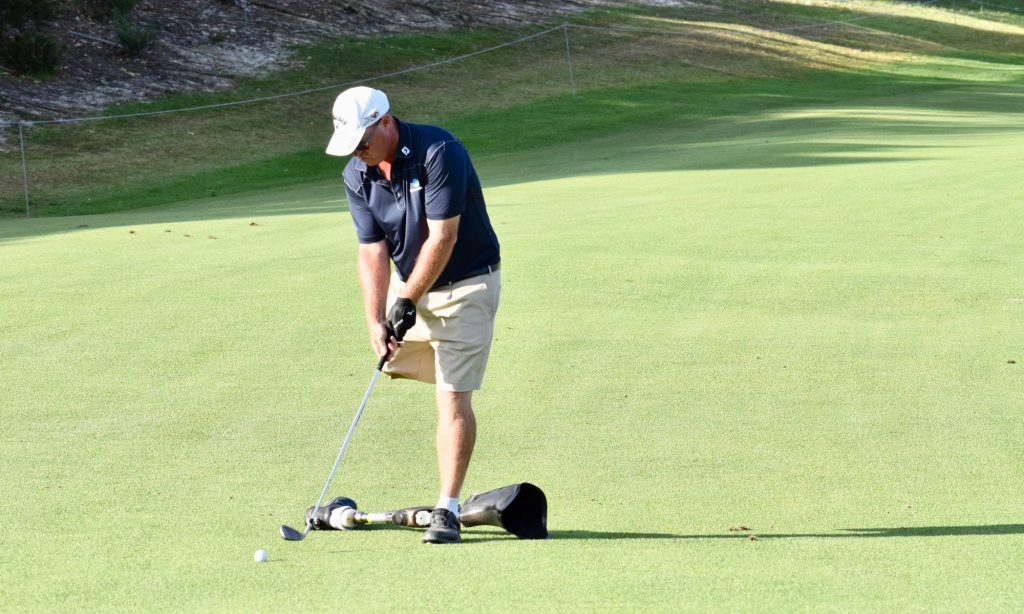 Shane is a proud 'Sydneysider', the name they call people born in that part of the world. Being a typical Aussie, Shane always had a ball to hit, kick, or throw. Sport had been his entire life from an early age, and he played pretty much everything, soccer, cricket, golf, tennis and rugby league. "I had a passion for all sports, it was all I wanted to do when growing up – to be a professional sports person," says Shane who tried golf when he was just ten years of age, "My father first introduced me to golf it was just a social hit type of thing really, so I am very thankful for that." He enjoyed playing golf, but with other sports vying for his attention, golf was still far from becoming an all-consuming passion. Shane learned the basics from his father and says, "I can't remember really, but I am sure I had a few air swings in those early days," but a few lessons with the local PGA professional Ted Ball soon got Shane on the straight and narrow.
By the time Shane was fifteen years of age he was competitive in several sports, and most of all he loved the outdoor life, rather than the classroom. When not in school he could be found on a court, pitch or course and so it was one day when playing soccer that he realised he had started to limp.
Having never had to deal with an injury, Shane was surprised, and so motioned to the coach and asked to come off the field. At this stage, there was no pain, but later that night he experienced excruciating pain just below his knee, and couldn't sleep. In the morning his mother Hilda took him to see a doctor who immediately had suspicions, Shane recalls the moment "the doctor noticed there was a small lump in the area of his knee and before I knew it I was quickly taken to get x-rays, and within the week we had the results." At that time Shane didn't know what the results meant, that was until being admitted to The Prince of Wales Children's Hospital in Randwick where the professor organised a biopsy which confirmed that in fact, they were dealing with bone cancer."The doctor explained to me that I needed to have chemotherapy and that after three months my leg would have to be amputated," says Shane. But that was just the start, a further nine months of chemotherapy was part of the treatment programme, "That was the best way forward for me to survive,  I had a 50%-50% chance of surviving if they did the treatment programme, but if I kept my leg it was sure that I was going to die. I just took it on the chin and dealt with it day by day."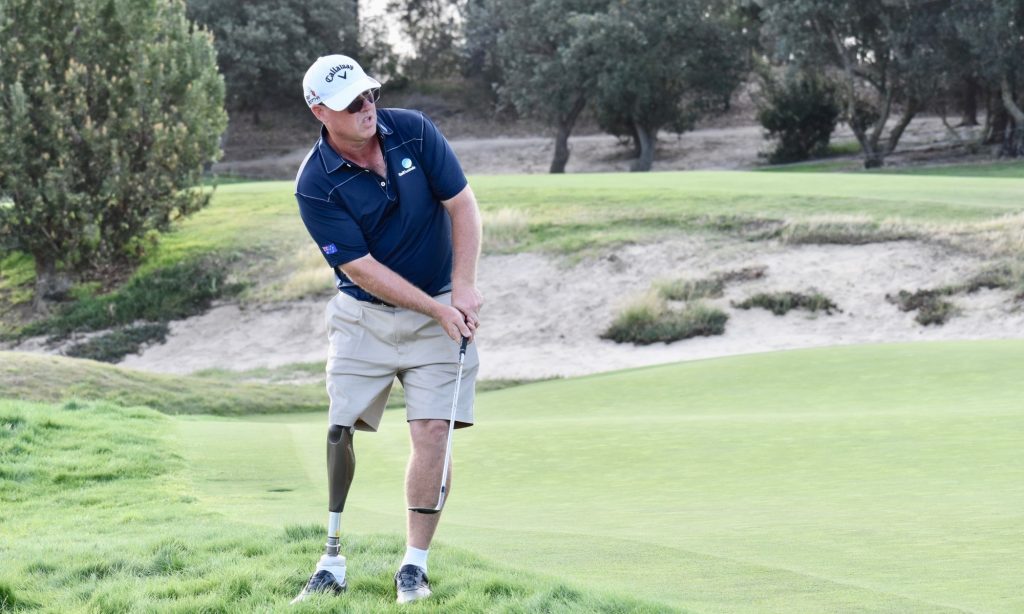 During the first three months they attacked the cancer cells with heavy doses of chemotherapy to reduce its size, which in Shane's words, "Almost killed me, I lost all my weight, lost all my hair… and I was just skin and bone." These 90 or so days were critical but tough. Shane was made to use crutches as the doctors considered that with his bones being brittle any weight bearing on the leg could snap the bone, releasing the cancer into the rest of his body. The first stage was a success, then came the amputation followed by nine more months of chemotherapy albeit at a reduced intensity. Gradually Shane felt a little better, and a few months later he could go home for the odd day here and there. These trips home did him a power of good. Eating home cooked food and sleeping in his own bed was a powerful tonic, and soon the urge to do something started to grow. After almost a year in hospital and having lost his leg Shane didn't know where to start or what to do, so he asked his father, "I want to do something, what can I do?" His father's response took Shane a little by surprise when he said, "I don't know? Do you want to go to golf?" Shane remembers saying to him, "Oh yeah, how am I going to do that?  What could anyone in his father's shoes honestly say except for, "I don't know – let's just try."
Although that time of his life is a bit of haze for Shane due to treatment he was having, he distinctly recalls going to the local driving range at Hudson Park golf course where his father gave him a club and took his crutches away. "I hopped in there on one leg and just whacked the ball, I had no expectations and didn't fall over, the ball went forward and in the air, and my face lit up, I had a smile that you couldn't wipe off and my whole life changed from that moment."  He was back. Back to golf and back to life, "It taught me a lot, my father taught me that you don't know until you try, and I learned that when you do try, you don't know what the result might be," Shane explains. Then the questions really started, how would he carry his clubs around the course was just one of many, but Clarry gave up playing so that he could caddy for his son, later Ron, his father's uncle would also caddy for Shane so that father and son could once again enjoy playing the game together.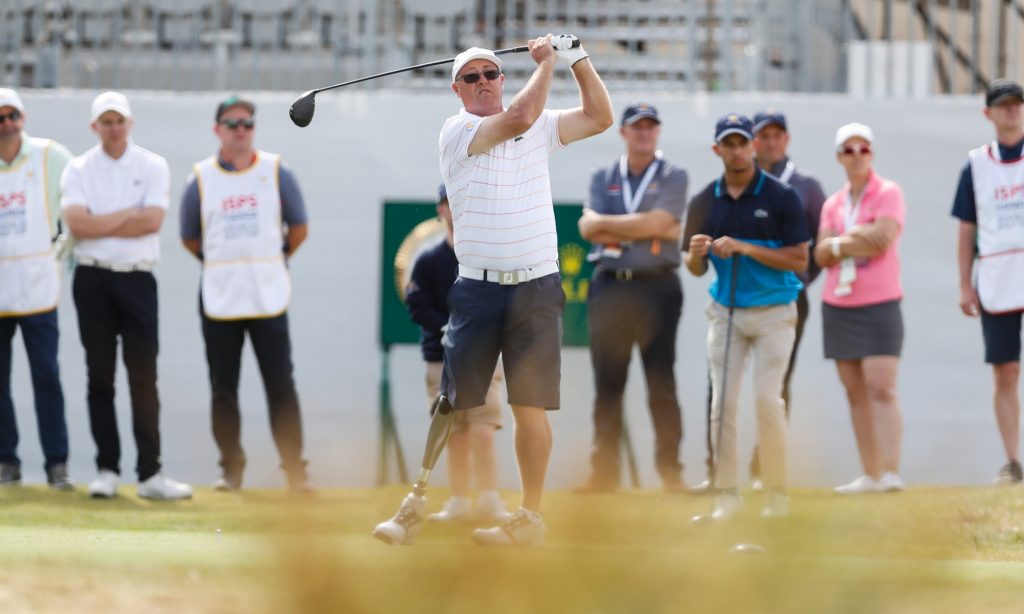 Professional sport was no longer an option for Shane, but he was not to be denied the feeling of high competition. Through determination and perseverance, he has turned himself into a fiercely competitive player, who reached a career high of second in the Ranking for Golfers with Disability, and a career low of plus one handicap, something many professionals have never achieved. Currently lying in fifth place on the R4GD Shane is in no mood to concede that he may not reach the number one spot. Shane has had many coaches over the last twenty or thirty years and says that he has taken advice from all of them to make something that works for him. Golf has given him his independence; it has given him everything, it has given him hope, and showed him that he can still do things and he has taken that attitude into life as well. 
Shane entered the workforce in 1989 as a seventeen-year-old and has been in work ever since. For the last thirteen years, he has been a proud ambassador and employee of Otto-Bock which is a leading company in Ortho-bionics that supplies a range of prosthetics and the paragolfer chair. Shane is happy in his work, making life just a little easier for those with a disability, he enjoys playing golf in his spare time and takes one day at a time. With a phlegmatic approach to life, Shane takes most things in his stride including a recent diagnosis of osteoarthritis for which he has recently modified his diet after 18 months of struggling with pain and stiffness.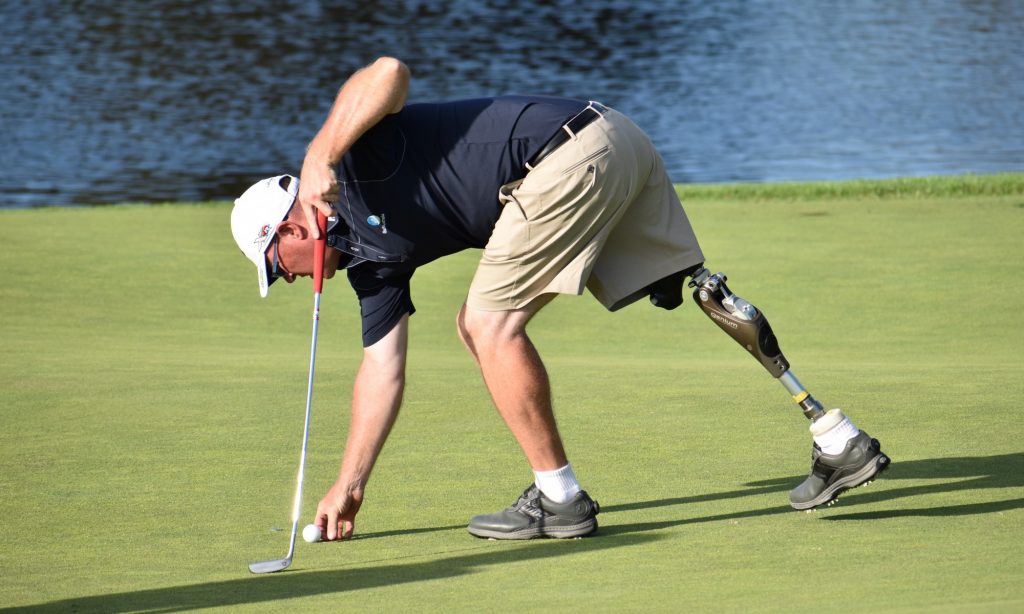 With a wise head and experience behind him who better to offer advice to others who face serious illness, injury or amputation? Shane advises, "It's not going to be an easy road, there are going to be some challenges that you will need to overcome just never give up, keep trying and persevere."  Ask him how will it turnout, and he will probably say just six words inspired by his father – "I don't know – let's just try." 
A special note directly from Shane
"I would like to give thanks to my mum and dad for all the support they have given. Running me around at every opportunity to all sports when I was young and encouraging me with team sports, which gave me some great memories. I am very grateful for everything they have done including staying by my bedside and running me to hospital every day for twelve months during my treatment and loss of limb; I know that it would certainly have been tough going as they were both working full-time.
I would also like to thank my wife Helen, friends, colleagues and golf coaches over the years for making me who I am today.  I'm very proud to be a role model for other disabled people and show them what can be achieved if you just try."
Shane's Videos:
Contact Shane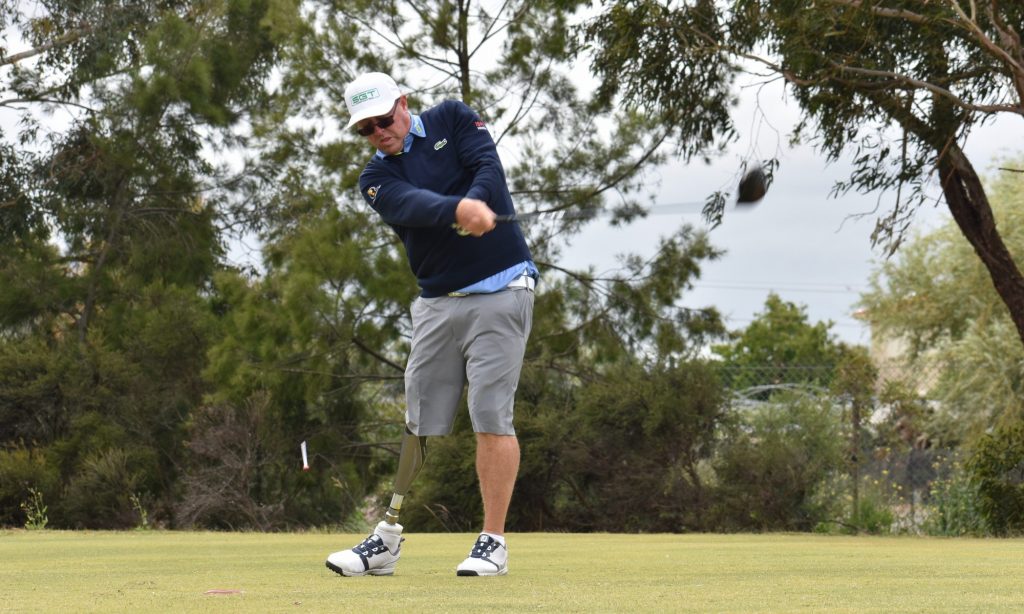 NB: When using any EDGA media, please comply with our copyright conditions