Born without a right forearm Rasmus uses a strap to fasten the club to his right arm and grips the club with his left hand. "I don't see any problems with having half an arm."
Rasmus Skov Lot – tough love and second chances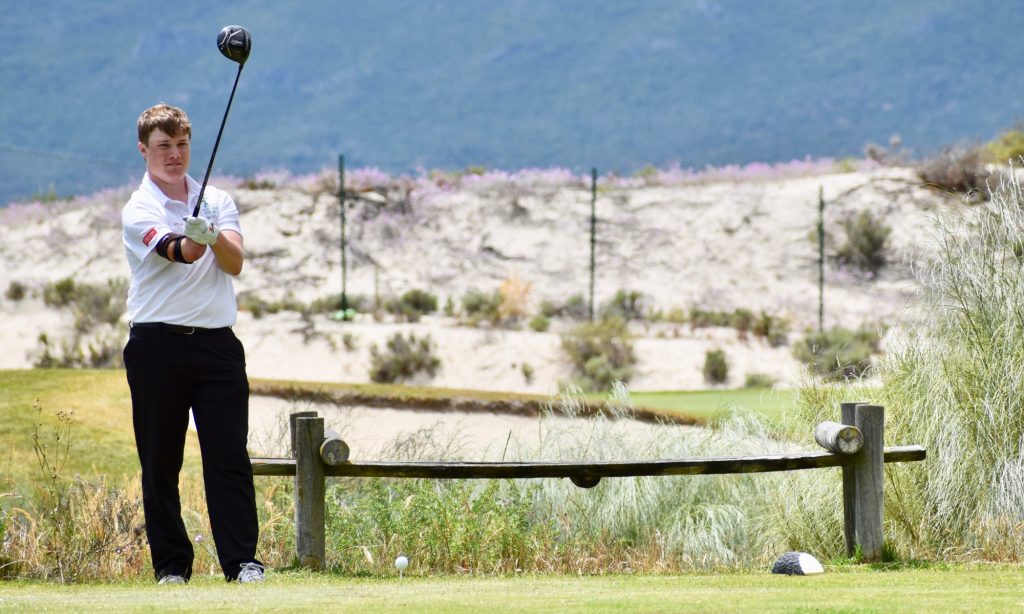 Rasmus Skov Lot is an emerging talent in the world of golf from the so-called 'child-friendly' village of Ugelbølle in the north-east part of Denmark. Today it is not common to hear a youngster talk of their 'love of nature and fresh air,' when the bright city lights so frequently call, but in Rasmus it seems there is a calmness that is not a temporary phase but rather a permanent fixture of his personality. Perhaps this calm and centred young man is the product of his upbringing and the environment he lives in? Ugelbølle is a coastal town that sits just a handful of kilometres from the Danish hinterland, has a culture that values team spirit, and involvement from its 1,300 or so inhabitants.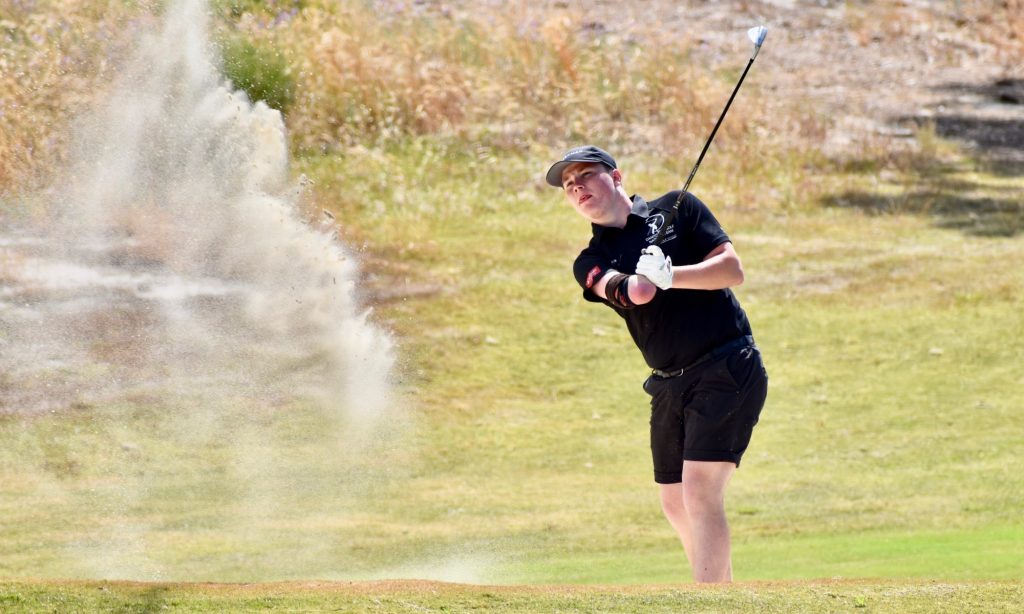 There is nothing pretentious about Rasmus. At 16 years of age he has a disarming likability that comes with the freshness of youth, and yet it is easy to see a single-minded determination running through his core. Rasmus had played football and tennis, before a trip to Kalø golfklub with his grandfather Poul changed his sporting passion. Poul thought it was about time his young grandson was introduced to a sport he himself had played for almost twenty years. Rasmus, still only ten years of age had known about golf before when his classmates had tried to encourage him to join in, but it was the wise words of Poul that provided the spark necessary to ignite the youngster's interest.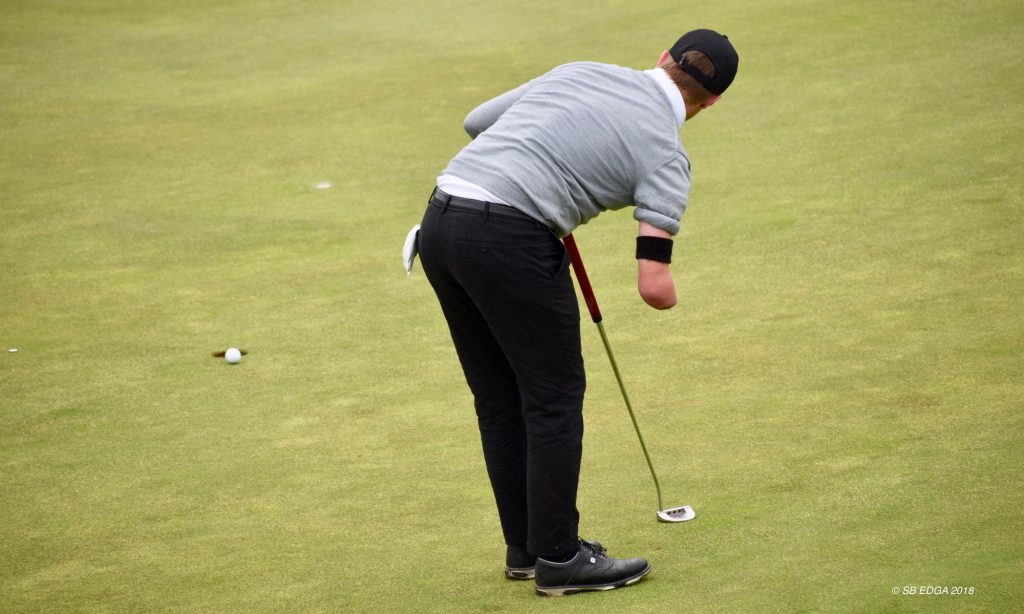 Born without a right forearm Rasmus uses a strap to fasten the club to his right arm and grips the club with his left hand. "I don't see any problems with having half an arm," says Rasmus, who was selected for the Danish para golf team and really enjoys getting together with his teammates on their regular training sessions. "I don't want people to feel sorry for me," he says, "we have a good coach Jan Freij who helps me." He also learns from the other team players, and with the four-time European Individual Champion Stefan Mørkholt as a teammate he is learning fast. Although Rasmus looks up to Stefan and the others who from time to time help him out with the occasional tip, he is direct when he says of playing with Stefan, "I hope to beat him one day soon."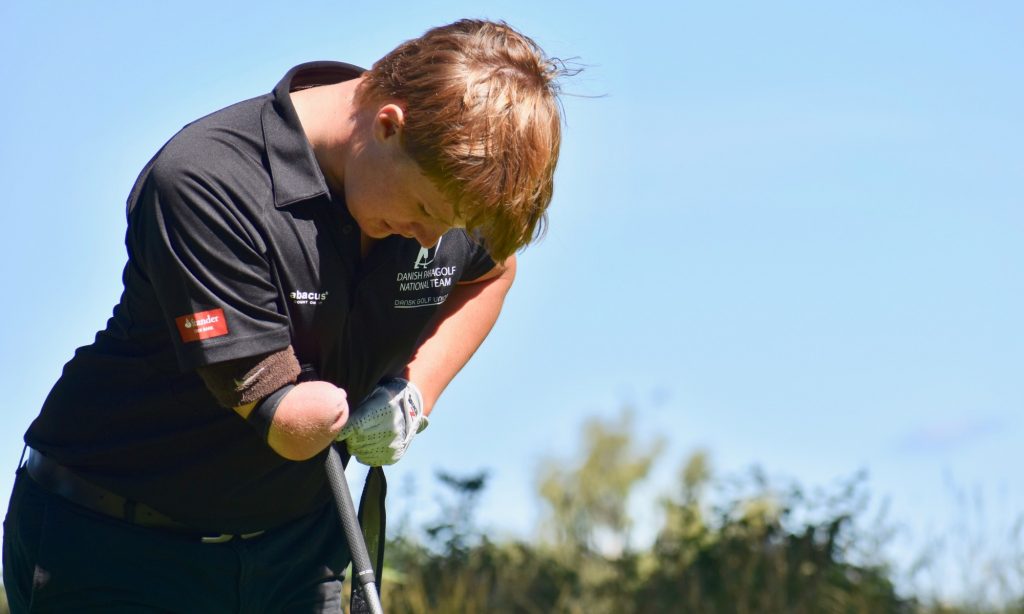 Although he is already proving himself as one of the best young players in Denmark, until now he has not really thought much about the future when leaving school. Currently he is happy playing golf for fun with his friends, although he says, "It gets very competitive on the course." Over the last year, Rasmus has been competitive as he has taken his first steps on the European Disabled Golf Association's Tour. As a 2017 rookie, Rasmus quickly learned that the level of play is high, but he is up to the task and has made real progress. He took part in the EDGA demo team at the Portugal Masters in Vilamoura where he found the opportunity to stand shoulder to shoulder with the stars of the European Tour very inspiring. Rasmus likes the EDGA tournaments as he says, "Many players are almost the same as me, and it is nice to talk and get to know them."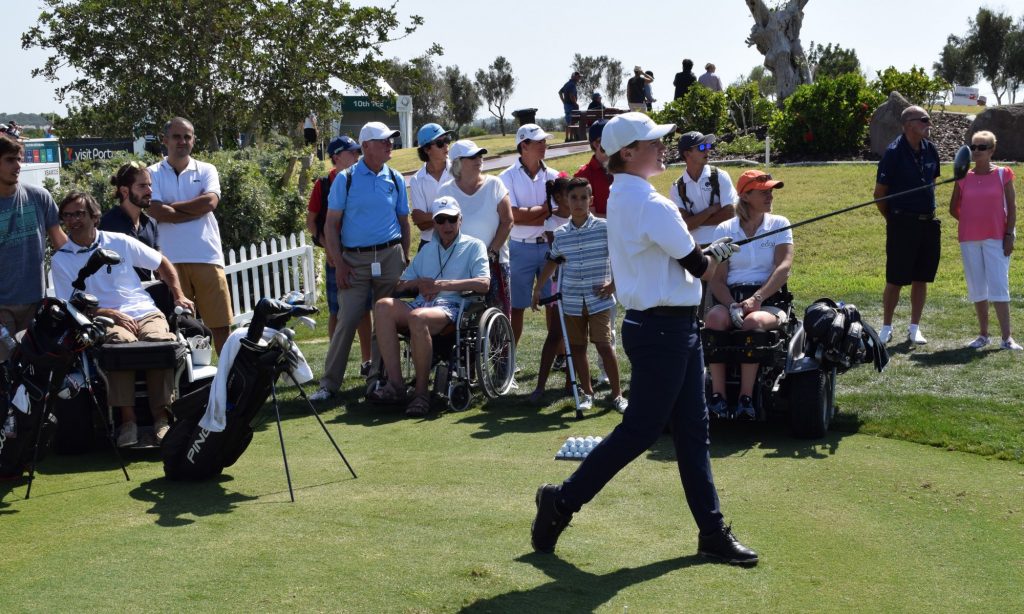 With the goal of standing on the podium in the next European Individual Championship in two years time, Rasmus has been working not only on his golf technique but also his physical conditioning especially in the winter, when he hits the gym six times per week. In the season unsurprisingly this intensity reduces as his practice load increases.
One spectator at the recent European Championship said of Rasmus, "Isn't he a very calm and nice young man and what power he has when he hits the ball." An unflappable demeanour and powerful golf swing are two essential ingredients of the cocktail required to reach the top of a sport which is unforgiving in its ability to find and expose any weakness in personality or technique. Rasmus is well on his way and is true to the maxim which he is happy to share with others who have a similar disability when he says, "Keep working – someday it will come good."
Rasmus Lot and the EDGA demonstration team in front of the crowds and television cameras at the 2017 Portugal Masters.  
Watch the EDGA demonstration team of six players teamed up with European Tour golfers to play the EDGA Greensomes Challenge in front of the crowds and television cameras at the 2017 Portugal Masters. The EDGA team comprising of Mike Gays, Juan Postigo Arce, Monique Kalkman, Pedro Sottomayor, Aurélien Lacour and Rasmus Lot all played exceptionally well with Monique tapping in the winning putt.
Contact EDGA

NB: When using any EDGA media, please comply with our copyright conditions