"I remember I was flat on my back for six weeks. I wasn't allowed to be lifted or moved and the physio would come in every day and she'd say, 'Just try and move things.' And then one day I could just lift my big toe and I went crazy!"
Dylan Baines – tough love and second chances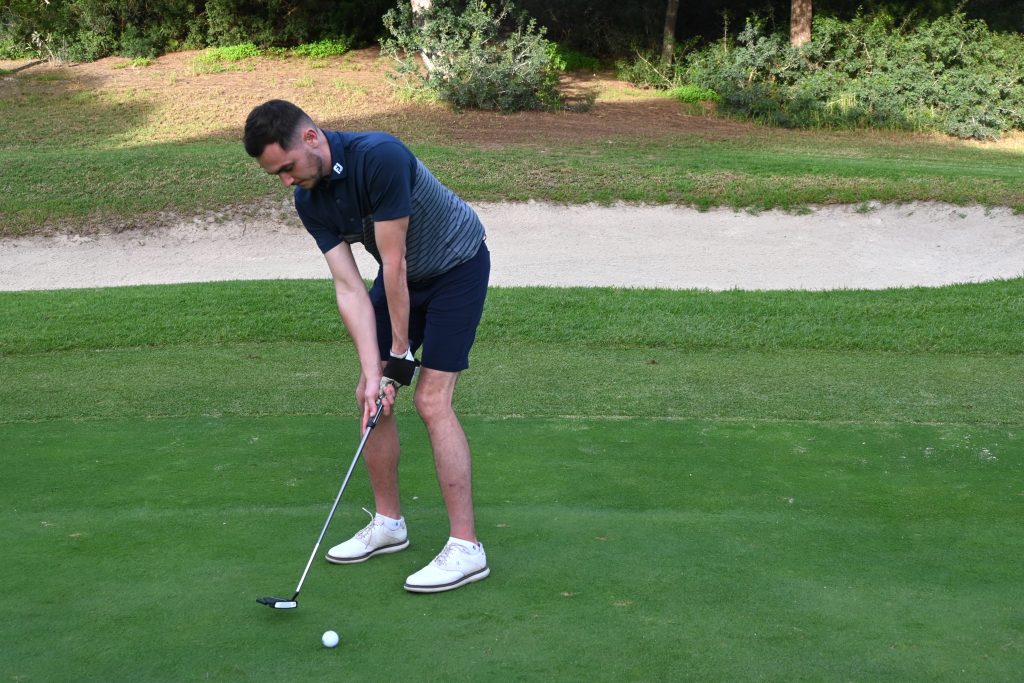 In 2017, Dylan Baines was involved in a car accident near Caerphilly in south Wales which but for the smallest of margins would have killed him. A cheerful and positive lad, he was in his last year of training as an electrician in those days, excited about the future. He would next wake up in hospital with a broken neck, paralysed, to be told by a doctor it was unlikely he would walk again. The accident had taken place two days after his 22nd birthday.
The rehabilitation has been slow (two years "stuck in the house" as he says) but also careful, supported by his family and friends at every stage. Just under five years later it is remarkable to be talking to Dylan in the sunshine of Portugal at the Pestana Vila Sol golf resort for the last EDGA Tour golf event of 2022. Now standing tall with a relaxed posture, a well-deserved post-round beer on the golf club terrace table, Dylan was the leader in the 'Net' category of the EDGA Algarve Open, sponsored by leading audit, tax and consulting firm RSM UK, which featured 80 players from 15 nations.
It was all smiles as he chatted with playing partner, Aurélien Lacour, who he led by a couple of shots as they waited for the final groups of golfers to finish. The Welshman and the Frenchman had got on well; they will certainly be playing together again down the line, and Dylan had also much enjoyed playing with Martine Gilks and Eddie Mason from England (pictured below) and David Quinn from Ireland, over the two rounds.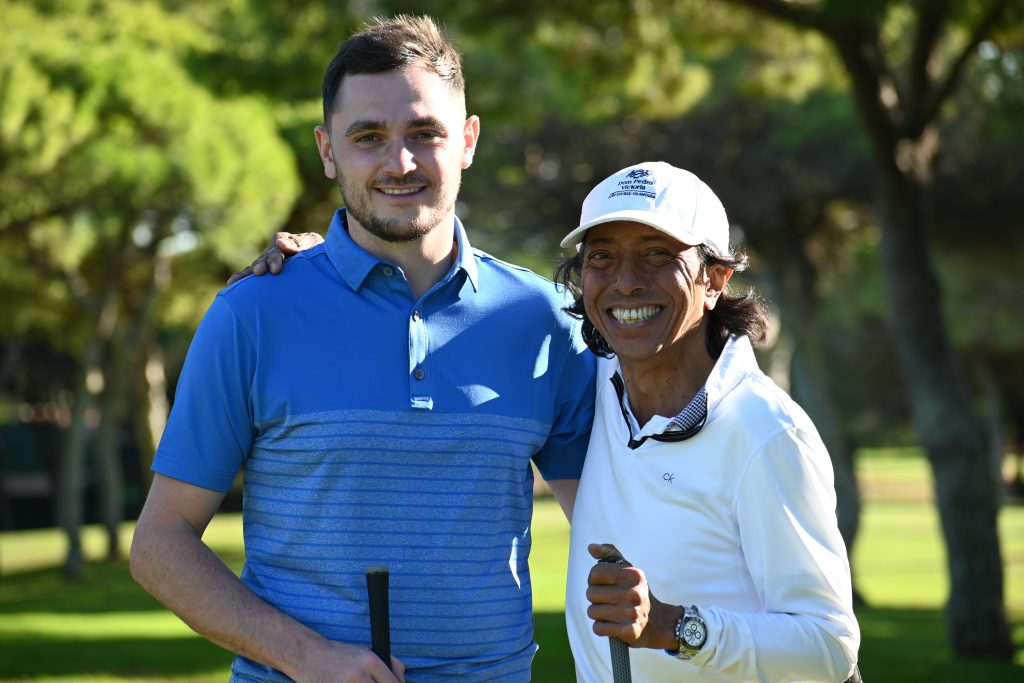 Dylan said: "Everyone is welcoming. Everyone just wants to have a chat and a good time, enjoy the golf, to be honest. I like that it's quite competitive, it's not just to turn up. People want to win, which is good, and that's something I've really missed, the competitive side of sport."
He adds: "I just think it's basically the perfect sport for somebody with a disability because you can do it on your own; it gets you out of the house, it's good for your mind, good for your body, good for socialising as well."
Dylan's final scores of Net 69 and 71 made for a 140 total off his 17.1 handicap, four-under the Net par and enough to beat his new friend Aurélien by two shots, with Nicky Weeks from England, coming third after two excellent rounds of her own.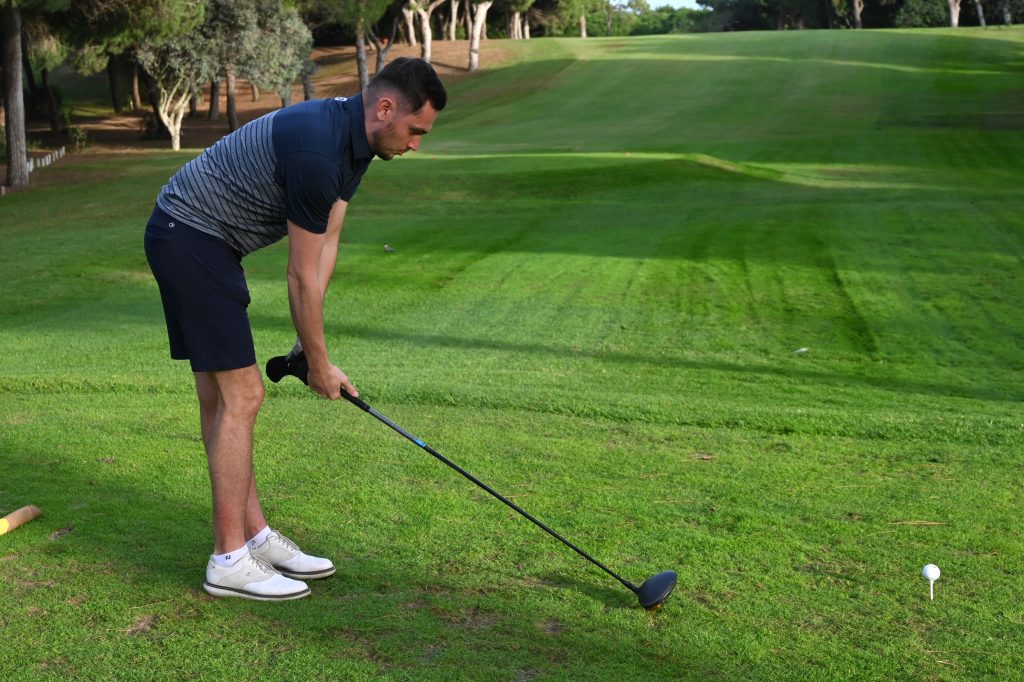 Despite it being only Dylan's third EDGA event he had quickly found friends in the 'G4D' competitive ranks. It was also impressive to see him not only in good shape physically (he hits the gym whenever he can) but also happy and relaxed after what he says has been a very tough few years mentally, as he tried to chart his way forward in life following the accident.
He explains: "I've got paralysis on the left side of my body: left foot, left hand, hamstrings, triceps. There are quite a lot of muscles that don't work anymore. I broke my neck. I was paralysed from the neck down. My right side has come back, but obviously my left side hasn't completely recovered. So I play with a strap and glove that helps me hold the club with my left hand."
With a slight shake of the head of relief he tells us that only in the last month or so has he finally settled his insurance claim following the accident after "four years of stress" including hold-ups in the process with Covid-19; he says that only now does he feel that his life has opened up for him again at the age of 27. The antidote to a lot of this stress has come in two forms, support from his friends and family including girlfriend Leah, but also, crucially, finding golf again after playing as a boy. Dylan says he is loving every part of the game, from practising to competition and the social side with his close friends and father, Keith; so much so that he sees reducing to a single-figure golf handicap as a "life goal".
Rewind to 2017 and he was a thousand miles from any golf course.
"For the first six weeks I was pretty much paralysed from the neck down and then slowly, probably about four weeks in, things started to come back to life. The first thing that came back was my big toe on my right foot. I remember moving that. And slowly the right side came back a lot and then I was in the hospital, the Heath at Cardiff (University Hospital of Wales) for six weeks and then I went to Rookwood Hospital (a rehabilitation centre) for another two months after that. Then I finally left in a wheelchair, but obviously, I'm walking now, which is good."
He adds: "At the start the surgeon said I wouldn't walk again. Basically that I was going to be in the hospital looking at about six months to a year."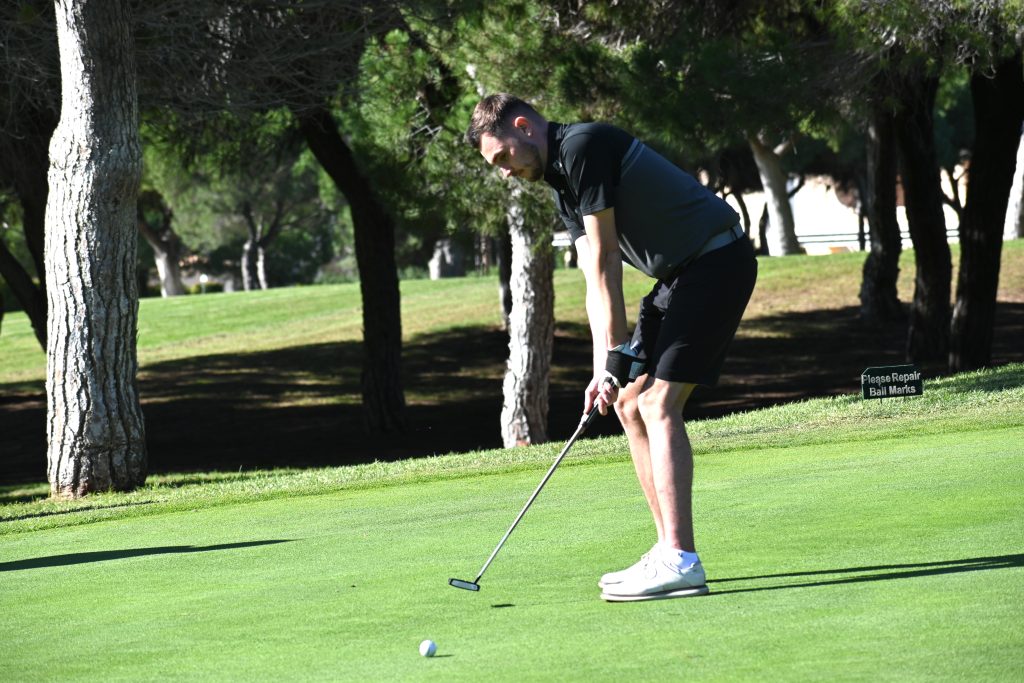 For his Dad, Mum Christine, Leah, brother Sam and his partner Kayleigh, to see Dylan like this was tough, but they rallied around him, as did his friends who Dylan says did a "brilliant job" keeping his spirits up.
"Yes I think it was easier being me for the first few weeks than it was for my family and friends. I was on painkillers, I didn't really know what was going on a lot of the time, while they knew the seriousness of it. But my mother and father, brother, his partner, Nan and Gran, they were there every day. And Leah was there in the evenings, coming to see me. They did this for the three months I was in hospital. There was a couple of days where I said I didn't want to see anyone but pretty much it was every day I'd have a visit."
This comment about choosing not to receive visitors: Dylan admits that the mental issue of facing his condition could be simply overwhelming; when he lay there unmoving, with that negative prognosis, he would face despair. From being full of energy and enjoying the best time of his life with friends, to lying in a hospital bed. However, the patient encouragement of a physiotherapist then made a key difference.
"I remember I was in the Heath and I was flat on my back for six weeks. I wasn't allowed to be lifted or moved and the physio would come in every day and she'd say, 'Just try and move things.' And then one day I could just lift my big toe and I went crazy!
"But it was a start. I think that's what I saw it as. And then my right arm started to come back… Up until then, my family would brush my teeth, they'd feed me, they were washing me. My brother's partner Kayleigh, she used to pluck my eyebrows for me and my brother would shave me and stuff. And it's just something you don't think would ever happen but you're just grateful when they're there."
Dylan would spend more than three months in hospital and although he would need plenty of rehab over the next few years, and despite leaving in a wheelchair, he would gradually beat that doctor's prediction and stand on his own two feet once more. After the triumph of getting himself stronger over the next three years or so, he needed something more, to get him out of the house and find outdoor exercise and a better social landscape.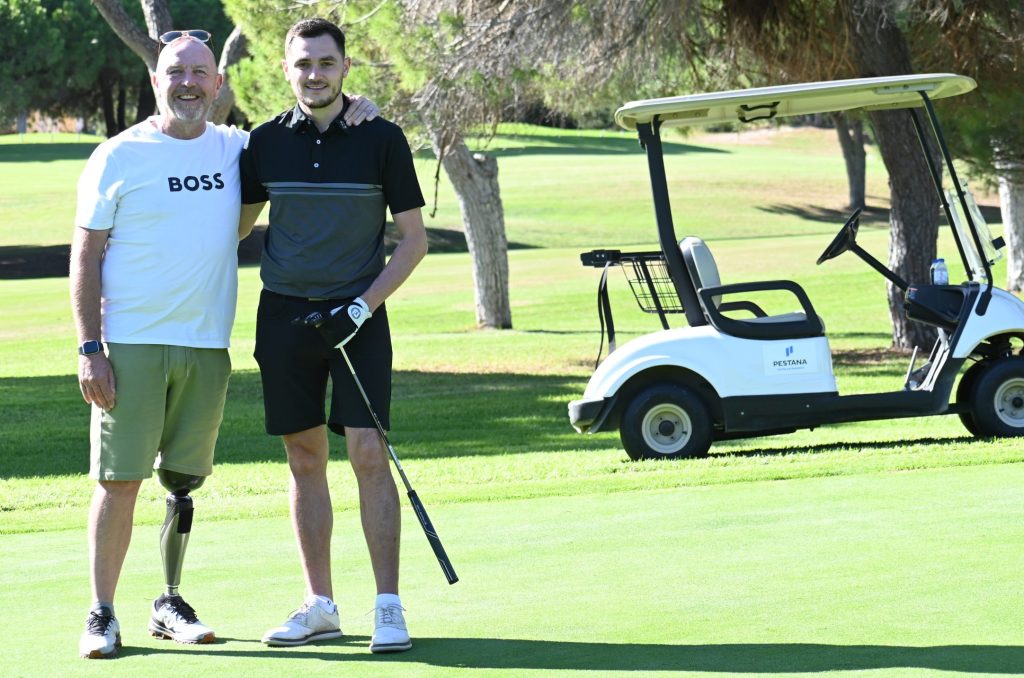 As a proud Welshman he had enjoyed rugby and football as a lad and just a little bit of golf when younger. He now tried golf again, using one arm, but it wasn't quite working for him. But earlier in 2022, he got talking to a stranger who is now a valued friend, fellow Welshman Mike Jones (pictured above). Mike's role as an 'EDGA Advocate' is to help spread the word for golf for the disabled, wherever he may meet a person with an impairment…
Dylan says: "I played football before my accident and just felt like I needed something to focus on. And that was when I met Mike; he went to the same physio as me and he told me there's this adaptive glove that I could use to play golf. He took me to the range at Celtic Manor. As soon as I started I didn't want to leave. I think I hit so many balls, I had blisters all over my hands."
The adapted glove and strap allowed his weaker left arm to become integral to his new golf swing.
"It just stabilises it more than anything. So, my right arm is where the power is, but my left, it just helps steady and guide as I'm coming through. It doesn't do an awful lot but I've swung one handed and it's a lot easier with my left hand strapped to the club."
Mike Jones offered to be Dylan's travelling buddy to France for EDGA's Pas de Calais Paragolf Open in April last year, which Dylan enjoyed, and then he entered the Irish Open for Players with Disabilities in July.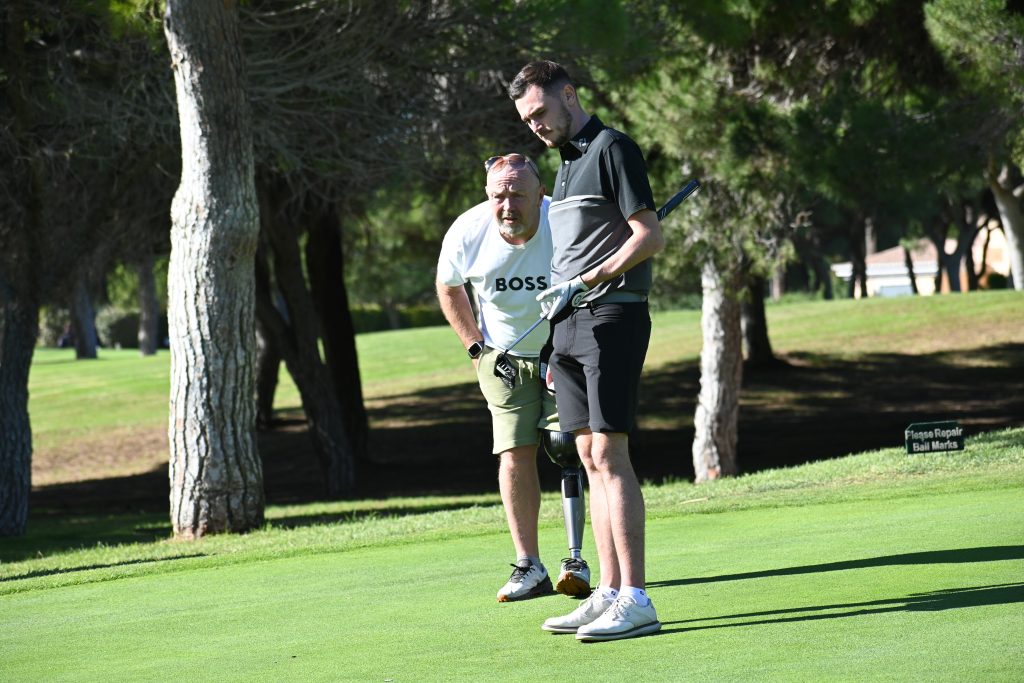 "I've loved it since. And pretty much all I do now, all I want to do is play golf," says Dylan.
A key element of his physical progress in building a stronger swing is thanks to golf fitness instructor Zach Gould, who is based in Cardiff, known as 'Dr Golf'. Gould introduced Dylan to stretching exercises to help with mobility while building strength, and his swing speed is up by 10 miles per hour. A timely lesson given by PGA coach Cennydd Mills found that Dylan hadn't been using his stronger right leg enough in the swing, relying too much on his weaker left. Changing this made a "massive difference", said Dylan. 
Dylan's home club is Bargoed Golf Club, a parkland course in East Glamorgan in Wales, which has fine views along the Rhymney Valley towards the mountains of the Brecon Beacons. It is a place where friendships are easily made and Dylan says the members have been highly supportive of his re-introduction to the game; a welcoming atmosphere being crucial with his disability and in his hard work to get fitter and enjoy sport again.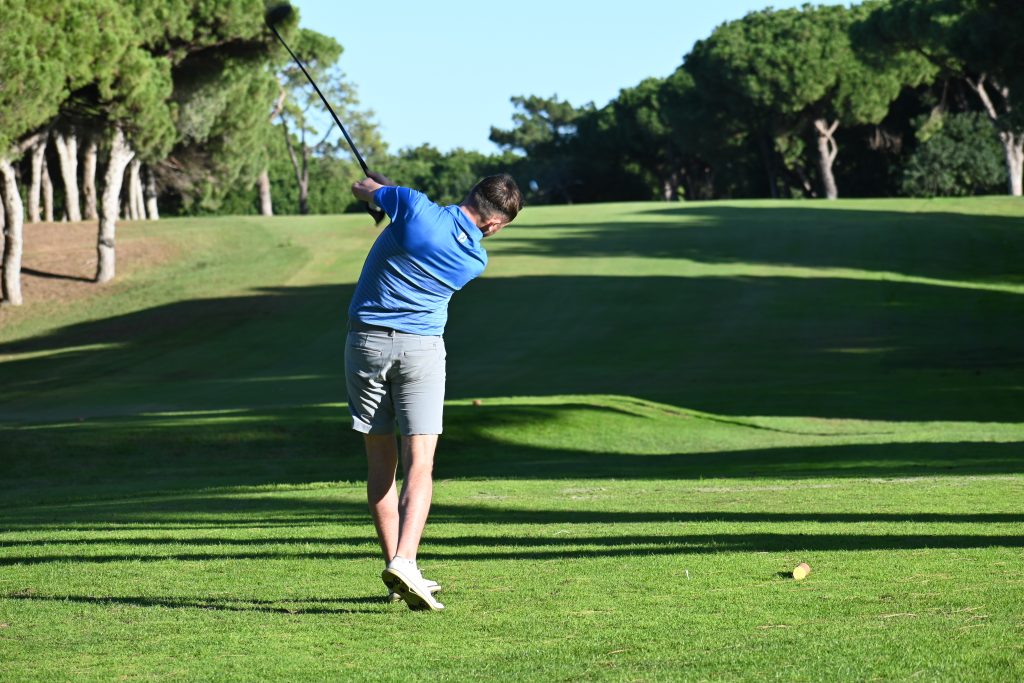 At first his golf handicap was inevitably in the high twenties for a returning golfer but things are improving quickly now.
"I started off high twenties, hoping to continue coming down. My goal by the end of this year is to be 10, or around 10. Perhaps I can get to single figures, and that was my life when I started, to get to single figures. But I do think it's more achievable the more I think about it. So once I get to there, who knows?"
Today he will tell you that he feels "huge relief" after some dark days where he doubted he could get back to anything like the old Dylan. The mental pressure lasted long after leaving the rehabilitation centre. He can remember the days when he was "snappy" with his family and wanted to be alone, but he is eternally grateful that they always understood what he was going through. Understanding is the key, he says.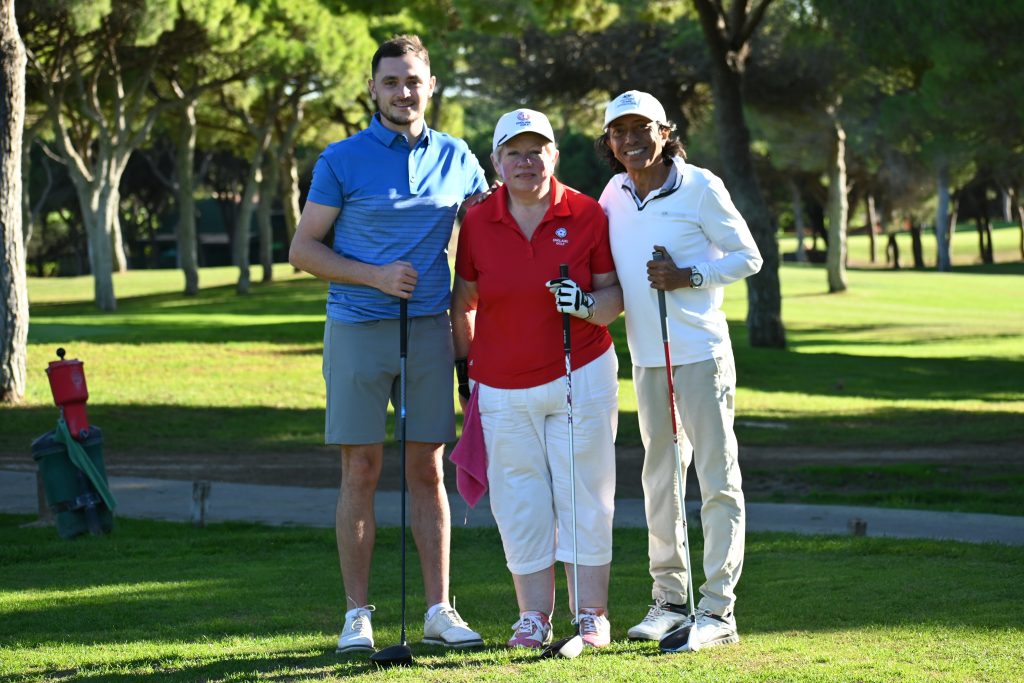 "Give them time and just try to understand what they're going through. That's all you can do really, be there as much as you can. Yes, that's it. Just be there for them."
Dylan is now able to look ahead positively. He loved informing his family and mates of his victory at Vila Sol and they were all "over the moon" he said. Golf has given him a new chapter in his life which he is embracing to the full. New friends like Mike, Aurélien, and many others made in Portugal, are the real bonus.
"And I remember for the first two years after my accident, I was just stuck in the house all the time. It was really hard to do that. And then since I started playing golf, I've seen my friends a lot more because I'm seeing them on the golf course every Saturday. I play golf with my family, with my Dad, I play golf with him every week. And then I come to things like this and I meet loads of new people. The thing I love about this is you don't feel any different. You don't feel any different from anyone else, which is quite nice. You fit in."
When a golfer says "the thing I love about this", and "you don't feel any different", you realise that golf can be such an inclusive game where you can indeed fit in. As Dylan was nervously joking with the other golfers on the club terrace, as he waited to see if he had won in Vila Sol, he was now a full part of the fabric of something quite exciting.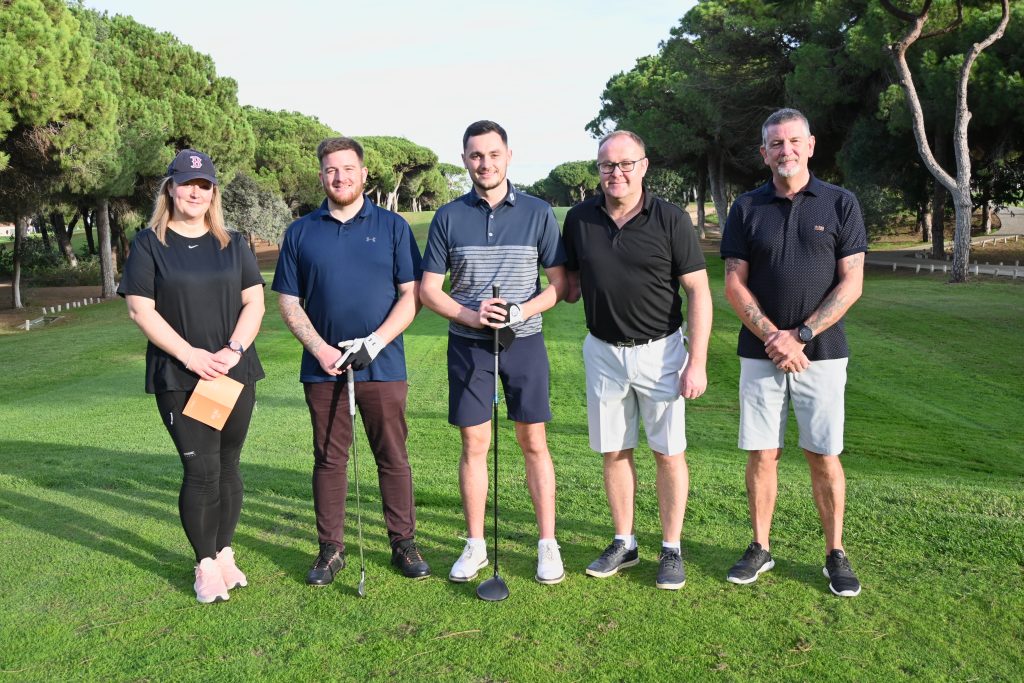 NB: When using any EDGA media, please comply with our copyright conditions