Audio: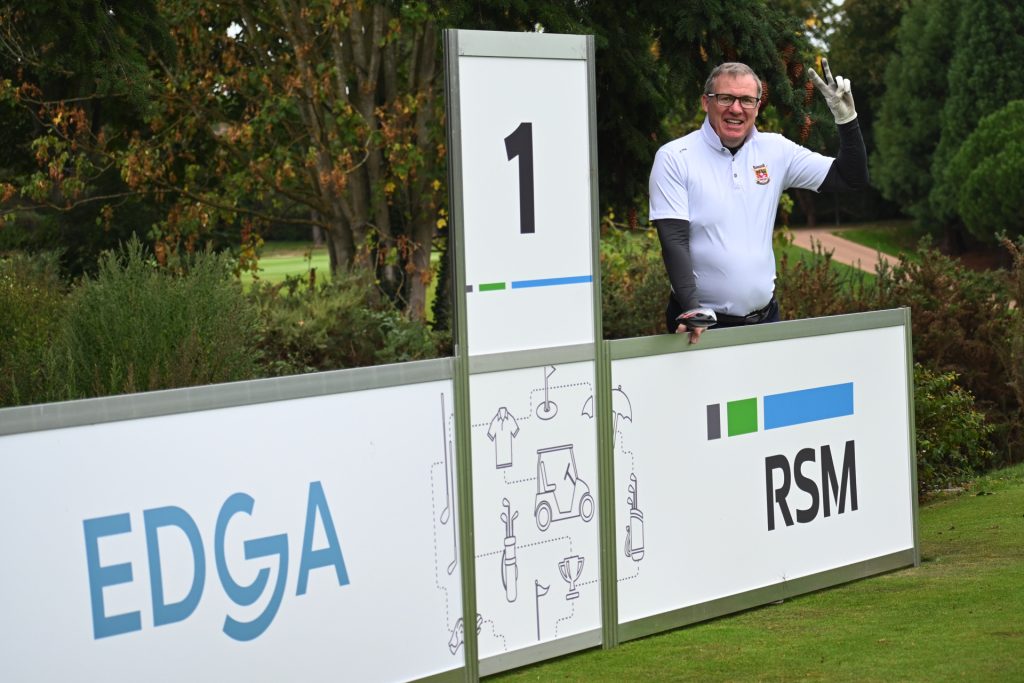 Inclusive golf? "Let's spread the waves, let's move those barriers," says Ireland's Tom Doherty.
Talking with Tom, it is clear he understands that the camaraderie and togetherness that can be found at an inclusive golf event can create a great sense of community for those taking part.
This man from Killarney ­­– which is a fine tourist town in beautiful Kerry in Ireland's south, where the locals are much more likely to say, 'how are you?' than 'who are you?' – is passionate about community. And, just recently in 2022, after the Covid couple of years, he has begun to find himself on a mission to spread the vibe about how golf can help others, including those with a disability; physically, mentally, and socially. You just need to remove the barriers, he says, and welcome new golfers with some sincerity.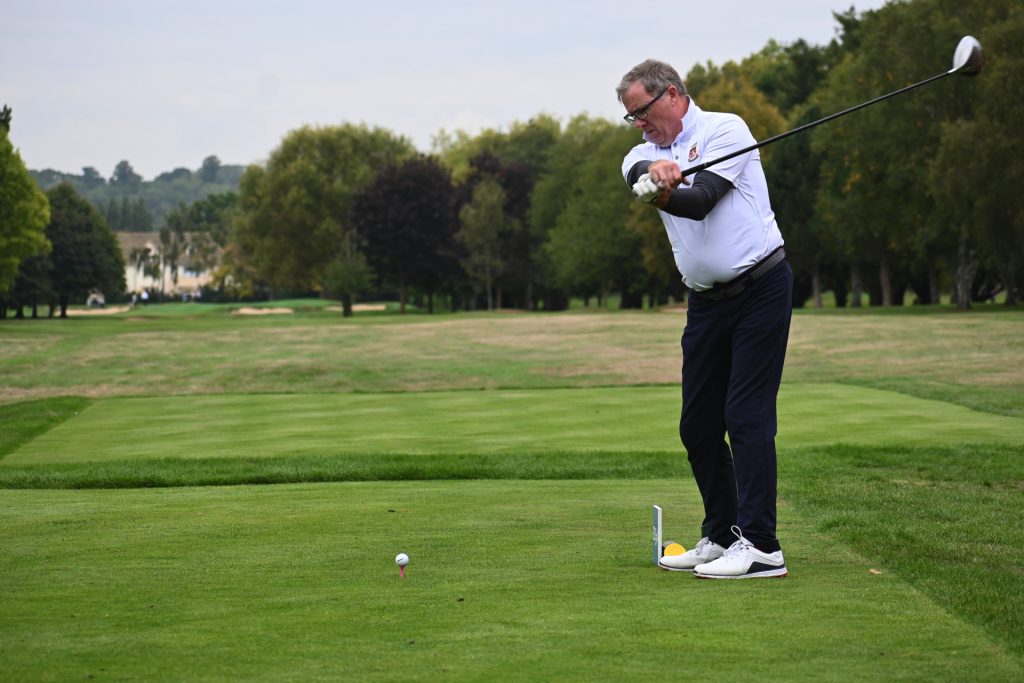 Doherty has seen that Ireland as a nation is taking progressive strides to make the game more inclusive; this year he believes a little personal mission of his own can be perhaps something of a companion piece, on a local level in the Kerry region. 
Tom is not an elite golfer, he plays off a 20-handicap due in part to a horrible bicycle accident he had when aged 15. But among his assets to share positivity about golf are his smile, his intelligence, and use of language. Tom is also a natural networker after serving for many years at a high level of sports administration, so he is adept at helping to bring change. And he loves the game of golf, and talking about the game.
We find Tom talking a lot on the last evening of one of the key annual EDGA events: the RSM European Play-off Series at Stratford-on-Avon Golf Club in England, competed for by 16 golfers with a disability from a host of countries. A group of the players are having celebratory drinks together in one of the old timber-clad pubs in the centre of the ancient town made famous by the playwright William Shakespeare. Tom is buying the next round, delighted to have won his second EDGA event of the summer, but we suspect he would be acting with the same geniality if he had played poorly.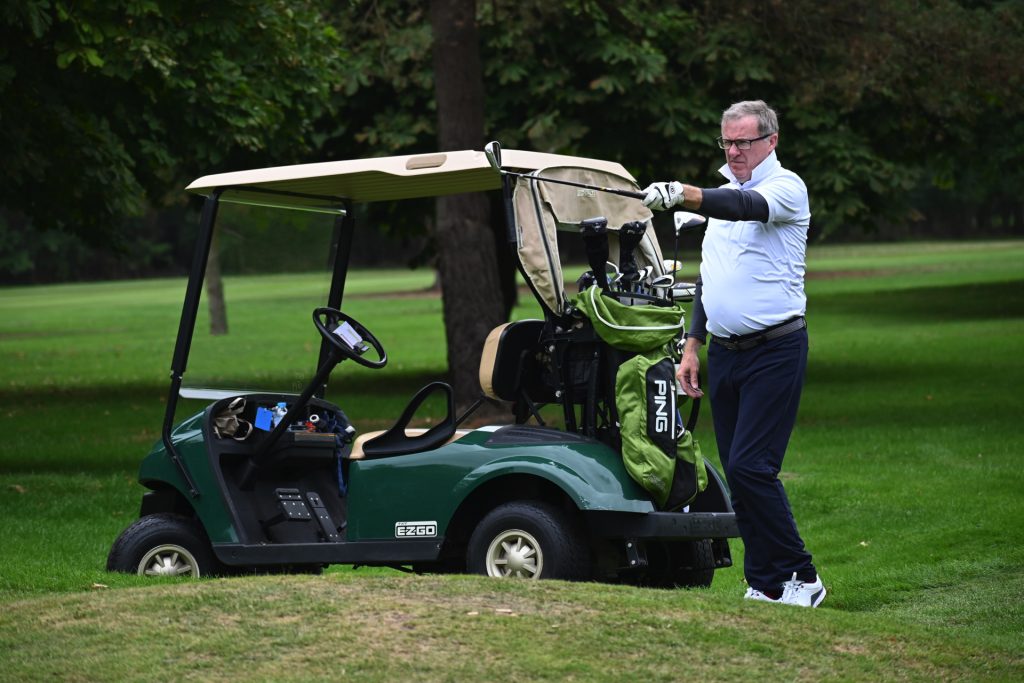 Shakespeare would have approved of the easy friendships and certainly loved the myriad of European accents in this hostelry. He would perhaps be impressed with the way Tom was making some of the group laugh loudly at his stories, while at different moments, speaking in quieter philosophical terms with the others. This Irishman had quickly made firm new friends with Italians, Finns, Slovakian, French, and English players. It was a very happy evening all round and, mysteriously, Guinness had become the international drink of choice for everyone present.
Ironically, perhaps Tom's sense of fun, that puts people at their ease today, may have contributed to his life-changing accident. He was a 15 year-old pupil at St Brendan's College in Killarney when his back injury completely wrecked his boyish daydreams of winning the Olympics on the track, playing for Kerry in the national Gaelic football finals, or in the European Cup for Liverpool FC.
Tom said: "The accident… unfortunately I don't have a great yarn to tell about it but I was an energetic youngster, I loved Gaelic football, soccer, basketball and athletics. My school was very famous for Gaelic football and it had a big church beside it and a dyke that ran alongside a pavement. We were there on our bikes doing 'wheelies', my friends and me. I did a poor, six-foot wheelie and was expecting to get some ribbing from my friends and tried again, this time when I turned the handlebars the wheels didn't turn and I rolled off in a somersault, and I was paralysed from the chest down for a few weeks."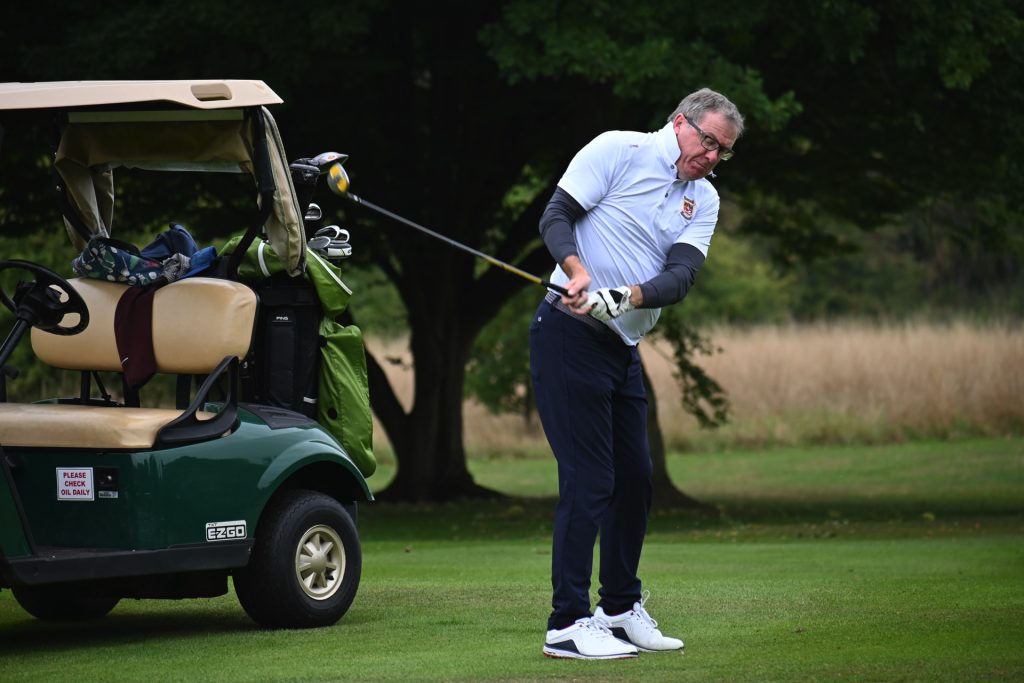 Very tough times for the family and apart from his sporting dreams, Tom's education was severely disrupted at a crucial time; he would miss a year of school. He would be treated in the north of the country, at the National Rehabilitation Hospital in County Dublin, for six months, and then ongoing in the school holidays he would require regular physiotherapy – but his family were there for Tom as the difficult months had to be worked through together.
"Oh yes, my family were always very supportive, I had very much an Irish mother [a big smile from Tom here], they would come and visit me. I was recovering in Dublin which was a three-and-a-half-hour journey away and they all came to see me and stay close by when I was in for Christmas.
"Rehabilitation was certainly a challenge and I had to come back in the school holidays for further treatment as well."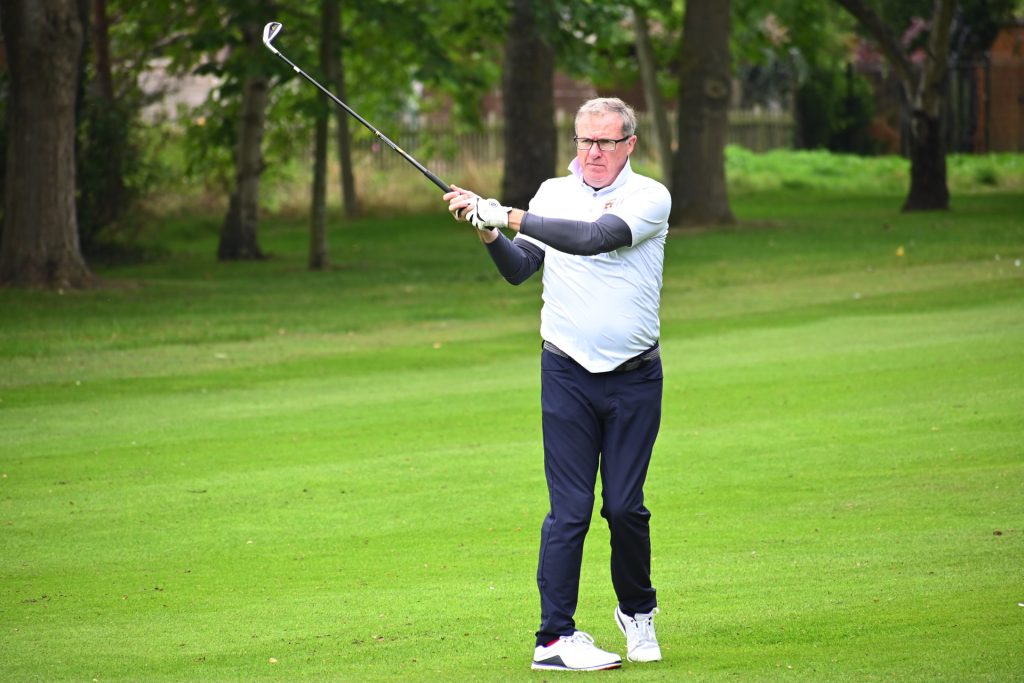 Tom is keen to say that he was immensely grateful that his family and their close friends always wanted to encourage him to take the space to find his way, to settle back into life and follow the right path for him after this traumatic event. 
Tom said: "Life was different all of a sudden. As a teenager, you know, every teenager looks at things a certain way, but saying that, it does give you a sense of perspective on life, from a much younger age you can say, OK, I do value this [life], and hope I always will."
Though Tom would regain movement in his left leg, he would always have a walking spinal injury, and today uses a cane to walk with, and a buggy on the golf course. He has to be very precise in his steps due to the possibility of tripping, losing balance, or a stranger accidentally disrupting his stride.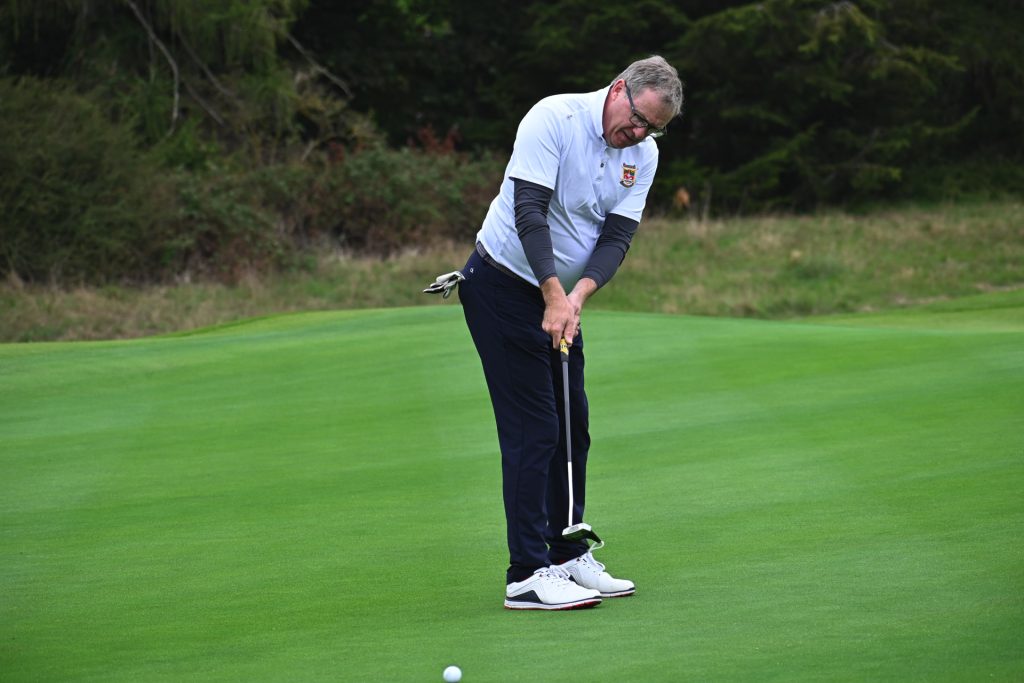 Not to be held back, as an adult he still pursued sporting opportunity even though he had to sometimes battle against the inevitable negative occurrences that were all too prevalent for those with a disability in the 1980s, 1990s and so on. Tom maintained his love of basketball. He played wheelchair basketball with Kingdom Wheelers and Limerick Celtic in the national league for a number of years, but because of his injury he moved into sports administration and a role as a disability advocate from an early age: good for him and the sports he served.
Tom's impressive CV in this area includes coaching in football, basketball and athletics, volunteer positions in the highly popular multi-sport Kerry Community Games (the region's own 'Olympics'), and for the Football Association of Ireland's 'Football for All' programme, which helps young people who may not normally find access to the game to join in with football. Tom also enjoyed the role of Chairman of Irish Wheelchair Sport for nearly five years. Today, he is a coach at Killarney Valley Athletics Club and is very proud of the highly inclusive and welcoming atmosphere the team of staff and volunteers has created there.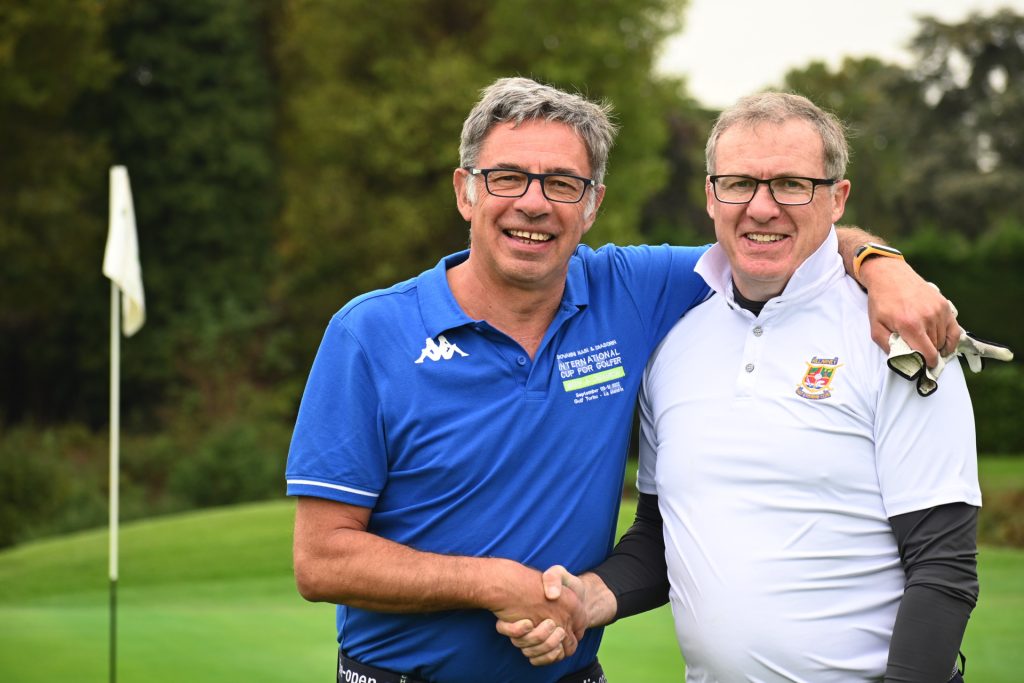 It was in his late twenties that he was first drawn into the golf community. Of course, the Kerry area of Ireland where Tom lives is blessed with some of the most beautiful and challenging golfing country in the world, including his home course Killarney Golf & Fishing Club, a DP World Tour venue.
This year, Tom found himself learning more about golf for the disabled and discovered EDGA tournaments on the internet. In fact, just two weeks after seeing EDGA online we were talking with him after his very first round at the EDGA Johnny Reay Classic, at Stoneleigh Deer Park Golf Club, Coventry.
Tom said: "I've enjoyed everything. I absolutely loved the practice round because it broke the ice, I got more of an understanding of what it's all about; it's a great way of meeting new people and I was more relaxed going into the tournament itself.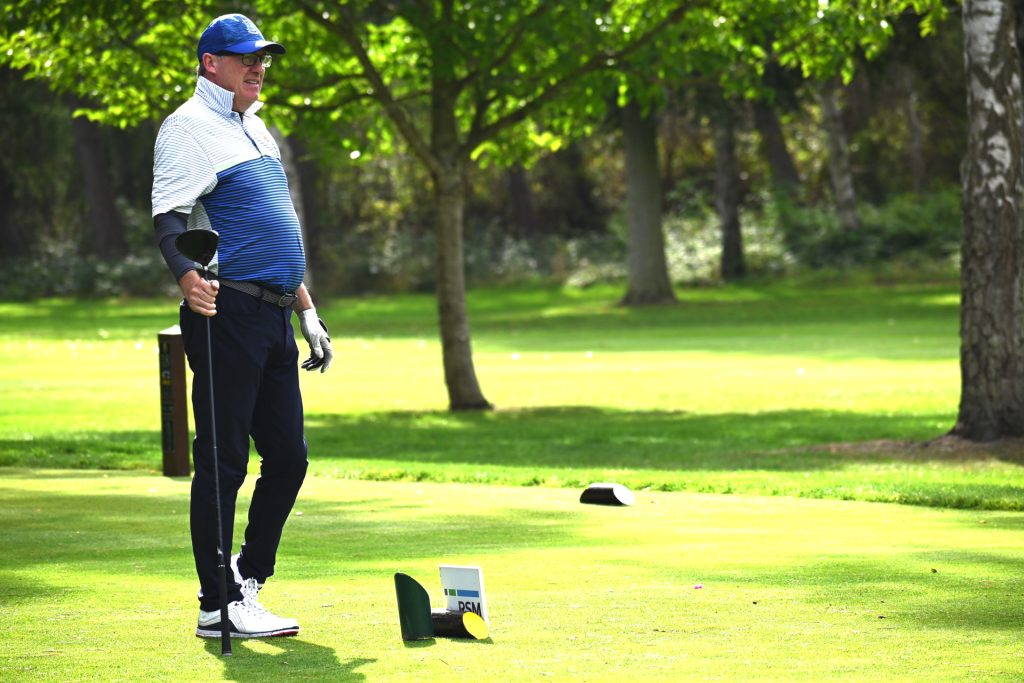 "I've noticed, number one, the skill level: super, super, the strengths and weaknesses, that's what golf is all about. I've been playing golf for many years and the golf handicap is the great equaliser. Looking at the players today, if there is a fourball at my club at Killarney Golf Club I'd pick some of these guys and we would win some Sterling or Euros for sure!"
Tom added: "It's all great, because through golf you get to meet people, and the company yesterday… the company I played with today… as we say in Ireland, it's mighty craic."
Tom, like everyone in his region, had battled through Covid and he was yearning for sociability as well as competition to sharpen his game again.
"It is such a valuable sport now, especially with the Covid; I know, meeting people who have underlying health conditions as well and they felt separated or afraid to go out and mix with people, and you know, talking to people on the phone there was a lot of mental anxiety.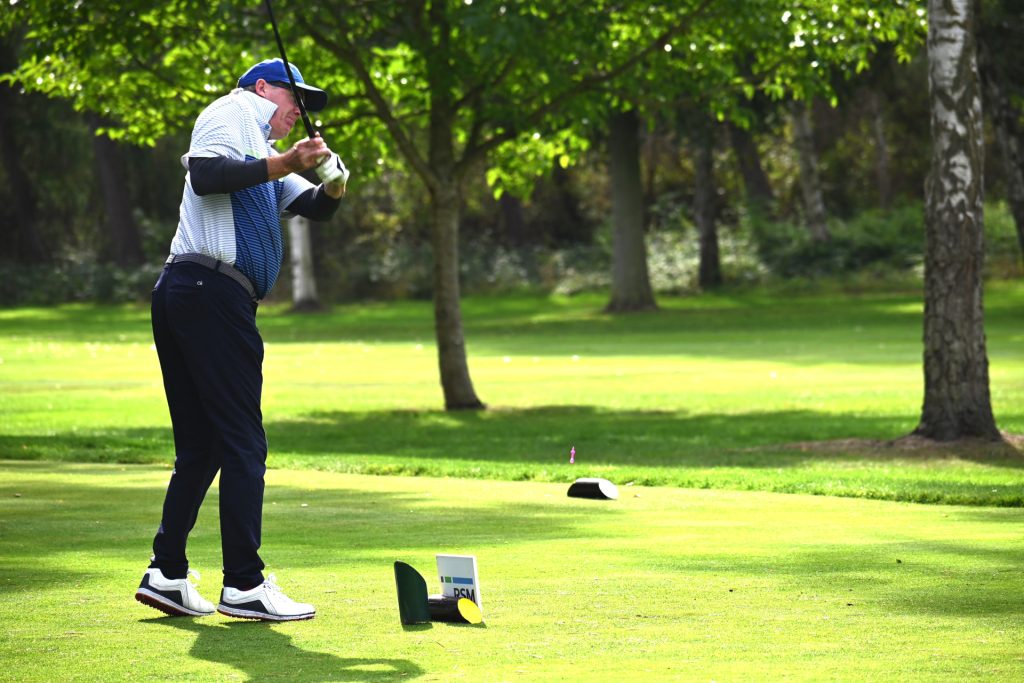 "I said to myself, I want to do something, I want to get back into golf. I looked up the new group in Ireland, the disability and inclusive group [with Golf Ireland] and I played with them in a social occasion two weeks ago, and then searching on the internet I found EDGA and I wanted to play, so took some holiday to play here. And for the fun aspect, I have notions of being a pro so I can go back home and say, yes, I played on the pro tour, absolutely!"
Tom's instinct was to chat and joke with the youngest and the oldest of the players. You would think he didn't care about the competitive side, but at the end of the week at Stoneleigh it was Tom's name on the Stableford trophy.
And while the competition was great for Tom himself, he was starting to see how he could play a part in getting more people in his region of Ireland, people with a disability, to enjoy some golf, to get out there and play, or try golf for the first time.
He says his home club of Killarney Golf & Fishing Club has been "hugely supportive" and when learning about his upcoming national competitions the members presented him with some new golf clothing bearing the club's crest and colours.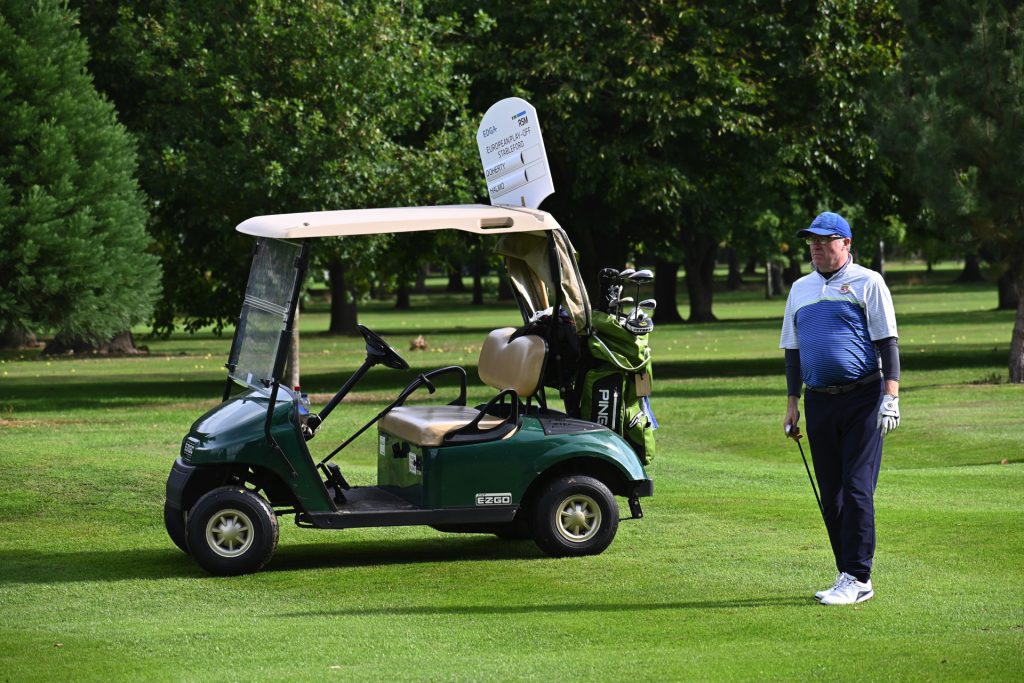 Tom is currently expanding his network online and in person, in order to meet likeminded people who want to grow an inclusive game. He is full of praise for the team at Golf Ireland's recent work, has connected with Gareth McNeilly, EDGA Tournament Director in Ireland, and made sure he supported the Irish Open at Roganstown in June. He was delighted to be one of four golfers with a disability to be invited to play in the Pro-Am of the KPMG Women's Irish Open in September, but couldn't make that because of his approaching EDGA tournament.
Tom's enthusiasm clearly extends outside of his own personal bubble; he was hugely excited when he talked to us of the innovations of GAME technology (Golf, Adaptive, Mobility, Engineered support) designed to help wheelchair based golfers, developed by students and staff at Munster Technological University at its Tralee campus near to where Tom lives. He was thrilled to see this work going on in his region of Ireland and has shared the information with many of his friends.
Good times then, and his Stableford win at the Johnny Reay Classic, then a second place in the English Open and his later win recently in Stratford (more in a minute), has created favourable publicity in Kerry, and Tom has been keen to tell the story of golfers with a disability in the local media to spread awareness. Many times over the years, he has been frustrated by sports funding politics but he is excited about the potential that golf now has for encouraging greater inclusion in his region.
He said: "It can get frustrating when you're an advocate for these issues… but it's all about education and organisations taking responsibility, and saying 'yes'. Is golf for everyone, is sport for everyone? Yes, it is. What stops a person is a barrier, well, can we move that barrier aside? Yes, we can. Let's all play this game. Do you enjoy this game, do you want other people to enjoy the game, yes I do. Let's spread the waves, let's move those barriers.
"It's great to see women in sport getting funding, disabilities getting funding, it's all fantastic. Even in Ireland now I've seen so many things improving at a national level, and to me my mission is to move it local and get to more people and say, do you understand?"
Tom's excellent results meant that he had to sadly turn down the pro-am spot for the Women's Irish Open because he had qualified for the RSM European Play-off Series final in Stratford, in three rounds of Stableford knock-out. Sixteen EDGA players with a disability from different regions of Europe (eight in the Stableford and eight in the Net category) qualified to play in the second annual tournament, supported by leading audit, tax and consulting firm RSM.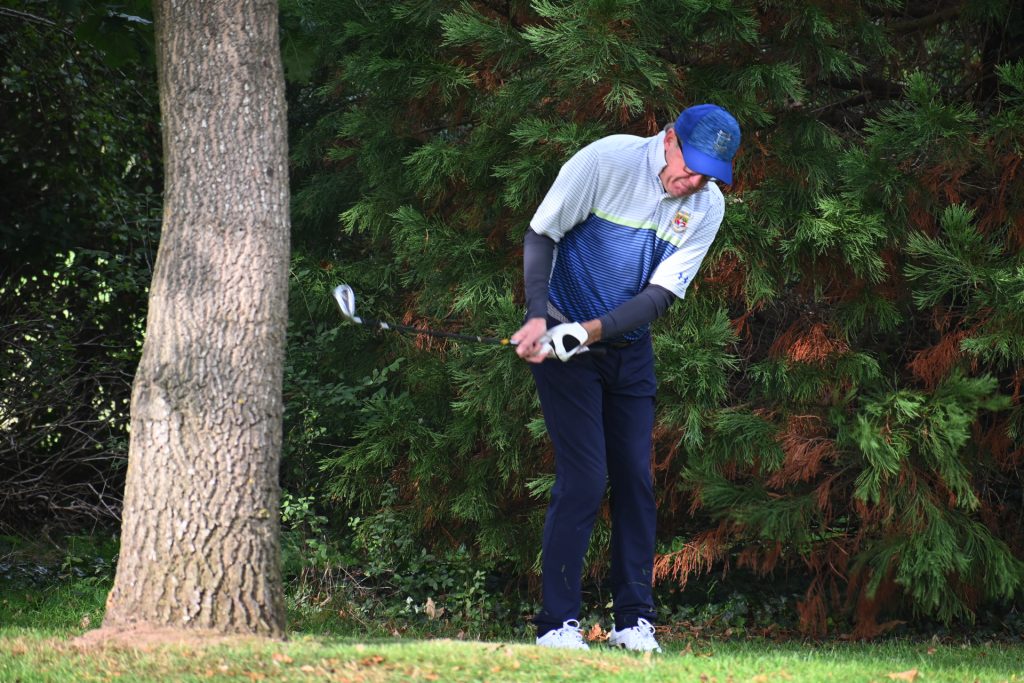 After progressing well in the first two rounds of the matchplay tournament, Tom found himself in the final, where he was matched up against defending Stableford 2021 champion Miroslav Halmo of Slovakia.
After many twists and turns, the two players both had opportunities to win the title at the 18th hole but had to settle for a half on the final green after the pressure tolled. In fact, both players – who had travelled a long way in their personal journeys – faced short putts which would have been for the win. The two players both missed and trudged off the 18thgreen with that miserable feeling all golfers have endured. On the 19th tee, the play-off hole, Tom looked down on the green shamrock he had drawn on his ball. He told us he wished then for a little Irish luck.
Nearly ten minutes later Tom lagged a 40-foot uphill putt stone-dead to force victory over Miroslav who had run him so close.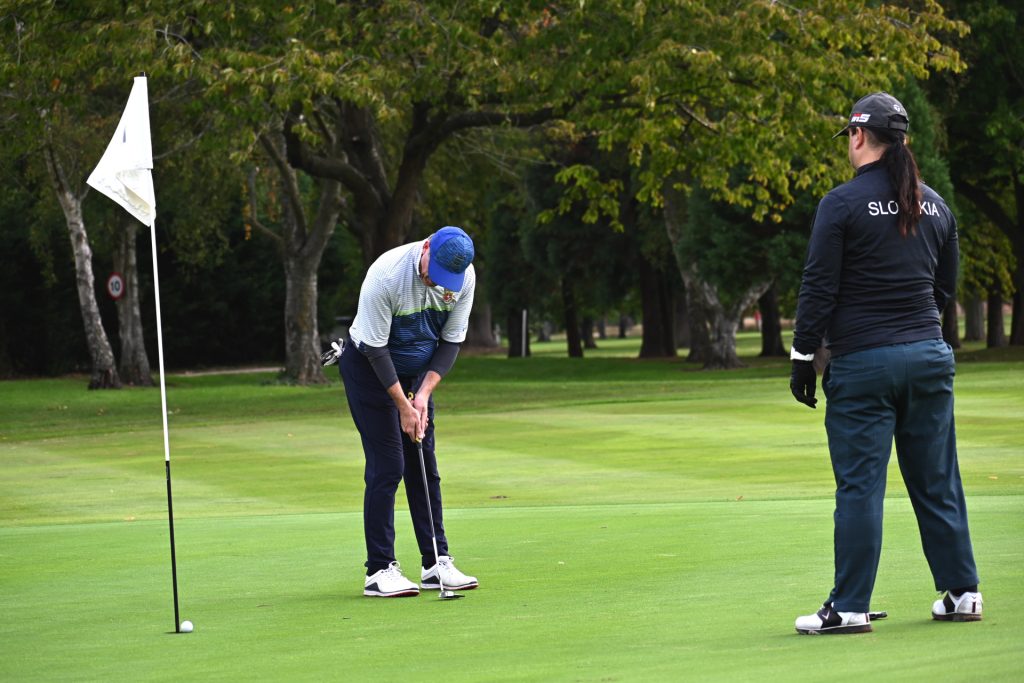 Tom said later: "This was a great match and Miroslav and I fought hard but enjoyed plenty of smiles. This was a privilege to represent Killarney and Ireland in this excellent international event supported by RSM."
Tom says he sees the social side of golf as "fantastic", whether over a drink, a cup of coffee on the terrace or chatting on the tees and fairways themselves. After the competition, the EDGA players went into town, the home of Will Shakespeare, the Bard of Avon. In the Golden Bee pub, the likes of Timo, Tero, Edoardo, Philippe and more all raised a glass of Guinness to Tom.
"After the hurly burly's done" is a Shakespearian phrase that might fit well with the drama earlier that day on the 18thgreen for Tom and his now friend Miroslav, who of course is also with Tom enjoying a well-earned pint with the rest. But Tom is already looking ahead with a glint in his eye, ready to spread some waves when gets back home to Kerry.
Contact EDGA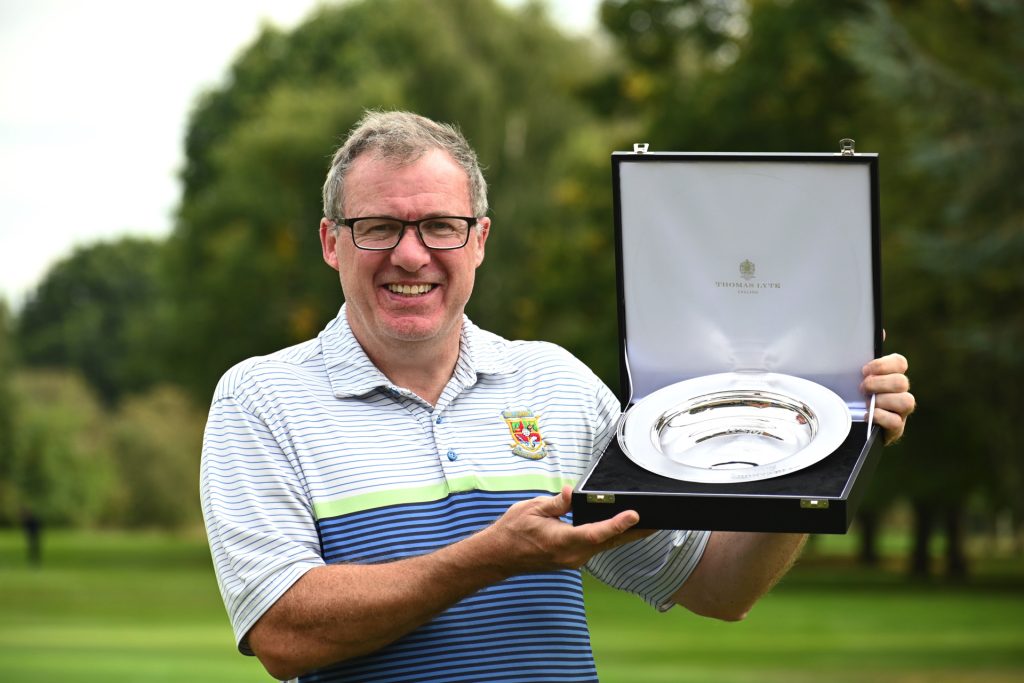 NB: When using any EDGA media, please comply with our copyright conditions