Audio: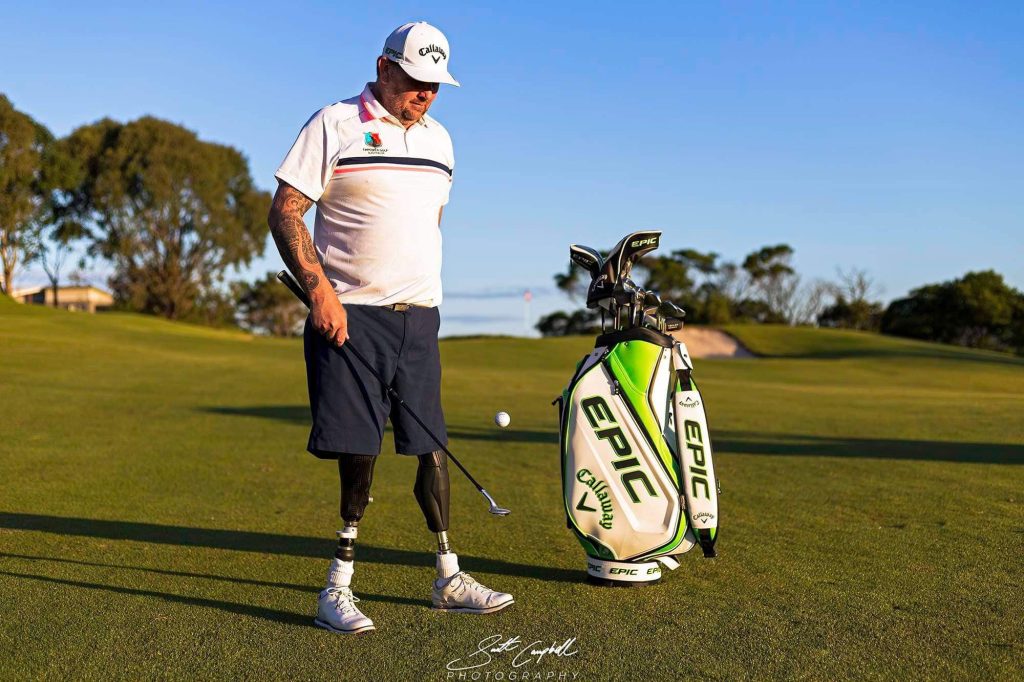 "Life is 10 per cent what happens to you, and 90 per cent what you make it."
This is the mindset of Australian Ben Tullipan, who adds: "If you believe in yourself, you can achieve anything."
Late in the evening of the 12th October 2002, a then 27-year-old Ben Tullipan was a young businessman importing furniture from Bali, Indonesia, for his homewares shop on the Gold Coast, Queensland, Australia. Ben also loved his sport (although golf was never on his radar). He was a dedicated up-and-coming boxer, a middleweight, who didn't smoke or drink. He was a fit man, and had it all planned out, how he would move up the national rankings and realise his dream of turning professional.
Despite his focus on this most ruthless and individual of sports, Ben had always seen himself as a 'people person'. He liked to get to know the folk around him and enjoyed chatting to anyone and everyone. His friends knew him as a very positive, happy-go-lucky guy… these aspects of his personality may well have saved his life in the days, weeks, months and years following the Bali Bombings of 2002.
As we speak, it is days away from the 20th anniversary of a night when Ben Tullipan walked into the Sari Club in the tourist district of Kuta, to buy a bottle of water moments before a one-tonne car bomb exploded in a parked van nearby (it was the largest of the three bombs that night) – the blasts killing 202 people (including 88 fellow Australians) and injuring 209. Ben says that while he would get a second chance at life; a great many other people did not.
Later in hospital, in triage, Ben was given only a five per cent chance of survival. He would lose both his legs, most of his stomach muscles, break just about every bone he had, including his back and skull, and suffer 63 per cent full thickness burns to most of his body; he would need extensive skin grafts.
He clearly remembers walking out of the Sari Club with his bottle of water, noticing the van parked there, and wondering why. The next thing he remembers was seeing a massive fireball. All he could do was instantly put his hands over his face and hope for the best. He remembers getting thrown around, and power lines landing on him, which burnt across his shoulders and electrocuted him.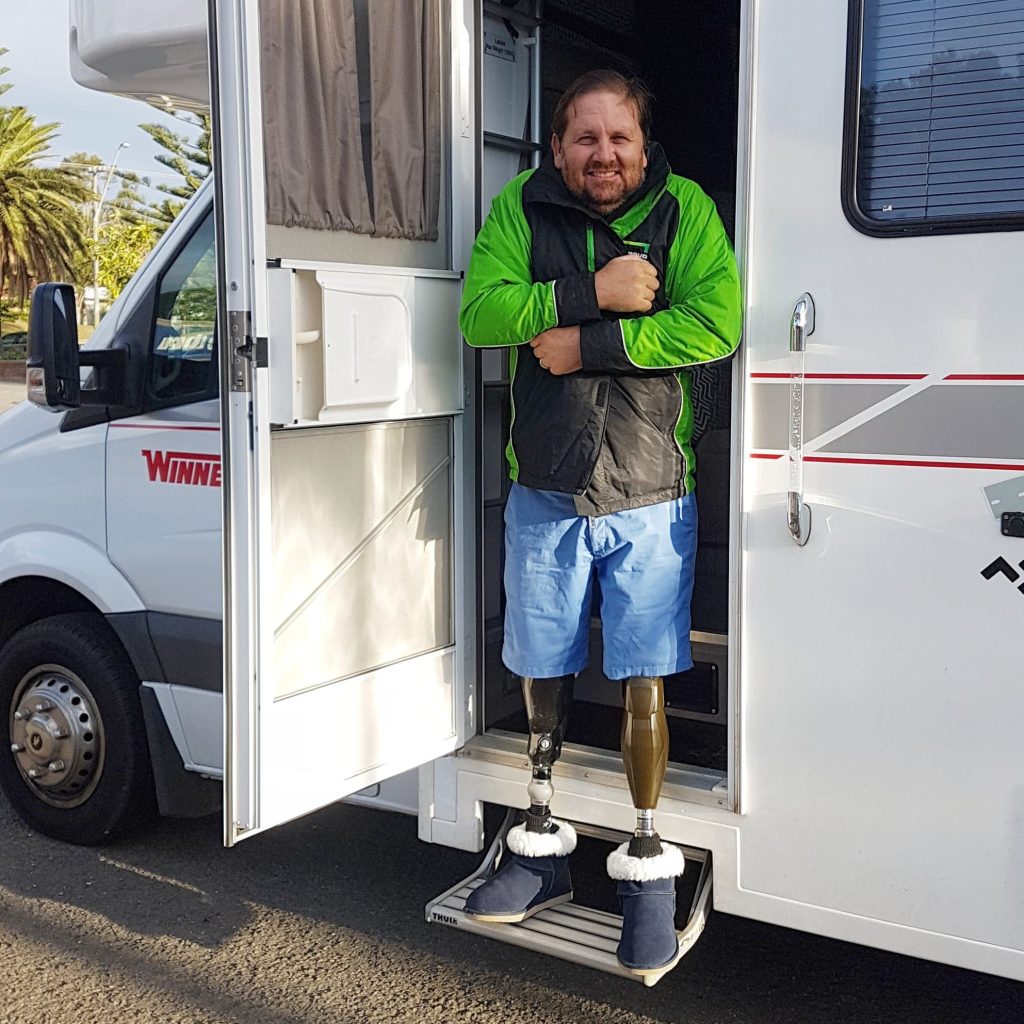 Due to his proximity to the bomb he also suffered permanent hearing loss in one ear. Bombs and explosions cause injuries seldom seen outside of combat. What is harder to understand is how Ben survived the trauma at all. Survive it he did: in 2022, he says he is now living his "best life", enjoying the fresh air, nature and the camaraderie found on our golf courses.
Ben – who was informed that he was Australia's 'worst injured survivor' in the attack – is calmly talking to us 20 years later, chatting about this love of golf. Front and centre today is his role with Empower Golf, a charity encouraging many people with a disability into the sport, with the support of Golf Australia and the PGA of Australia. Ben, and the founder of the charity – James Gribble – reach out to thousands of people annually, many brand new to golf, providing them with what Ben terms as "a life changing form of recreation and/or rehabilitation".
Ben himself learned to walk again on two prosthetic legs in a painful and difficult process. It was five years before he was able to try playing golf and compete in his first Amputee Golf tournament. His recovery was a physical and mental journey supported by family and friends.
Ben explains: "My mental health, right from the start when the bomb happened, was positive. You know, there's always a positive. This terrible thing has happened, yes. Right. I'm still breathing air. I yell out. Someone gets me out, that's good. There's always a positive. I have never wallowed in self-pity. I always try to be happy and do the best that I possibly can with the cards I have been dealt."
Today, when Ben plays golf at The Glades or Parkwood Golf Club at home, he swings the club as a golfer from the World Ranking for Golfers with Disability (WR4GD). He has won golf tournaments, won national awards in Australia, has featured in a documentary about terrorism produced by Sean Penn and spoken in public about his life. When he looks back, he still recalls 2002 clearly, when he lost his business and had to have his treasured boxing gloves put away for him in a drawer.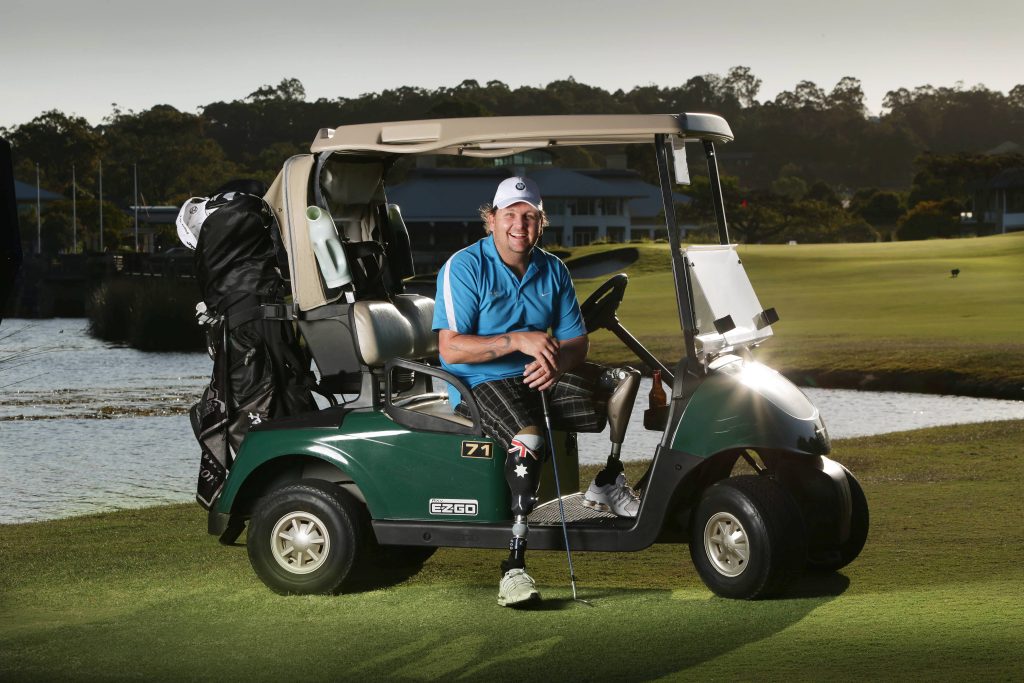 He remembers every second of the terrorist attack, including being placed on the back of a 'Ute' (a little truck),to be taken to Sanglah Hospital, which unfortunately did not have the facilities to help patients with the levels of injuries and burns experienced by so many. The next bit of time Ben doesn't remember, but others have done so for him.
"Apparently, I was covered over with a sheet as they had me as 'deceased', and I was pushed aside into a room. Luckily for me, an Aussie guy from Perth saw my arm move under the sheet and he uncovered me and got the doctors over to give me assistance. This person, Clayton, stayed with me that entire night and telephoned my family back in Australia to let them know I was alive, if only just.
"With my burns, my limbs were swelling up, so they had to slice open my arms to release the pressure. There was no anesthetic. They used a box cutter like a Stanley knife to do this. Not even a scalpel. But I think the biggest relief for me was when the Australian Army turned up and they started triaging everyone. Everyone got numbered as to how bad they were injured from say one to 200. And I had the number one drawn on my chest. I was the worst injured person still alive in Bali."
Ben became part of an event unprecedented in Australian history. Air Force C-130 Hercules crews and aero-medical evacuation teams swung into action. Within hours the first C-130 departed to Bali to bring the innocent victims home.
Ben says: "I remember being wheeled out of the hospital to the makeshift casualty staging facility in the fire station at Denpasar Airport, where the injured were being taken. Thankfully, I stabilised enough to be put on the second Hercules to leave. One of the doctors said to me if you make it back to Australia alive, you're going to lose one of your legs, possibly two. And I remember his face crystal clear and I looked up and said, 'Mate, I don't care. I'm alive. I'm going to make it home.' And that's what I did. The Hercules landed in Darwin and I was flown by Learjet to Sydney. There are nearly three months that I don't remember. However, I do recall being in Concord Hospital in Sydney, happy to be alive but not really with it, always positive, even though I had no idea how difficult the road to recovery was that lay ahead for me."
Ben had both his legs amputated while in Concord Hospital: one below the knee and the other above the knee.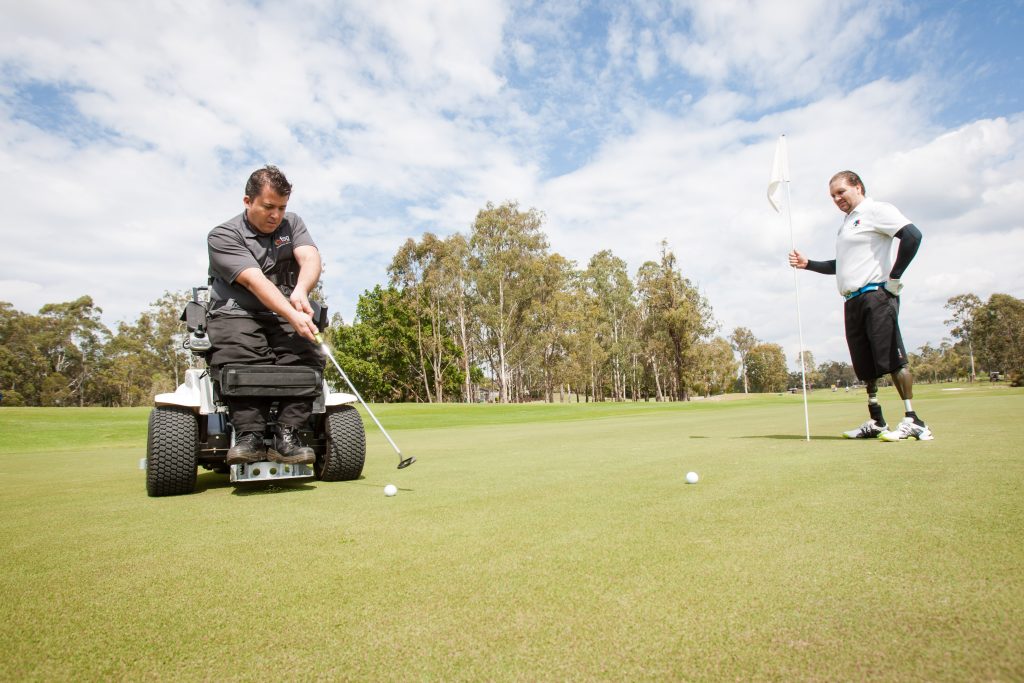 Three years later he was at the gym and saw a man struggling in his damaged wheelchair. When he explained to Ben that he had two more years to wait before he could get another chair from available funding, Ben brought in his own wheelchair from home and gifted it to him. Ben tells us that knowing he no longer had a chair in his own home made him even more determined to rely completely on his new prosthetics and feel confident. He says now: "I helped someone else out, and ended up helping myself out too.
"I think you need to push yourself to the limits at the start. You know, if I didn't give my chair away, I would probably still use it every now and then and I wouldn't walk as much as I do now. But I think not having the wheelchair anymore has done wonders for me. It has made me walk. It's made me, you know, do what I do."
Ben still returns to Bali. In fact, he was responsible for instigating a successful international golf championship for golfers with disability in Bali in 2014. He had never played golf before being injured by the bomb, but 14 years ago he happened to notice an advertisement for players to compete in the Australian Amputee Open.
"I thought, right-oh. So, I signed myself up for that. You know, my wife Kerrie gave me a bit of a push along. She said just have a go, so I did. I came last but I didn't care. I had an absolute ball. I met some amazing people and learned so much from fellow amputees and made lifelong friends.
"And since the terrorist attack, I've always been about helping others get out and enjoy life, live life to the full and have fun. It doesn't matter who you are or what you're doing. We ran our first clinic on the sunshine coast in Queensland and I absolutely loved it, I had a ball. We've got no limitations, we're open to anybody and everyone. I've had kids from the age of four right through to adults up to 100 years of age, getting them out playing golf again or for the very first time."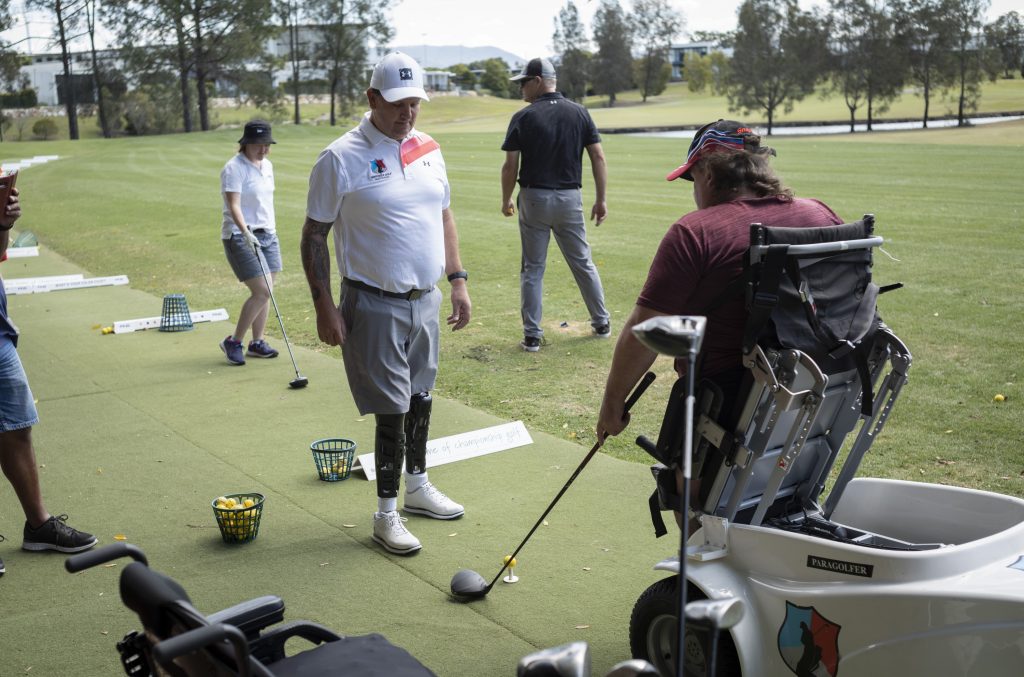 A recent project has seen James and Ben promote the benefits of the 'Paramotion', an all-terrain mobility chair which helps individuals with a range of disabilities into a stance position to create a full golfing experience. 
For Empower Golf, Ben gives training and shares knowledge with PGA professional coaches and does all the liaising with the new golfers taking part. It's all about getting more people with a disability onto the putting green, practice range, and golf course.
Ben and James remain ever thankful for the support of Christian Hamilton – Programmes and Inclusion Senior Manager at Golf Australia.
"Christian offers fantastic support for us. We also work alongside the PGA of Australia, which are fantastic as well. We help with the training of the PGA professionals in the all abilities category. In the inclusive sector of golf, everybody is different. Someone who might be a paraplegic or quadriplegic or have cerebral palsy, or are blind or an amputee; they are all totally different."
Ben offers support to around 500 people with disability through the Empower Golf Queensland clinics, while Empower Golf is reaching around 7,000 people Australia-wide each year. He enjoys working with usually eight specific golf clubs in Queensland, teaming up with the local PGA professional for his clinics which can welcome from six to 46 participants each session.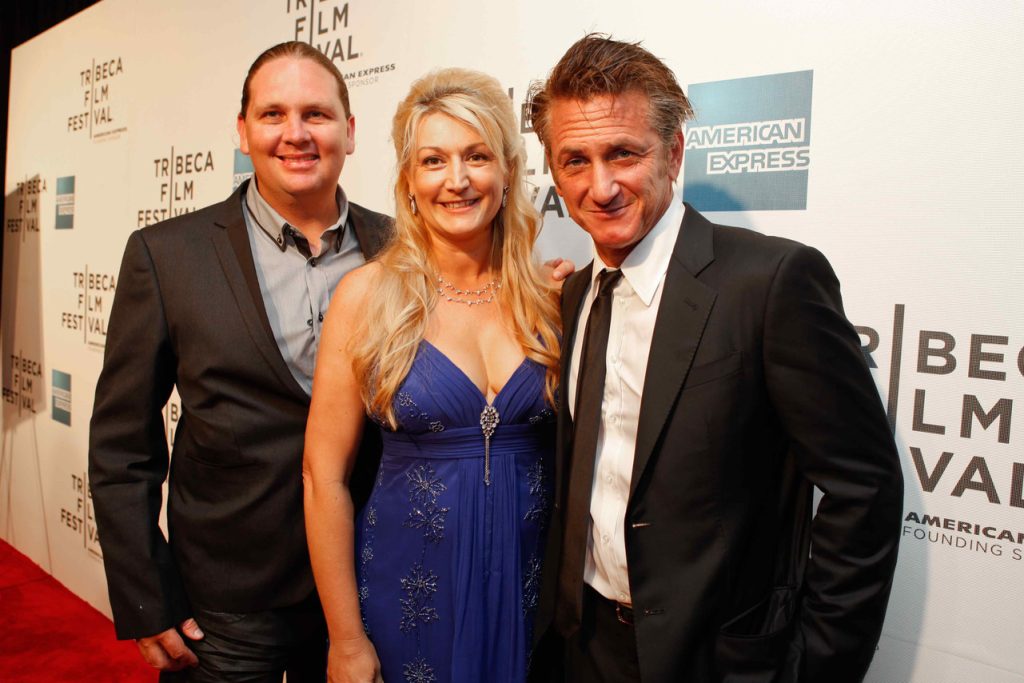 When encouraging these new golfers Ben says he loves every minute of the work. He understands his positive personality makes new players feel at home, gaining confidence quickly, whether they are learning their first pitching shots and full swings or simply putting on the green and getting a feel for the roll of the ball.
"Look, I'm one that likes to meet a lot of people. It doesn't matter who they are, whether they're professional golfers or golfers with a disability or whoever, I like to meet a lot of people. And golf is one of the only sports in the world that has a handicap system that allows everyone from all abilities to be level in Net scoring events. I love meeting new people, it's great. Everybody's got a story and everybody has got something that you can learn from."
Around the 20th anniversary of the Bali Bombings, Ben will be in Melbourne at Australia's influential golf business event, the Golf Business Forum\PGA Expo 2022. Ben says every day when he wakes up and puts on his prosthetic legs he is reminded of that night in 2002. However, he always takes extra time on the 12thOctober each year to remember the ones that lost their lives, the families who lost loved ones, and his fellow survivors. Ben has attended almost every Memorial Service held on the Gold Coast.
October may be an emotional month on the eve of the anniversary but in typical go-ahead fashion Ben and James Gribble were being joined by fellow golfer with a disability Jigs Denby of Tasmania, taking part in a three-man adventure to play four of the most spectacular golf courses in Australia, in the 'Empower Golf Ultimate Air Adventure King Island'.
Ben explained that a film of this hardy trio playing these really challenging yet wonderful courses can hopefully inspire other people with a disability, or their friends and families, to get out there and experience golf and all its health benefits; to give golf a try.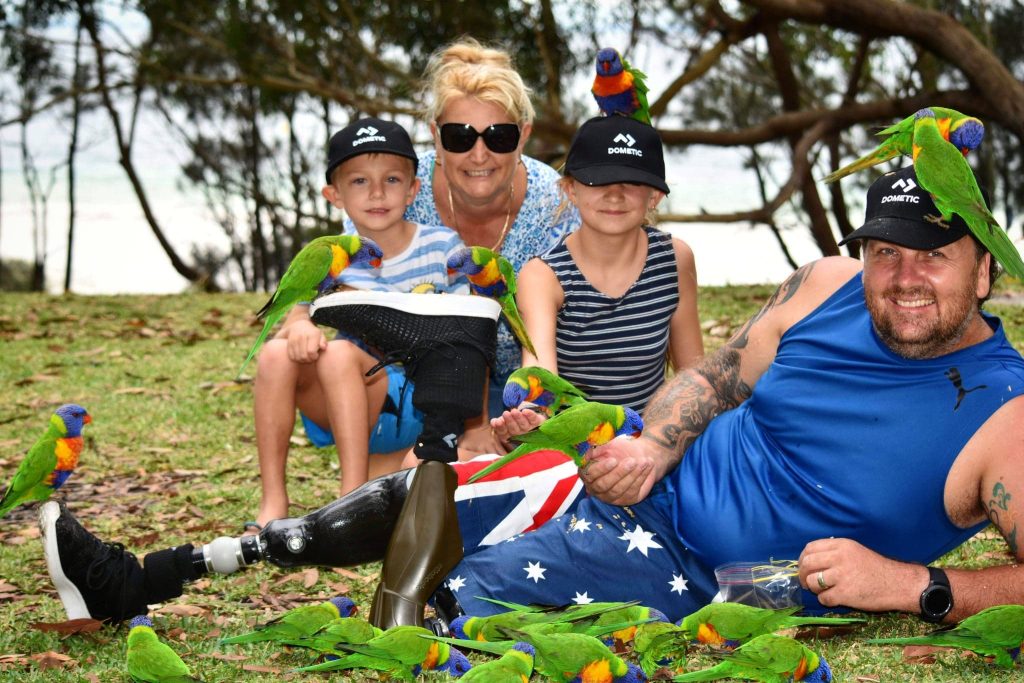 Originally from New South Wales, Ben has been living on the Gold Coast for over 20 years. As a disabilityadvocate and inclusive golfer Ben is heartened that today he gets noticed for a lot more than just being Australia's worst injured survivor of the Bali Bombings.
Honours and awards bestowed on him include the Pride of Australia Medal for Courage, Gold Coast Citizen of the Year, and Queensland Father of the Year, to name just a few. Asked if he has a favourite, he replies: "Oh heck, there's been so many! But I think the one that means the most to me is being awarded the Gold Coast Father of the Year, then going on to win Queensland Father of the Year. That was fantastic. I still pinch myself over that one. I've got two amazing kids [Rory, named after golfer McIlroy, and daughter Sheridan] and an awesome wife, Kerrie.
"And you know, with the awards it's all for the work that I do to help others, for which I don't feel I should be receiving an award. Just seeing the smiles on their faces at the end of a clinic is enough for me. It's an amazing feeling, but to be recognised for that by the general public; yes, it is something special."
Normally, when others offer you advice on life, you may just take it with a pinch of salt. With Ben Tullipan, you know that what he has been through is the toughest life can throw at you.
Ben wrote recently: "I hope I show the community that a positive and happy attitude allows you to achieve whatever you set your mind to, even if others tell you it can't be done. And I hope my life has had, and continues to have, a positive impact on the lives of many. Life is about living and not wasting time wallowing in self-pity. It is about rebuilding your self-esteem and sense of worth, developing skills and building new friendships."
It is sound advice from Ben. That Tullipan chooses to direct all this positivity into golf and helping others to try the game, is surely a blessing for everyone in our sport. 
– Learn more about Empower Golf at https://empowergolf.com.au/
Contact EDGA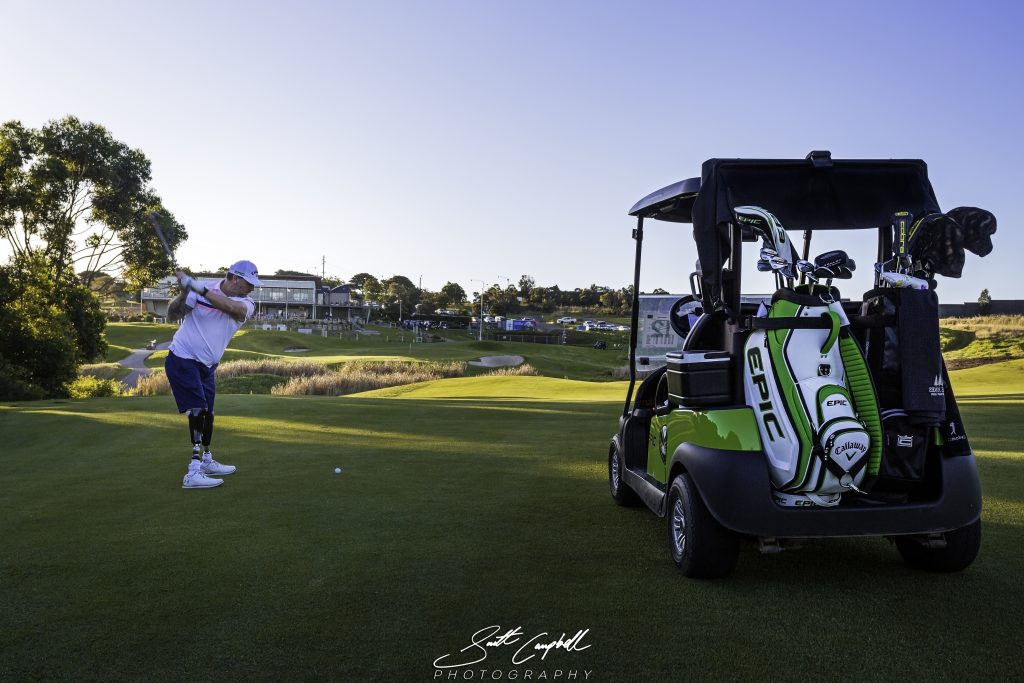 NB: When using any EDGA media, please comply with our copyright conditions