Audio: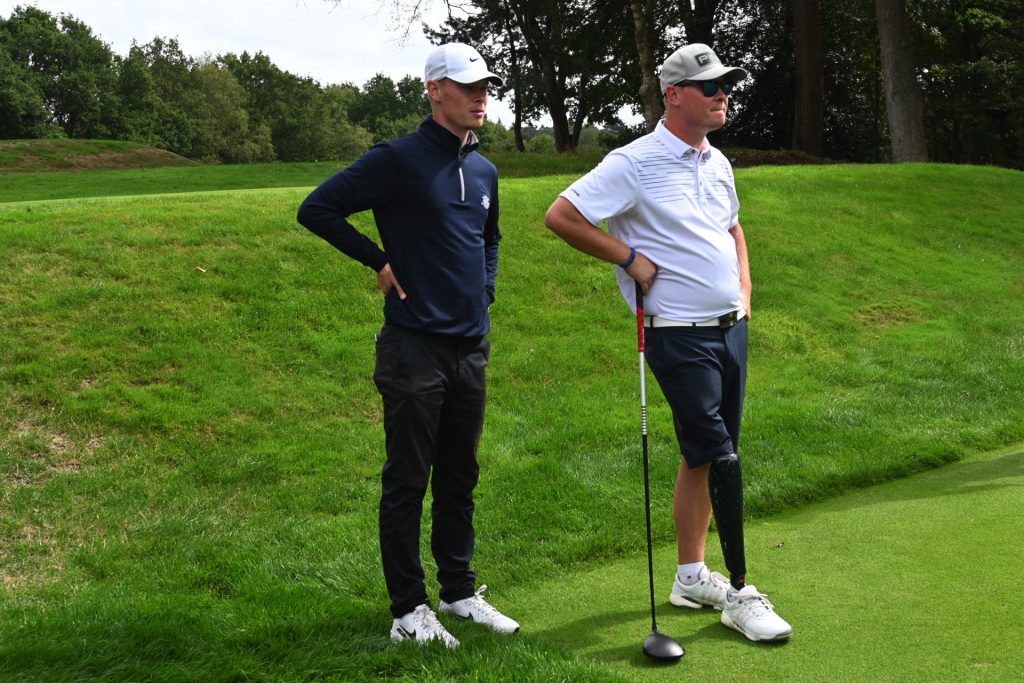 Bradley Smith says that "golf, for me, is just happiness".
There is no sense of naivety on the part of the 27-year-old father of two from Norfolk when he tells us this, and he has every reason for taking all the joy he can from the game. He will also look across the table and fix you with a firm gaze. "Any golf day is a good one," he reasons, "because you're still on this side of the ground".
The line could be from a Hemingway novel, and Bradley, or Brad to his friends, looks every inch a hero from such pages. Youthfully handsome, resolute, straight-backed like a Captain inspecting the lines; a man who has been in a battle (a look only slightly undone by the blue tinted sunglasses he takes on and off on this sunny day).
His smile is never far away and brings us back to the subject of happiness, and also golf. The two have appeared together in 2022. Brad has won three out of the five EDGA tournaments he has entered so far this season, sizzling form that has already seen him qualify for two G4D Tour events with the DP World Tour, and at the time of writing he had just received news that he has qualified for the G4D @ BMW PGA Championship in September at Wentworth.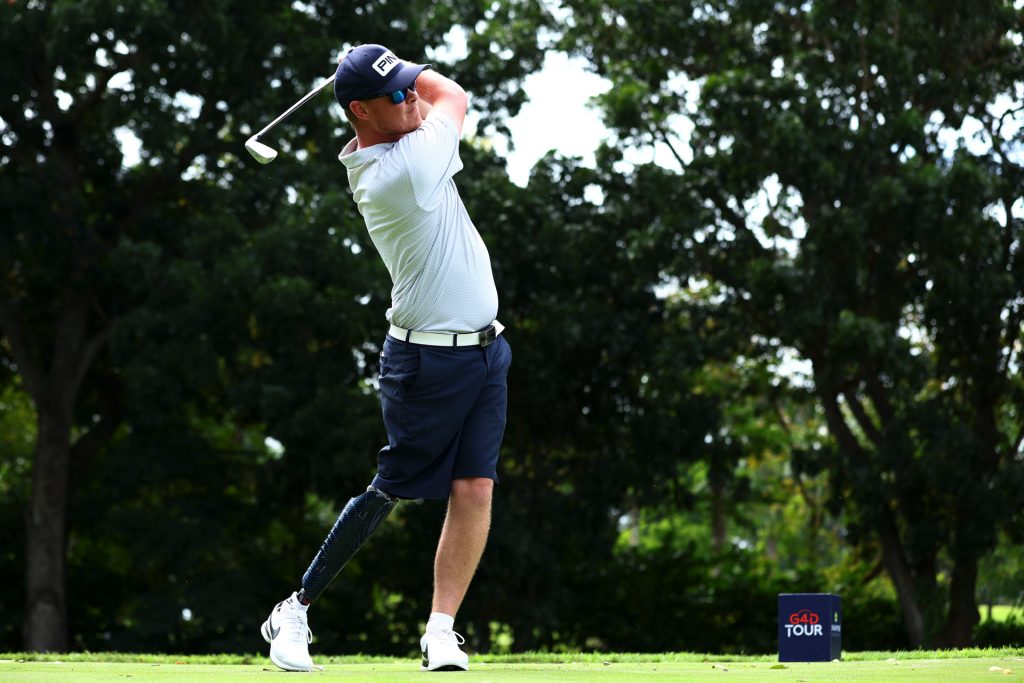 There, Brad will be sharing the practice area with the likes of Rory McIlroy and John Rahm. He had been along as a boy to watch the PGA event with his father and will now be fulfilling a golfing dream, with his twin brother Mitch on the bag as his caddy. The twins are steeped in golf and have supported each other every step of the way. For Brad, many, many hours on the practice range are being rewarded for a true golf aficionado.
Half an hour in his company and you find Brad loves golf and talking golf with other players, asking about their games. EDGA players have appreciated his dry and somewhat mischievous sense of humour and some – unbidden – have mentioned how supportive he has been to them this summer. The young Captain seems to have found his platoon.    
Introduced to the game by his father Steve and spurred on by Mitch, he started playing golf at 13. As his love for the game grew and his handicap tumbled into single figures, Brad and Mitch soon began to see a wider picture: could they emulate the top professionals they saw on television, or, failing that, carve out satisfying careers in the golf industry? The golf-loving twins left their school at 16 (Greshams in Norfolk) and completed their studies at The Golf College in West Sussex. So Brad had his Plan A, and Plan B in place, turning into his twenties playing off a 1.9 handicap.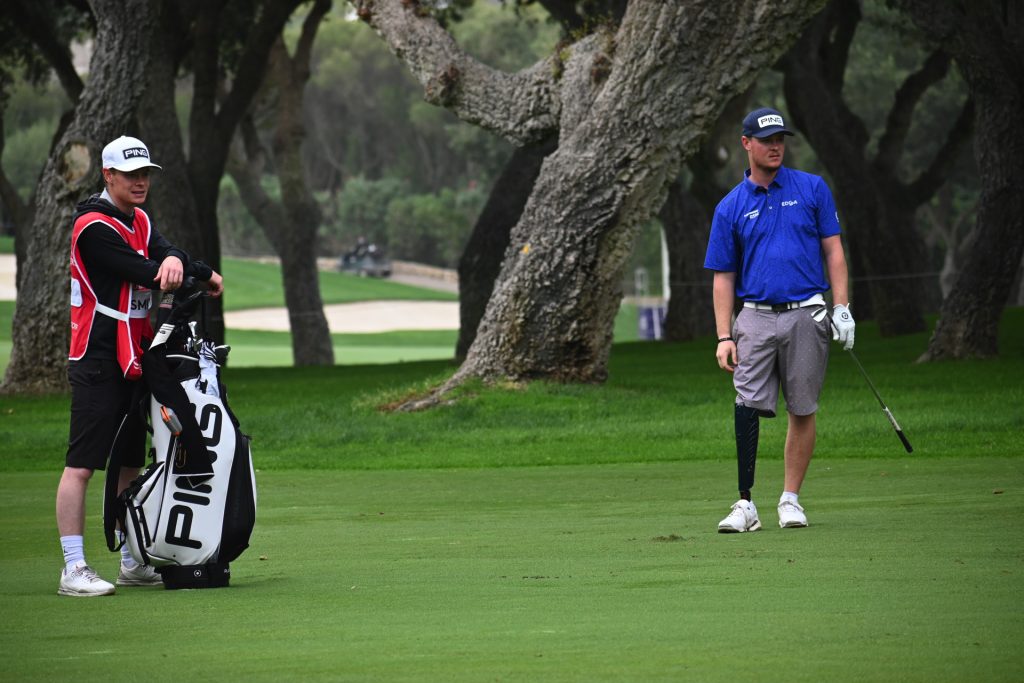 However, while Mitch went on to become a PGA Professional at Royal Cromer Golf Club (where Brad is a member), Brad is only now starting to fulfil his true golfing potential at the age of 27. He was working in the professional shop at Thetford Golf Club and was all booked in to start his PGA foundation degree at the age of 22 when Plan C surfaced.  
His right knee had been badly swollen for a couple of weeks. "Take painkillers" was the first medical opinion, "see you in two weeks". Then, as it got worse, an MRI scan was booked six weeks in the future and finally the results were conclusive: Brad had a rare and aggressive form of bone cancer in his knee and was in immediate danger.
For a young father with a little six-month old son and wife Abbie, this was a hammer blow, with the added deep frustration of delayed diagnosis.
After the first MRI scan, Brad was summoned to the hospital. He called his Mum, Laura.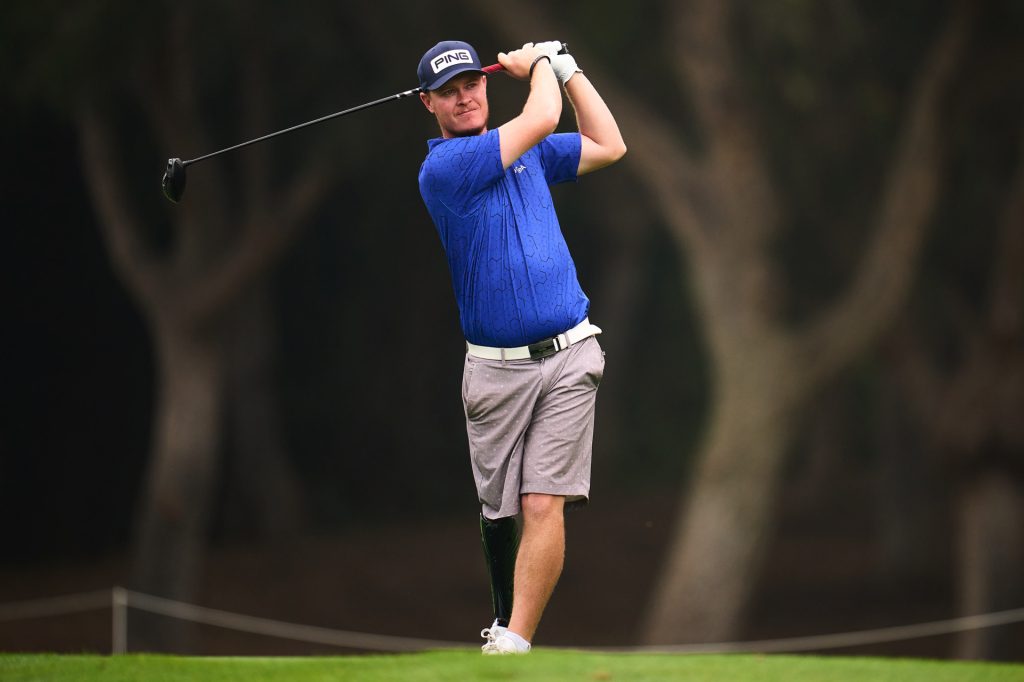 "And I said to her, they've called me up to the hospital tomorrow morning and Mum said, right, we're coming with you," said Brad. "I mean, that was, that was hard. The first thing before they told me… the doctor came in and said, 'How would you feel if you could never play golf again?'
"If when I had first gone to the GP, they had booked an MRI within a week, I might still have my leg of course," added Brad. "You know, it took me a little while to get over that, just that thought. But now I'm actually a lot happier than I used to be with two legs. I don't feel bitter about it.
"I was referred to a specialist in London, and he basically said to me, the only option is to take your leg off. I can try to save your leg, but then there will be a good chance that your cancer will come back. I said to him, yes, chop it off, have the chemo, all that stuff, and just move on.
"I remember, I think it was the day that I had the surgery. It was either Mum or Abbie. They went to sit on my bed just to my right where obviously my right leg would have been. And they went to sit down and I sort of screamed, I said, 'No, watch my leg there'. But it's not there. You know, there's a space there for them to sit. It took a while for the brain to actually register this, that part of my body was no longer there."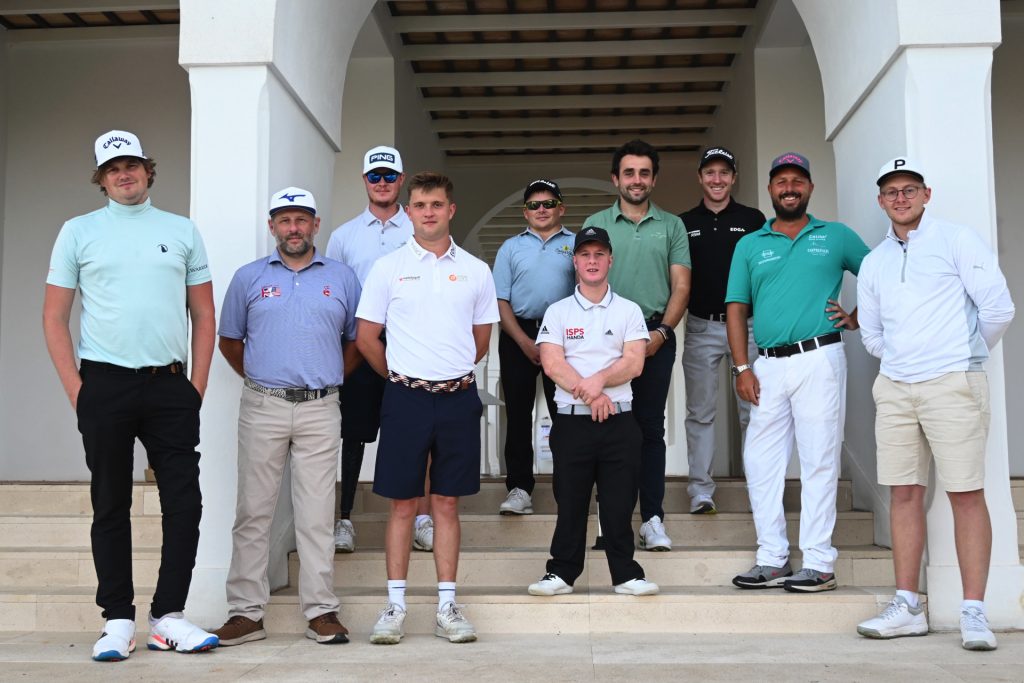 Brad has nothing but praise for all the hospital staff at Addenbrooke's Hospital in Cambridge who took care of him. He was booked into six rounds of chemotherapy, each time a week-long trial, when sickness and debilitation can reduce the patient to exhaustion and put their life at risk. Brad talks of surviving the process on autopilot, while being looked after by Abbie with their son Logan and all the family in support. Happy cheer when second son Jake was born during the treatment, while Abbie is now expecting a third baby later in the year.
The best possible news was that the cancer hadn't spread. When we spoke to Brad it was almost exactly five years to the day after the surgery; he is getting six-monthly checks just to be sure. 
While he was laid up in Addenbrooke's, Brad searched the internet and found EDGA, reading up about its competitions and watching one of the leading players, Juan Postigo Arce of Spain, in action on video. This focused Brad's mind on the possible once again.
Aided by the ever-encouraging Mitch and his father, Steve, he was determined to complete his rehabilitation and get back to golf quickly and make up for lost time. The physical pain was still a worry. His left hip bone had had to be replaced because the steroids given during treatment had caused the bone to crumble. Brad was struggling with his movement and not getting along with his prosthetic leg, the socket and cup mechanics causing pain and discomfort and affecting how he would swing the golf club again.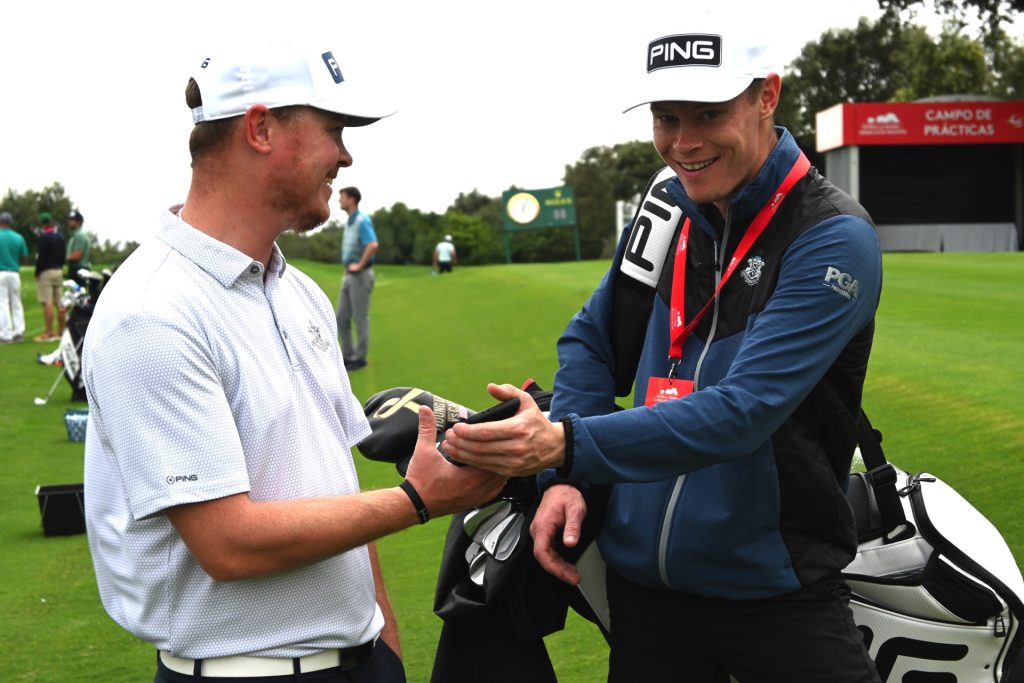 Brad now laughs at the early efforts back at the driving range, claiming he hit 10 'shanks' in a row as he struggled to find any balance. Brotherly tough-love and plenty of joking from Mitch helped, and testament to Brad's ability and work rate, he was soon back to playing decent golf off now a 5.4 handicap, savouring a sub-80 round in competition soon after.
Delighted though he was to play in his first EDGA event in Wales in 2018, he remained frustrated on the course, the confident young golfer had been replaced by a player feeling somewhat lost. This all led to a radical decision which would be the turning point for Brad.
"If I'd been happy in the socket, it would've been a very hard decision, but I was so miserable having that socket every day. I'd put it on, I'd be in pain all day and I'd start sweating. I'd come home and I'd take my leg off and I'd throw it against the wall. I'd had enough with it. So, for me, it's the best thing I could have done."
Brad took a plane to Australia, where a ground-breaking surgeon drilled a metal implant into the stump of his leg, so that his new prosthetic can just twist on and off the leg easily, while providing more comfort, stability and mobility. Brad says this crucial operation transformed his life; it was his game-changer.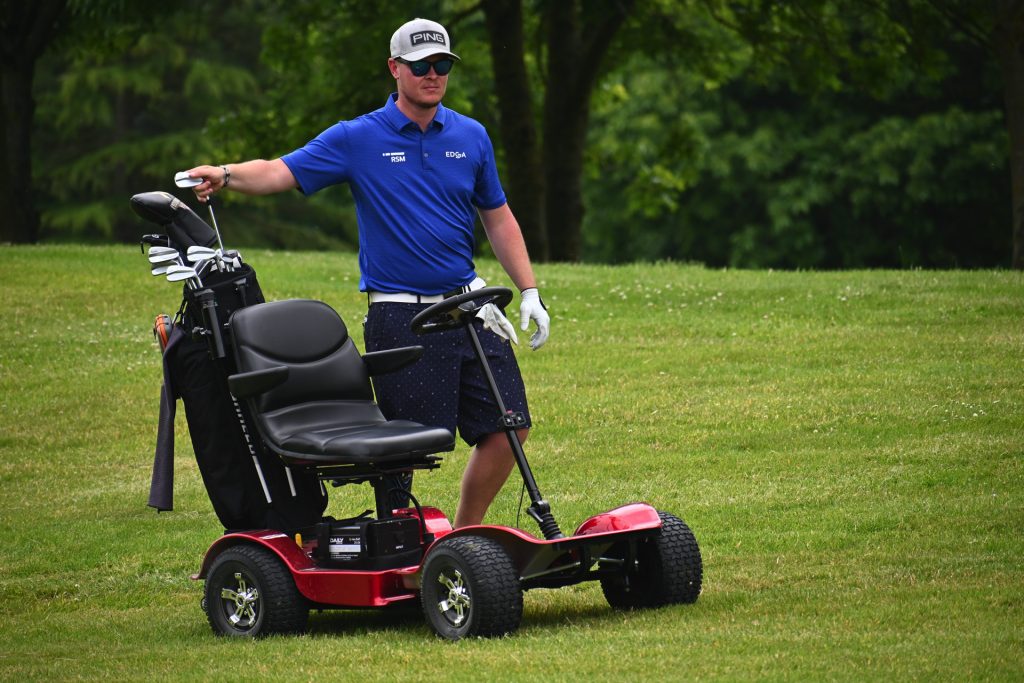 "And the movement is so much better. There's no pain. I feel the ground underneath me because it's connected to the actual skeleton."
More rehabilitation was needed after the surgery but now Brad felt great. Not even Covid-19 could dampen his enthusiasm for working on his game again.
Brad kept working on and off at Thetford Golf Club and had been working for his father, who owns a couple of residential care homes in Norfolk. Brad helps with maintenance on the building and the grounds and this work gives him the flexibility in which to practise. Father Steve is a keen golfer himself and has been hugely encouraging as well as supporting Brad financially to take part in more tournaments. Without his help, says Brad, his scope for testing himself in championship golf would be much reduced.
Thetford Golf Club has always been supportive as has everyone at Royal Cromer Golf Club where Brad remains a member. He has made lifelong friends at both of these "fantastic clubs".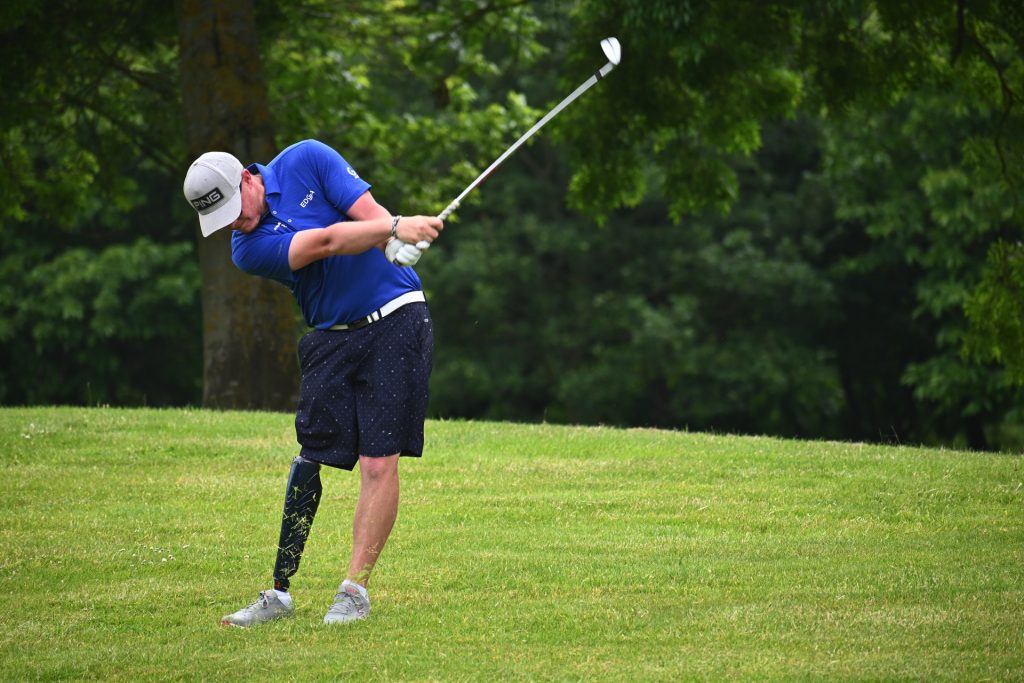 "To be honest, they have been brilliant. When I was going through chemo, the Norfolk County Golf Union and the club I worked at, Thetford Golf Club, between them and my home club, Royal Cromer, they organised charity days. So the one at Thetford, they split the charities between breast cancer and a fund for me."
The proceeds enabled Brad to buy an adapted car, to help with his leg movement, a hugely practical step for his young family going forwards.
And Brad Smith is going forwards full throttle in 2022. In EDGA tournaments he has become a feared competitor, most notably delivering a seven-shot win in the PING Open for Golfers with a Disability in mid-June, before achieving second place in the English Open for Golfers with a Disability a week later. In early July he won the Irish Open, and then at the end of that month he enjoyed a four-shot victory in the EDGA Rockliffe Open back in the North East of England. In late June and early August, Brad qualified to play in two G4D Tour events staged by the DP World Tour, the G4D @ Horizon Irish Open and the G4D @ ISPS Handa World Invitational.
In each of these G4D events he was one of 10 EDGA golfers to qualify from the World Ranking for Golfers with Disability (WR4GD). Brad was ranked eighth at the time of writing.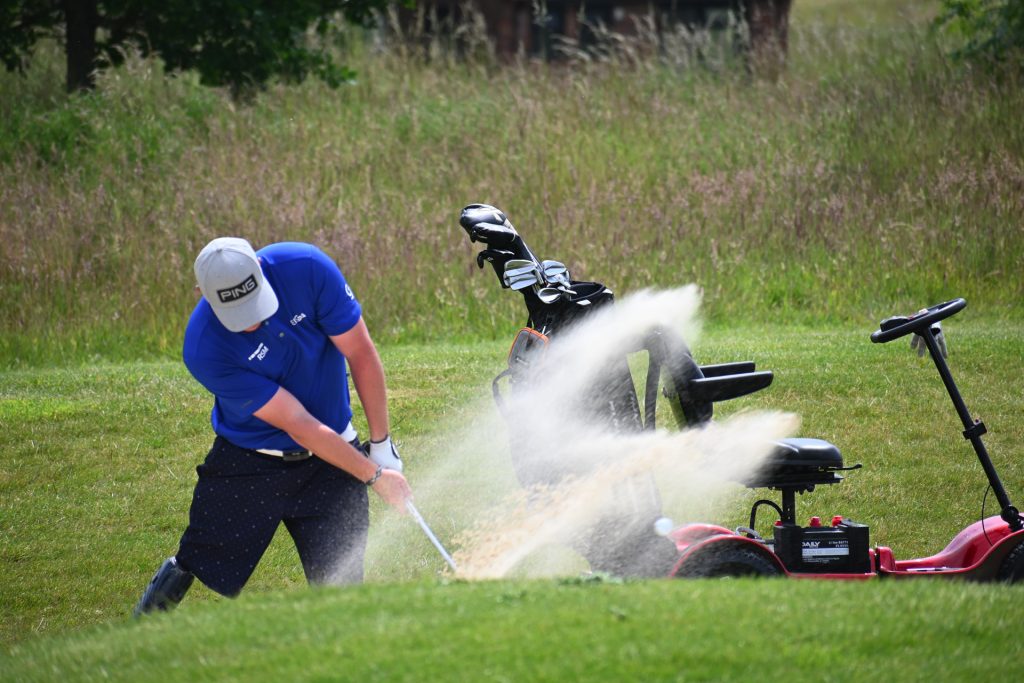 His easy-going personality has led to him making close friends quickly on the EDGA scene.
Brad said: "I've met some really nice people, you know, and it's like one massive family. It's a great place to be wherever you are in the world. So I'm happy right now.
"I think it's just that no one's looking at you differently, you know? I mean, I can walk down the street in my town and every now and then you feel eyes on you. At any EDGA event, you don't feel that. You just feel completely normal which, you know, everyone is. But there's none of that feeling that you are being watched or judged, there's no discrimination. It's just so normal.
"Before I lost my leg, I would get down quite a lot. I used to be quite an angry golfer. Now, obviously you have your highs and your lows, but I mean now a bad day is, you know, I'm still this side of the ground, if that makes sense. So that's my mindset you know, it could have very easily been the other way. So, a bad day of golf, isn't the worst thing in the world."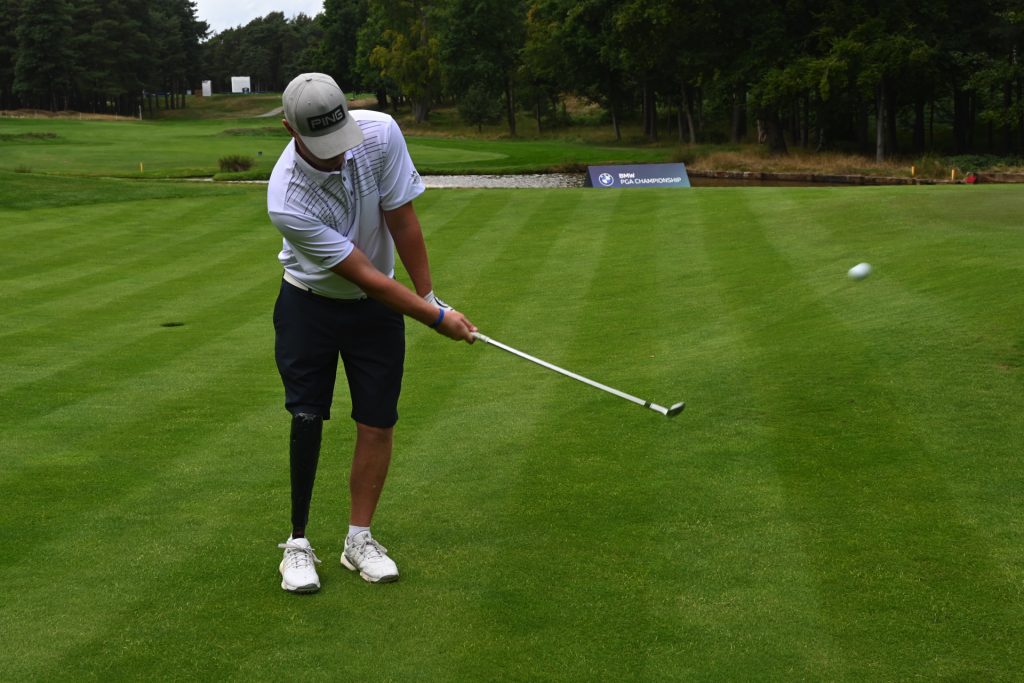 Brad knows the worst thing in the world. When he was being treated for cancer he met and shared conversations with another young man, who had pretty much the same condition that he had, with a very similar prognosis, and shared the same family optimism. Unfortunately, this courageous patient didn't survive while Brad did. This lottery has stayed with Brad, often in his thoughts five years on.
There is something about Brad's quiet, considered approach to conversation, a humbleness perhaps, that promotes trust among fellow players. A wise head on young shoulders to use a cliché. This and the fact that his words are coming from a very good golfer (he now plays off +1.1) helps to encourage those he spends time with on the course or on the terrace after a game.
One such player who had been making his debut in an EDGA event, said he was "amazed how supportive Brad had been; also playing his golf in exactly the right way, very competitive but very generous to the other players around him".
Brad says he is still learning at 27. Even now, while he is used to his prosthetic leg, he is learning to manage fatigue over a couple of days of tournament play. He is also aware that he has to work on his self-belief to take his game to the next level.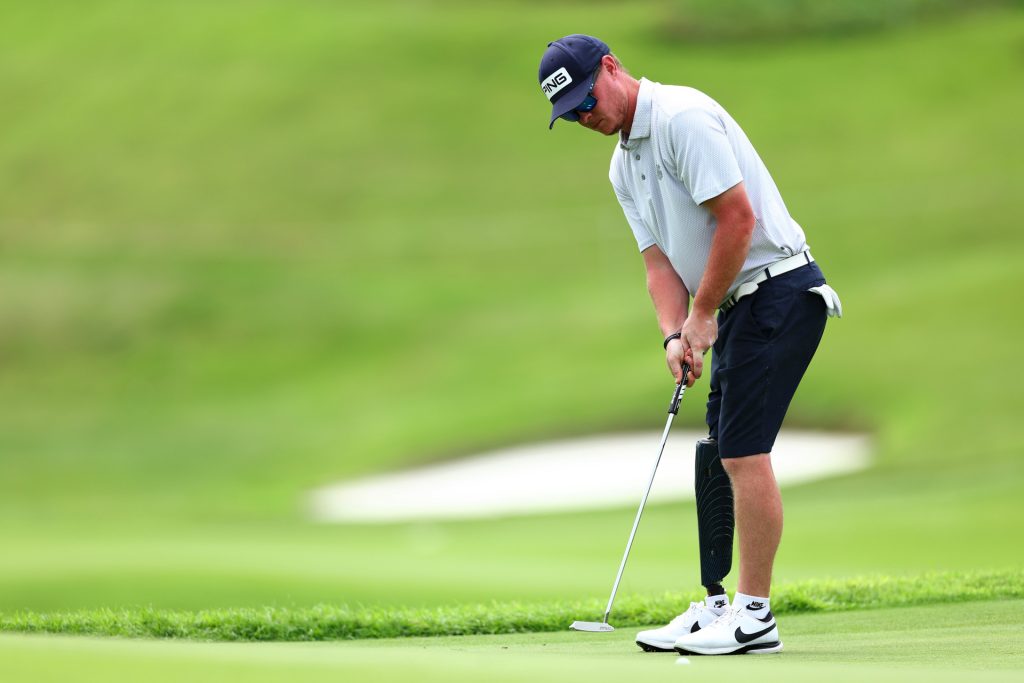 But he will have Mitch on his bag at Wentworth, and Brad is in no doubt that his brother will strike his usual balance between focus and fun as they take on the challenge. As with so many twins they are virtually inseparable and always try to find a game together once a week. Ask Brad who the better player is, and he'll give you a "no comment", best made from behind his sunglasses.
Meanwhile, Brad has clearly relished playing against the other top-10 ranked players in the G4D Tour events, the likes of Brendan Lawlor, Kipp Popert, Chris Biggins and Juan Postigo Arce.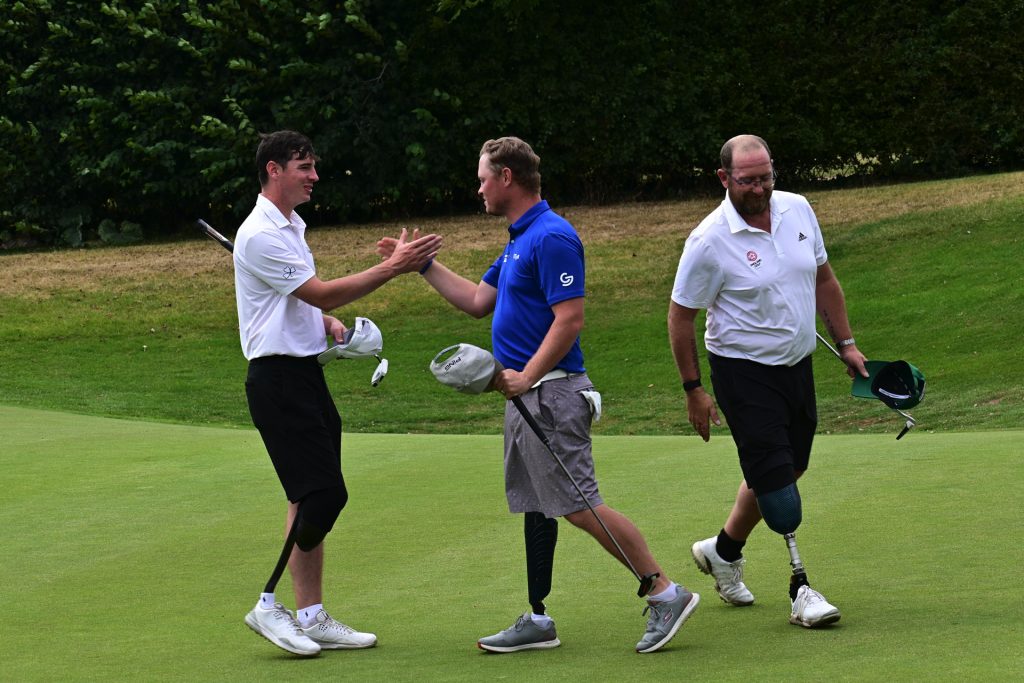 Juan Postigo was of course the player who Brad had seen on video and who had inspired him to think about playing EDGA events. It was "a very nice privilege" for Brad to meet Juan and play two rounds with the Spaniard on the G4D Tour.
Playing alongside Juan was clearly a happy moment, and as Brad said, this is what the game should be all about.
"I think without golf I'd be in a very different place, that's for sure. Without it, I wouldn't be who I am today. I think golf for me is happiness. That's what it really does mean. Obviously when you play, you're not always happy because sometimes you don't play the way you want to. But that's golf, that's life, you know, that's what happens. But yes, I think golf for me is just happiness."
Contact EDGA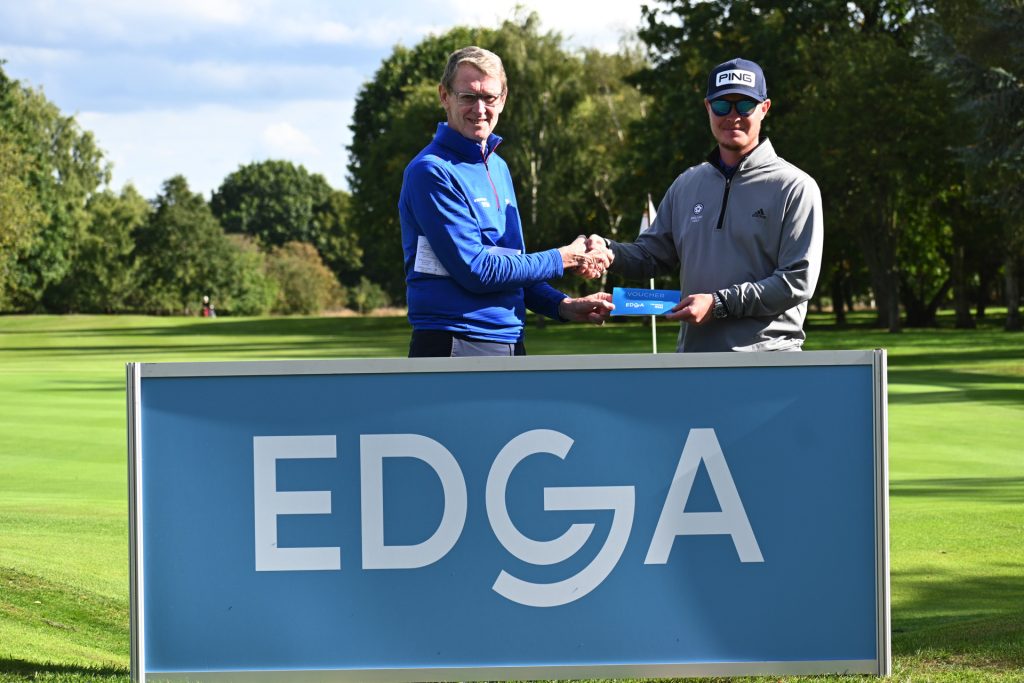 NB: When using any EDGA media, please comply with our copyright conditions