Audio: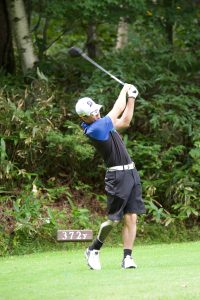 Hayato Yoshida's thoughts on golf here can be readily applied to most of life. He took up golf only at the age of 30 after his early years had taken twists and turns. But he is a golfer today (a PGA Professional in fact) and a philosophical one at that. He will tell you that "golf is life" and that "golf is a dialogue with yourself". Well, that view is certainly true, isn't it?  
Hayato survived a horrific injury as a young man, an accident that could have damaged his life irreparably. Indeed, it wrecked his boyhood dream of playing professional baseball (he was a good player at this too). However, despite the setback, Yoshida, from Kawasaki in the Greater Tokyo area of Japan, has managed to remain highly positive but also very much focused on what he can achieve in life.
Baseball aside, in his first go at a paid career as a young man, he had trained to be a firefighter. Firefighters need to be brave of course: it is in the job description. Usually, they need their courage to help those people most in need, in a crisis, in a burning building, but sometimes the courage is about the firefighter's own survival.
Studying for this career, one day Hayato Yoshida was nearly killed in a major motorbike crash, his right leg smashed and nearly torn away at the scene. Only his firefighter medical training and quick thinking led to him stemming the blood loss as he waited for the paramedics. Then, after surviving and undergoing rehabilitation, Hayato says that he started to see everything he experienced from then on as something for which to be thankful.
And Hayato's dedication to learning golf following his accident has had a transforming effect; his hard work on the practice ground and in competition has paid off, including winning his national championship. Today he is a recently qualified PGA Professional and ready to connect many other people to the sport he loves.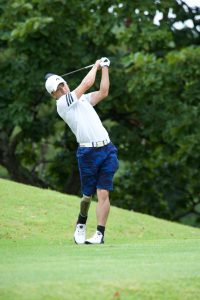 Like many youngsters around Tokyo, it had been a baseball dream to begin with for Hayato.  
He says: "In order to graduate from school and become a professional baseball player, I joined a non-professional club team and practised hard every day. However, one year after joining, I understood that I did not quite have the game to become a professional, and so I gave up my dream. So, after graduating from school, I still played for an amateur team and I worked in a restaurant in the evenings, but decided to try to become a firefighter in order to make the best use of my physical strength. I then left the club team and went to a vocational school, and started studying for exams every day."
Hayato's father, a taxi driver, and his mother who works in the caregiving industry, were supportive of this move into public service; firefighters are much respected for their work in Japan as they are pretty much all over the world.
While he studied, Hayato was working at the restaurant in the evenings. In the early morning of Valentine's Day, 2008,when he was 24 years old, Hayato had the motorcycle accident on his way home after a late-night shift. He remembers a taxi was parked on a two-lane road with its signal lights blinking in order to pick up a passenger.
Hayato says: "When I had just approached the centre-line and passed the taxi, the driver suddenly started moving and crashed into me from behind. Because I was hit from the back of my motorbike, I wasn't able to apply the brakes, and with that speed I crashed into a utility pole on the sidewalk on the other side of the road. My right leg was caught between my motorbike and the pole.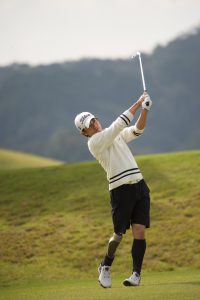 "At the crash scene, I saw that my right leg had been almost torn off. I had never seen so much blood and thought that I might die. Because I had been studying to become a fireman, I tied my belt high on my right leg to stop the bleeding. However, since I couldn't completely stop this bleeding, I watched myself lose blood little by little as I waited for the paramedics to arrive. As I waited, I was struggling to suppress my fear of death. Afraid of losing consciousness, I intentionally kept speaking. The ambulance arrived and the paramedics saved my life."
In modern times we often hear the phrase "life-changing injury". Hayato's calmness under intense pressure undoubtedly helped save his life. Following this trauma Hayato had to come to terms with a change in this life, but his positive reaction to altered circumstance is one the rest of us could only hope to exhibit in the same situation.
Hayato says: "The memory of this experience continues to keep me thankful to be alive. When I was hospitalised for a year-and-a-half because of an infection from the accident, and when the decision was finally made to amputate my leg after this time, I was able to tell myself: 'I can only experience this because I am alive.' This feeling of gratitude is what helped me survive this experience."
Hayato says he worked very hard in the rehabilitation phase for the following 18 months, including building up his core strength, and in his arms and his left leg to give him the best mobility for his life ahead. This would all pay off when they considered a prosthetic leg. 
"My doctor told me that it would take about a year to get used to walking with a prosthetic leg, but to my doctor's surprise, it took me only about a week, and I was quickly discharged from the hospital."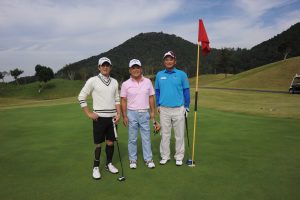 On the face of it you might expect Hayato to struggle mentally after his career as a firefighter was so dramatically halted, while his first sporting love of baseball would also be cruelly derailed. However, one day a childhood friend suggested trying golf, and not only would Hayato now find a new sporting focus but he would discover a new route for his career ahead. 
Whoever you are, no matter how good your hand-eye co-ordination might be through being skilled with a baseball bat, wielding a golf club is very different, and is always a particular challenge the first time you tee the golf ball up. For Hayato, it was also like this but despite all the slices and hooks, it was a first day at golf he will never forget.
"My first round of golf was when I was 30 years old. It was at the Lotte Minayoshidai Country Club. I scored 126. It was an exhilarating experience and I was able to enjoy the round completely. I will never forget what hitting those first shots was like. I thought it would be easy because I played baseball, but in reality it was very difficult."
We are speaking with Hayato shortly after he had climbed into the top-50 of the Gross division of the World Ranking for Golfers with Disability (the WR4GD); at the time of writing he is 43rd. This comes after his stellar victory in the 25thJapan Open Golf Championship for the Disabled last year in 2021. In just eight years after taking up golf (he is now 38), Hayato has achieved a handicap of 0.2. This is an amazing achievement and we asked whether there were any barriers for him to overcome to get there?
And here comes his answer: "I don't consider disability, I just consider what I can do."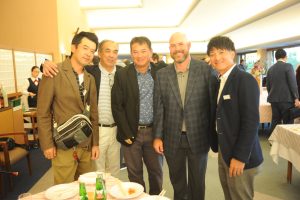 Looking back after that very first round to break the ice, Hayato could soon relax into playing well but it took a little longer to compete well under pressure.
"A year after my first round I was able to play in the 90s for one round. I was able to get a good score if I was playing for fun, but I was frustrated because I would score badly in competitions. At the same time, I enjoyed the competitions very much. I used this as motivation to practise, and in three years I became a single handicap player.
"I enjoyed playing golf in a setting where there is a tense atmosphere of playing against myself and at the same time competing with others. I wanted to challenge myself more and that is why I joined the Japan Disabled Golf Association. Also, with the goal of winning a lot of disabled golf tournaments and wanting to work in the golf industry, I am now working at the golf course at Yomiuri Golf Club. Currently, I work in the caddie-master room, managing guests, helping these players with their progress and arranging caddies for them."
We asked Hayato whether being an amputee adversely affected how he can swing the club, whether there are specific difficulties he struggles with. But his approach is balanced, both physically and mentally. 
"There is nothing in particular that troubles me," he says. "I think it depends on how you think about it and how you approach it. If something feels difficult, I change it to something that feels easier. For example, if I cannot take my stance well, because my ball is in a bad lie, I hit the ball on my one leg with a longer club (perhaps 'two-more club'). I think what is important with the golf swing is balance and control. I always try to hit the ball, not with a full swing but with a controlled shot so that I can keep my balance."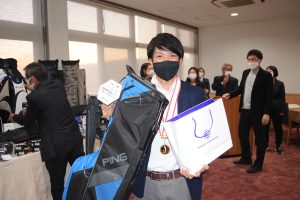 Taking just three years to get into single figures suggests real talent and also reminds us of Hayato's ability as a young boy in baseball. With Hayato's considerable playing skill, his deep love for his new sport and the good fortune he feels in surviving his motorbike accident – being given a second chance at life – it is perhaps no surprise that he is now starting a career as a PGA golf coach.
He says: "Beginning in 2022, I will begin working in the professional world as a pro golfer. I passed the PGA Teaching Pro test and I am in training. As a professional, I hope I can show others with similar disabilities that with training, they could become good golfers too. I hope to be a golfer who can show people how exciting life is, and encourage them to find as much satisfaction out of golf as I have done. Golf is an inspiring challenge that should be enjoyed by everyone."
Mixing with this practical desire now to coach others, Hayato shares a philosophical outlook, stating: "I believe golf is life itself."
He adds: "Golf is a dialogue with yourself. The result will come from the decisions you make. It is important to accept that any result is not someone's, or some thing's fault, but a result of your own actions. In this way, you can be in control. This creates a better golfer."
Taking Rory McIlroy's swing as a model for his own game, his goal is to move from the top-50 to the top-10 of the WR4GD.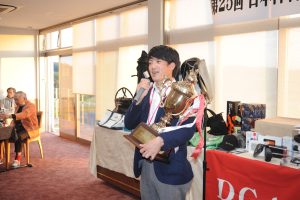 "My current driver shot is 290 yards and my average score is 72-75. My goal is to increase the driver distance to 300 yards and to lower my average score."
Taking ultimate responsibility for your own score is one of golf's – and life's – lessons. This Hayato has achieved, and he is looking to the future not just for himself but also some of the players he may soon be coaching.
"More people should know about para-golf, or golf for people with a disability. The more that people know about it, then the organisations will become bigger and the number of players will increase. So, I say let's all work together to make golf (paragolf) a paralympic sport."  
Hayato never complains about his life-changing injury. "I just consider what I can do," he says with a smile. This means knocking a golf ball around a golf course in great scores; testing himself to reach his potential. It also means encouraging others, as a professional, and as a golf teacher. It means bringing something unique from Hayato to the sport he loves so much. If we follow Hayato, we too can be on the right track in golf and in life.
Contact EDGA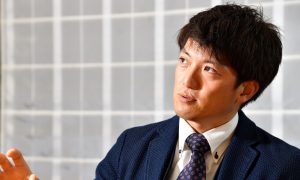 NB: When using any EDGA media, please comply with our copyright conditions