Audio: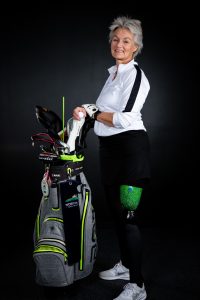 Benedicte Finnema was 53 years-old and like many Norwegians she loved her sport; enjoyed everything about keeping fit and being an athlete. Then came a ski accident in 2016 that would have a huge impact on her life. As she lay in hospital and then working in the long hours of rehab before later finally deciding to have her leg amputated, Benedicte was able to first cope, and then take a positive view for the future, by focusing on three things: her golf, her love of kayaking at sea and a treasured friend called Ollie.
To recover from such injuries and the trauma of shattering her leg, Benedicte has shown a personal resilience first discovered during a difficult childhood. Added to this was the realisation that ultimately, learning to live without a leg is an intense personal challenge; it's down to you – when you are ready. However, she has also discovered, helped by her family (she has a daughter called Cathrine), and her friends in the sport of golf, that you don't need to do all this alone. Benedicte has found a brother-and-sisterhood in golf, and it's one she loves.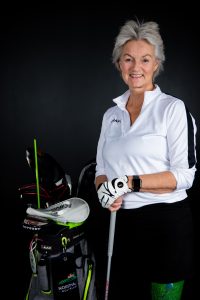 Her story has some dark times, but after darkness so often comes light. We are talking to Benedicte in the literally dark days of winter in her home city of Oslo, and how good is it on a freezing day outside to find her playing golf in her regular group indoors in the warm, at the TopGolf venue that is part of the facility at her club, Nordhaug Golf Club.
Here, once a week, the Norwegian Golf Federation runs 'GGG', which translates as 'Golf, Green, Happiness'. Benedicte volunteers as a team leader for this scheme and she's also on the Board for her golf club. When we speak, the GGG group has been playing some of the world's famous golf holes on simulators together. Today, Benedicte also volunteers in support of a national activity project for amputees called 'Momentum', and also a group supporting people with disability in the sport of kayaking. She tells us that volunteering gives her added 'drive' and at the same time she is putting something back into the golfing community which has served her so well.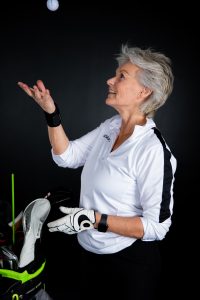 Benedicte was a golfer already before the accident: she started playing 15 years ago. 
"Well, it all started in 2007. And of course, like a lot of people, I was hooked instantly. So we played a lot and I kind of didn't quit, but it became less and less golf for me due to work and my career [in business development and management] and family situation. And in 2016, I was in an Alpine skiing accident and from that I have lost my left leg. So I was badly injured. I spent three months in hospital on my back and they tried like 12 or 13 different surgeries. I've been in and out of the rehab centres and my only thought was to be able to walk again; and on my list, on my way back to life, there were three things. First was actually walking the dog, the second was of course playing golf, and the third was getting back into my kayak."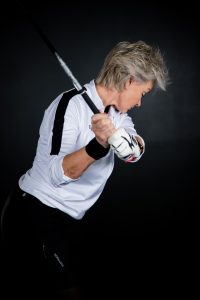 Skiing can be exhilarating but as soon as you are not in control, it is one of the most dangerous of all sports.
Benedicte says: "I knew immediately because I hit a tree. So my whole left side was smashed to pieces. And actually you can feel that it's a bad thing, I just knew it immediately. And then I got this really bad taste in my mouth and it turns out to be blood. It was a hard hit. I can't move and I can't feel my leg, but I was never scared. I was just trying to stay awake. Fortunately, the girl I was skiing with is a doctor and she was working in the ER in one of the hospitals in Oslo.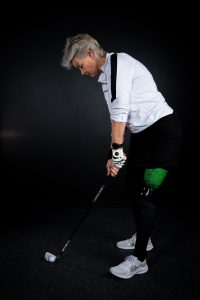 "So she saw everything and she tried to do the best she could, but we were way up in the higher terrain. So when the ambulance finally came, they couldn't reach us. We had to call the ski patrol and from there it was a pretty quick ride down to the ER at the ski centre. But it was very painful, and I just remember, they tried to take off my boots and to tear up my clothes and tried to keep me conscious and yes, I knew straight away that it was bad."
The accident was in 2016 but she decided to have an elective amputation of her left leg in 2019.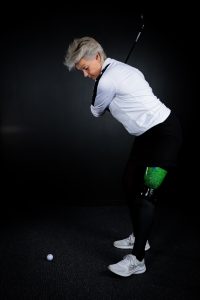 "When finally my leg died, I was actually on the golf course. I just had to realise that I was going to lose it, and I did. And it's way better to be an amputee rather than have a leg that doesn't work at all."
Benedicte said the orthopedic surgeons at the university hospital in Oslo were excellent. Her multiple surgeries all came with extensive rehab; walking, trying golf. A hugely difficult but sometimes hopeful time.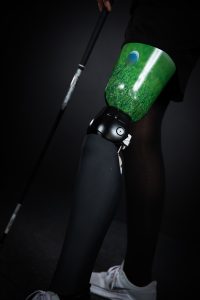 Benedicte says: "It was very painful. I lost a lot of weight, but I still had my sense of humour and my daughter and of course my family; they have been very supportive. And in the end I realised that I cannot just walk around and feel sorry for myself. I need to actually get this right and do this job myself, not rely on anyone. A psychologist said you have to set a plan, set a goal, follow the plan in order to reach your goal and you have to take it from there. So what is the first thing that pops into your mind? What is the very number one thing you really want to do? For me, it was golf."
The resilience she was able to summon in part came from tough times earlier in her childhood.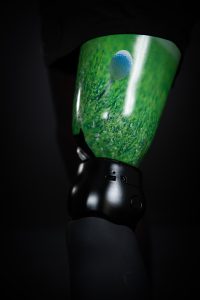 "Well, this is a really sad thing to say, but we didn't have the best childhood ever. So we learned this very early, my brother and I, to take care of ourselves. We just figured out that we had to fight for ourselves. And since we had each other, it was easier. And we had other family members that took care of us and got us into different sports. I just learned to take care of myself because if I didn't do that, who would?
"And so this was my responsibility. I was 12 when I was basically alone in many situations, and that made me a strong person. There have been ups and downs, especially after the accident. I was in a very dark place for nearly a year, but I think that we all have the willpower in us; it just needs waking up. Willpower is the largest muscle in the human body and you just have to wake it up. Then you'll manage to do things you never believed you could actually do, but it's about pushing yourself. Most of the times I have reached my goals and it is painful also, but if you don't mind the pain it's okay."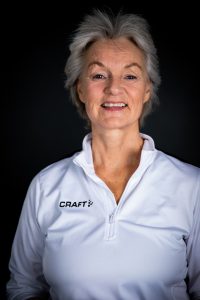 We draw strength from life experiences and sometimes one person, or even one animal, can help you.
"His name is Ollie. He is a 12 year-old bearded Collie and he was six years old when the accident happened. He was very fit like me because we were doing everything together. We were hiking, skiing, cross country, everything. And well, after the accident, I couldn't take care of him for six months or so. And this dog is my heart actually. So I just wanted to do everything I could manage to do to take care of him the best I could. And of course to walk him because I was used to walking like 20K every day, but now we are actually on 10K every day.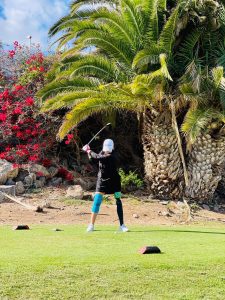 "Sport has been my life, I cared so much about it. I had been an athlete in my younger days. For me, it's all about keeping your body fit, your mind fit, being healthy, having fun doing something that you really love. Kayaking is meditation definitely. I'm very lucky because I was asked not many months ago to join the national kayak association in Norway to start an accessible programme for wheelchair users and others with disability. We have designed a really nice programme so any person with a disability that wants to kayak with us is welcome. And finally this summer, it was a really big celebration because I managed to get up and stand on the paddle board."
Why does Benedicte kayak?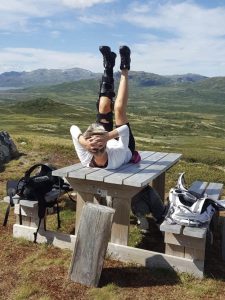 "It's silent on the sea. It's refreshing. We always kayak with others. We plan our trips and we kayak for say an hour-and-a-half, and then back to the clubhouse. We are are doing this just to support each other and to have a meditation session on the sea where we are padelling and we don't say anything. We just listen to the nature and look at the birds and you get another kind of awareness when you're out there because it's so calm."
Benedicte has a similar sense of deep satisfaction with golf, where the love of nature is there, testing yourself to improve, but also being part of a group of likeminded golfers.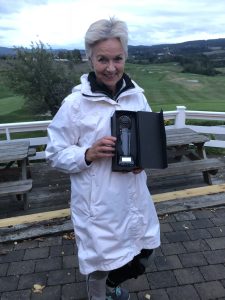 "Because golf has always been a sport for me that actually does something really positive to your body and soul and mind. You have to play golf with a purpose, and I am quite a competitive person. And when the Norwegian Golf Federation actually gave me a place in the 'paragolf' group, I just had to grab that opportunity and start from scratch again. And like the kayaking I got so into my golf, I became the most maniac golf player ever! We've playedtournaments, enjoyed training days. We have our own coach and it's just being social and being part of a very important group of people. We are supporting and learning from each other and we just have a really good time. So it's about safety and feeling that you belong in a good group.
"It is when I'm driving to the club and I just go in there and get my bag, I'm in a different zone. I feel like I'm kind of home because you cannot do this on your own. You have to have people with you.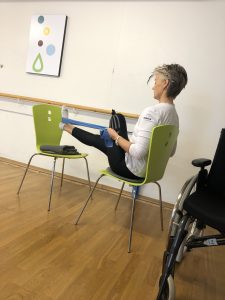 "It's very important to have a place where you feel you belong. And for me, that's been healthy and without having any disability for 53 years, I found myself disabled, not being able to do most of the things I loved. It's really, really nice to have a place where you feel you belong and that you can be with others in the same boat, and we all just love to play golf, and it's just amazing being part of that."
For Benedicte, looking ahead means more EDGA competitive tournaments at home and abroad; she would love to play in Scotland.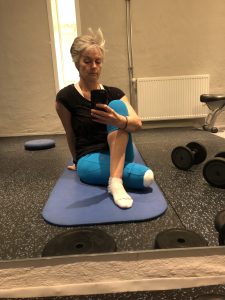 Benedicte says she owes a great deal to her coach Mark Davies, a PGA Advanced Professional, and she says without him she'd be lost as she seeks to lower her golf handicap. She believes that coach and student have both learned a great deal together in how to build a good game for an amputee golfer, from the mechanics of the swing and balance to how she has to learn technique when she is actually very tired. Benedicte is also highly grateful to EDGA Head of Development Mark Taylor who supported her and other golfers with disability on a recent trip to Oslo. She wanted to thank Mark and heralds him as "an amazing coach".
"After the accident I was tired a lot. So you had to like repeat the thing 10 times before I really got it and my concentration is still not very good, but when they show you something, physically, they show you how to use your time well to get better. So I'm actually now able to remember the advice and remember what they're trying to teach me. I've been exhausted by just being out on the golf course, playing four holes, even though I do have a golf cart. So you just have to get past that and try to focus on the physical game in front of you."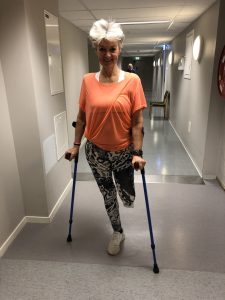 We asked Benedicte what advice she might give to a person who has been through a similar set of challenges after accident or illness. In offering this, she also points to her work with Momentum, which supports amputees and visits hospitals and clinics to encourage patients to try sports and hobbies.
"First of all, they need to reach out when they're ready. That is very important. Well, I am in an amputee organisation called Momentum. We are 800 members, we're all amputees and we are a very active group here in Oslo. They have to want it for themselves. And when they do that, that's when you can speak with them. You need to let them ask all kinds of questions and you need to recognise that this person is maybe in shock because it is quite traumatic to wake up and they realise, 'Oh, I have lost 25% of my body, okay.'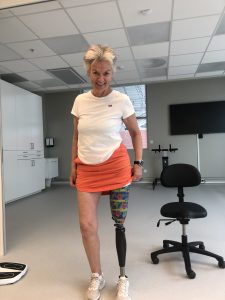 "I mean, that is a shock for most people. So they need time to get around to it. You have to bury your past life and you have to focus on your new life and you have to design a new life. And in that life, you need to decide whether it's going to be good or not. And if you want it to be good, you have to make a plan. And then we can recommend like three or four activities, and golf is one of them, including in our rehab centres."
Benedicte adds: "It's about mental health. This is an activity, you're out and it's beautiful on a golf course. I mean, you cannot say that a golf course is not beautiful. You're out in nature and you can hit the ball or not, or just be there, but still you're doing a very, very nice activity with other people and they're not all good players. Most of us play golf because we think it's fun. So it's the fun thing that you need to focus on.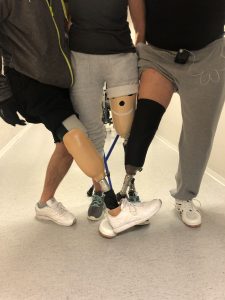 "It can be people with a disability, amputees, whatever: it's mastering golf that really takes them forward. And this is what we know for a fact: this is mental health and physical health in one term. It's very important. I'm doing all this voluntarily, it drives me on, I'm going around to clubs, talking about this because it's very important. All they need to do is to send out an email, come to us, try golf, be here."
Benedicte's kayak, her golf and volunteering, her friends, her dog, and her considerable willpower, have all helped her to turn the dark days into light. 
* Momentum association for amputees – https://www.momentum.nu/
Contact EDGA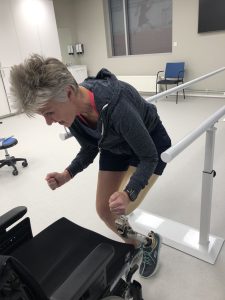 NB: When using any EDGA media, please comply with our copyright conditions