Audio: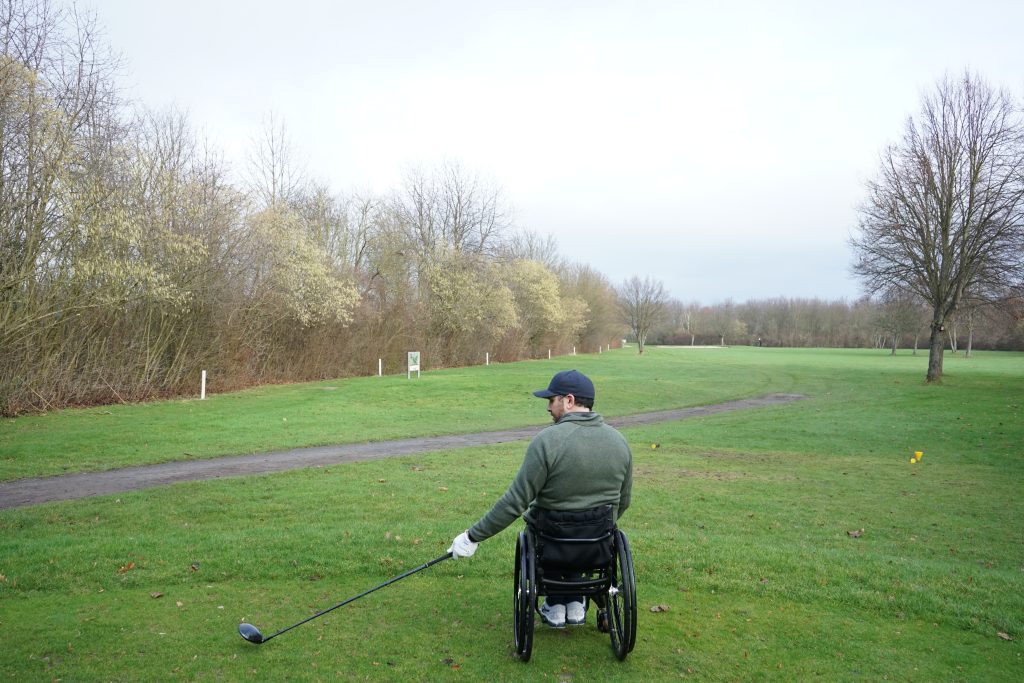 Nael Ogden-Smith is something of a key player in the Paralympic movement: one of the reasons he's an asset to the cause is because he genuinely loves sport and understands its value to people. It can make your day, save your day, and sometimes much more. 
As a young boy raised in Lebanon, Nael and his friends were always so keen to play together, even as civil war gripped the country; life carried on. This positive outlook shaped him and his family around him.
When he was in his early twenties, a bad car accident would put him in a wheelchair. He accepted this blow stoically but this is a story about his remarkable determination to recover – as much as he possibly could – to get as fit, healthy and mentally strong as he was able, to ensure his ongoing independence; to 'thrive not just survive'.
How can you start on such a trail? Well, Nael's answer was to train towards, and then race in a marathon, several marathons in fact.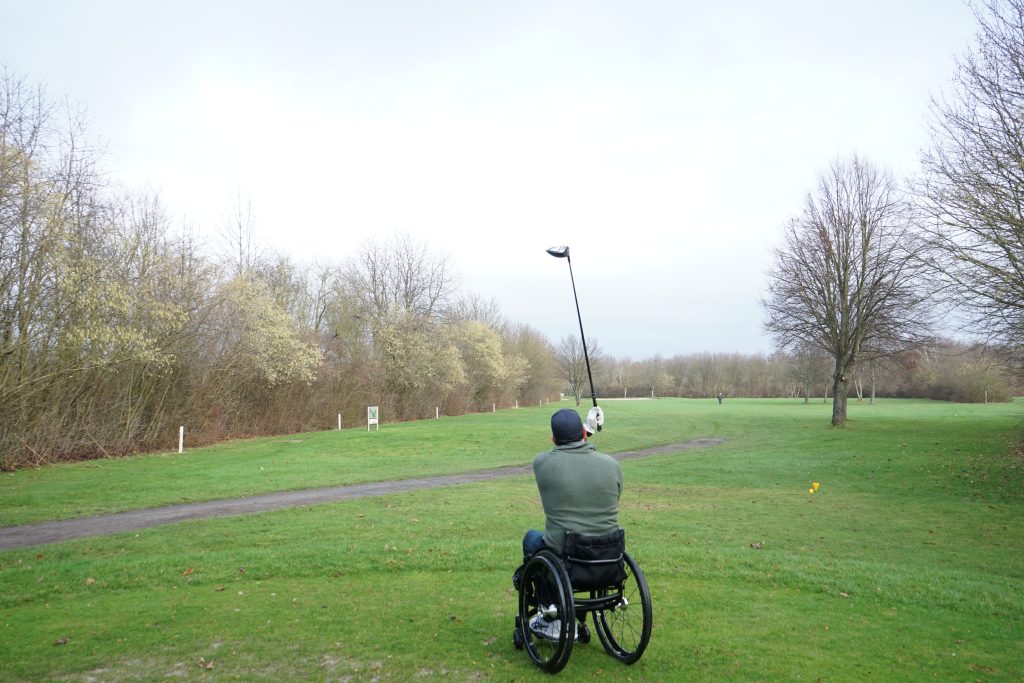 The 26.2 miles may have been incredibly tough for him nearly 20 years ago, but he succeeded. He remains on the trail, and today golf is the sport that gets him up early in the morning.
Nael loves playing it and finds golf highly challenging physically and mentally, relishing the learning process. We all need to keep learning. From the first shot he took aged 43, golf had hooked in another player. 
We talked with Nael Ogden-Smith from his home in Bonn, Germany, where he lives with his wife Kelly and young son Jude. Work-wise he is looking ahead to the next Paralympics, a professional journey which for him started at the remarkable Olympics in London back in 2012, and finds him today as Head of Partnership Services for the International Paralympic Committee (IPC).
London was his big opportunity. Nael says: "It was a very big games to start my journey working in the Paralympic movement. I was working in a different department within the games as I am today, which is the partnership and sponsorship side. So I got the opportunity because of my background in knowing Arabic. I was basically taking care of and handling and managing the teams coming from the Middle East, specifically the Arabic speaking ones. So I handled 11 National Olympic Committees, that's how it started for me."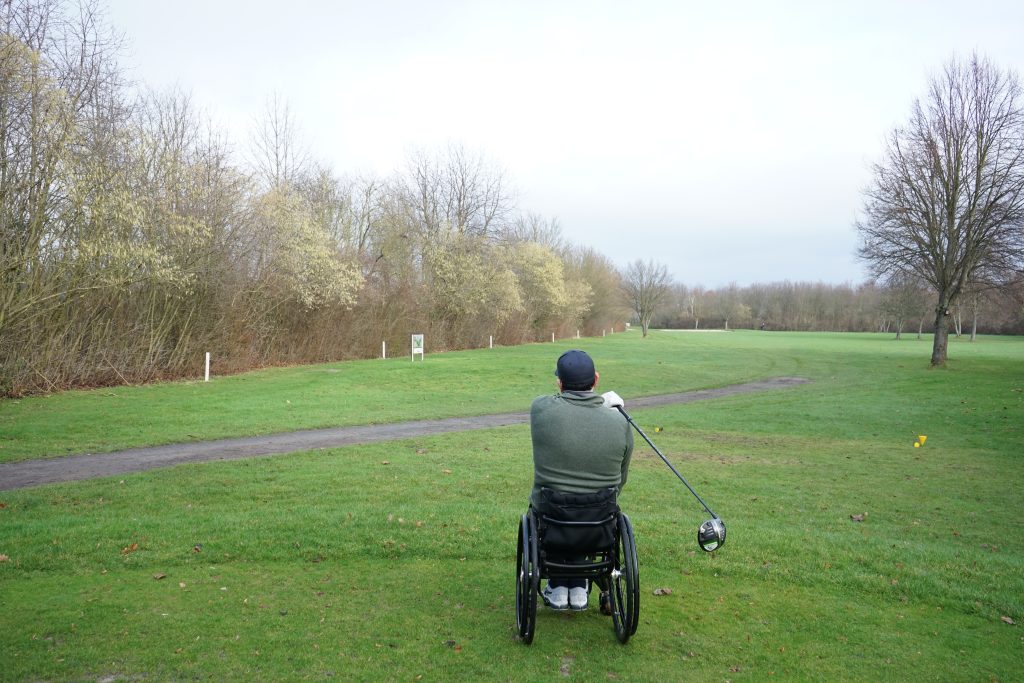 Nael is second generation Lebanese, after his British grandfather settled in the Middle East; hence the surname.
"I was born in the late seventies; this was at the start of the Lebanese civil war. Some days you went to school and some days you didn't because of the situation. So for 15 years of childhood, it was kind of trying to stay out of trouble there. When you're at that young age, you're protected by your parents and not involved yourself, but of course it's around you. Even with civil war and any type of conflict, life does continue to some extent; you still go to school, you still do sport."
In the quieter times he would be sure to play with his friends. With Beirut lying on the Mediterranean coastline but close to the mountains, there were water sports, school team sports (he loved basketball) but also skiing and snowboarding.
"Pre-accident my main focus was on skiing and snowboarding, from a very early age, from maybe four years old. And then, in the summer of course, everything was in the water: scuba diving, water skiing, snorkelling, fishing. And in school it was always basketball!"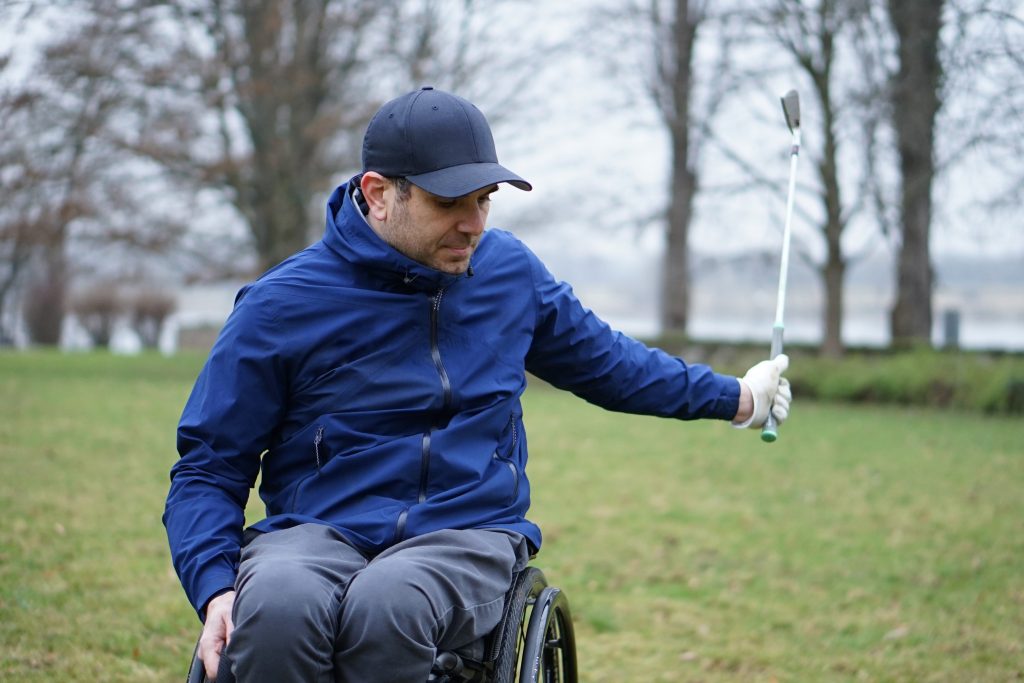 Nael became a graduate of the American University of Beirut, after studying Business Administration. The car accident happened when he was 22 years old. Being 45 today, he says he has been aware in recent times that his life has been split into two equal parts.
"I had just graduated from university. I sustained an injury to my spinal cord at the thoracic ninth level [ninth vertebra], which is right around the belly button in height. It was one of those accidents that just happened. But you survive it and then you start coping and start thinking about what lies in front of you after going through a bit of a setback, to say the least."
Nael was conscious in the moments after the crash and just a day or so later he understood many of the issues facing him in his life ahead.  
"I knew immediately. I'd lost consciousness for a couple seconds, but woke up, out of the car, I was ejected from the passenger seat. I knew that it was something related to my spine as I couldn't pull myself out properly. I had to wait for some time before the ambulance arrived. And then yes, it wasn't a shock of course when the doctors, a few days after my surgery, came and told me… It's not that you instantly accept it, but it definitely wasn't surprise news to me."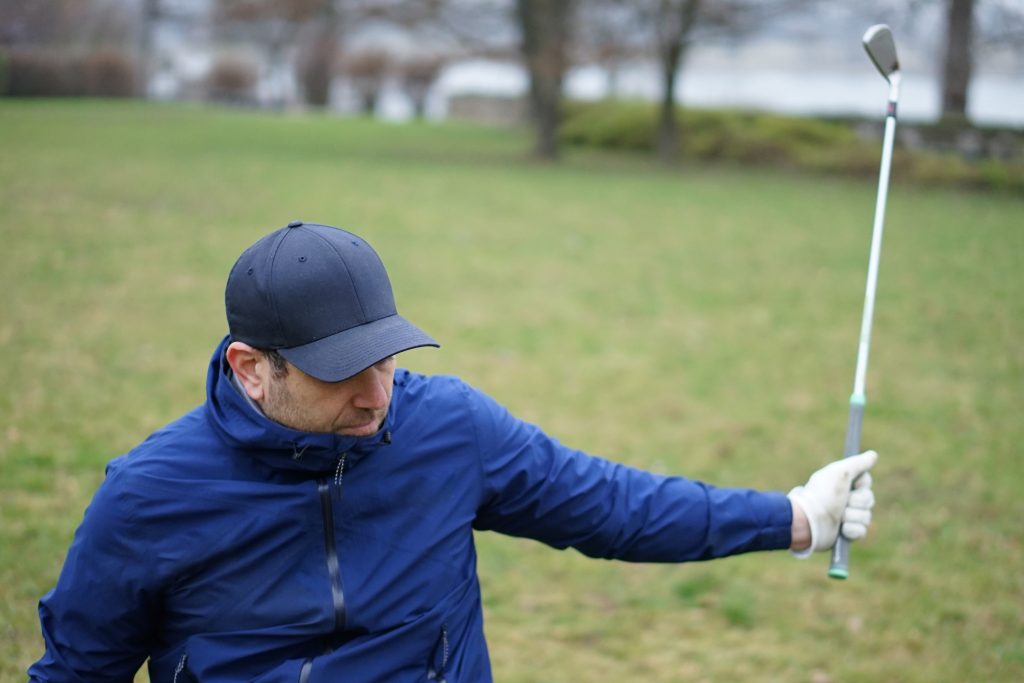 The first surgery took 12-hours and later a second surgery helped stabilise his spine with steel rods and other hardware.
"Then things were moving in the right direction. I had the occasional infections and lung trouble, but I didn't have major setbacks. So we started straight away, my brother Tarek, my friends and my family, we started to think about the next step, the rehabilitation phase. Back in the late nineties in Beirut, there weren't as good rehabilitation centres. We started to look at the possibilities of elsewhere; Europe and the US, and this was kind of the second phase of the accident for me. 
"So it was, how do I get back into the gym? How do I start exercising? How do I use whatever function I have to maximise that."
Nael talks of wanting to "thrive rather than simply survive", and explains a 'hunger' to make real progress. First to England where he spent a few weeks at Stoke Mandeville before finding just the right place in Atlanta, USA, the Shepherd Centre being a specialist in spinal cord injuries.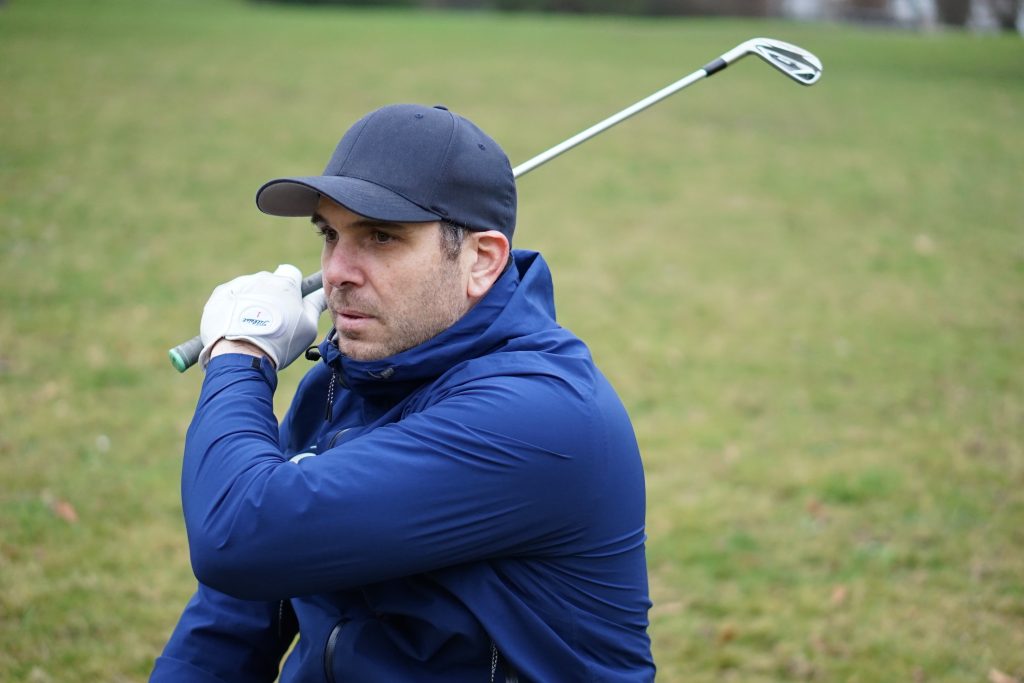 "At Shepherd, when I got there, it had that mix of having things like a gym and connected with a hospital. It had everything from a pool to a basketball court, to teaching you how to drive again, or how to just leave the premises and go to a movie theatre and experience how it is to buy your own ticket and get seated, and to ask for help when needed, to go through the whole experience of living. They even provided you with a small apartment where you had to prove that you could live as independently as possible. So it takes you through the whole day to day aspect, which is really important in independent living."
In his early twenties, Nael was thinking of work and his friends and family, so it was back to Beirut where he worked in the food business for a while. This was all helping the feeling of independence at perhaps the most challenging time in his life. 
"Of course going back to Beirut after the accident was difficult at the beginning, but it's when I reached out to sport to help me in my adaptation phase… because this is when things really hit you at the beginning. It's when you go back to the normal life, but life is not normal. It's just not normal anymore.
"[Life has] changed on many, many fronts. The first couple of years were of course the more difficult ones and sport was definitely the vehicle for me to kind of get out of that 'valley' let's say, for lack of a better word. I wasn't open to jumping back into every single sport that I was doing, but I think a year into it I started to think that things had to change. I can't be just waiting for things to happen. It was the beginning of the online [internet] days, and I bought my first racing wheelchair to start practising for, something I just wanted to do, and that was a marathon."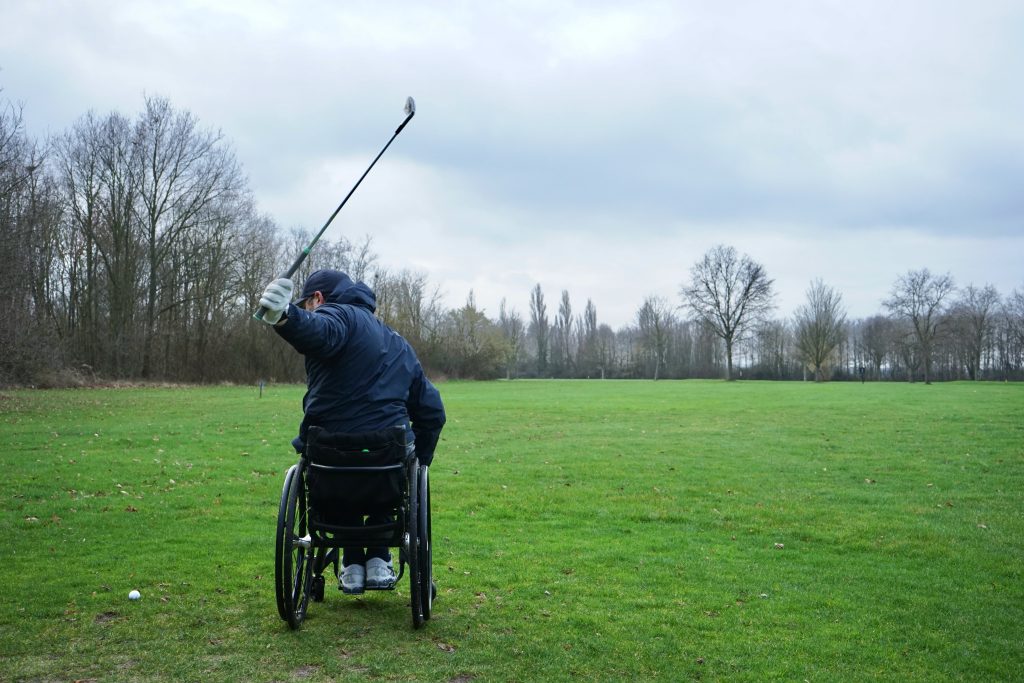 Nael adds: "In 2001 I took my first racing chair down to the beautiful Corniche in Beirut where I could train in the morning for an hour before going to work. And then in 2004 it was the first Beirut marathon. I became the chairperson for the wheelchair division and started to put that together with the founder of the Beirut marathon association. I actually worked as a volunteer organiser for them while I was also racing in it."
He laughs, and continues: "So it was crazy to do both at the same time, but I just didn't want to miss out on both opportunities.
"It was great, the whole process of training was something, you know, I'm very much process driven when it comes to sports. And the technical side of equipment, I love getting into that. Your gloves have to be very specific to how you're racing, your seating position, the equipment, the carbon wheels, and so forth. I love waking really early in the morning, just to train. It keeps your focus and your mental side in check.
"We created this small committee for the athletes with disabilities and we had people taking part in day chairs. We also had people taking part in racing chairs and others doing it on hand bikes as well – it was great! We even had a turnout in the first year from some international racers who came into Beirut, there were maybe 20 athletes with disabilities in all. So it was really, really good. And at the end, after crossing the finish line – which was a very long time of course in your first race – I had to jump and grab a microphone and do some interviews with other athletes who had just crossed the line as well. So I was definitely wearing many hats that day!"
His first marathon test would lead to more, and he would compete over the classic distance in Paris, New York, Switzerland and Japan.
The sport of golf would come later to Nael. He started a year and a half ago during Covid, after being encouraged by both his brother, wife and a friend.
"They always told me, you should try it, you should try it, and I was always kind of pushing it to the side. I'd sometimes watch my brother from the golf cart but one day a very good friend of mine said, 'We're going to hit some balls at the driving range. You want to come?'
"I was, yes, of course, I'll tag along. And we're a bunch of friends. I'm a left-hander, as is my wife, and they just said, you know, this is the way you hold the club and just, you know, swing it… And then, they're like, now, just get down on the grass for a bit. They teed up a ball for me. Then, when you hit your first ball it just hooks you! So that was it. It only needed for me to hit that one ball, I think. And then I wanted another one up on the tee. Once you get that small flight, it just kind of captures you.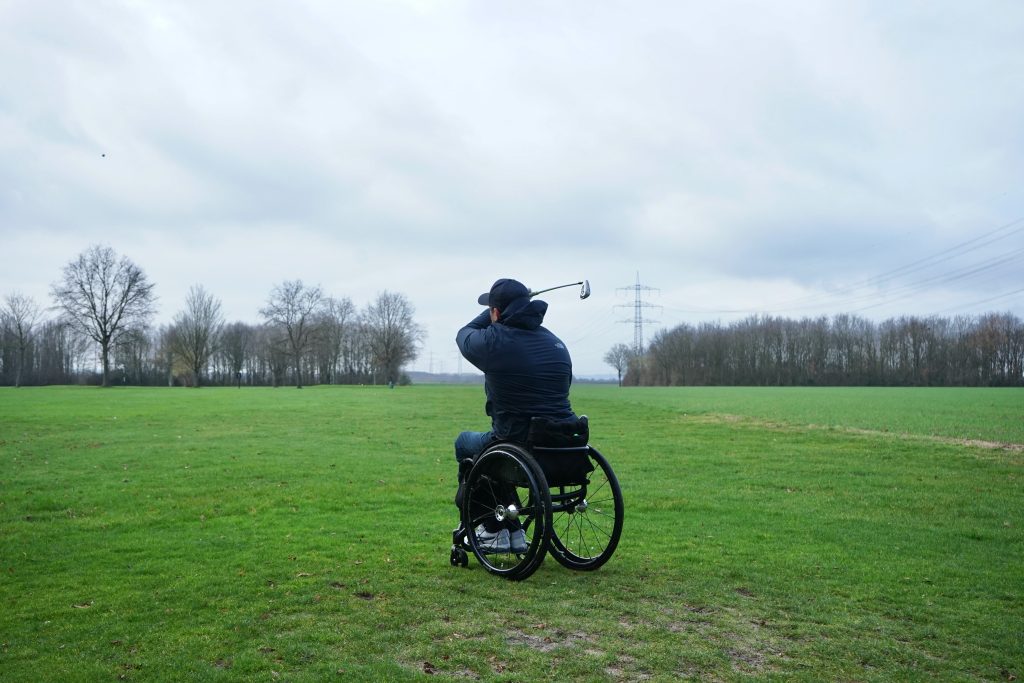 "I was hungry to hit some more buckets at the driving range, which was open during Covid. I just went and hit buckets, a load of golf balls, you know. I'd go and be back and forth at the machine, getting my buckets of driving range balls."
It wasn't just the new sport that was so exciting to him, but that it was opening up his mind to learning new things.
"There's something very true about learning something new at any age that is really important. I'm doing this with golf while trying to learn German. There are things that we already know and we perfect them, but it's really interesting to discover something completely new that was kind of off the radar for you.
"That discovery is now also keeping me very motivated in my golf because it's something that I can't relate to from before my accident. Every other single sport that I've tried since the accident, I'm doing as somebody with a disability and in a different form from before, but golf is one that I had no experience with before my accident. It's very refreshening, let's say, to do something completely new and out of the box."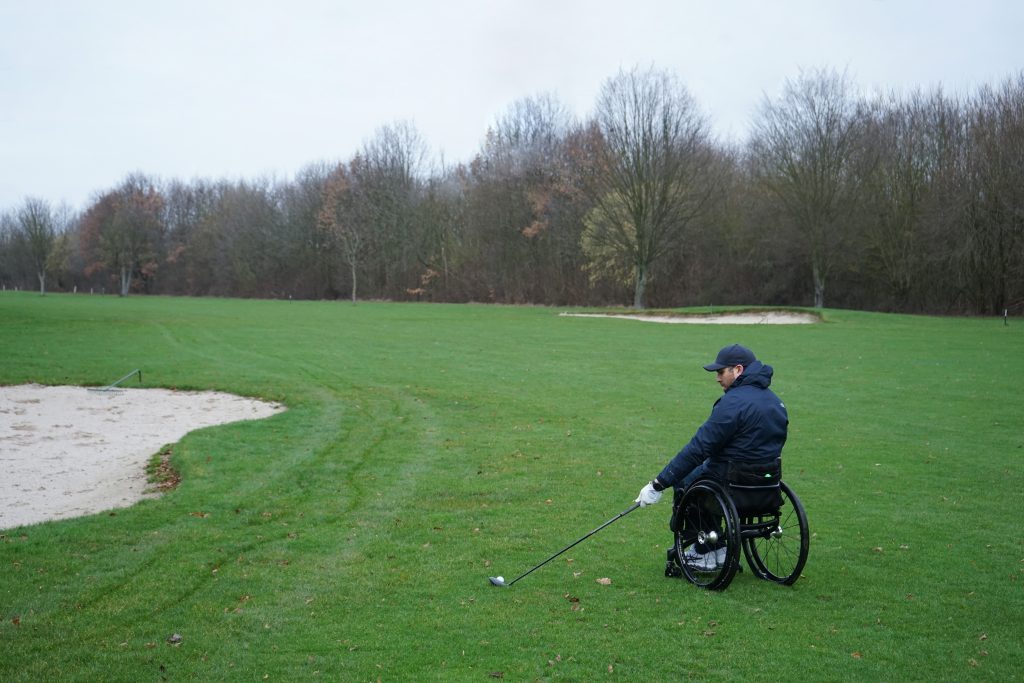 He adds: "I think it's the difficulty of the sport, it's so challenging. Such a mind game, and millimetres have such a big impact on where the ball is going, whether you hit the ball in a certain way. And it's so technically driven, like the position of how you are standing or sitting, or if you kind of twist one thumb, or your wrist is open, there are so many variables, it just draws you into trying to reach perfection when, you know, perfection will never be reached.
"It just messes with your head…It takes your mind off so many things to think about the small details, but then at the same time, you have to also let go of these different elements because you have to trust the practice at the end of the day. Because if you think of too many things, then you're going to mess up your shot. So there's so much to think about, but also so much to 'let loose' of at the same time."
Nael has so far chosen not to use a 'paragolfer' which helps the player to stand to the ball; he plays from his day-to-day chair.
"I'm not saying this is how I'll stick to playing golf, but I play a very unorthodox way at the moment.… I currently hit sitting down and this is the way I've tuned my technique; to play from the seated position, which is not very common for people in my position.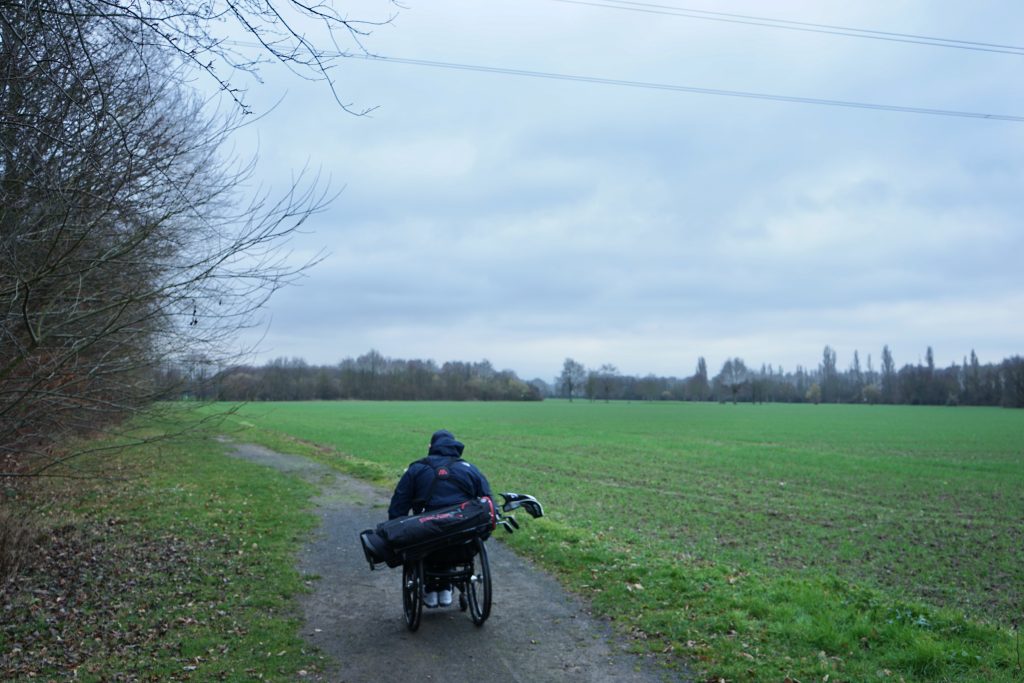 "So I think sitting and hitting from your day chair makes the sport more accessible in many ways… When I go on the course, I'm pushing for nine holes in my day-to-day chair. So it's very physical golf because you're pushing through grass and mud sometimes. A six or seven km walk in wet grass is, I don't know, equivalent to pushing a chair maybe for over 20km on your regular pavement, because there's no rolling on the grass."
Nael is currently researching his options so he can play more 18-hole golf. With his experience in the Paralympics movement he understands how sports are all working to be more accessible and inclusive. Golf, he realises, has unique challenges in terms of the structure of a course in order to help, say, golfers in chairs more. But Nael believes that the most important elements to create change are perhaps having the will to try, and to do your level best to welcome everyone through the gates of the golf club.
"I had reached out to a few of them [golf clubs] and some of them were not as open, you know. It's funny because they'll say no, without saying no. They'll say yes, but yet at the same time, they're not permitting you to use the greens or even in some cases the fairways as well. Luckily, [Golfanlage] Clostermanns Hof, which is a 15 minute drive from Bonn, is a club where they have been very welcoming and encouraging whenever I'm on the golf course; lots of people just asking me questions on how things are working."
Nael joined the International Paralympic Committee (IPC) six years ago in Bonn and he is now Head of Partnership Services. He manages a team which has a very close commercial relationship with the International Olympic Committee; in recent times all top IOC partners have become Paralympic partners.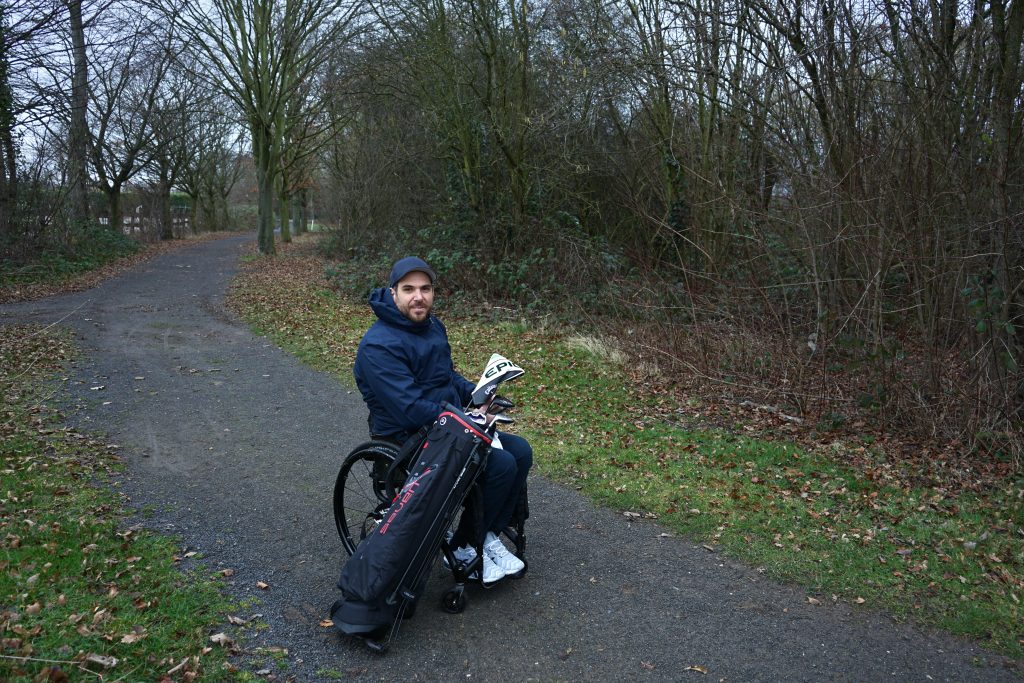 "I manage the rights, meaning that for the partners to be involved, you have a contract and an agreement in place. And that agreement has to be, of course, exercised to the fullest, whether it's their marketing or activation rights. But it's definitely more than that, and especially with the partners that are involved in the Paralympics, who are ones that really, truly believe in the values of what we bring forward as a movement. It's really interesting to see how it goes beyond just having that commercial relationship with them, but they sense that their contribution to society is really important, especially when it deals with matters of diversity and inclusion.
"But the topic of diversity and inclusion, especially with people with disabilities, is something that is not a matter of it being a hot topic today that is something that's going to come and go. I truly believe in a sense that we're setting new precedents today that are just going to become the norm in the future as to how we deal with people with disability who have to be properly represented across all aspects of society."
With such progressive thinking in his work for the IPC, Nael's professional philosophy is all about inclusion and, importantly, the joy that sport can bring to its participants. In his personal life, he is finding that while golf clubs might still struggle with the accessibility for all players, golf is nevertheless great for bringing all ages together to play the game; it is also a family endeavour.
"One of the reasons why I love golf is because I played with my 10 year-old nephew and seven year-old niece in Cyprus when we were on holiday this summer and with my brother, all four of us. I've also played with my friends who are of a similar generation, as well as my neighbour here, who is retired. And of course my two-and-a-half year old son now, who swings a seven iron at home and on the grass. So, I mean, it just makes it so nice to just play across age and across different disabilities or no disabilities let's say, and at different levels. It just makes it such a nice sport to share with whoever joins in."
Nael has certainly found a new game in the last 18 months that has really challenged him but which has given him great pleasure and that precious reason to get up early in the morning. Playing good golf, surrounded by friends and family including his young son, this is another golf marathon that is fully under way.
Contact EDGA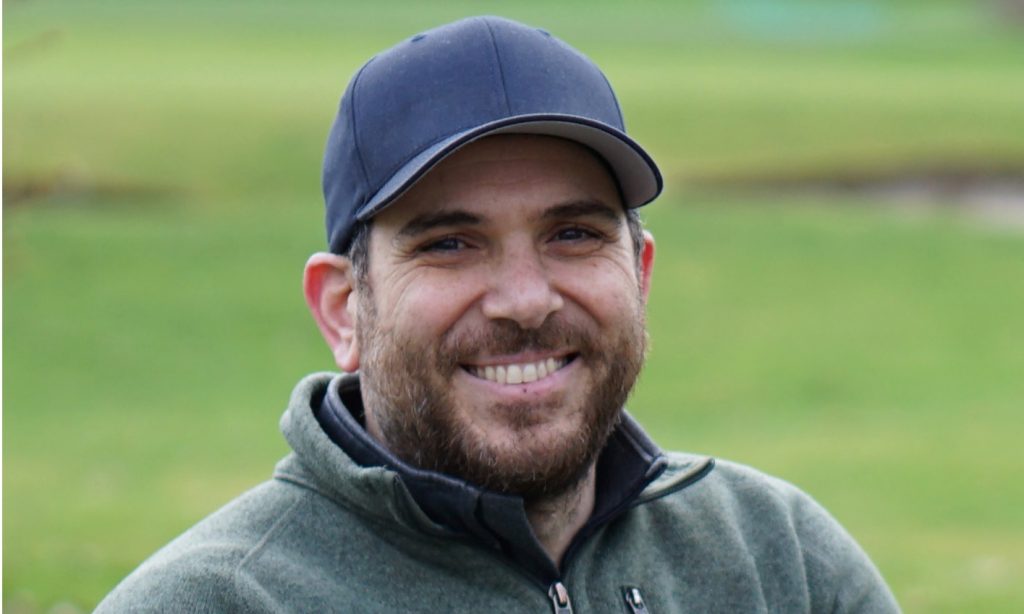 The photographs for this story were taken by Sandra Lazarovski and paid for by EDGA 
NB: When using any EDGA media, please comply with our copyright conditions