Audio: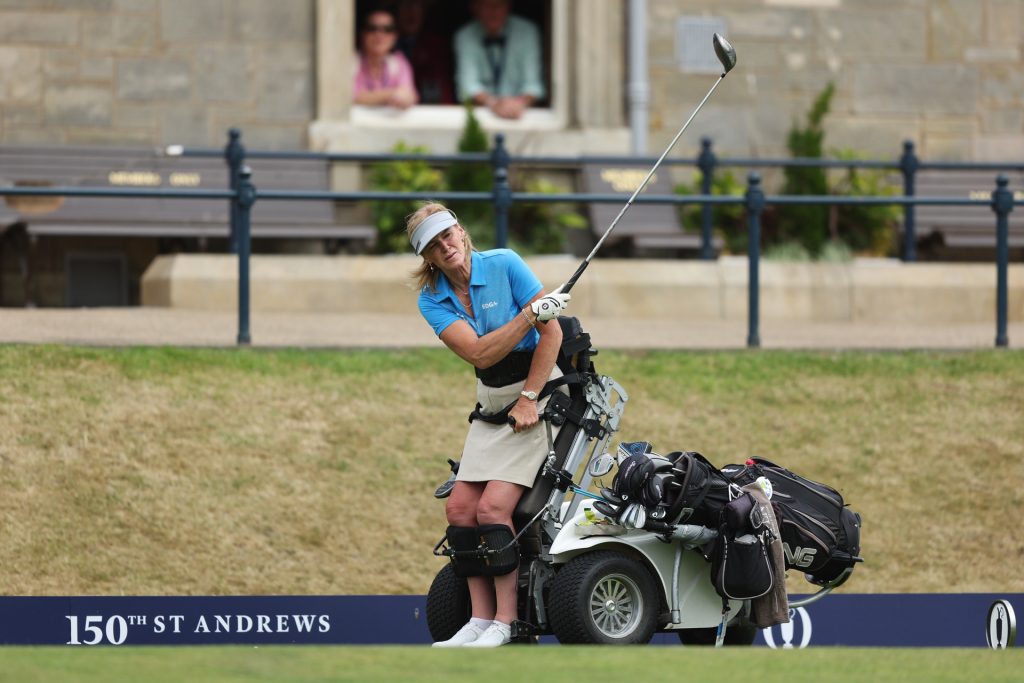 As an athlete, Monique Kalkman has won some major battles. Perhaps the first was an intensely satisfying battle against herself, to hone early tennis skills by pounding a tennis ball against the bricks of the garden wall.
Then in 1979, aged 14, when hopes and dreams were blossoming, she had to endure a traumatic fight against devastating illness that left her in a wheelchair. That she came through this with the help of her always positive, warm-hearted family was remarkable in itself. Then there was the setting out on a journey, a leap of faith, which led to her winning Paralympic gold medals in first table tennis aged just 19 and later, gold medals in tennis at successive Paralympics; earning the crown of World No:1 for six years. The best in the world!
Perhaps the most crucial victory of all however was a mental battle rather than a physical one. It was back then as that 14 year-old, overcoming the fear and pressure in rehabilitation to remain resolutely in charge of her own destiny; refusing to be defined by her disability, or to be seen as another person to process by well-meaning 'white coats' in a gloomy rehabilitation centre. Instead, Monique and her family concentrated on the ability rather than the disability and won through.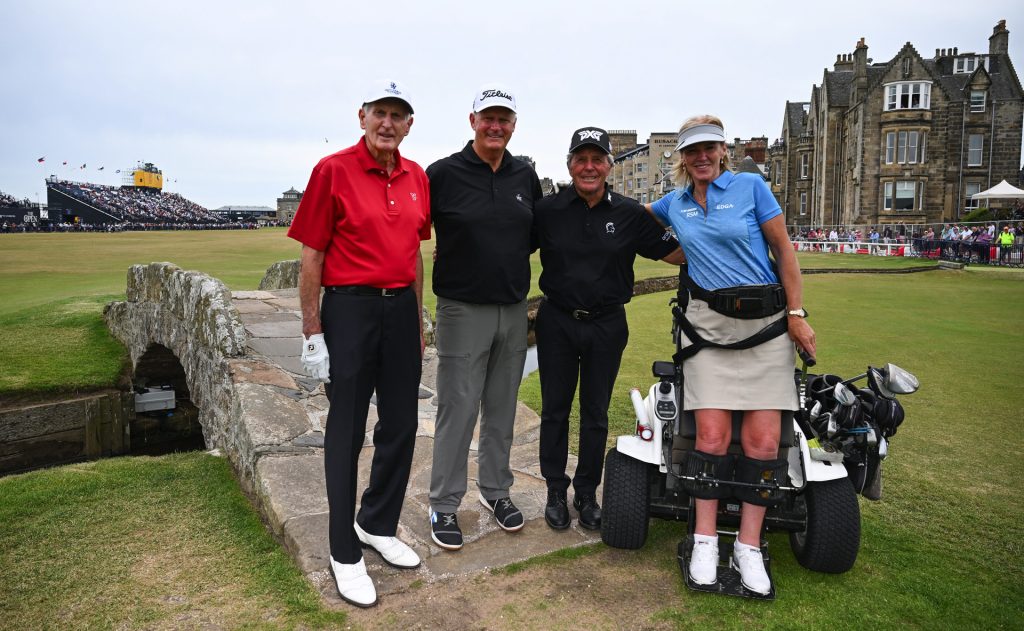 Fast forward nearly 40 years and last year she received a tremendous reward for what one writer has called a career made up of "grace and grit". One of the sport's absolute legends, Stan Smith (former US Open and Wimbledon Champion), picked up the telephone to inform Monique that she was being considered for that club of the greats, the International Tennis Hall of Fame.
And as a world champion athlete, after retiring from tennis in 1997, it would take another leap of faith 10 years later to put her neck on the block, to take seriously a new sport in golf; to trust a 'paragolfer' machine, learn to swing a golf club one-handed at a small ball, and find a way to convert that famous hand-eye skill from the racquet to produce exciting results on the fairway.
This isn't exclusively a tennis story, or a golf story, it's in some ways a story about how just as Monique has paved the way in tennis for those with a disability, she is in the vanguard of passionate people aiming to do the same in golf. And she is taking a lot of other people with her on this golfing journey. The manner in which she plays her golf, her work with EDGA, including presentations to The R&A, her 'Going for Golf' Foundation which helps many people in rehabilitation through golf – are all helping to break down barriers, to make competitive golf for those with disabilities a more attractive and likely proposition despite numerous challenges. And it's all done with a smile, a sense of humour, crystal clear English when needed (which is most of the time), and also using a couple of her other secret weapons.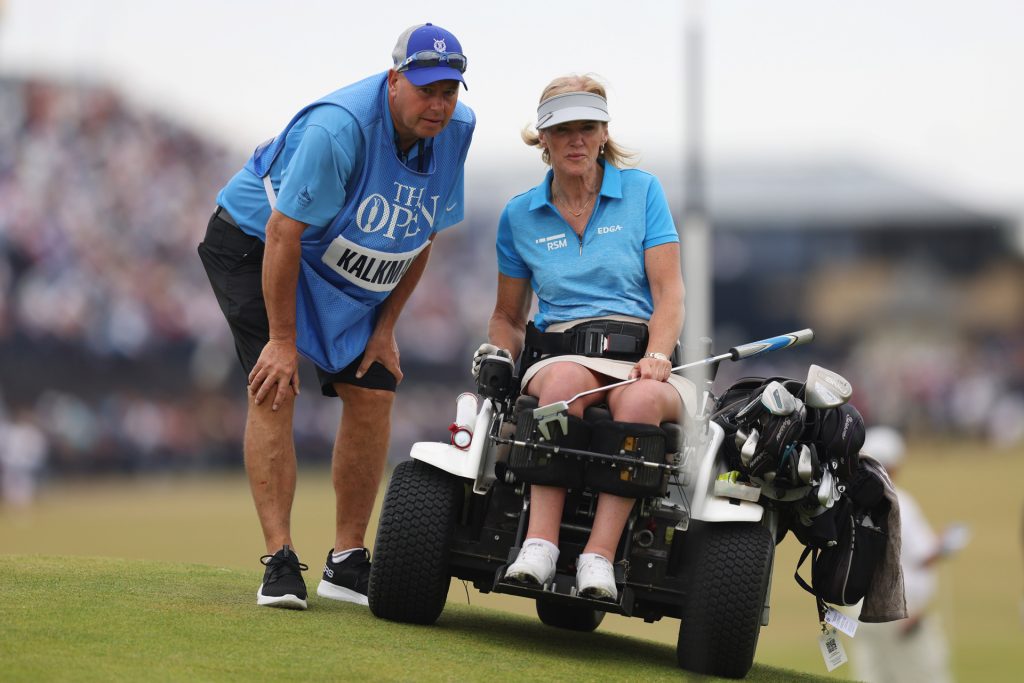 While sports bodies talk up 'resilience, determination, focus, respect, sportsmanship' (Monique possesses as many of these major qualities as golf clubs in her golf bag) what comes across plainly in the audio interview for 'EDGA Profiles on this page is her genuine love of learning coupled with a strong emotional intelligence that allows Monique to look straight ahead at the world while drinking from a glass that is distinctly half-full.
Tennis was always going to be a big deal after five year-old Monique van den Bosch discovered her Mum's wooden tennis racquet in the attic.
"I found my Mum's racquet and she put me in front of a wall [to practise]. I never went away from that wall and was happy in my own company. You can play as long as you want, determine your own intensity and just dream away doing something you like."
So, like many girls in the 1970s, she dreamed, while soaking up the technique and verve of Chris Evert and Martina Navratilova on television. As she practised and practised on the court, she thought: "Could I be the next Chris Evert?"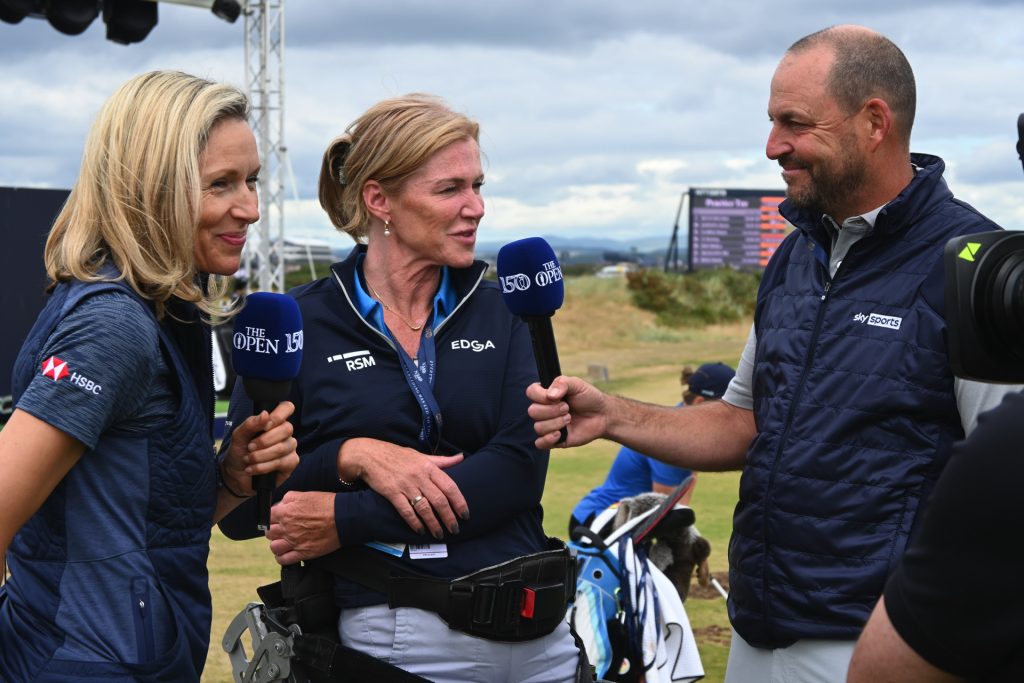 At age 14, Monique noticed that her weight started to drop and she began to find another beloved sport, hockey, much harder physically. Her coach offered a veiled criticism of her work-rate in an end of season letter which stunned and upset her. Monique started to visit the local doctor but symptoms of exhaustion were diagnosed as the flu. But she wasn't getting better and was sent to the hospital for tests. Fluid between the lungs and muscle was taken away but one of the doctors remained concerned and asked her to return in 10 days.
"Then after four days I was walking the dog and my back really started to hurt and my legs started to reflex and then collapse a little so I lay down on the bed as the pain was getting more severe. Then in the time-frame of 10 minutes the sensation just disappeared in my legs."
The ambulance came. The tumour against her spine had grown, it was removed but soon after there was further bad news.
"On the night after the operation my father was with me. My mum was with the other kids at home and the doctor said I would probably never walk again and the first thing I thought was: there goes my dream. There goes my sporting dream. It didn't cross my mind, what will life be, how will it work at home, how will it work with boyfriends, how will it work in the rest of my life, there was one thing I thought about – there goes my tennis dream."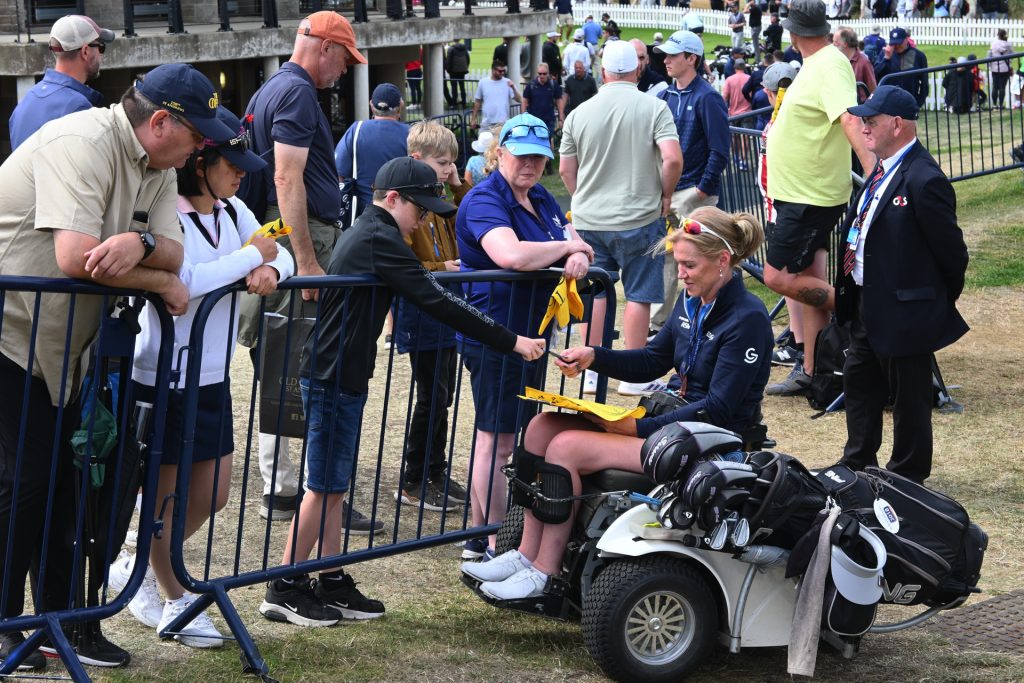 The question of how on earth the 14 year-old coped with this diagnosis leaps out but Monique reminds us that kids can be more flexible than adults. "And you don't go through this on your own. On the second day I had already started to be a bit more positive."
Monique would be in hospital for six months.
"The glass is half-full" was a slogan of Monique's parents Jan and Riet; the couple were champion brewers by trade in the Netherlands so it was entirely appropriate. With four sisters and two brothers there was not only a lot of love in that hospital room (and you can add in all the members of her hockey team who would visit to cheer her up), there was also determination and shrewd decision-making. Her parents were shocked by the soul-destroying "vibe" of the rehabilitation facilities and decided to take Monique away from the rooms surrounded by white-coated medical staff and set her up at home in a supportive atmosphere where they could "try to see the ability rather than the disability."
"These types of decisions were really instrumental in my rehabilitation and for me as a person overall," says Monique.
"My parents and my brothers and sisters, I think of them as a collective, who always see the glass as half-full, not half-empty. My parents were really good for me as positive thinkers; they kept the tough news from me when they could. They were really taking the right direction at the right time."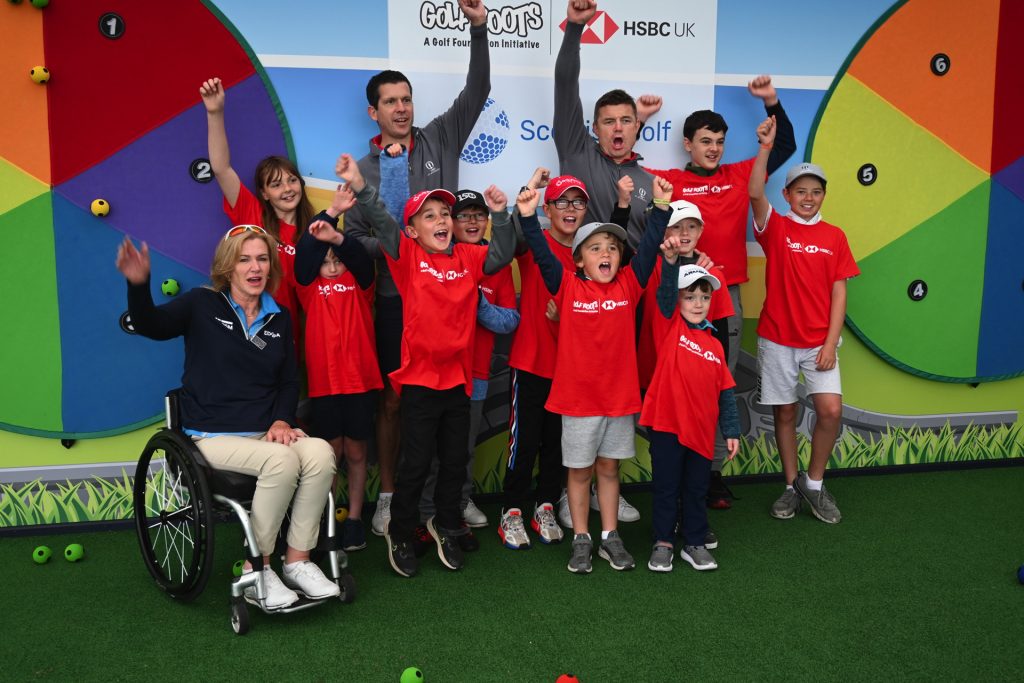 Only a year later Monique was watching the Paralympics in Arnhem on TV and thinking about what sport she could possibly play. Tennis wasn't an option at first but table tennis was. She found her way into the sport, and soon found a way to start winning in style, blowing away the competition. Paralympics, 1984, gold in her category for table tennis at the age of 19.
What did that first win feel like?
My thought was, 'I did it'. A sense of overall winning, not only winning that gold medal in sport but also overcoming a tough phase in my life. It's not only for me but also for my family, that's always an emotional one."
When Monique learned about wheelchair tennis there were many adjustments to be made in terms of fitness, conditioning, technique and strategy from her previous experience of the sport but she soon felt at home again. For this fast-learner, her skill-level rocketed as she learned to shorten backswings, use more top-spin and create wider angles to attack the mobility limitation of the athlete in the wheelchair on the other side of the net.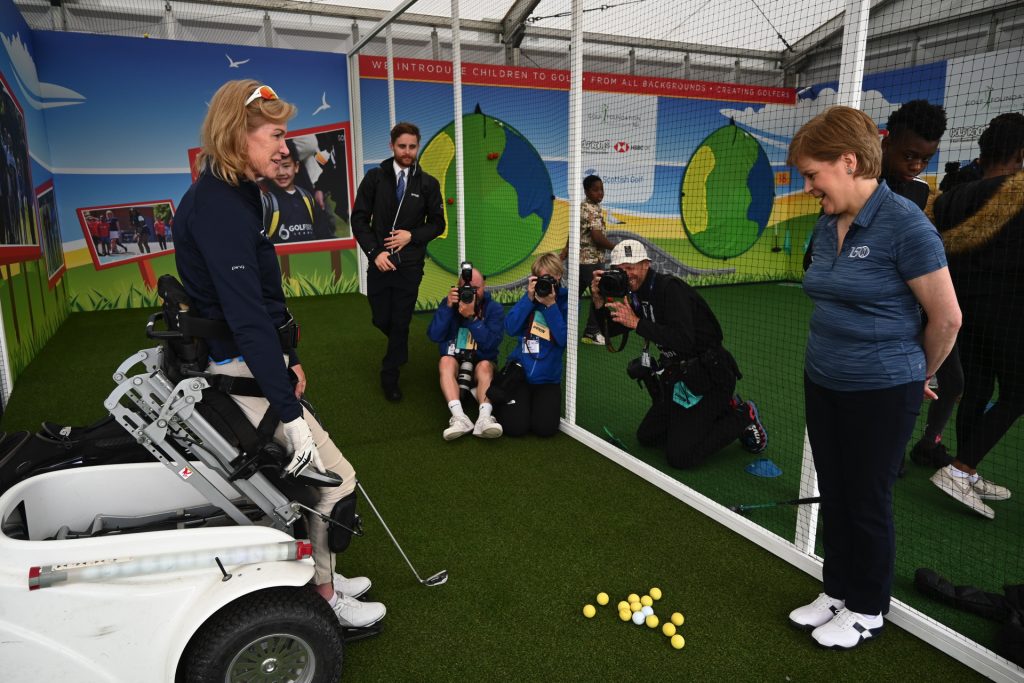 Monique remains modest about her achievements, but here are a few:
Paralympics 1988, Seoul: silver (singles demonstration)
Paralympics 1992, Barcelona: two golds (singles and doubles)
Paralympics 1996, Atlanta: silver (singles) and gold (doubles)
IWTF World Champion 1992, 1993, 1994 and 1995.
Monique has won the following tournaments: four US Opens, six British Opens, five French Opens, two Australians and also wins in Switzerland, Holland, Japan, Belgium, Austria and the US. The list should also include eight team appearances in eight World Cups for the Netherlands.
Many of her wins were enjoyed court-side by her biggest fan, the family dog, a boxer by the name of Murphy.
Winning gold in Barcelona in 1992 with the help of her inspirational coach Marc Kalkman (who would later become her husband), came in a spell when Monique reigned for six years as the undisputed number one in the world. The very best there was. But after a decade of achievement, Monique was finding the intense level of competition and practice all quite demanding – the international travel, the living out of a suitcase. It was time to retire and also start a family.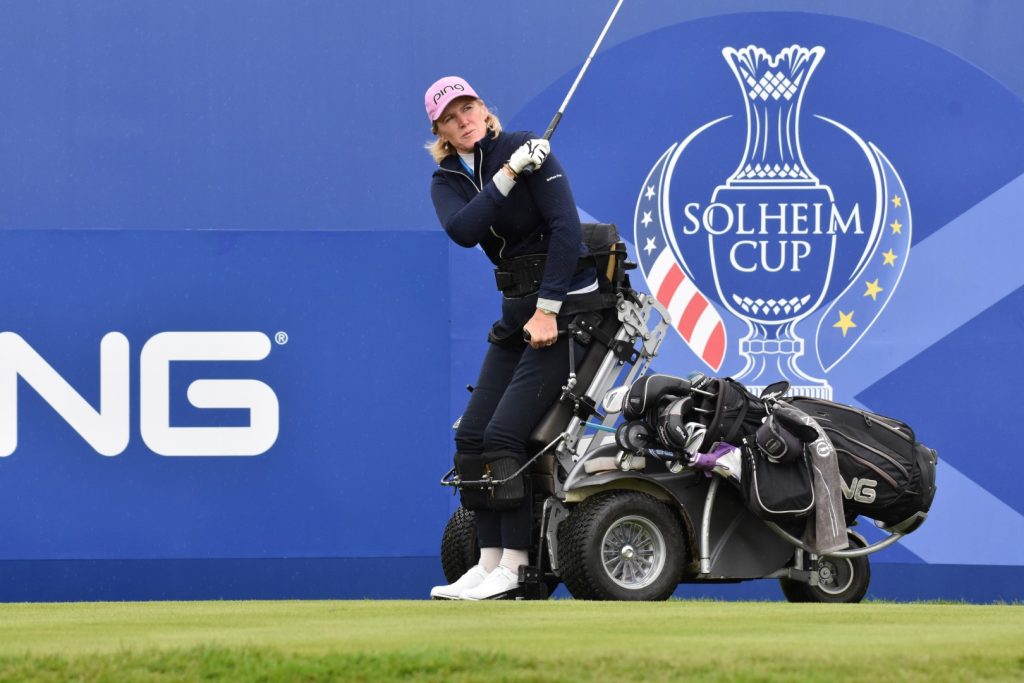 Always well supported by her sponsor Sunrise Medical, this relationship had been great for both parties and in 1997 Monique became European Product Manager for the company. While for the next decade she worked very hard, in 2000 her son Justin also came along for the joy of all. However, something about Monique's drive and commitment led to her perhaps putting in too many hours at the work desk and in 2004 she suffered some health problems including heart issues. She didn't "listen to the signals." "I wasn't really taking care of my body, I wasn't getting the balance right."
After an operation and issues with neck dystonia, Monique decided she needed to find a new sport to help her, and the golf started simply as good therapy.
Ten years earlier she had taken a buggy ride on a golf course while at a tennis camp and was "amazed by the beauty of the nature" on a golf course, enjoying "the serenity and elegance of the sport." But at that time she didn't know of the paragolfer chairs that can help paraplegic players. On a trip to the driving range and then enjoying golf courses on holiday in Ireland with husband Marc, she started to see that this could be a sport for her.
Monique found that using a paragolfer was ideal for her fitness and for her neck injury, as she could play from a standing position. Her patience in gradually developing her golf game with her coach seems remarkable: "It's like building a house," she'll say. At first she tried to swing instinctively with two arms against the coaching advice but soon found that a paragolfer suits a one-handed swing for mobility and rhythm, and today she belts a golf ball with her right arm with the same conviction as she used to belt that tennis ball against the wall.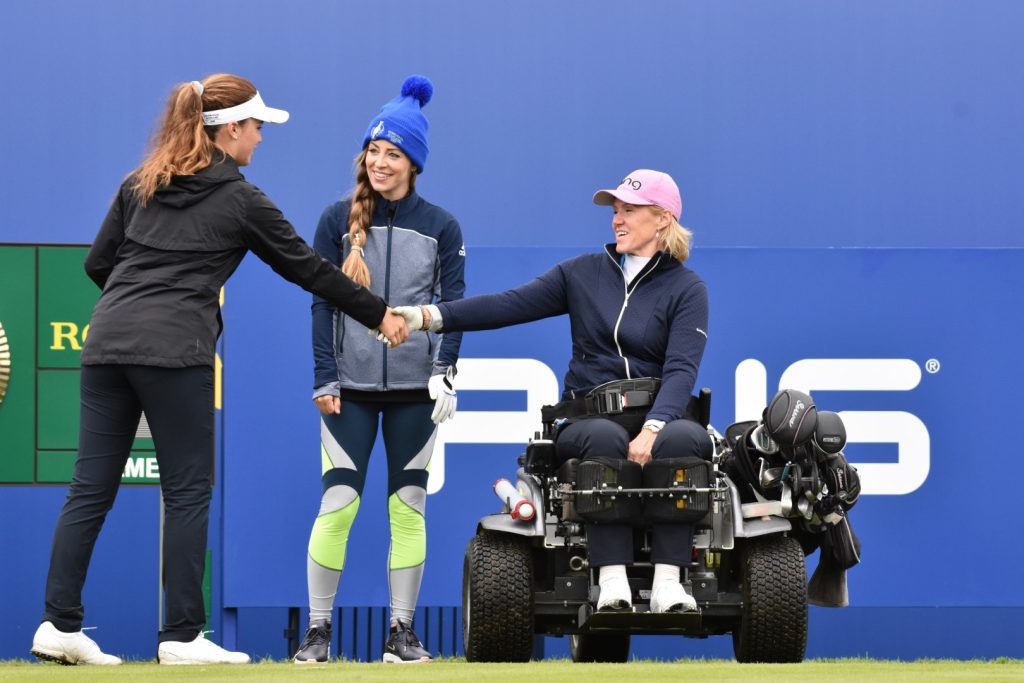 Watching the likes of two other wheelchair golfers Anthony Netto and Sebas Lorente and the way they approached the swing also helped, and her willingness to put in the hard yards, spending hours on the range, made Monique little by little the accomplished player she is today. Now, after pushing a little hard two years ago and injuring herself, Monique is working on a balance for her golfing ambitions.
She says: "I'm not 23 any more! I'm not the number turned round, 32, any more either so I have to be realistic. But I certainly want to get the maximum out of the sport."
In fact, one 'pipe dream' in terms of golfing success has recently been replaced by a more pragmatic one for Monique.
"Around five years ago I thought it would be nice if golf could become a Paralympian sport and I could go for that one more time, but that's not going to happen for me and that's absolutely fine. But I would love to help the next generation to get there [to the Paralymics]. That would be as least as rewarding."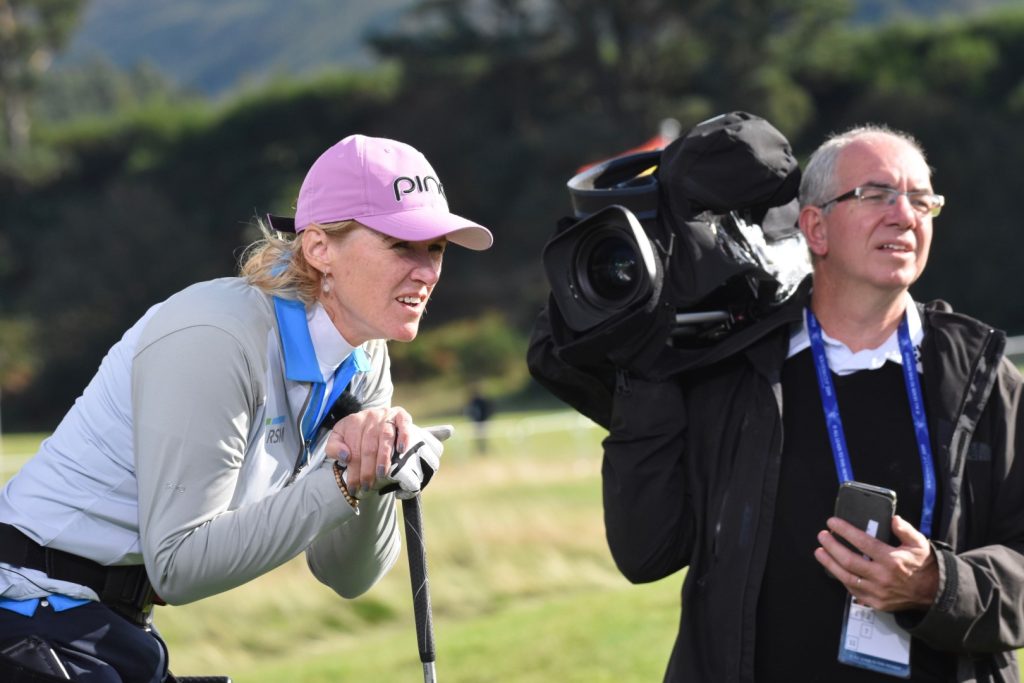 Her own Foundation 'Going for Golf' has been supporting people to experience a quicker and better rehabilitation by enjoying golf. This Foundation is soon to be submerged into 'fonds Golf' of the Dutch Disabled Sports Foundation, which supports those with disability in all sports to reach their potential. Monique is pleased with this development because of the organisation's reach, its power to attract sponsors and its strong national standing (she also remains close to tennis and is an ambassador for the International Tennis Federation, and also an ambassador for the Global Challenge sports initiative).
Through her experience and contacts Monique knows that nothing is straightforward when growing the sport of golf. She believes that though golf offers all new players some early successes in terms of putting, chipping and enjoying a few holes, competitive golf on tougher 18-hole courses, in sometimes bad weather, can be a huge challenge for players with a disability and those with paragolfers, as can be the travel involved. Monique is also concerned that not enough women with disability are coming into the game and she wants to see this rectified, though there aren't magic solutions.
Monique added: "We need to start somewhere and we need people with a vision and I see that coming into place now. If I can be part of this, that's fantastic."
She said it would be "amazing" if some of the young kids today who have a disability and are finding golf could one day be in the Hall of Fame for golf themselves. "And we might think this isn't going to happen but that's what we thought in tennis 30 years ago. So it can happen."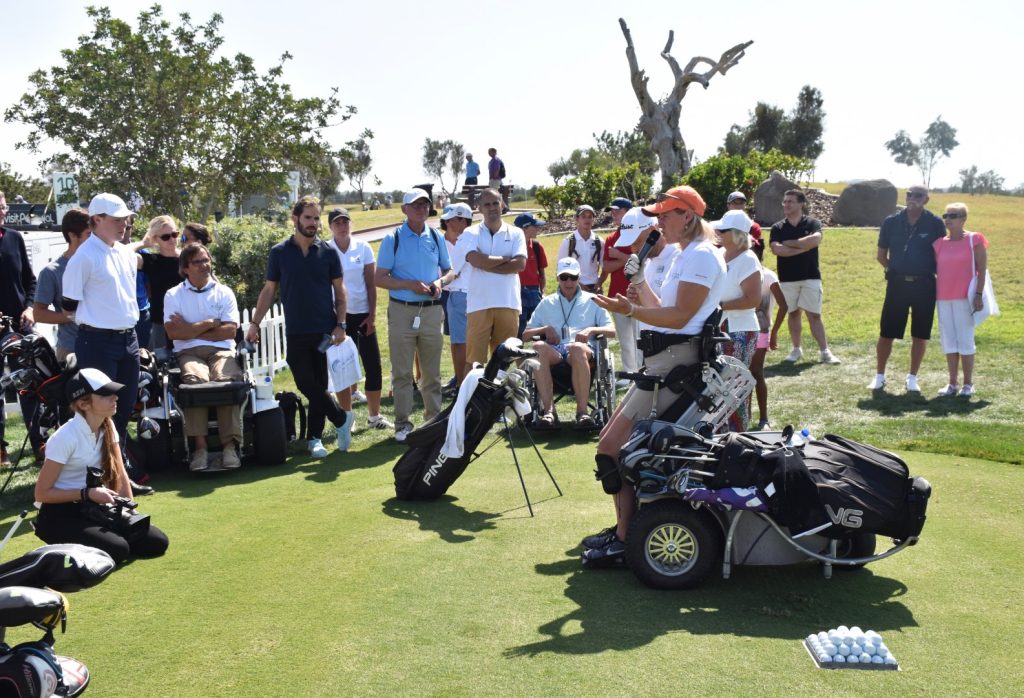 When Monique was a young girl she belted that tennis ball against the wall. She would later be dispatching opponents watched by Murphy the Boxer dog. All those memories of childhood, her illness and rehabilitation and all the work to rise up to be number one in the world, would come back to her when she was invited to attend the Australian Open in 2017 as an inductee to the International Tennis Hall of Fame. In Melbourne, she found herself on the same court with the likes of McEnroe, Becker, Laver, Navratilova, Hingis.
The last part of receiving this honour involves being presented with a commemorative ring by one of the true legends of the game. Monique has the perfect scenario in her mind. When she played wheelchair tennis back in the nineties, organisers worried about the effects of wheelchairs on the perfect grass courts of Wimbledon (not so today, where they are embraced) and so she didn't get the chance to grace Centre Court. She now hopes that if fortunate she might be presented with her ring there, and who should present it? "Martina Navratilova and Chris Evert were my heroes. I met Chris at the induction… she was really, really friendly and warm to me. For me the circle would be complete if I could go the grand slam which I dreamt of as a child and have the ring presented by Chris."
It is a measure of Monique Kalkman that if called upon, Chris Evert would no doubt find it a privilege to honour a fellow world-beater in this way.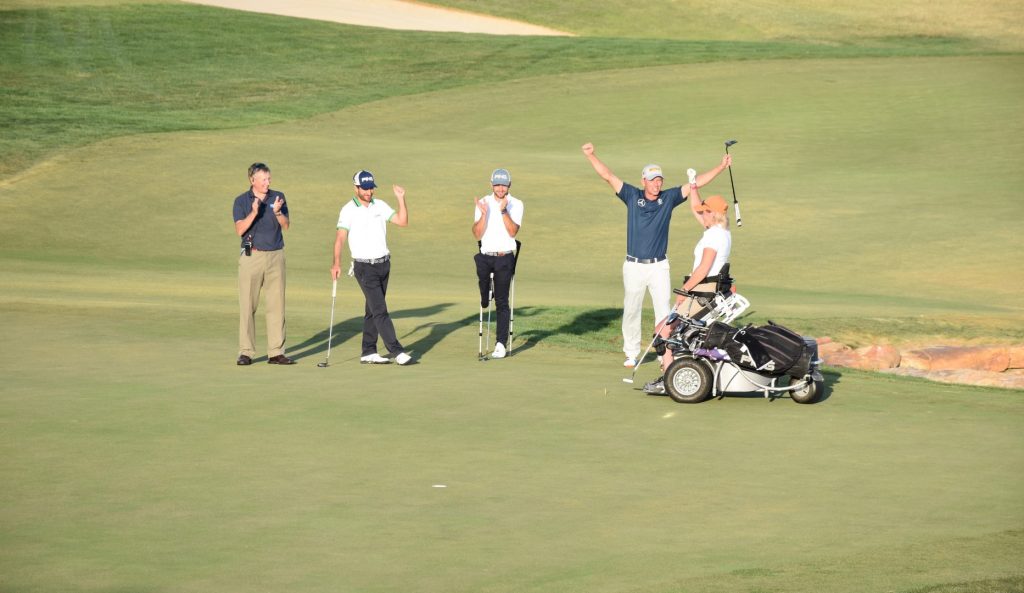 Monique's Videos:
Monique taps in the winning putt at the 2017 Portugal Masters.
Watch the EDGA demonstration team of six players teamed up with European Tour golfers to play the EDGA Greensomes Challenge in front of the crowds and television cameras at the 2017 Portugal Masters. The EDGA team comprising of Mike Gays, Juan Postigo Arce, Monique Kalkman, Pedro Sottomayor, Aurélien Lacour and Rasmus Lot all played exceptionally well with Monique tapping in the winning putt.
Monique Kalkman – ITHF 2017 Induction – Full SpeechITHF Class of 2017: Monique Kalkman
Monique Kalkman-van den Bosch: Grace & Grit
Contact EDGA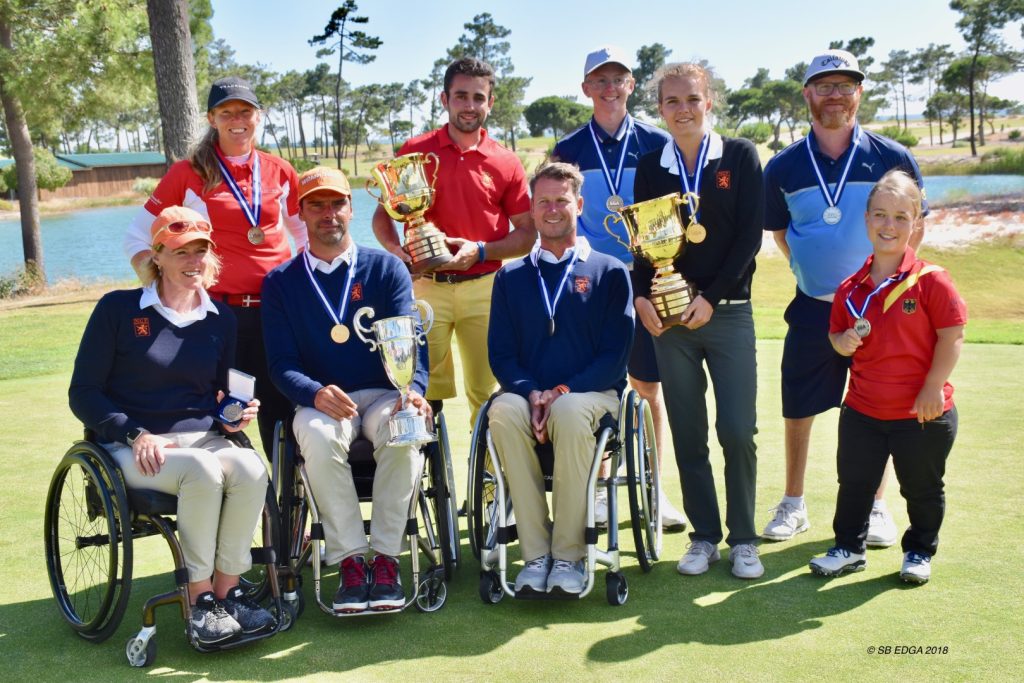 NB: When using any EDGA media, please comply with our copyright conditions