A "one-in-a-million" illness sabotaging his youth, nearly finishing him at 18, and then the long, slow comeback, creating, building resilience to force a better life for himself.
Mike Rolls – tough love and second chances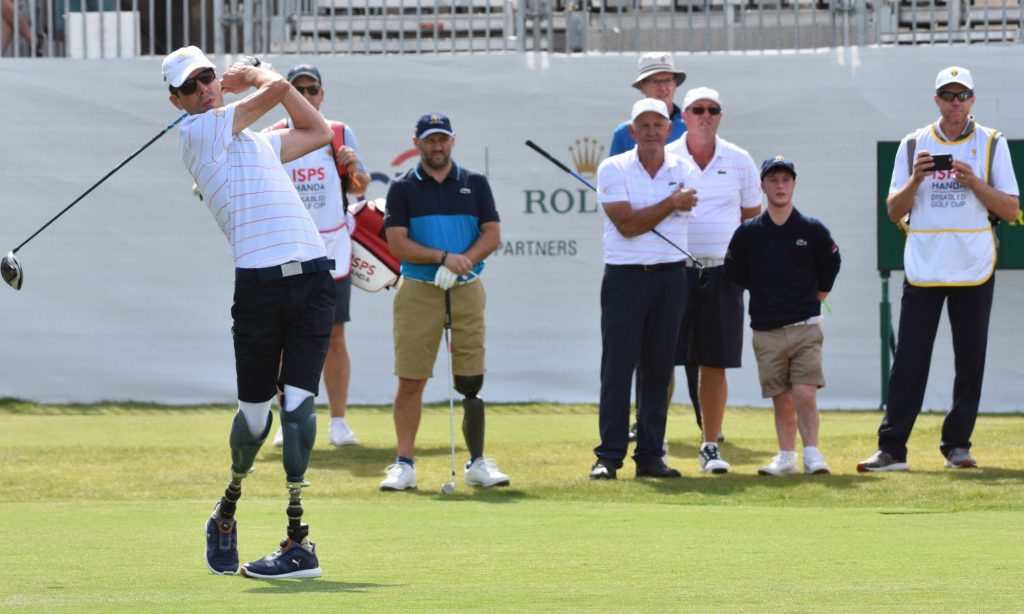 It had been a carefree week of playing Australian rules football and drinking beer for 18 year-old Mike Rolls back in 2001. The kid from Sandringham, Melbourne-way, was celebrating a great season with his team-mates on a tour of Tasmania. The locals saw a cheerful but tired squad of players ready to leave Hobart after they had enjoyed a couple of late nights out on the town where – in local slang – "the lid really came off". Mike looked more hungover than most; feeling exhausted.
Mike Rolls recently turned 35 and is a heck of a good golfer. He talked to EDGA not long after winning the 2018 Victorian Amputee Open in a three-way play-off. He currently lies 14th in the Ranking for Golfers with Disability (R4GD).
He shoots these scores as a double lower leg amputee and missing a couple of fingers on his right hand. As the current president of Amputee Golf Victoria, he will tell you that he simply wouldn't be the same person if it wasn't for golf. It has has helped him "immensely", a constant companion through rehab, later college, and then building up and selling a fitness business. Golf remains a key element of his story – illustrative of his progress back to health – as he now works as a motivational speaker with colleges, schools and businesses, as an author of a published book and why he volunteers for the charity 'Limbs for Life Australia'.
On these occasions Mike presents himself, simply, as he is: a confident, fit and healthy guy with two prosthetic lower legs. Audiences are continually drawn to his personal experience of a "one-in-a-million" illness sabotaging his youth, nearly finishing him at 18, and then the long, slow comeback, creating, building resilience to force a better life for himself. For young people of the same age Mike's story serves as both an inspiration and a huge wake-up call.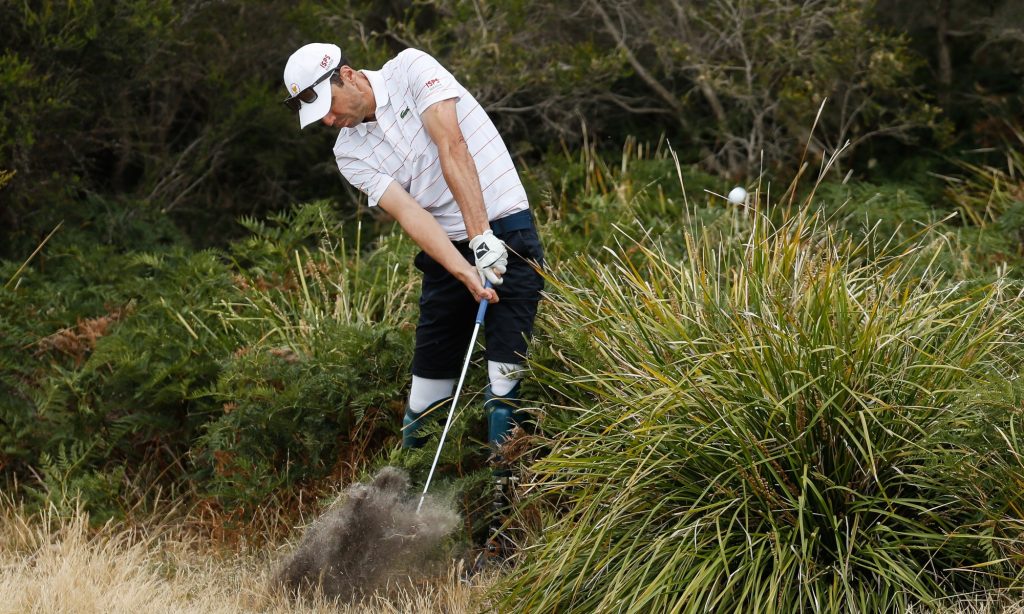 Back in Tasmania in 2001, it wasn't in fact a hangover that left Mike prostrate when he should have been ready to up and go. Mike was starting to succumb to a rare and often deadly disease called meningococcal septicaemia. Following its onset this can kill you or leave you severely damaged in just a matter of hours. "It's a super-rare disease and you face a race against time," explains Mike. Many people lose limbs, suffer kidney and liver failure and bleeds to the brain. Mike would have three such bleeds to his brain. He would wake-up from a coma five and a half weeks later as very much a different person. His right leg was amputated at the knee, half his left foot had to be guillotined, two fingers were lost and his nose was damaged. He faced an incredibly long road to recovery.
Mike says now referring to his mum and dad at that time: "I'll never understand what they were thinking. They sent me off as a happy, healthy and fit 18 year-old kid and then they received a phone call saying that Mike had been rushed to hospital and they had to get down to Hobart because I might have just an hour to live."
At one point, Mike was given a five per cent chance of surviving but his family would be there every step of the way through the trauma.
"The battle began when I really woke up and started to get my head around the magnitude of what had happened to me. That is when I had to take the reins and fight not just for my sake but theirs as well. It wasn't just me who faced this horrific illness it was all of us as one unit.
"They were such an incredible support, my parents and brother and sister, something I'll never forget and something I'll always be incredibly grateful for."
Mike's first steps from "rock bottom" included finding a way to sit-up for 10 minutes without vomiting. He learned to take things day by day, week by week; another early goal just being able to put some weight on the bones. "There were times when I thought I was going to die," he adds. A shared good sense of humour with his siblings and parents was also probably key to saving Mike's life.
To see Mike now, he looks 'fit as a flea'. Regular gym work and plenty of golf while the resilience and mental strength he built up from his hospital bed appears to have become a powerful resource; something he is now keen to share with others through his public speaking, particularly with young people and anyone who has a disability, while his mental approach and thoughts on this process of building resilience is gaining interest among professionals in the business field.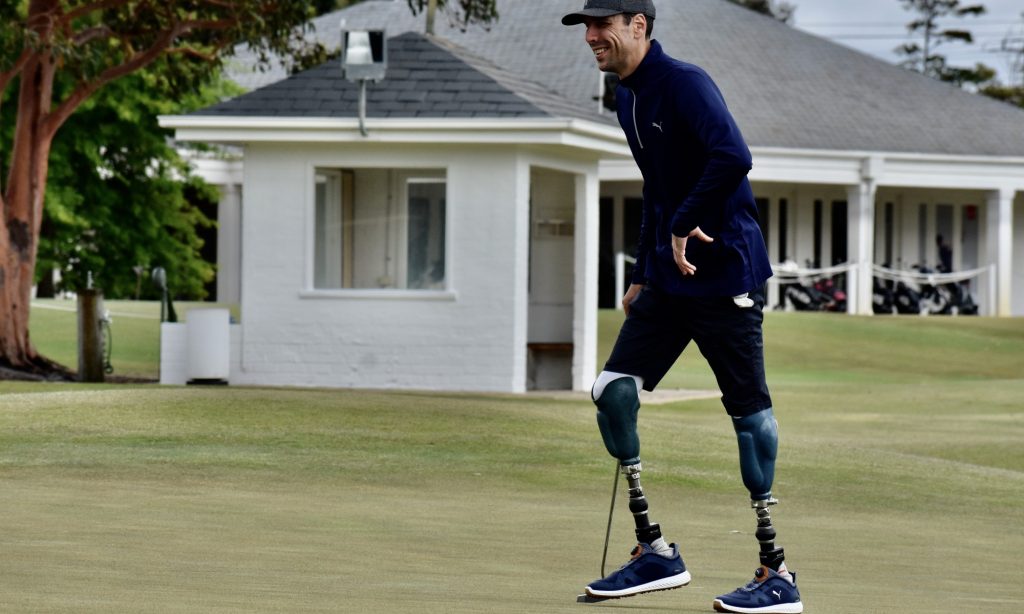 After encouragement to talk publicly and help others, Mike took a counselling course at the Australian College of Applied Psychology, and hasn't looked back.
Half a year after being struck down with septicaemia, now at the rehabilitation centre at Caulfield Hospital, it was a connection with other people who had been through similar trauma that would be most beneficial. He talks of the "amazing friendships" with other amputees. He encountered 'Limbs for Life Australia', and has since become good friends with Melissa Noonan, the CEO of this progressive charity, and he is one of the peer support programme's founding volunteers. When he came out of his coma, "all those question marks and unknowns would have been dispelled in an instant if someone had walked in as a double amputee and chatted with me. That would have been very motivational," said Mike, who is now happy to be 'that someone' for others at the start of their own long journey back to health.
A major decision Mike took, nine years after the illness, was to have his left leg amputated. He had endured the troubles of his remaining leg for all that time, needing to dress it every second day; it exhausted him and regularly left him bed-bound.
Mike says: "We all have areas of our lives that no longer serve us. A bad habit, a poor diet, perhaps it's a friendship that is having a negative impact on us. In 2009, I took the drastic step of amputating my troublesome left leg in order to improve my life. It was both the toughest and the best decision I've ever made. I was fed up with this draining situation and the circumstance I found myself in so I took drastic action."
This action would become a theme of Mike's presentations and blogs to help other people. His book expands on this metaphor. Golf is also a key part of Mike's make-up as a person, providing invaluable therapy. After enjoying the game as a boy, he had to teach himself how to play golf again twice, after losing each leg – nine years apart.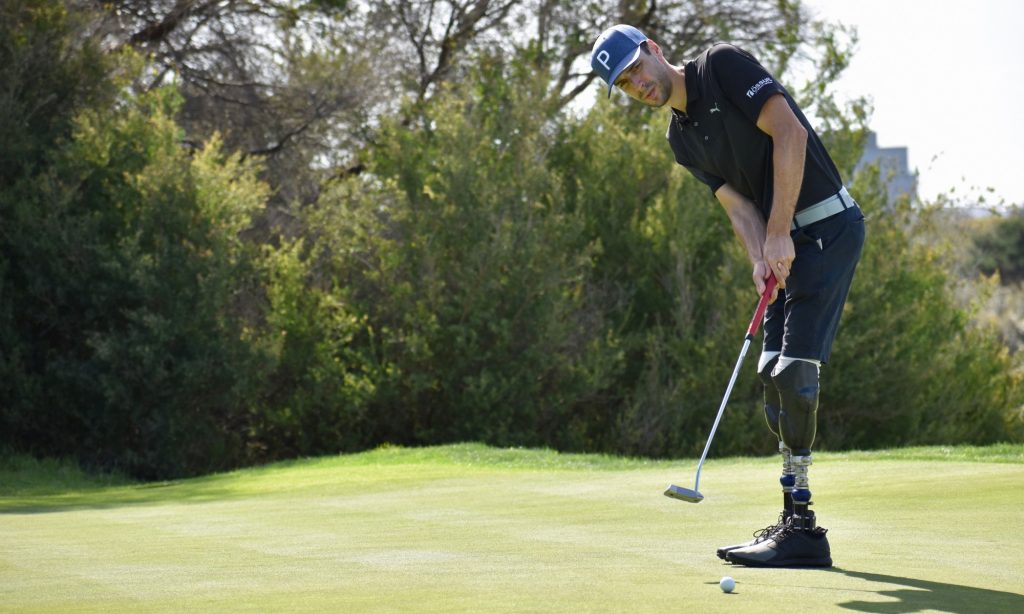 Ask him how much golf has helped him and he'll reply: "Oh, immensely I have to be honest; I don't know if I would be the same person that I am today without golf. It's the most incredible thing to have something that when you are going to sleep at night and you know you are playing the next day – that you have that excitement in your bones and you can't sleep.
"It still to this day excites me to get out there, switch my phone off and be out in nature doing something that I love, with people I enjoy spending time with for five hours. It's an incredible thing and I definitely credit that with being a big part of my recovery and rehabilitation through the years."
"Yes certainly. I have a very close friend called Christian Hamilton who is the national inclusion manager for Golf Australia. He is one of the best blokes you would be lucky enough to meet in your life, a fantastic fellow who has taught me a great deal about golf and about life. He get things done for golf in Australia; not just for 'amps' [amputees] but for any disability category."
Though a good golfer, Mike is very much still a typical golfer and like all before him subject to the vagaries of the sport. Speaking not long after following a stylish first round of 76 with a less attractive 88 in the OttoBock Australian Amputee Open, Mike said: "Golf has the ability to humble us and put you back in your place. That's what I like about it, that never ending challenge to get better.
"When I was younger I was a bit of a hot-head but I have certainly mellowed. I have a more calm demeanour on the course but I do plenty of internal bashing!"
His recipe for making the sport more enjoyable? "Fill in all the bunkers and we'll all be alright!" Good to see that the sense of humour which helped save his life 17 years ago is still there –whenever he sees that little golf ball nestled in the sand.
Mike's Videos and Links:
Inspirational Speaker, Personal Development, Social Issues
MIRACLE SWING Double amputee Mike Rolls defies medics to play pro-am golf tournament with US star Rickie Fowler in Melbourne
Interview with Australia's 9News
         Contact Mike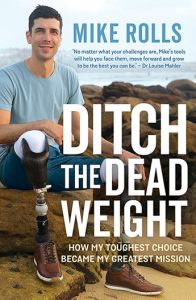 Twitter: mikeroller6
Facebook: Mike Rolls
Website: www.mikerolls.com.au
NB: When using any EDGA media, please comply with our copyright conditions