Audio: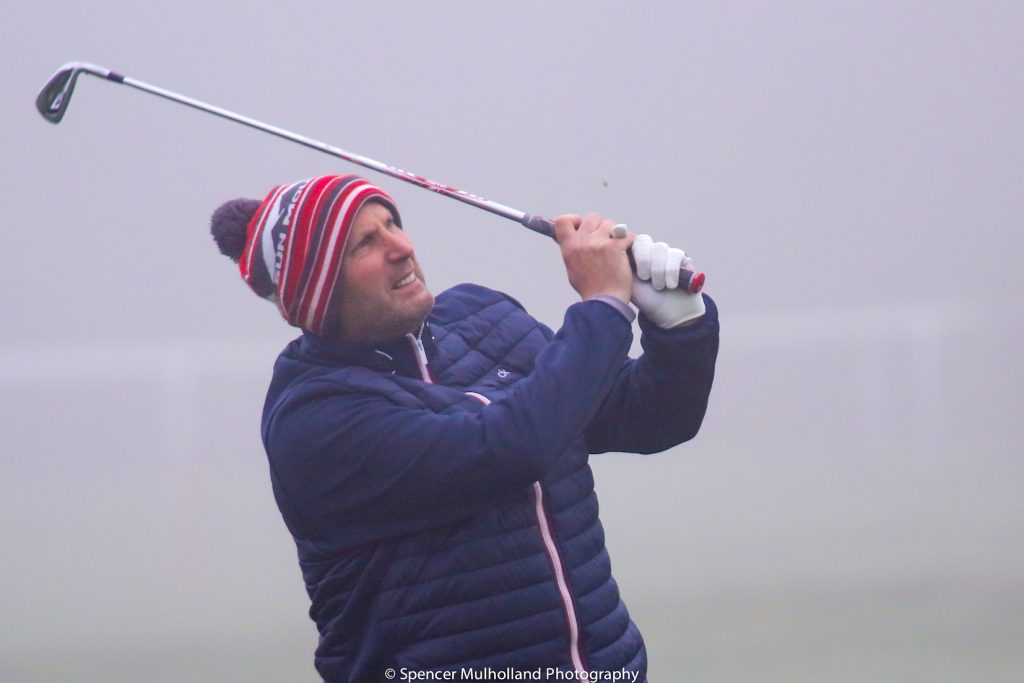 In 1995, Gavin Burden was a fit and active young man of 21, working as a carpenter in Salisbury, in the south-west of England, while thinking about his career options. Free time usually meant a group of friends getting together and playing football. On the pitch, he half-jokingly refers to himself as "a versatile right winger for the mighty Avon Rangers;" fair comment for he was a pretty good player. In the stadium, he watched his beloved Southampton Football Club, a Premier League team. Peter Shilton, Danny Wallace and Matt Le Tissier were his heroes: Gavin even followed the team to Hamburg with his Dad, for the UEFA Cup.
At that time, Gavin had been suffering from migraines for two years and when playing football had started to struggle with his vision. He said: "One Sunday morning I was playing and I couldn't work out whether I could see three footballs or no ball at all. It was strange and alarming." Gavin drove his car home and made an appointment with his GP. Then everything changed.
On December 3, 1995, Gavin was diagnosed with a tumour in his brain. At 8am that day, at Southampton General Hospital, Gavin's surgeon Peter Lees carried out a craniotomy to try to save Gavin's sight. The medical team were cautiously hopeful they could remove the tumour but there was also a 50% chance of a brain haemorrhage due to the amount of Neurofen Gavin had been taking for the pain.
Eight hours in theatre found that the tumour was lodged in an area too complex to remove safely without potential catastrophic side effects. It was "the size of an egg". The medics believed Gavin could have harboured the slow-growing tumour since as young as five years old. The condition caused Gavin to suffer sight loss of 75%. Horrendous news for Gavin and his family.
The one positive: it was benign. All the work from here would be about pain management and Gavin's long-term welfare. This wasn't straightforward: cerebral 'shunts' had to be fitted into his skull to treat hydrocephalus, the swelling of the brain from the tumour. Three times in the three years that followed, further operations had been required to replace these shunts. They are still doing their job to this day.
"They told me this type of tumour was a one in a million chance. I was devastated to be told about my sight loss. It's amazing to think I have now lived with the tumour for more than 25 years. I have had to overcome many hurdles and still am doing so to this day. Usually the pain, if any, is very manageable but the demands on life in general are greater.
"Losing your sight is difficult to explain but we can all imagine it can't we? In my case it has become more difficult over the years, I'm being put to the test all the time as I have had to cope with my working career and now raising a family. I do have negative thoughts and I have had a couple of occasions where I have wanted to end it, but my willpower has kept me going."
As Gavin relates these thoughts you can understand how his lack of sight has produced more than a physical darkness over two-and-a-half decades. But human beings frequently have something inside them that helps to adapt to new circumstances: in short, the survival instinct.
Gavin has certainly adapted well, including turning a series of jobs into a varied and fulfilling career, from working with young adults with learning disabilities, to developing the commercial areas of his local newspaper, the Salisbury Journal, to his most recent role in property management. It was during his time at the Journal that Gavin met local businesswoman Lindsey, leading to marriage and children Frankie, aged nine, and Maisy aged 11.
Throughout Gavin's struggles over the first 15 years after surgery, he missed the ease of sociability and the competitive camaraderie that football offered him as a young man. He still got out there, including taking a five-day trek across the Atlas Mountains in Morocco in 1998 to raise money for the Guide Dogs for the Blind Association. Nevertheless, a certain insularity took hold, affecting both his confidence and his once positive outlook.
"Old friends and colleagues were of course sympathetic but that's not really what you're after," said Gavin. "They used to ask me how much of my sight I had lost, and I didn't know any figure at the time, and how do you really answer that question? In something of a private joke with myself I would throw back 'I've lost 37%', and this official sounding answer seemed to satisfy them. When one day my ophthalmologist informed me he could in fact give me an accurate figure, I was actually really shocked to hear I'd lost 75% of my sight. Even though nothing had changed physically at that time, this news really did knock me for six for a while, it was hard to handle."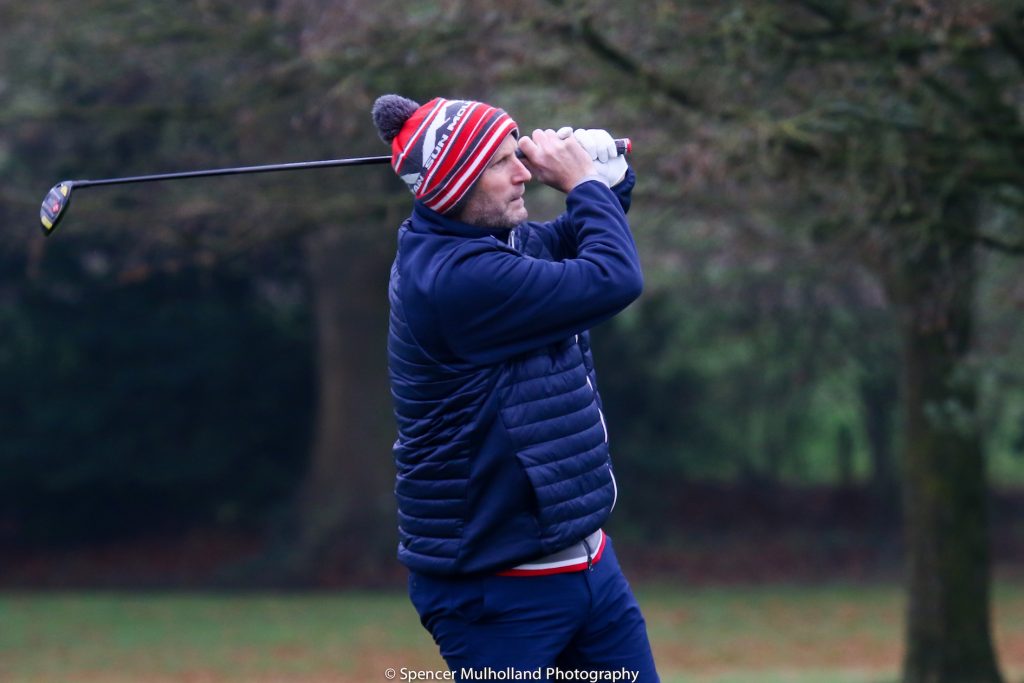 One feature of Gavin's condition is that while he can't see any detail out of his left eye, as it is completely blurred, he does have what he describes as some "tunnel vision" in his right eye.
"This had advantages, for instance I found that I could still enjoy going to St Mary's to watch Southampton FC, though I would have to sit well back from the pitch to follow the action. Sometimes you wanted to shut your eyes anyway, as the performances have been that bad in recent years."
This 'advantage' of his narrow sight, if you could call it that, also brought him to a defining moment in 2010 while Gavin caught the park and ride bus to work in Salisbury.
"I'd like to get there nicely on time so I'd often find myself talking to the park and ride site manager, called Pete. He was a lovely guy and I soon realised he loved playing golf. I started to think that despite my vision issues I might be able to concentrate and focus on the golf ball when swinging a club.
"Pete actively encouraged me and said he'd gladly host me at his local club. Now, I hate getting lifts off people, feeling dependent on them, it's one of my big issues, but I liked and trusted Pete and told him that if he could give me a lift one day, I'd love to try playing golf."
Gavin added: "I was soon having my first golf swings at Salisbury & South Wilts Golf Club. Obviously there were lots of good, bad and ugly shots but I connected with a few and I was hooked! I have been a member there ever since."
Gavin found that if he connected well he could watch the start of the ball in the air in its travel. Like all golfers, he could also soon "feel it" around the impact of hitting the ball, knowing instinctively if the ball had gone to the right or the left, while his friends were always on the look-out for where his ball might land.
"Becoming a regular player, playing with good mates, I now absolutely adore golf. I play off a handicap of 15 [I have played as low as 12]. I love it, and love the banter with my friends as this is so important to me and them too."
Gavin's new sport led him to make lots of social connections. His group of friends mushroomed. For some years now he has organised annual golf trips in the UK for groups of around 20 players, and in the last few years they have travelled to play in Portugal.
Gavin said: "I'm a very proud person. I never wanted the tag of being blind. Only in recent times have I accepted any disability benefit. I hate relying on others too much, so I really enjoy it when I can help people, whether my family or my friends. It really means a lot to me.
"Golf has been absolutely fantastic for me. It's wonderful to be out in the fresh air, enjoying great company, and able to compete well at a sport. I feel comfortable; golf has changed a lot in recent years. It's not so judgemental. I love being part of a group of friends and organising our golf trips. Playing golf makes me feel so alive and is actually crucial to my health and well-being. I thank all of my friends at Salisbury & South Wilts for helping me to enjoy the game so much.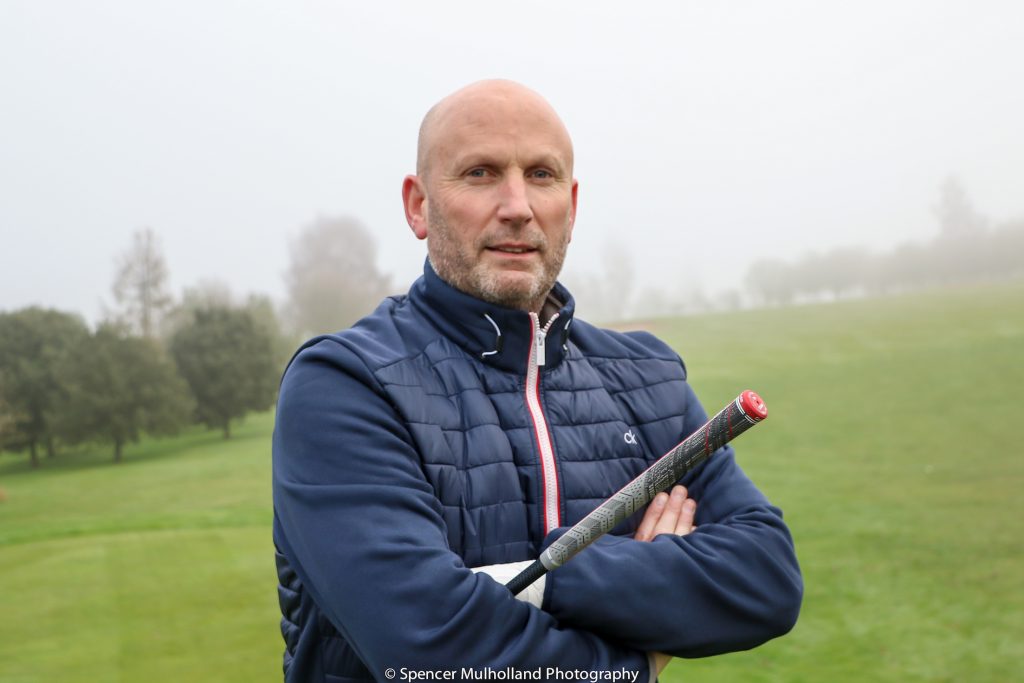 "The fact I just get on with stuff I know is a credit to me but it takes its toll when things don't go right. I am married to an amazing woman and have two wonderful children and they keep me going by taking the micky out of me for my mistakes around the house and when we are out and about. I love this.
"My family and friends are so supportive and without them I wouldn't be here today, that is for sure. I would like to personally thank my amazing Mum, Dad, sisters, Lindsey and all her family, and our children of course, and all my family and friends, including all the NHS staff, for everything they have done for me."
Gavin found himself once again having to adapt quickly to a new situation when his wife Lindsey was diagnosed with breast cancer in January 2020. It led to three operations in Southampton Hospital during the immensely challenging time of Covid-19 lockdown.
"Lindsey is completely clear of cancer now which is the most important thing. She has been so brave. She has always been such an inspiration to me as a business woman; she is now a business coach, and as a wife, Mum and friend, and this has only continued and grown in recent times."
Recently, Gavin's eyes have caused him added difficulty and he is aware that 25 years of effort doing his jobs have taken their toll. Acute eye strain and fatigue led him to decide back in December that he would call time on his full-time career for now.
During the pandemic he has been too busy with the home schooling of Frankie and Maisy to worry too much about next steps, but Gavin believes that a role helping young people who are faced with sight loss or other disabilities might help him use his own experience to the best advantage for others.
"If I could combine what I have learned through my work, and my experience of living with 25 years of sight loss, and put that to helping young people, possibly through sport, that really could be quite satisfying."
During his well-earned rest, the golf course and those good friends are sure to lure him out this summer and he has already played a few rounds recently.
While looking into sport and disability online Gavin stumbled across the work of EDGA, while England Golf holds an annual championship for golfers with disability – Gavin has fond memories of competing in such an event nine years ago, held at The Shire golf club near London. He hopes to enter similar tournaments again soon.
"Wherever and whenever I do play next, I'll be thanking my playing partners and also offering a little special thanks to Pete from the park and ride bus station in Salisbury, whose positive talk about golf made such a great difference for me. Cheers Pete!"
Contact EDGA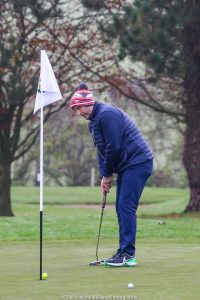 NB: When using any EDGA media, please comply with our copyright conditions