Audio: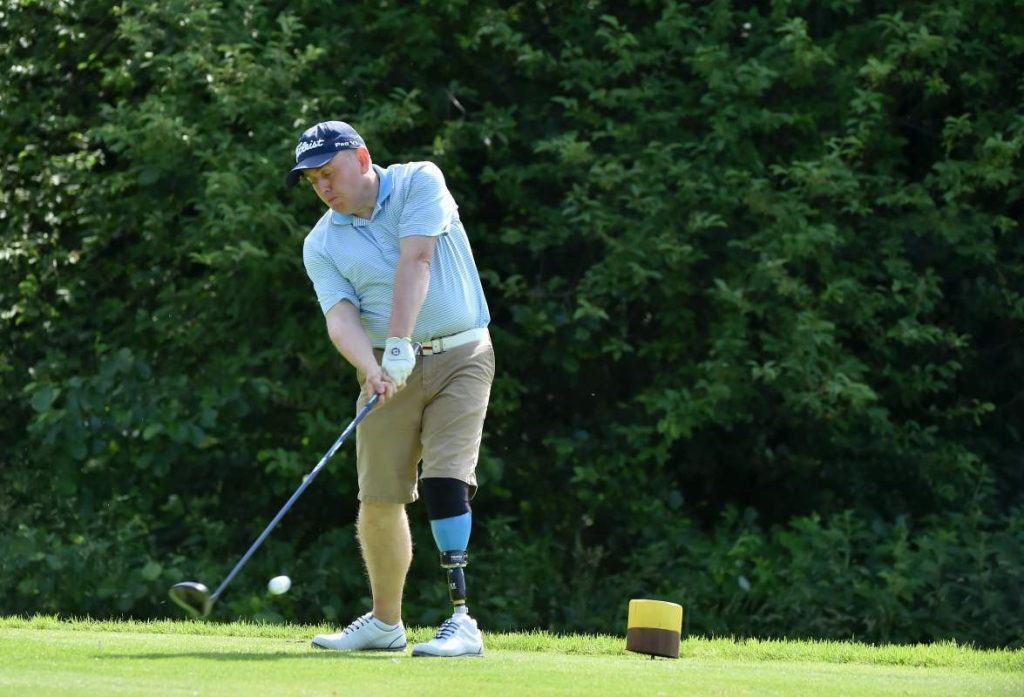 Mark Smith was born and bred in the county of Kent, known as the 'garden of England'. His big sport growing up was cricket: he was a bowler of 'leg-spin', but he and his mates would also play golf after each summer cricket season, usually at Cobtree Manor Park Golf Course near Maidstone. It was for them a winter sport but even so Mark played to about a 14 handicap by the time he left school aged 16 to take up a four-year apprenticeship in printing. Printing was a fast-changing industry at that time and Mark would go on to forge his career in the world of computer software and IT, while the plan was to be a weekend cricketer, with his bowling and sometimes batting exploits no doubt making the back pages of the local newspaper, the Kent Messenger. That was the plan.
Though today happily married to Charlotte with their two sons, Daniel and Robin, living in Buckinghamshire, back in 1992 at the age of 21, everything changed for Mark in one second, on one metre of road, in a single heartbeat.
For many young men, motorbikes meant far more than just getting from A to B at a decent rate. But with joyous freedom comes high risk, and one Sunday taking his bike for a pleasure ride through Kent, Mark collided with a car.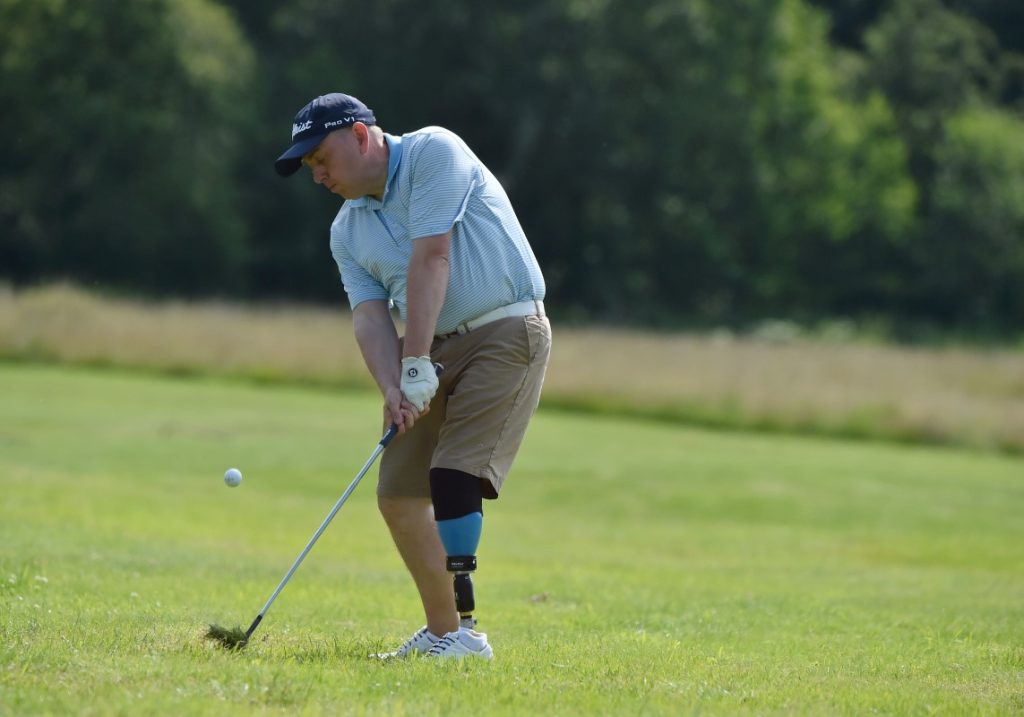 The crash could have easily been fatal and Mark would need to spend eight weeks in hospital; the most concerning problem being that his left leg was badly damaged, particularly the ankle. Mark first had an 'external fixator' fitted to the leg (a brace and frame surrounding the leg with pins going into the leg to support recovery). More surgeries were needed to repair bone, promote circulation with complicated work on arteries and veins, as well as skin repair.
"Then afterwards, it was sort of rehabilitation," explains Mark. "But it didn't really go that well. I was walking around on crutches for two years. And then it came to the time where we said what do we do now? The bones weren't healing that well. My ankle wasn't in a very good condition.
"I met with a couple of doctors, one in the Royal London Hospital and one at Oxford, and we discussed whether I should have another two years of surgery, trying to take my ankle apart and put it back together, or have elective amputation. We decided to do this and get on with my life. I was young, I wanted to do things. I didn't see it that having an amputation would stop me doing things, so I just said, 'Great, let's just get on with it."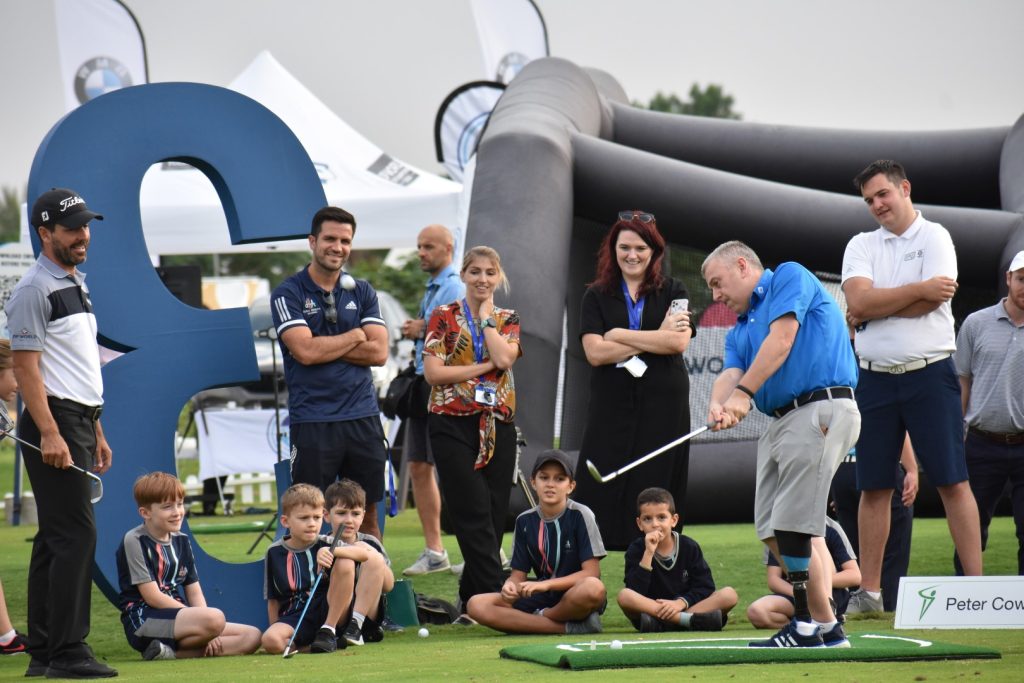 It was a big decision for the young man but he went ahead with the full support of his friends and family. Mark describes it as having 'a good group' around him to make sure he didn't suddenly fall apart.
"I think I was very, very prepared for it; it was a decision that I maybe made in the summer and it didn't happen until November time, so I had a reasonable amount of time to get used to that. I had already been to the prosthetic clinic to understand what the process was going to be. You know, it was all explained to me."
Fortunately, the resulting operation went very well, Mark staying a week in hospital without any complications. It was during his time of recovery that Mark realised that golf, at first at the fringes of his sporting and social life, was about to play a far greater role for him.
"I probably played golf within two months of the surgery. My first round of golf after having the amputation. So, yeah, it was almost like a goal, really, to get back into it."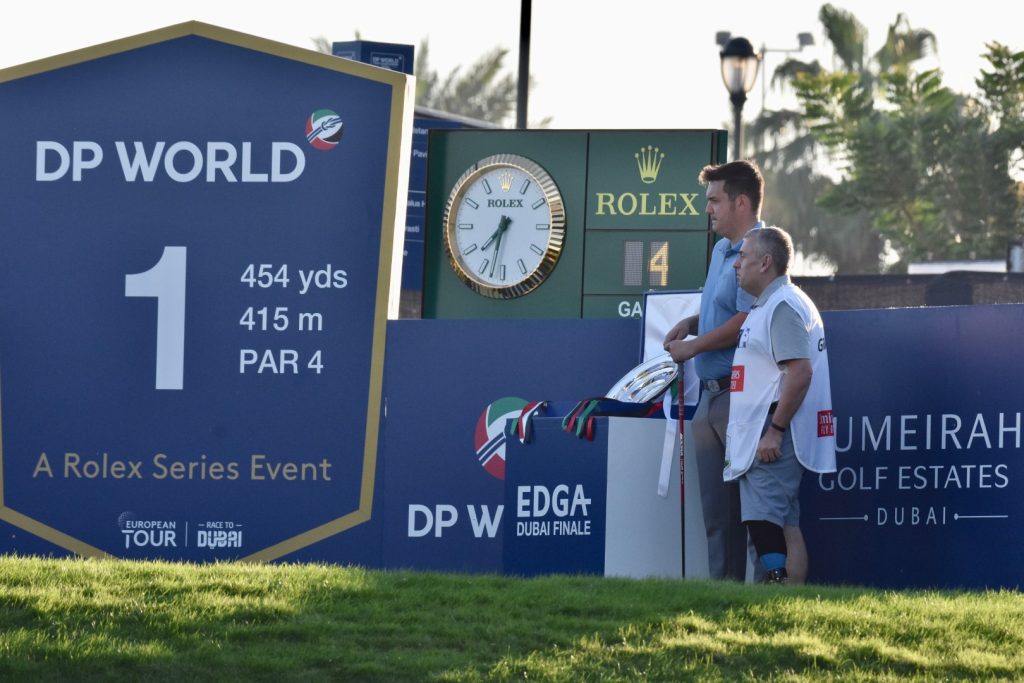 At first it was playing pitch and putt while using crutches, which though difficult and problematic it was also fun to be back with his friends; the golfing skills were still there so he didn't have a mountain to climb. Instead, this would prove to be a wonderful part of Mark's mental and physical therapy and would help him to shape his new life ahead.
"I just got out there and started to try and enjoy it a bit, really. I think it probably felt alien and difficult at first to have had so long without being able to bear weight on my left leg, to actually being able to do so, though with some sort of pain, but it was OK."
Mark started to regain confidence in his golf swing over the next year or so and he was soon playing off around a 13 handicap, a result which delighted Mark and his friends.
From this excellent restart, the game clearly consumed Mark, providing a fantastic benefit for his confidence and his social life, not least enabling him to continue playing sport with the cricketing mates of his youth. He joined The Ridge Golf Club near Maidstone in Kent, and golf has been a good friend to Mark ever since.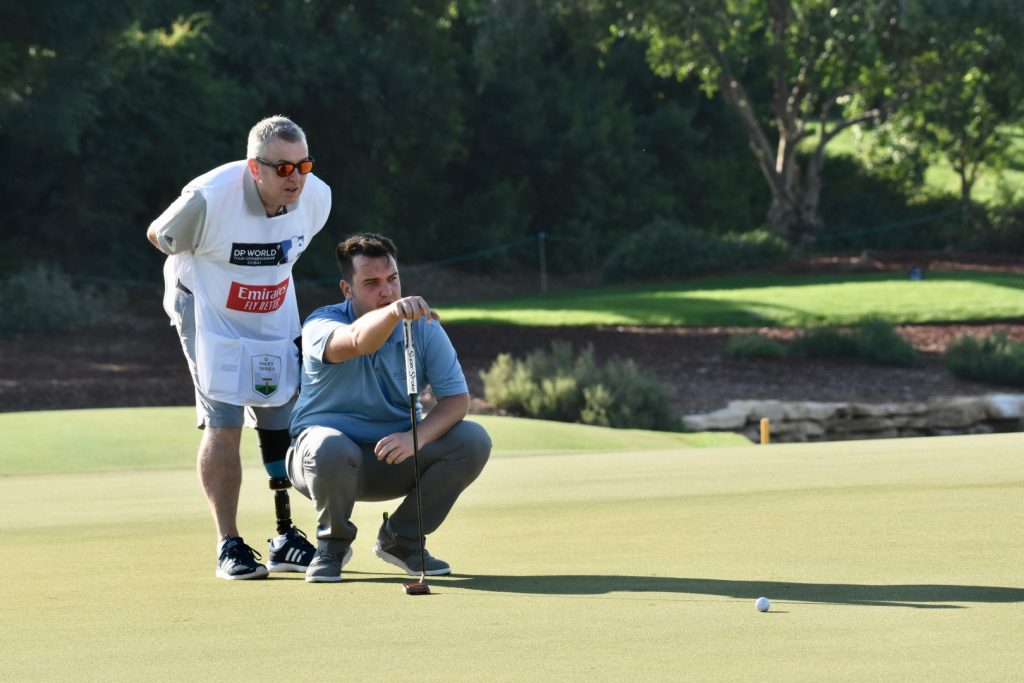 Mark would play in his first event for golfers with disability in 1995, and over the next two decades his handicap tumbled down through the single figures as he played in events in England, France, Sweden, Netherlands, Germany, Canada and South Africa, winning 10 tournaments in the process – and he says the pinnacle was winning the Disabled British Open in 2010. 
One of the people he thanks most for introducing him to this competitive scene is Bob Steward. "Bob was a member at Littlestone and was due to be captain in a couple of years, after I joined. He proposed me and I spent probably six years there as a member. I was so keen I even used to commute down from London, It was probably a three and a half hour round trip by car. So people would say, 'You're mad. Why do you go all that way to play golf?'"
Mark remembers fondly the old British Amputee Golf Association tournaments. "We used to have 100 people playing. There would be people coming from all over. Geoff Nicholas would come from Australia, 10 to 15 Americans would come. They would be these week long events, massive celebrations of golf almost. I met Bob through that event.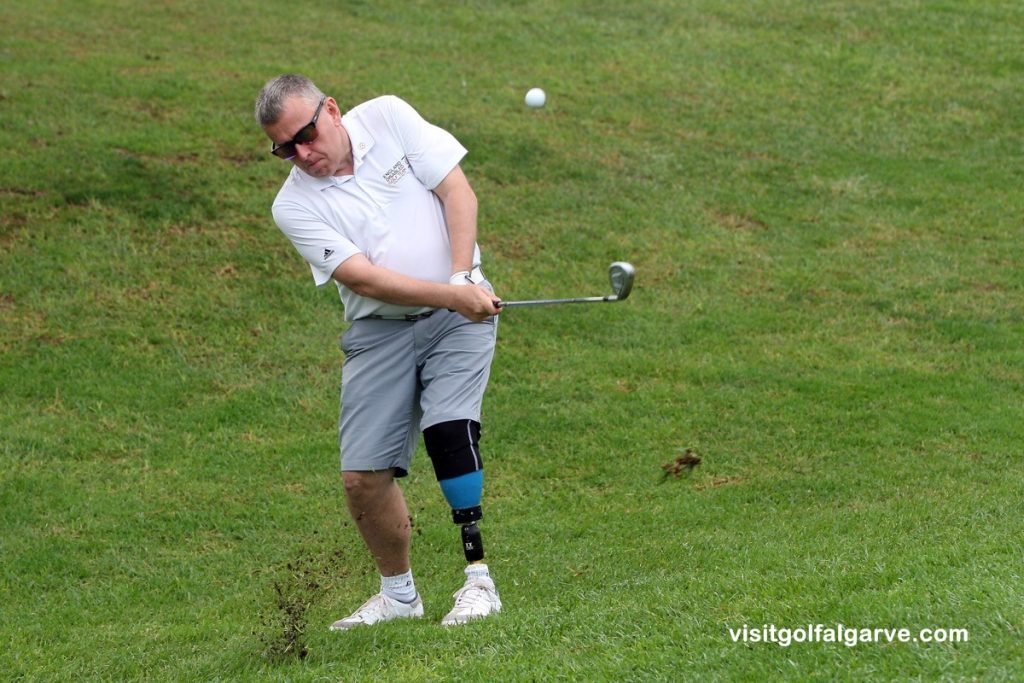 "Then we started playing the English tournaments, the old 'Balasa' event, which was at Broome Manor Golf Club in Swindon. That's where the European guys started to come over and play with us, and that whole EDGA embryonic thing sort of appeared, really."
In his 20s and 30s Mark was more guarded about his disability on the golf course while today he is far more relaxed and wants people to understand. "I think in the early days, it would be very difficult for people to even know that I was disabled. I'd always wear trousers and I was reasonably young, so they wouldn't necessarily know. Or they might say, 'Oh, you're limping a bit. Are you alright?' Then you might explain the story, that you haven't got a leg or whatever, and they could get a bit taken aback by that.
"I think recently, in the last four or five years, I've sort of embraced it and worn shorts every time if the weather permits because it just saves any awkward discussions. I think being an amputee has become much more accepted in the last 10 years or so."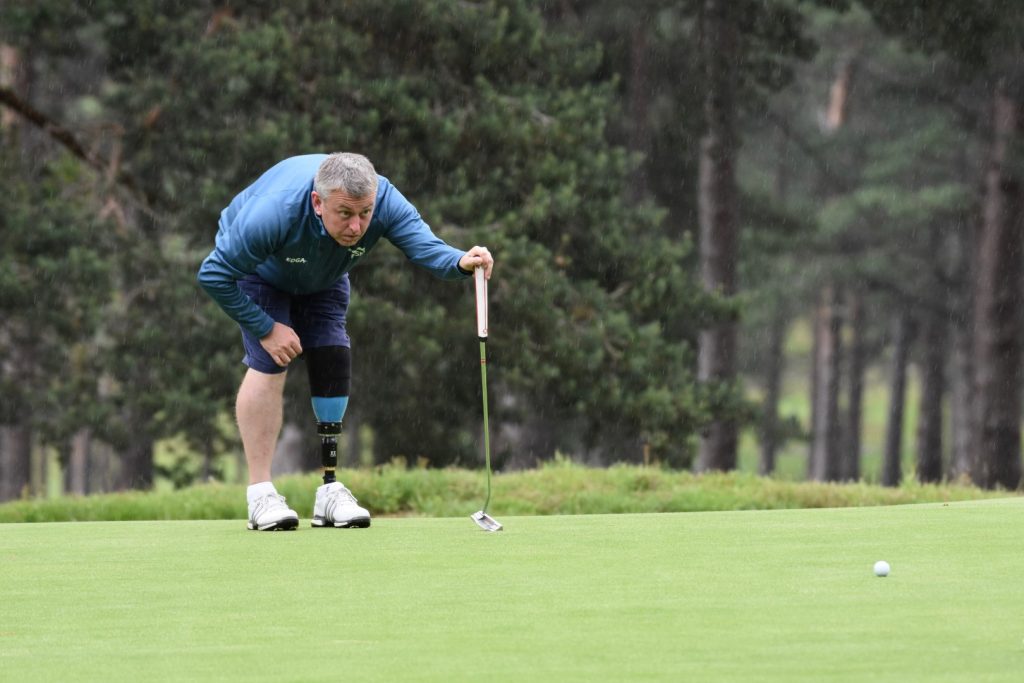 Mark adds: "There isn't really a stigma around it anymore, whether it's the Paralympics, or whether it's a sort of [military] veterans' thing. It has become a lot more out in the open. You see the Invictus stuff, and you see people in movies. The stigma is gone, basically."
Playing in the EDGA calendar and embracing its ethos that we are all 'Golfers First', Mark has helped a great many players find their way and relish tournament play. In 2016, he and fellow player Mike Gays started the England Disabled Golf team (supported by England Golf) in part because he wants to inspire the next generation of players. He thanks The Professional Golfers' Association (PGA) for helping him do this as he has passed his 'Level 1' coaching course recently. Mark has had great support from two PGA coaches in particular to help his game, Tim Milford from Pedham Place Golf Club, and Craig Thomas from the ISPS Handa Academy programme.
They have helped Mark take his handicap down to 5.4 a year or so back and now, recalculated as part of the World Handicap System, he finds himself today a 'Category One' player off 1.9, which Mark himself describes as "a bit brutal". Brutal or not, this is testament to his positive attitude and hard work over more than two decades of playing golf.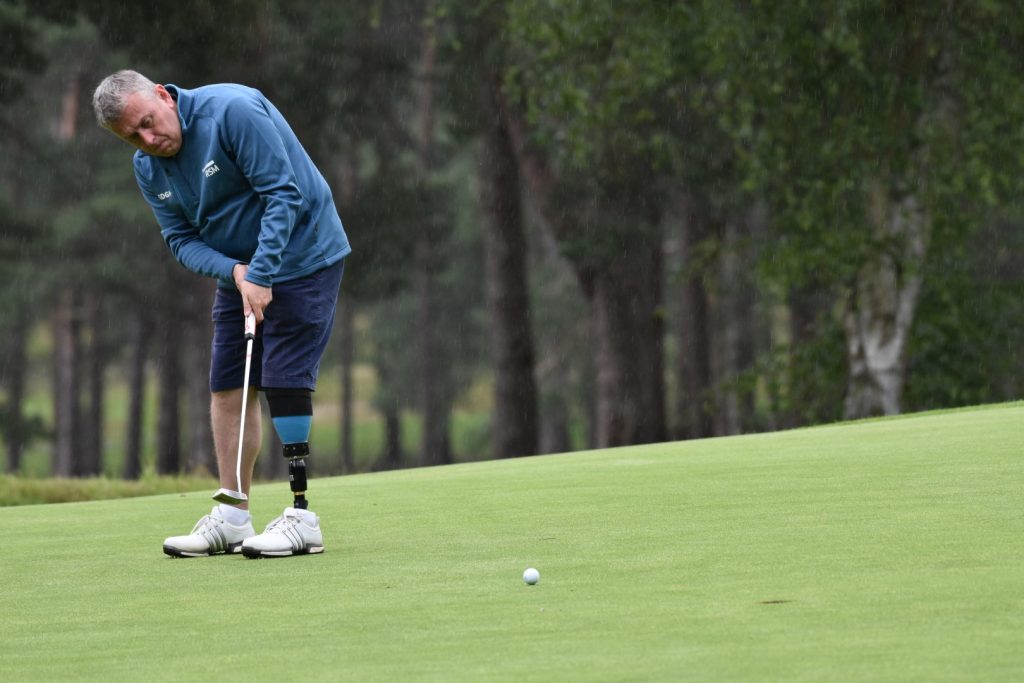 These days he enjoys his golf near home at Lambourne Golf Club, near Slough, and it's tempting to think the story has a simple happy ending in golf terms, but life is never quite that easy. Mark, like other amputees, is still affected by wearing a prosthetic and has his share of issues looking after his leg. Fantastic though prosthetics are technically today, it's never always smooth sailing, even on a good day. 
"Even after being an amputee for 20 years or so, I still haven't got 100% confidence in it. I don't think I ever will, to be honest," says Mark.
"You know, I think it's funny how it probably doesn't actually affect your swing, but mentally it can, because some days it doesn't feel as good as it does other days. So that's when your confidence in it dips, and it's probably an excuse that you're playing badly, but you can go away and wake-up the next day and put it back on again, and it feels great. And you're like, well, what's that all about? It can even happen mid-tournament. You might have a great first day, and then you put it on on the second day and it just doesn't feel right."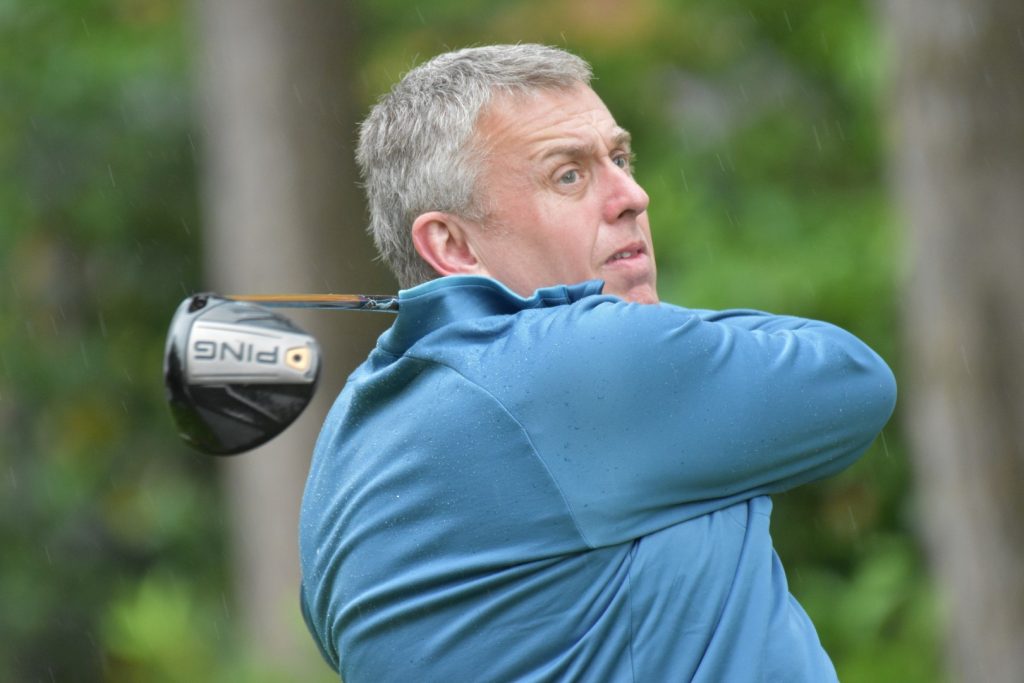 Mark still relishes the intense personal competition through golf (with others and yourself) in a sport which is also very much a social game at amateur level. Regarding competition, Mark says: "I think it's the fact that you're playing your own ball. You can't be influenced by other people as in they can't stop you getting your ball in the hole. It's not like a team sport where you're trying to get somebody out or you're trying to stop them scoring. I think you're in control of your own score, to a point."
Mark adds: "There's half a dozen of us that would always meet up and we always go and visit each other's courses and have a day out with each other, outside of the tournaments. We're a close group of people… it's the old phrase, isn't it? We're all just golfers with disabilities. We're not disabled. We're all golfers and we enjoy playing with each other, so we would still play with each other socially as well."
In terms of other players, he has made many friends in over 20 years and close mates include Tony Lloyd, Mark Helm and Scott Richardson.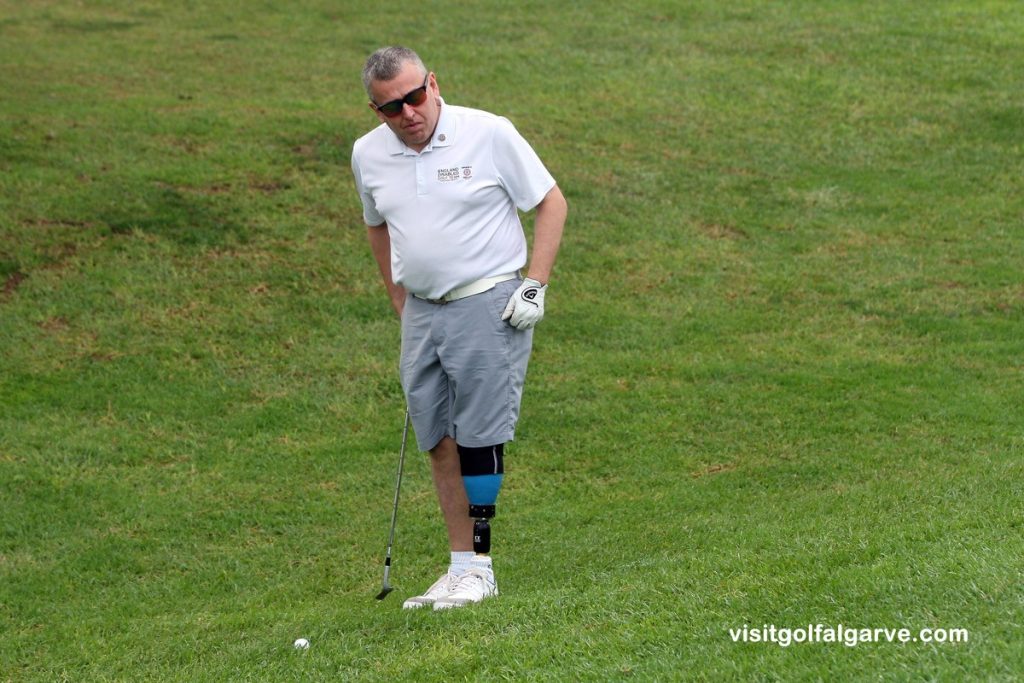 "Golf has given me fantastic friendship groups. It's given me some great opportunities to travel. I think they probably combine with each other. We've played all over the world in disabled events. I have made some great friends in those countries as well, and I think, even if you don't see someone for 10, 15 years, you might turn up at a tournament and then all of a sudden it's, 'Oh, how're you doing?' You know, it's almost like you haven't necessarily been apart.
"I think disabled golf in particular has given a place where everyone can feel comfortable, especially when your disability happened quite recently.
"I think people can just turn-up. They might feel a bit apprehensive in the first few hours, but everyone's always going to sit down and have a chat with you. I think the friendship is one of the big things I take away from this."
In terms of advice to others who may face a similar injury and subsequent amputation, Mark's thoughts tackle the emotional issue and also the practical.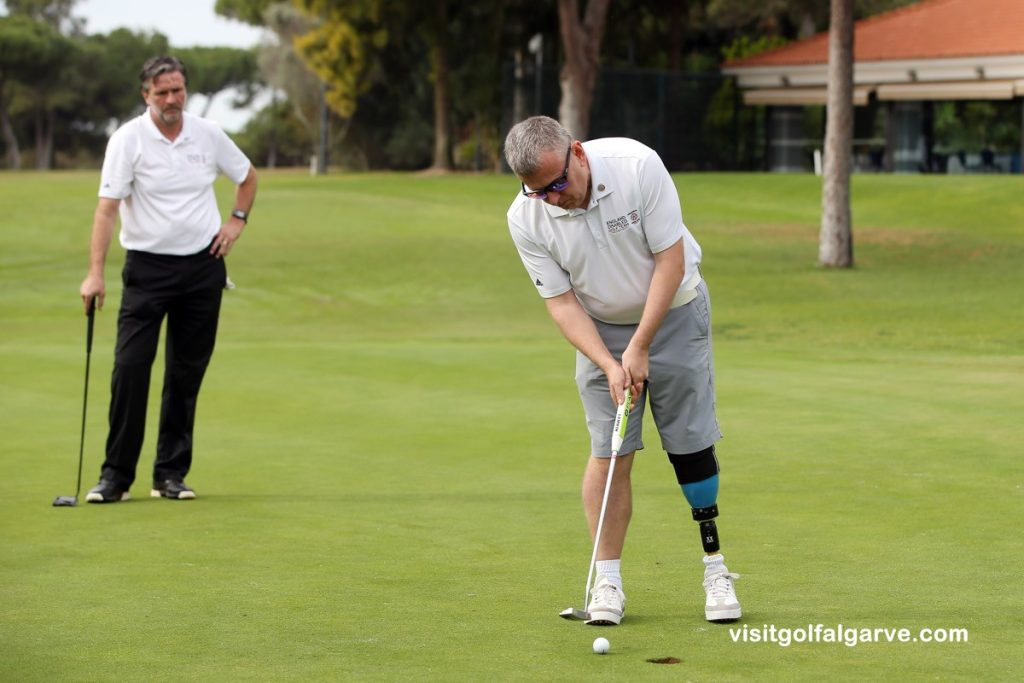 "I think that there is always going to be someone to support you. It's not the end. Try and look on the bright side of where you are at the moment. You know, your life is going to change, clearly, because you're having this life-changing experience in hospital. Hopefully you're going to recover, but if you don't recover fully and things don't necessarily go as you plan, there's always something to look forward to.
"It's not really a joke, but it's just sensible advice that we say to people. You know, no matter how down they're feeling, there's always someone worse off than you, so don't think that you're the worst off person in the world. Get on with it, because there's some great things to do out there."
Mark's practical advice is about investing time, thought and having a good relationship with your prosthetic consultant. Being careful to make sure this works in the consultation and fitting stages can make a big difference in terms of comfort, balance and confidence going forward.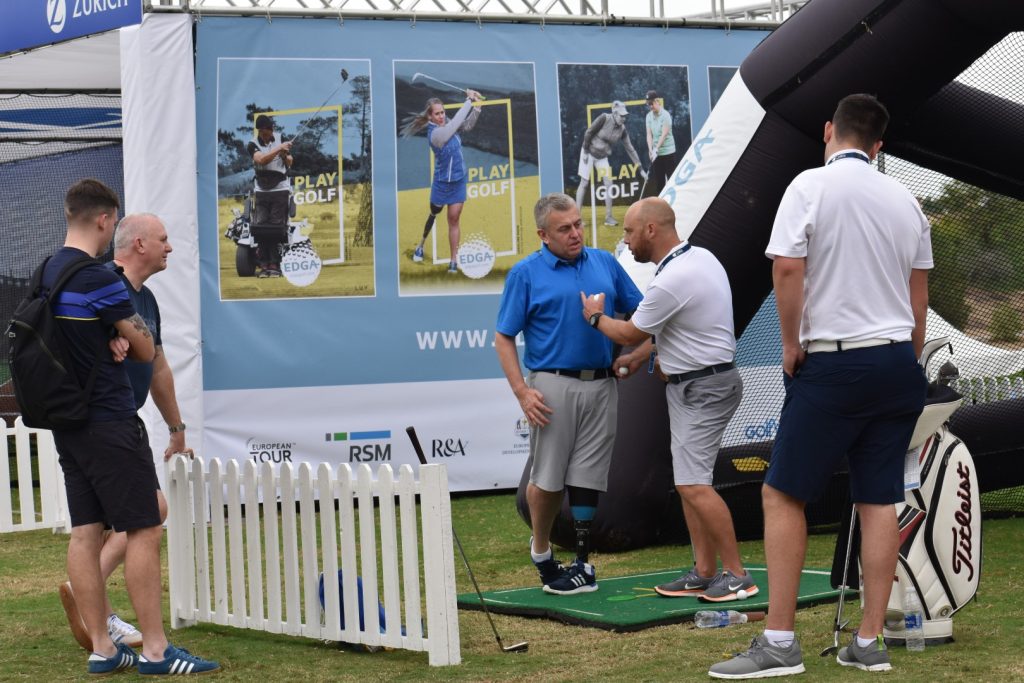 Looking to the future Mark does worry that he is not seeing enough amputees and in particular women amputees getting into a sport that can be so beneficial for these people. He wants to see golf as a 'go-to' option in rehabilitation facilities and hospitals, reasoning that if something isn't on the menu it can't be chosen.
Mark in effect benefited in a 'buddy system' through his friendship with Bob Steward and believes that this kind of person can be so crucial to anyone starting or returning to the game.  
The 'buddy system' is a phrase that seems to inspire both interviewer and interviewee; it comes down to good people, volunteers and professionals, being able to support those who might really need a new direction, hobby or sport, after an accident or illness.
As quite a number of EDGA players will testify, whether you're looking for a good buddy or wanting to play a match, Mark Smith is the guy who is very hard to beat.
Contact EDGA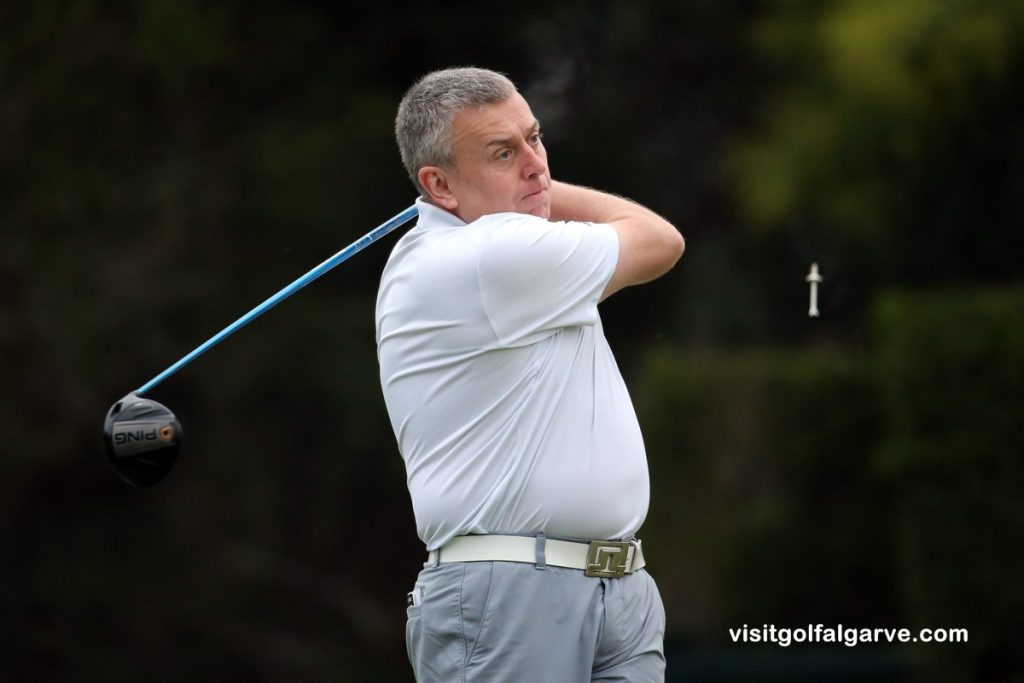 NB: When using any EDGA media, please comply with our copyright conditions