"

I had a very full, rich, dynamic life where I was probably as free as anyone, and I wanted all that back because it was a bloody good life."
James Gribble – tough love and second chances
"It was like a full-time job. That's the way I treated it. It was an obsession to get better. Anyone who basically questioned me, I didn't want around." These are the words of James Gribble, an Australian who confesses to being an obsessive when it comes to pursuing the things that he wants in his life.
Golf and travel are two things that James loves. Even when a catastrophic injury came into his life, the result of a simple fall, his passion for both acted like magnetic forces pulling him towards recovery. Improvements that even the most positive of his doctors and nurses thought impossible.
James, a quadriplegic, recognises that had it not been for the kindness of strangers, he may not have survived to tell his story and inspire thousands of others. The circumstances leading up to James falling from a barstool, onto sand, seem innocuous enough, but a twist of fate meant that he would endure terrifying hours waiting for medical help to arrive.
We start the story of James in Sydney. Although Australian by birth, with parents who worked in Asia, James had the opportunity to live in Malaysia for seven years before he reached 22 years of age. Perhaps it was then that James was smitten by travel, but another suitor was on the horizon vying for his attention. James was into school sports in a big way: soccer, baseball, cricket, basketball, and rugby were all games where he could get stuck in. In contrast, golf seemed to be a much more genteel and frankly boring sport. All that changed when his English godfather who was visiting Sydney proposed they should go for a game. "I said that it was probably a waste of time, and so let's go and have a beer or something, but he convinced me to have a hit. I borrowed a set of golf clubs from one of the guys at university. I went out there and for someone who hadn't really played golf before, or at least a full round of golf, I played ok. Then I was absolutely hooked."
James studied economics at Sydney University and was looking to get into the world of business or finance. After his degree, it was time to travel again, and with relatives in the UK, he could stay, travel around England, find a job and play golf. By now the game had James fixated, "At the time I was clinically obsessed with golf. I was playing between four and six handicap and had started speaking to the golf courses around London to find out exactly what I had to do to become a professional."
James was also sending CVs and chasing down interviews for a job in the finance sector. At the beginning of December, he got two phone calls that would be his sliding doors moment. "I got two phone calls, within 20 minutes of each other, one from Roehampton Golf Course to be an assistant professional, and the other from the Bank of Scotland for a graduate position." James took the bank job, in part due to the time of year, and so his course was set.
Life at the bank had its benefits. Not only was James on track to become a corporate banker, with the security of a two-year graduate programme, but he got to fuel his passion for golf and travel. After sampling several of the bank's corporate areas, James settled on a position in leverage finance, which is the debt side of private equity. "I had a very rich professional career where I was working on deals between 50 million and a billion dollars for businesses all across Western Europe. So one week we'd be looking at an oil and gas company in Norway, the next would be a storage business in Spain. I got to do a lot of travel, and from an intellectual point of view, it was very stimulating."
This was back in the heyday of corporate hospitality. As a golf addict, James found himself at the point where opportunity meets passion, "I ended up playing quite a lot of golf as a corporate banker. I think my record was 32 golf days in a single year. It was a Scottish bank, so we used to take clients up to Turnberry, Kingsbarns and other such places. There was a very active golf club within the bank and we played at least once a month somewhere."
Life in London was good, the travel, the golf and the trappings of being the Vice President of an investment bank all led to contentment, or at least should have. James had been looking at doing something a bit more substantial with his life, but the stimulus for change proved to be the onset of the global financial crisis of 2007/2008. James looked at his redundancy as an opportunity and started to consider getting involved in micro-finance. "That was one of the reasons I went to Africa. I'd been lucky enough to spend a bit of time in Africa previously. I absolutely loved it, so when I had this opportunity to take a bit of time off I grabbed it."
James set out his plan to travel overland from Cape Town all the way to Cairo. He would assess opportunities to micro-finance, take in the sights, sounds and smells of Africa and perhaps get in a spot of fishing. "I've always been lucky to have lots of passions, and one was fishing. I'd gone to Zambia to try and catch a thing called the tigerfish, which is a beautiful type of fish that literally looks like a piranha that has got its wicked way with a tuna."
The African tigerfish is a fierce and courageous species sporting razor-sharp teeth, muscular bodies and distinctive 'tiger' stripes for which they are named.  The Zambezi river is one of the best places on the continent to find them. James arranged to go out to a remote island to go fishing and could hardly contain his excitement for the prospect of hunting down this much sought-after game fish the following day. "I'd been for quite a long run, and it was about 40 degrees. It was the first run I'd done in Africa. I think I must have overdone it. Later that night I was catching some transport out to the island. Not long after I arrived there, I was sitting in this thatched hut with a couple of the other fishermen. All I remember was just feeling a little bit light-headed. I blacked out for a couple of seconds and the next thing I knew, I was lying basically motionless on the sand. I had fallen backwards off the stool that I was sitting on."
At that moment the world changed for James, and for some of the people who were also in the hut. James was a big man, strong, fit and young and so a simple fall from a stool into sand might perhaps cause a bruise or two, but surely not a broken neck? "I just fell awkwardly. My understanding from talking to the people who were there with me was that literally, my whole body landed on my head. It was a very simple fall, but obviously, it had pretty catastrophic consequences. I think my first reaction was that I'd done something seriously bad.
"I didn't have a lot of experience with spinal cord injury, but I knew, given the numbness, that that's what had happened. And I didn't really have too much time to think about it because a couple of the guys who were there were getting ready to try to move me. So the first thing I was trying to do was to stop them from doing that."
For the next few minutes, James tried to process what had happened, along with the practicalities of how it might play out. "Many different things started rushing through my head. How am I going to get off this island? Because we were literally in the middle of nowhere. No one knew where I was, no family members or anything. I was travelling by myself. I had just met the guy next to me in the hostel that morning. So, lots of unknowns, but the big one was, how am I going to get myself out of this?"
Night-time in Africa is like nowhere else in the world. For one thing, it is dark, as the lack of light pollution reveals incredible skies, which under normal circumstances are perfect for contemplation of the world and our place in it, but on this night James just felt far from home. But he was not alone, as the cast of characters in this almost movie-like setting would pull together to help get James through the longest of nights.
Adversity tends to bring people together, and James recognises that without the support of the African fisherman, Steve Barreiro, who he had met for the first time that morning, and two amazing Israeli girls, that he may not have survived. "The girls were so diligent, they had just finished their military training and sat right next to me. They gave me little bits of water and small bits of food and were talking to me all night, just to keep me conscious. Steve stayed by my side all night as well. I think without those guys I probably wouldn't be here, to be honest."
Lying in the sand for almost 12 hours was not ideal, but there was no way to get a medevac helicopter onto the island until first light. The paramedics arrived, stabilised his condition, contacted the family of James and got him off the island. Initially, James found himself in Livingstone, but with no neurological department; it was only later in the day that he was transferred to Milpark Hospital in Johannesburg. Milpark is the preeminent spinal and brain injury hospital in Southern Africa, and their assessment was that James had broken two vertebrae. James needed an operation to fuse them so that they could start to repair. "I had the operation on the first full night I was in the hospital. You're in a quite critical state in intensive care for the first week, week and-a-half, because you lose most of your lung capacity. Obviously, you're immobile, you're incontinent, and your blood pressure is all over the shop."
Ten days later, James is out of the IC unit, and the long road to recovery was underway. The human body is meant to be moved, so somehow James had to find a way to keep his limbs mobile. "My dad, physio's and others spent six or seven hours a day when I was lying there with no movement, just moving my legs, moving my hands, keeping the joints limber. Even though I couldn't physically move anything, I would try to straighten my leg, use my hamstrings or wiggle my fingers as they were moving me. With spinal cord injury, there's no kind of set medical procedure to try and recover, in theory, neurological repair comes as the swelling goes down." Slowly James was getting ready to face the next stage of his journey home to Australia.
A short stay in the Royal North Shore hospital in Sydney was followed by seven months in Royal Rehab in Ryde spinal rehabilitation unit. During that time, his body would heal, he would learn to do some of the simple things again, and he had time to come to terms with what living as a quadriplegic would be like. He had already started putting his mind to the task on the first days in Africa. "I obviously spent a couple of nights in hospital where I was in a pretty bad way. Just thinking about how it's going to affect not only my life but my loved ones, my family, whether I would have to be fed every meal, whether I was ever going to be able to walk again, have sex again, run along the beach, swim, all these things that flash through your mind. I remember thinking because I couldn't move, the only way I could actually start repairing myself was actually visualising things. That's how I started to put all that negative energy aside. I thought to myself, I need to use all of the energy I've got to try and repair."
The dual passions of golf and travel remained strong motivators as James started the process of repair. The golf addict in James came to the fore, and the game became even more influential in his life, even though at this stage, it was just in his mind. "When I was lying there in the hospital by myself at night, I started doing visualisation, and golf was one of the things I used to do. I'd literally pick a golf course that I knew quite well, the one that I played the most actually in the UK was The Berkshire just outside London. I literally would play a round of golf in my head, shot by shot, hole by hole. I'd obviously shoot two or three under every time that I did that, and that's how I started my repair."
Every experience is an opportunity to learn, and with years of travel safely tucked in his backpack, James was able to draw on his previous adventures. He tried western physiotherapy, occupational therapy, acupuncture, Chinese medicine, and even singing lessons to help strengthen his core strength and lungs. "I was really just trying to build a programme where every waking hour I had the energy to focus on physical recovery. There was a rotation that included using all of my friends and family, and we probably did between 50, 60 hours of rehab of some description every week. It was literally like an obsession, it was like a full-time job. That's the way I treated it. Anyone who questioned me on that, I didn't want them around."
James would refuse to do many of the things that he loved as his single focus was on getting back to some kind of normality. "I had a very full, rich, dynamic life where I was probably as free as anyone, and I wanted all that back because it was a bloody good life. So whether it was golf, fishing or travel, I just refused to do those things. I thought I'll just do them when I get better." But first, he had to do the simple things which would get him out of bed every morning. "Being able to feed myself, being able to walk, play golf, enjoy the sea, get on a plane, all the basic things that I had in my life."
Today James is back to travelling, playing golf and fishing. It is testimony to his determination, to his support network and the skill of those involved in his treatment. What he learned during a life of travel and those difficult days has stood him in good stead. "Growing up and living in a western country, but being exposed to all sorts of cultures through travel, whether it was famine or going to markets and seeing people with nothing, gave me a very good perspective. I soon recognised that even in that ridiculous situation where I'd had everything I knew taken away, I still had a great support network, I still had a lot of people behind me. I think that's probably what I see most. A lot of other people with spinal cord injury lose perspective and can't find any positive. I was very lucky just to still have that ability to look for the positives."
Through hard-won incremental gains, James understands the importance of exercise and human motion to try and get a physical response, not just for the physical repair, but also to help psychologically. "I looked at different things that I wanted to do to help others, and I got exposed to a lot of people with disabilities who weren't nearly as lucky as I was.  There was this big population that I really wanted to help, and it was clear to see that there wasn't probably as much resource as people wanted in some respects."
James has brought his passion to helping others. He is an ambassador and sits on the management advisory committee of a spinal cord resort in Sydney, and is introducing thousands of people with a disability to the game he loves, through Empower Golf Australia. "The whole idea was to basically support people with disabilities, whether they're returning to golf or never tried golf across Australia. So right now we've put about 5,000 people through our clinics nationally per year. My wish with Empower Golf is always to cater for people with all disabilities, whether they're physical, psychological, or anything in between. My biggest goal with Empower Golf is to have 90% to 95% of Australians within an hour and a half of an Empower Golf hub, where they can get a lesson, use adaptive equipment, and access the facilities." With the governing body of Golf Australia and the PGA of Australia also active with All Abilities Golf, at least in this part of the world it seems that golf for the disabled is getting the attention that it deserves.
James has come a long way, since that dark night in Africa after his hunt for the tigerfish. He has been forced to re-evaluate and re-formulate his life. He has stared down the negative thoughts, flipped them and turned them to fuel what has propelled his physical and psychological health. "Forget the negative energy and focus on using every bit of energy you've got to get better. And focus on how you might be able to do things, not why you cannot."
Right from the start, from that fall onto the sand off the barstool, James has used positive thought, while being supported by people who care. It's a recipe he is now sharing with other people who need help after their own setbacks. offering them his spirit. Sometimes you need the spirit and courage of the tiger fish.
James's Video:
Contact EDGA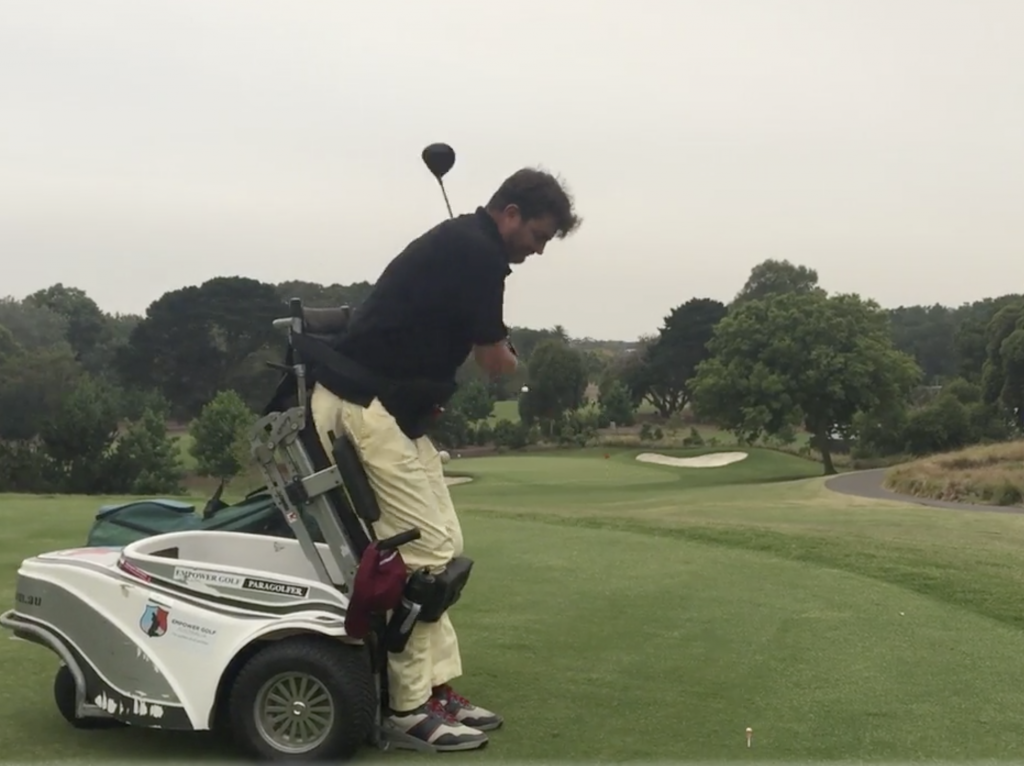 NB: When using any EDGA media, please comply with our copyright conditions