Audio: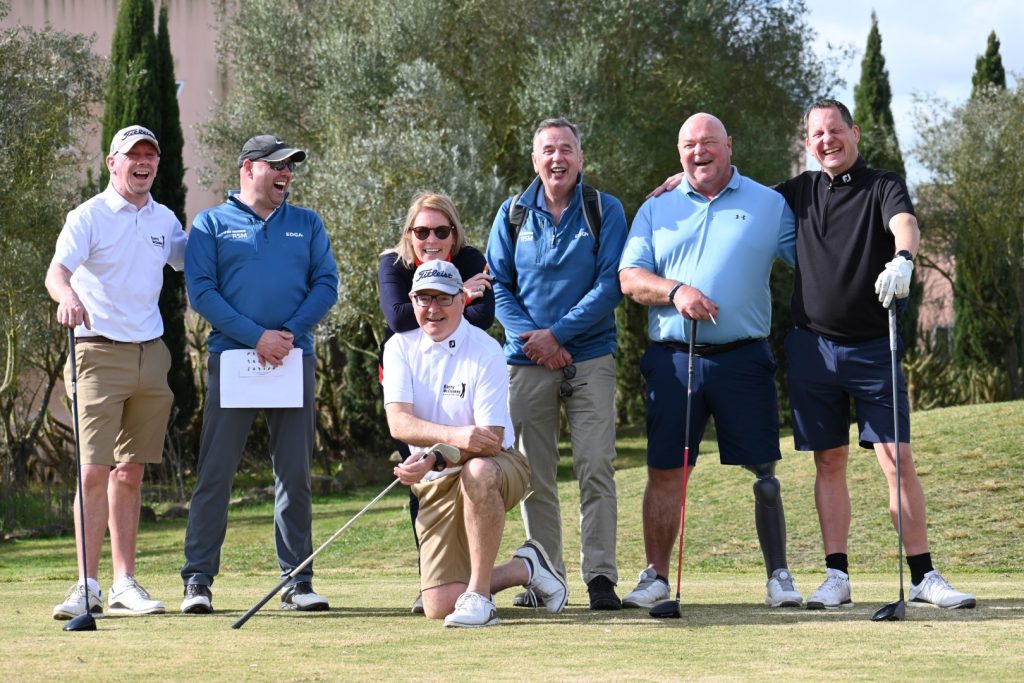 Jeroen Coumou is a Dutchman living in Rotterdam. When we interviewed him to ask what golf means to him, his warm and approachable personality was immediately apparent, as was a thoughtfulness and calm authority. Clearly at ease in being honest and open with strangers, he will at the same time fix you in the eye as he speaks and listens, learning a little about you in return. He has the characteristics which you would hope for among the best in his profession. He is a teacher.
"I am a history teacher but my main concern is not the lesson I'm teaching. What I like about teaching is you see them come in as 12-year-olds and they leave as young adults and they have made progress in life. If there are one or two you can reach and have a good influence on, that's already a job well done."
He will let his students, kids from often very difficult family backgrounds in South Rotterdam, ask questions about the prosthetic on his left leg, and he will talk to the teenagers about the motorbike accident he had when he was their age. He respects their capacity to think for themselves and puts a lot of thought into how he communicates with them. He hopes his experience back then, and all that he has learned about life since, may help them.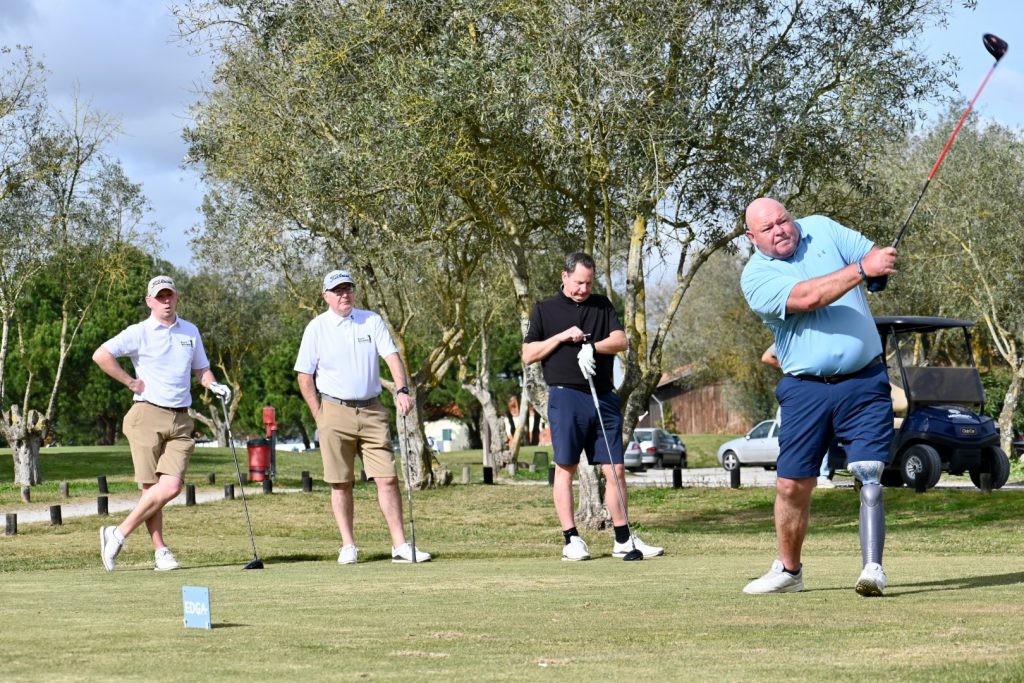 Jeroen tells us that losing his left leg at 17 led, indirectly, to a fantastic career he wouldn't change for the world – guiding young people forwards. He is a history teacher always looking forward for his students. And at the end of a tough week teaching his classes, he says he changes one stressful situation for another. He goes to play golf.
He is joking of course, something which comes to him easily on the golf course. The day we spoke he was easily identifiable in the orange shorts of the Netherlands; the team colours are crucial! And he was all smiles despite a fairly average scorecard.
A golfer at ease with his disability then? Well… when we are first talking with him at the PING Open for Golfers with a Disability at Thonock Park, Lincolnshire, in June, Jeroen revealed that this wasn't always the case. But golf, he stresses, has provided a crucial part of his recovery story.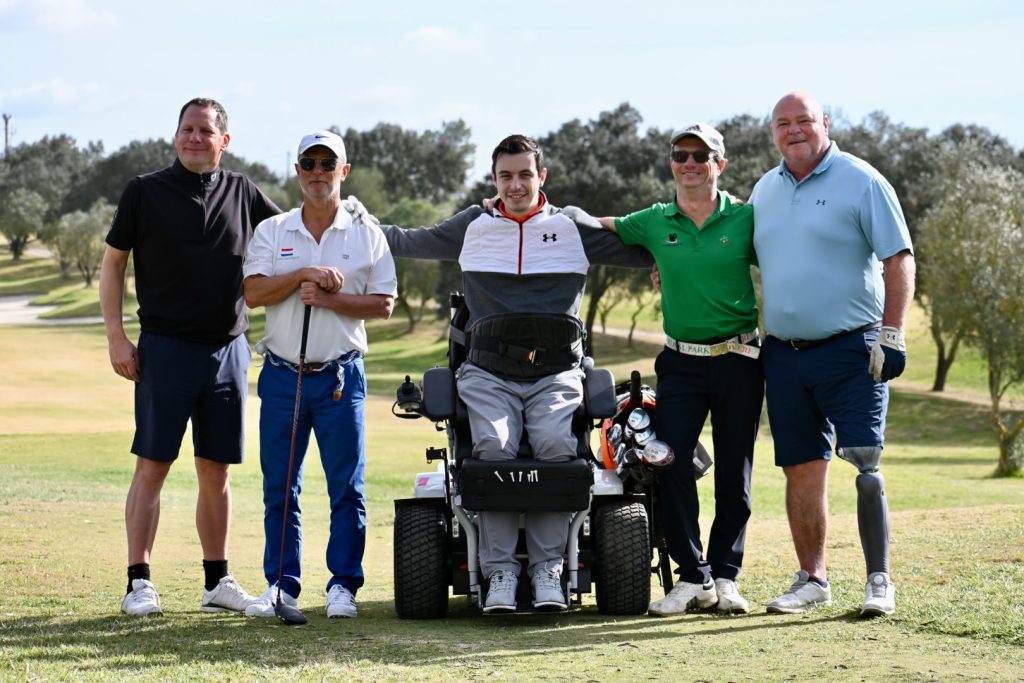 It is a story for Jeroen that starts on a winter's night in 1983. 
"Actually, I had just met my first girlfriend and we were dating for three weeks and I had dinner with my parents and left the house. My 17th birthday was the 20th of January, so the 22nd was of course a winter's night. I drove through this curve and I saw two cars coming from the opposite direction and the first car started to overtake the second car and it came on my side of the road. I saw the headlights come towards me rapidly, I tried to avoid it, but of course I didn't succeed.
"With my left leg, I got caught between my motorbike and the front of his car. So basically my left leg was fractured; it was smashed. Because of the impact, I was launched like a rocket about five to 10 metres and I ended up by the side of a ditch. They spent 10 hours operating on me. After that, I spent the first week lying in intensive care. I had lost a lot of blood, had open wounds, so I was very vulnerable to infection."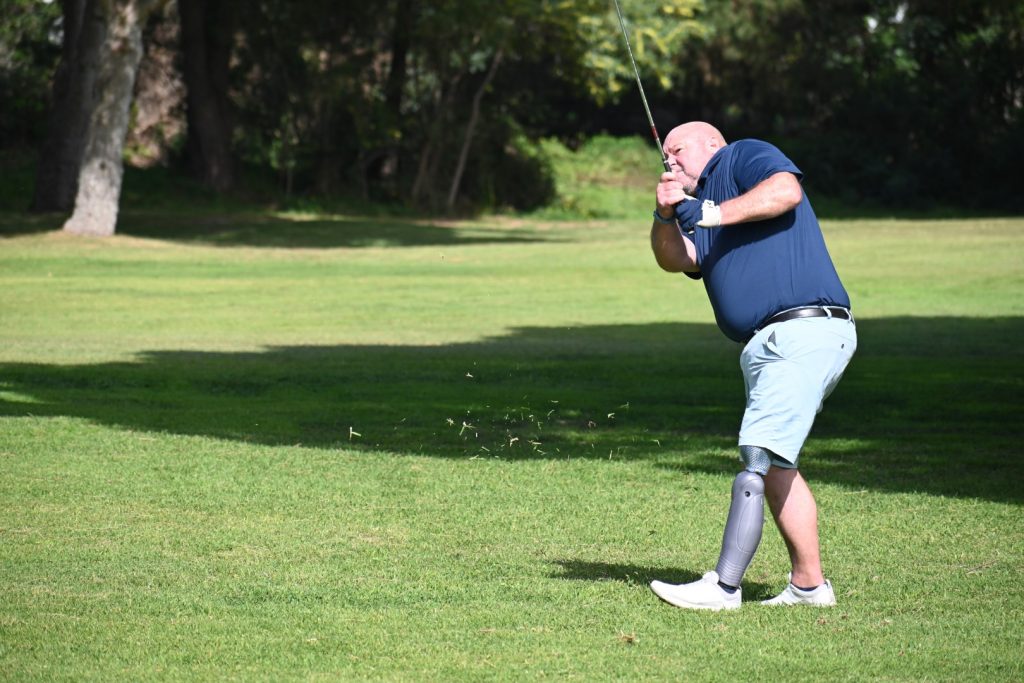 Jeroen describes how he endured seven months in hospital, undergoing a series of 11 operations. After trying to first save the foot, they tried to save the knee but to no avail. The result was that he became an above-the-knee amputee. He recalls the doctors asked him if he needed psychiatric assistance as almost part of a general checklist. But 17-year-old Jeroen didn't have a clue what he needed at that point and he said no, thus allowing him to enter his adulthood facing a mental hurdle he was simply unequipped to face.
It had been a very different adventure up until that point, played out on the sweeping plains of Africa and the playing fields of England. Jeroen says: "My childhood, I spent living in Africa. I spent five years in Tanzania, seven years in Kenya. My father always worked for sugar cane companies, so I had a wonderful childhood there in Africa."
Jeroen remembers a "real role model": his teacher in Kenya, Mr Richard Foster. He still recalls the lessons: "In 1492, Columbus sailed the ocean blue", and you can sense how Richard Foster may have guided Jeroen towards teaching history himself.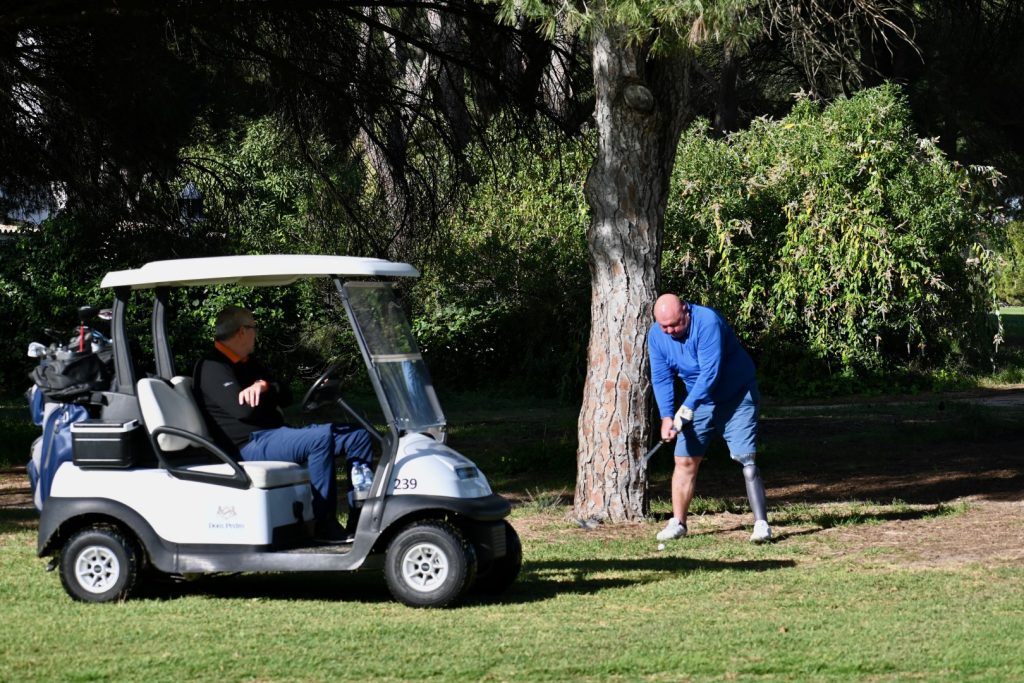 When his father's work took him to a challenging area of the Sudan, Jeroen was sent to a boarding school, Dover College, in the south of England. Here he excelled in the classroom but he was also a key member of the 'scrum' in the rugby team and a wicketkeeper on the cricket pitch. One of his sporting heroes was Australian cricket fast bowler Dennis Lillee, while the rugby team he admires are the 'Springboks' of South Africa who won the Rugby World Cup of 1995 under the inspiration of Nelson Mandela. Jeroen remembers loving playing his rugby in front of the school crowd for Dover College. It had been a rich time for him then; all interrupted.
"I was still going to secondary school. Of course, the accident totally turns your world around, and you really have to look at what you can do and what you want to achieve in life, because a lot of possibilities you don't have anymore. A lot of doors get smashed in your face closed. It takes a long while, especially when you're young, to accept the fact that you have a disability and learn to deal with it."
The tough life lesson certainly offers Jeroen a feeling of perspective when addressing a class at school.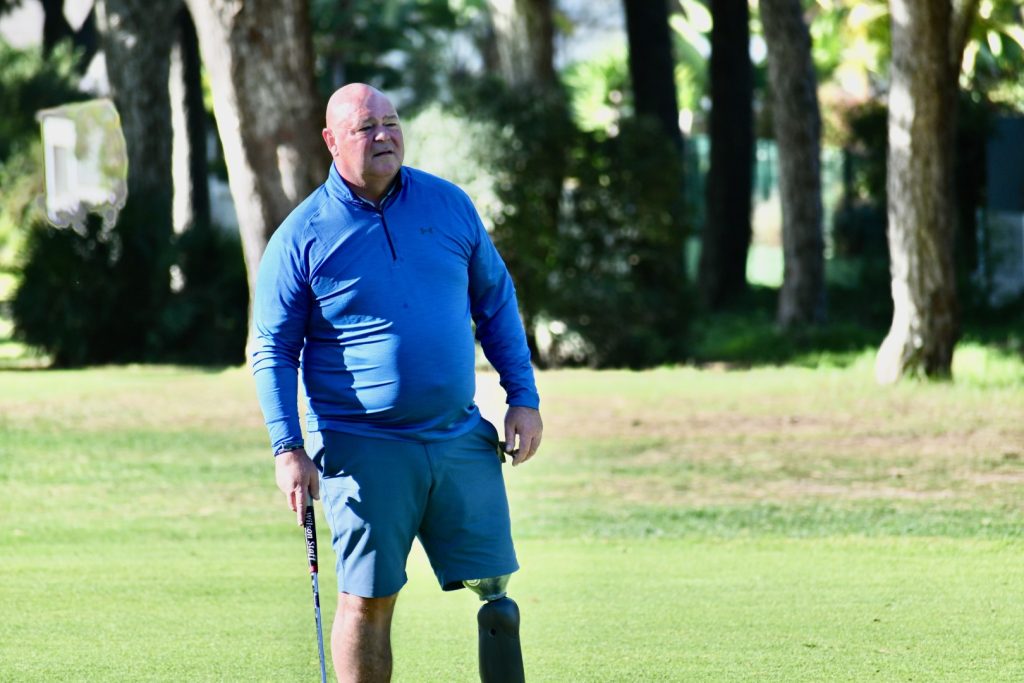 "What I tell my students is that when you see somebody lying on the street, whether they're not feeling well, or had an accident or whatever, it's not always about the individual. It also has a large impact on everybody around them. My father was into a new job. Of course, as a mother, you're always taking care of your children, you want them to be well and protect them. You have a brother and a sister who get much less attention because all the energy is focused on you at that moment. So it has a huge impact on families as a whole, and of course on you as an individual also. So yes, it does affect you, but I think in the long run it also makes you into who you are as a human being and where you stand in life."
Jeroen adds: "I think in the long run it changes you. It changes the way you look at life. It changes the way you deal with other people. I eventually became a school teacher, so I've been teaching children. They come in when they're 12, 13 years old, they leave when they're 16, 17, 18 years-old, and I know I've always been a big influence on them, but I always have respect for the children. I tell them about my accident, what happened to me. There are always children who remain seated after the lesson and they have their own stories and basically, I think as human beings, we all carry our cross. And I tell the children at the end of the lesson that in my case, I have a disability which is visual, you can see that if I wear short trousers, that I am missing a leg. But in a lot of cases you can't see what somebody's dealing with. And so just try and understand other people and don't judge too quickly. You've never walked in their shoes, so don't be too quick to judge.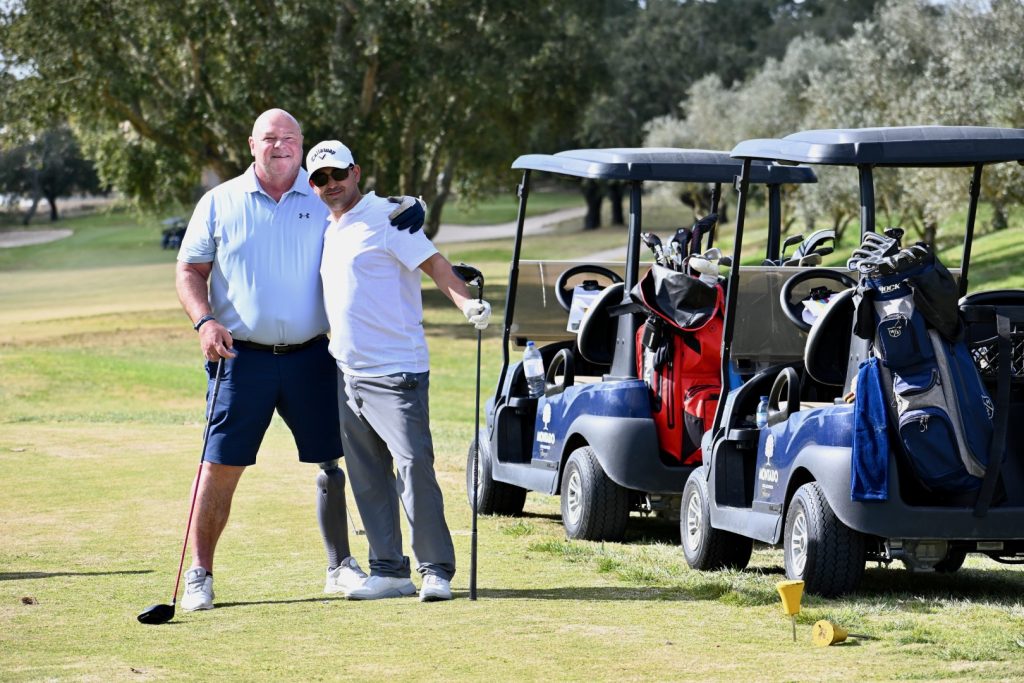 "And so I think those are lessons which I have learned eventually through the years. And of course I live in Rotterdam, I teach in Rotterdam South. My pupils are… a lot of them are from a tough background. So they're behind in society with parents being unemployed, or enduring alcoholism or poverty. You really hope for the children that they can do their best. But not everybody has equal chances in life, so I've always been devoted to trying to help children who are from lesser backgrounds, and hoping they'll be on track."
Patient after-care following trauma was very different in hospital in 1983. While Jeroen would find his true calling as a much valued teacher, the lack of psychological insight from doctors at the time was surely going to return to haunt him.
Jeroen says: "What happens with people who are traumatised, you try to put a lid on it. But the lid will never stay on permanently. So there's going to be a moment in life when the lid is just going to fly off. For me, the first time was when I was 30, I became a father and my first born… I have two daughters, but when I heard the baby was a girl, I just thanked God. I thought, 'Oh God, I don't have to play football with her,' just that thought alone. But that was the first time that I actually got depressed and that I went to seek the help which I didn't get as a 17 year-old, because I refused help. You just can't keep the lid on forever. It's going to fly off sometime."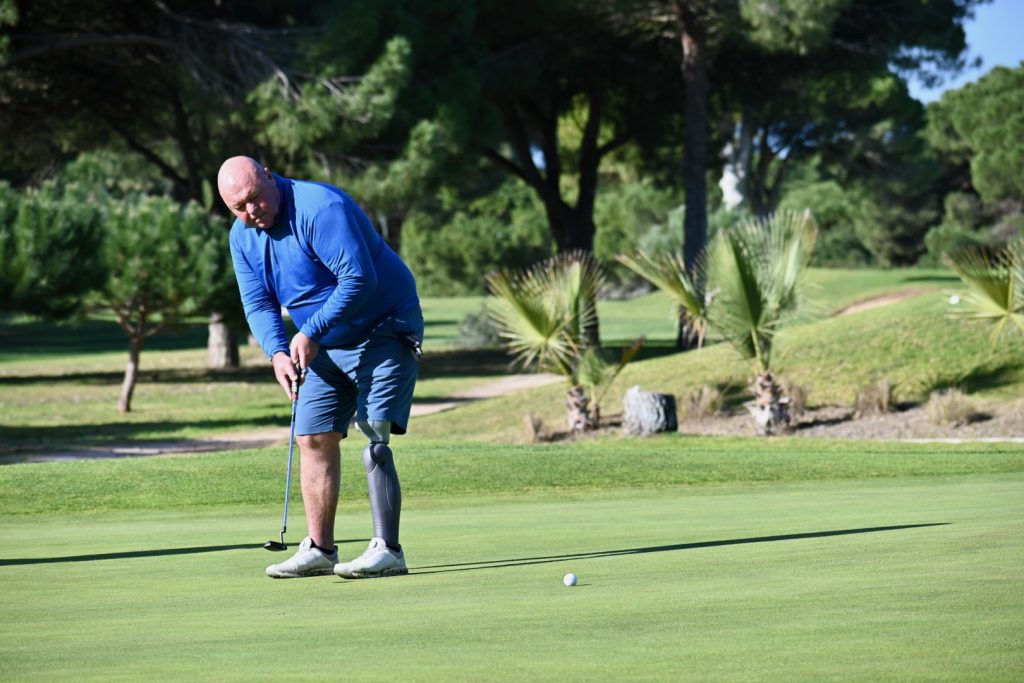 Therapy and support helped Jeroen, and his increasing expertise as a teacher made a major difference, but it was a new sport, golf, that would also offer him a significant boost going forwards. Drawn into the game by his then parents-in-law, he was coached by respected Ladies European Tour player Liz Weima (winner of the 1994 Dutch Ladies Open), before his epiphany came at his first big golf event in South Africa in 2004.
"I think probably from the moment I lost my leg up until the time I entered golf for the disabled, I would have difficulty with being next to another disabled person who was also missing a leg," says Jeroen.
"If you had put me in a room with another leg amputee, I would freak out. I would not feel comfortable and I would want to leave. But what happened in South Africa was, I think about 120 competitors; it was also the deaf, the blind, playing their categories. But it was the humour, the camaraderie.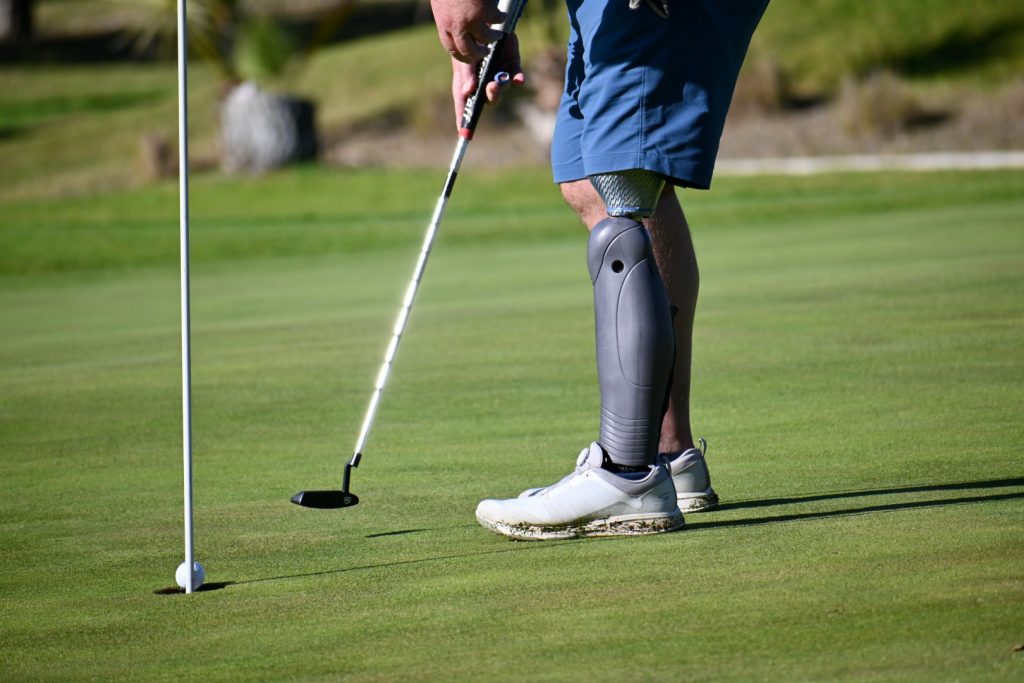 "And for me, it was the first time seeing so many people with the same disability that I have."
He adds: "I loved the South African tournament. That was what really got me hooked on golf and just wanting to play the disabled golf tournaments. And I was fortunate that my ex-wife, she flew for KLM, so that was an offer, 'marry me, fly for free'. So I was allowed to get through Europe, all the world, fairly cheaply and that's why I was able to go to Tokyo. I've been to the South African tournament six times in total.
"Of course, golf is a very wonderful sport because you can play it with your abled bodied people and you can play it in your disabled community. So, you get the best of both worlds there."
Jeroen is not the first golfer with a disability to talk about how playing in EDGA (European Disabled Golf Association) events has accelerated the feeling of coming to terms with emotions and feelings of being different from others.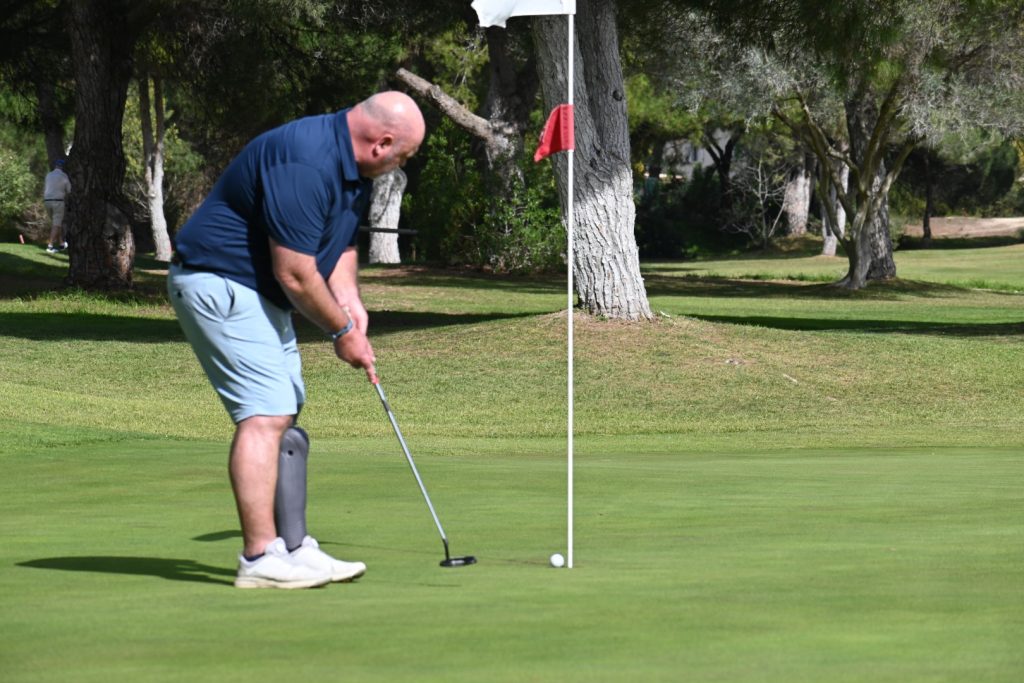 "It gave me an identity and once you find out that being disabled, missing a leg, people looking at you: you have to get used to dealing with that. People make remarks, most of them are very polite, some are simply rude and impolite, but eventually through all the years, it does make you stronger.
"And I realise that, 'OK, as a leg amputee, missing my leg, has also given me an identity, which I can turn into something positive'. And also, disabled golf has given me a lot of opportunities."
Jeroen has also been inspired – something as a teacher he understands that is important for all of us. He clearly remembers, before his accident, watching the Terry Fox Story on TV about the 22 year-old athlete who lost his leg to cancer and embarked on an epic East to West cross-Canada run to raise millions for cancer research. When Jeroen lost his own leg, one of his friends from Africa John Hudson gave him a book written by 'Laddie' Lucas, a fighter pilot in the RAF who played in The Open and the Walker Cup. Laddie wrote a biography of Sir Douglas Bader (called Flying Colours), a golfer himself who lost both his legs in a flying accident before serving the RAF with immense courage and bravery during the Second World War.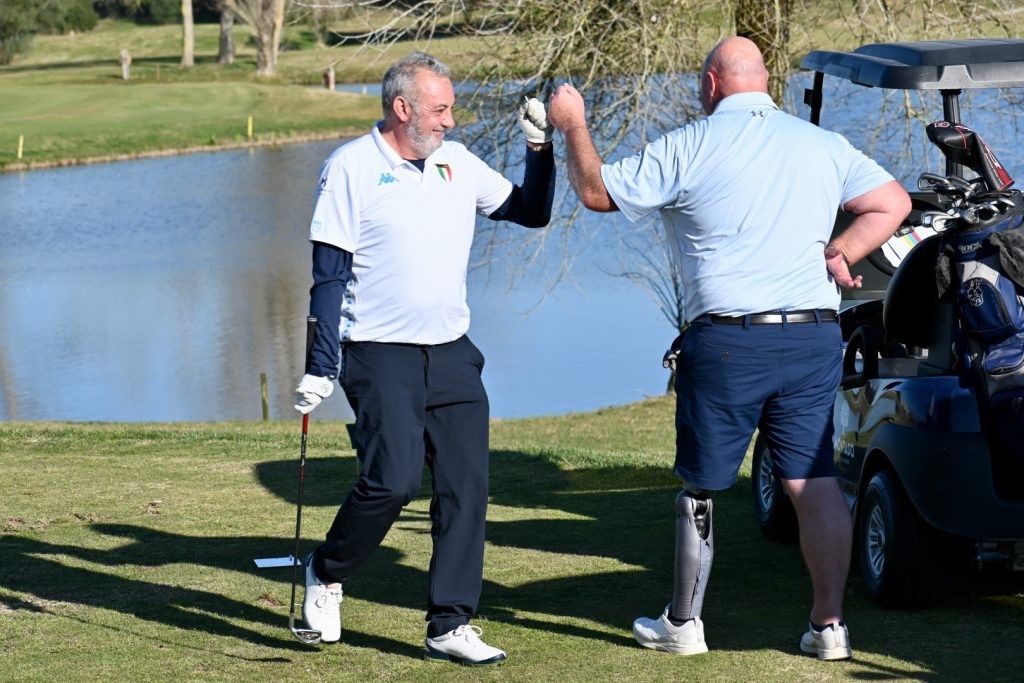 Jeroen believes that times have changed a lot since he lost his leg in 1983. Many things which were not seen as normal or accepted, are accepted now. He says he is sure there is still much work to be done and progress to be made. Concerning golf for the disabled, Jeroen says "EDGA has moved mountains and done a good job promoting this beautiful sport for players with a disability".
For this student and teacher of history, golf for Jeroen isn't about being desperate to win medals and cups when he plays. He certainly puts enjoyment and good conversation at a premium and believes golf should be a positive force for good.
"Well, for myself personally, I think being out on a golf course is a lot like living life. Good shots, bad shots are like good days, bad days. If you play a bad round of golf, how are you going to deal with that? How are you dealing with your temper? What is your behaviour? Are you going to throw your clubs away? Are you going to swear at somebody? Are you going to put the blame on something or somebody else while you are the one playing bad golf?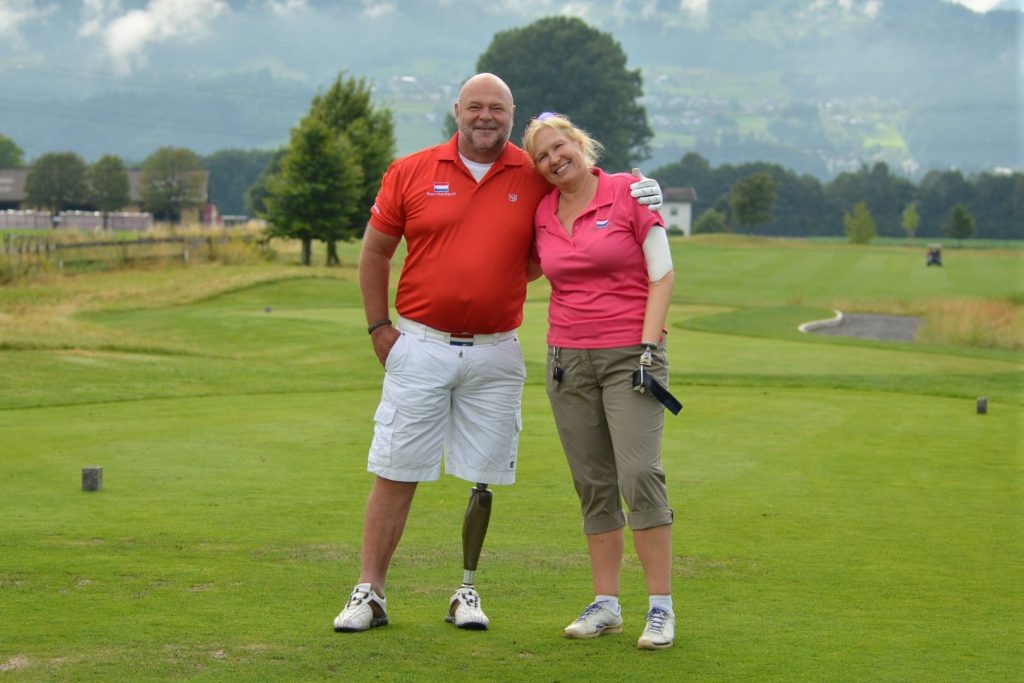 "And that's what I learned from golf: you're responsible for your actions. I always say to myself, 'A bad shot doesn't make a bad hole and a bad hole doesn't make a bad round of golf. And if it does, there's always tomorrow. Deal with it.' So I don't get angry at myself. I would never throw my clubs or kick a duck or whatever. I would never swear or get into an argument with anybody else, although I can get irritated by other people's behaviour on the golf course. It puts you off. It's very egotistic. You're playing with other people, and if you're having a bad day, don't make me have one. So I think what I learned from golf is that it's actually quite a lot like living life."
Two days after speaking with Jeroen he travelled back to Rotterdam. On entering the building to reach his apartment, weighed down by his golf gear and luggage, he tripped and fell. Unable to break his fall he heard the bone in his left stump break. Knowing something was seriously wrong he rang an ambulance. Since then, despite having to go through more than three months of rehabilitation, he could still raise a smile, joking with us that he went from wearing the orange shorts of Holland on the last day of the PING tournament to wearing an orange cast on his leg 24 hours later, while he waited for a new prosthetic to be made.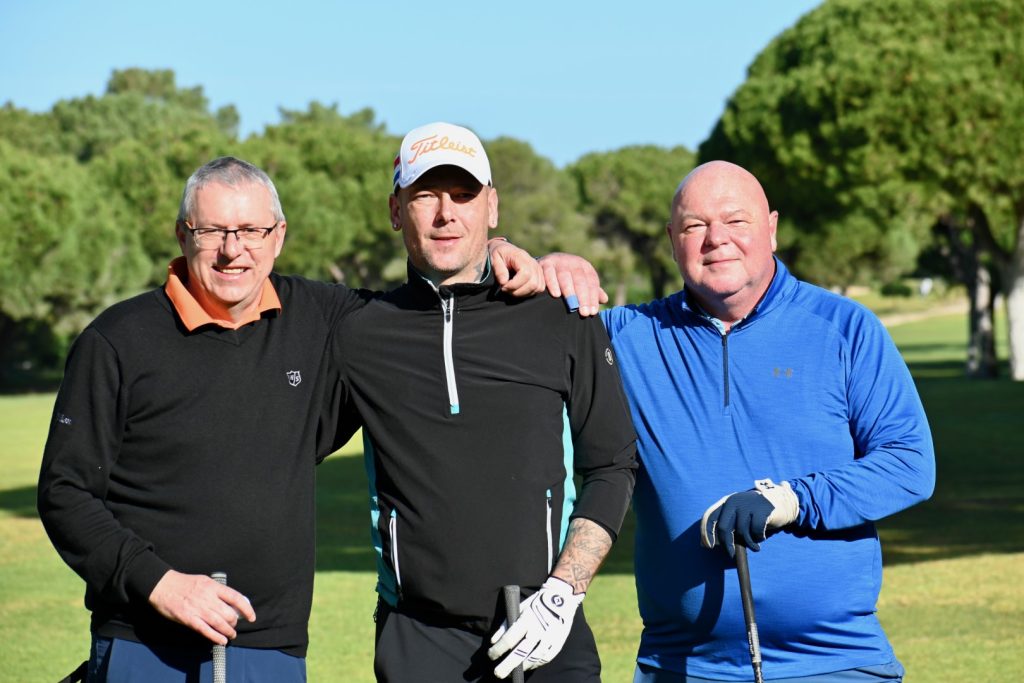 This was another test for Jeroen Coumou. Despite the humour, this teacher of young people has always been a studious thinker, and his view of working through problems, encouraging yourself through the struggle, may help others. In an email just recently he writes: "Building of character is a project without an end. We need examples to make a story understandable. If we choose right we can stand on the shoulders of giants. From Dennis Lillee to Richard Foster, from the Springboks to the All Blacks and their Haka, from Tiger Woods to [EDGA golfers] Manuel de Los Santos, Mike Browne and Juan Postigo. As Mandela said, 'It is the character of growth that we should learn from both pleasant and unpleasant experiences'. And: 'It always seems impossible until it's done', also from Mandela."
Despite the injury, Jeroen made sure he travelled to support his friends in the regional golf tournament for players with a disability he usually plays in, in Holland, while his next mission is to get used to the new prosthetic leg with the aim of getting back out onto the putting green and then practice range in October (he has already registered for EDGA tournaments in 2023). Watching his friends play, he says, he got another "sniff of the good stuff" he has missed out on in the second half of the season. He writes, "Then I will start the back nine of my life properly," and he will do so to the tune of 'Back Nine' by much respected keyboardist Ben Sidran.
Sidran sings: "Life ain't nothing but fine… on the back nine." He is surely right. However you make this happen, you just need to get there.
Contact EDGA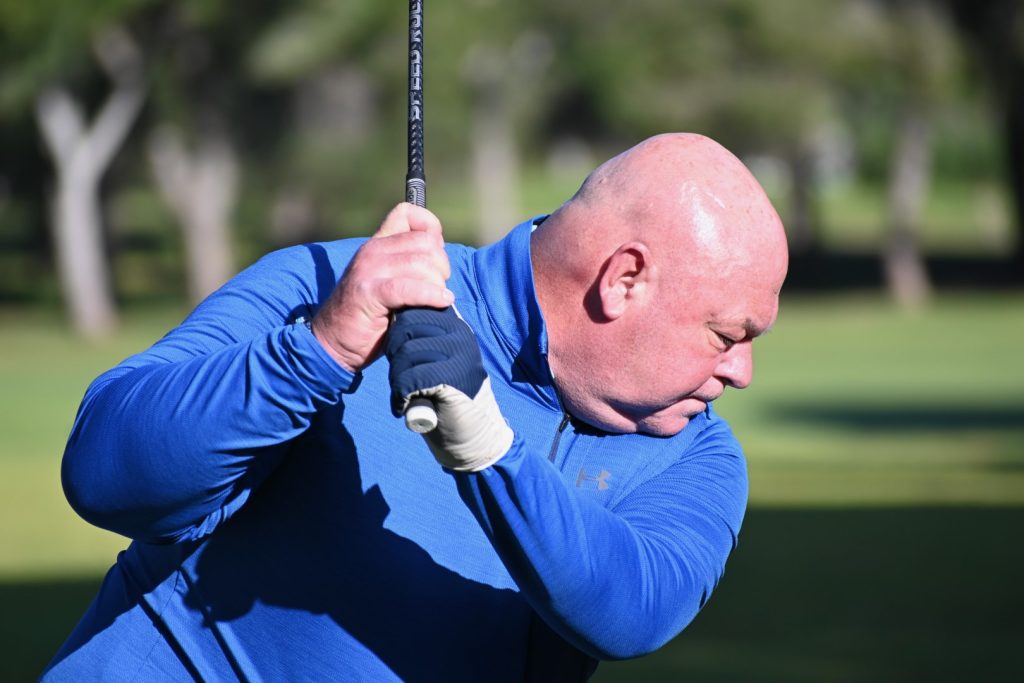 NB: When using any EDGA media, please comply with our copyright conditions